Sleep governs health. Sleeping hours vary from a born child to elder people. Anyhow, it can't be avoided in a day's schedule whatever we may do.  Although, sleep is related to mental and health factors, having a right pillow for resting your head is an unavoidable and crucial role in getting you sleep. It depends on the pillow, your sleeping mode would be shaped out.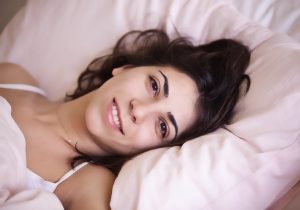 For a comfortable sleep and assuring long term health benefits, your sleeping pillow and sleeping position play an extremely important role.
A pillow is not just for resting your head, it should allow you to have the comfort that helps your body rejuvenate from the tensions and aches caused by the day long chores. A pillow that doesn't help you in sleeping and keeps you awake should be thrown out immediately. Invest in the best pillow for side or back sleepers depending on your desired sleeping position.
Keeping a wrong pillow under your head can lead to wrong posture. This can also result in various kinds of pains – the worst among them is headache and neck ache besides many more.
There are only three sleeping positions – back position sleeping, side sleeping and stomach sleeping. Every position has its own pros and cons. Before getting into sleep, you have to make a choice on this. Normally, it is advised to start with your favorable position that lets you sleep quickly. Then, you have to switch over to the position according to your health problems so that even your sleep would rectify them a little bit.
Anyhow, let us look into the advantages and disadvantages of sleeping positions individually.
Stomach Sleeping pros and cons
Pros: If you are a snoring person while sleeping, then, it is one of the suggested positions because it eases your snoring as you would feel hard to breathe and snore in the back position sleep.
Cons: Sleeping on your stomach is generally not suggested and is considered to be the worst sleeping position. Particularly, people with back problems should avoid it. The natural curve of the spine gets flattened and lead to lower back pain.
Sleeping all night with your face on pillows lead to facial wrinkles. Also, keeping your head on one side all night will strain your neck. Suppose, if you are a person who prefer this sleeping position, then, it is advised to keep a pillow under the lower abdomen and hips so that it gives a lift to your spine bottom a bit.
Back position pros and cons
Pros: Back Sleeping position is good for spine and neck because this position will keep your back straight without getting forced by any constraints.
Normally, people sleep in the back position without keeping any pillows at the back. So, your neck will be in a neutral position. For people who are more concerned about their cosmetics, they have to sleep in this position only. Also, it avoids face wrinkles compared to other sleeping positions in which your face would lay on the pillows.
Cons: People suffering from sleep apnea are not advised to practice this kind of position as it enhances its ill effect further.
Sleeping at this position causes your tongue back to collapse that obstructs your breathing and also creates snoring sounds.
Side position pros and cons
Side position sleeping lets the airways open and so it is highly recommended and you would not face any snoring problems. But, people suffering from shoulder pain should not sleep on this side position.
About 75% of people are side sleepers, according to our studies and statistics. Side position is good for preventing neck and back pain, reducing acid reflux, helps and eases less snoring. For pregnant ladies, sleeping in side position is suggested by doctors rather than back position and that too in left so that blood flow towards heart would increase and this benefits both the mom and baby.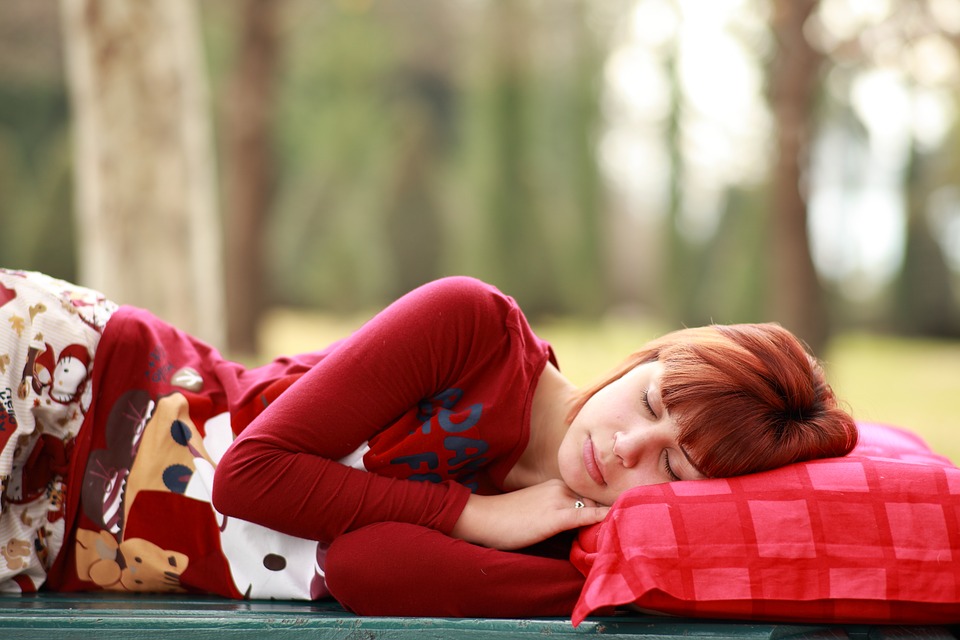 In case, if they feel some strains on heart, lungs and liver when sleeping on left side, you can also avoid it.
So, Side Sleeping on the left is more recommended than that on the right. Here, there arises a confusion. Which side is the best for sleeping – right or left ? Well. There are benefits on both the sides. Let us have a look at them briefly.
Right Side Sleeping Advantages 
Right-side sleeping will relax your lower esophageal sphincter between the stomach and the esophagus.
Right Side Sleeping Disadvantages 
You would experience pressure on the stomach and lungs when slept on the right side. So, if you don't feel your comfort, then, you may switch over.
Sleeping on right does not favor your heart functioning. Also, Resting on a single arm for a long time would develop stress on the shoulders thus leading to shoulder pain, in that case, you have to change your position to left and right to avoid pain on one side alone.
According to Ayurveda, left side of our body is different from the right side. So, resting your body on left gathers you long term health benefits.
Sleeping on the left side have some benefits than on right side. This include easing acid reflux and heartburn, enhancing digestion and aiding the drainage of toxins from lymph nods, improvement of blood circulation, helps bile free flow, healthy spleen, better elimination and above all, it helps your brain in filtering out waste. These benefits are all based on the anatomy and organs location in our body.
Also, Left side sleeping avoids the symptoms of sleep apnea and maintain your spine in the elongated position.
Left Side Sleeping Disadvantages 
Not for all, sleeping on left is favored. Sometimes, it is also bad under certain circumstances. People suffering from chronic heart failure or those who had a heart attack are advised to sleep on the right side because you will have a reduced blood pressure and heart rate at this position and that is more preferable for such patients.
Sleeping on your left side decreases the sympathetic nervous activity and have a control in your blood pressure and the heart rate. Also, it have some impact on the heart dynamics which may not be needed for cardiac patients.
How to pick the best pillow ?
Keeping in mind of all the above health benefits, we have compiled a list of 10 best pillows for side sleepers to help you choose the best pillow.
Why side sleepers? It is so as more than half of the population prefers this sleeping position more than any other position because this is regarded as one of the most comfortable positions to sleep.
Keep reading our article. The following reviews on the best side sleepers available in the market enable you to pick the right one according to your requirement. You can also present it to your dear ones as a gift. So, be cautious in your selection.
10 Best Pillow For Side Sleepers Reviews
1. Coop Home Goods – Shredded Hypoallergenic Certipur Memory Foam Pillow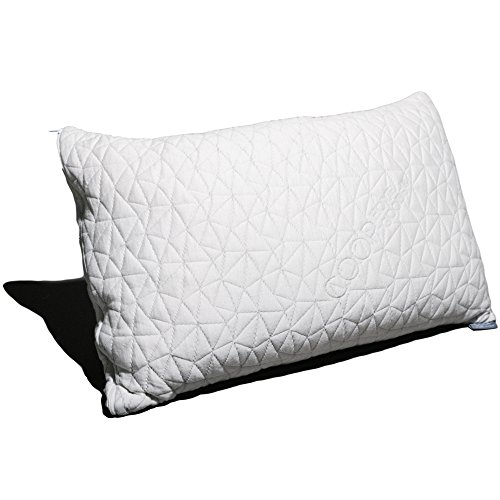 As the name suggests, Shredded Hypoallergenic Certipur Memory Foam Pillow is made up of foam and is good for people with sensitive skin. It is made up of shredded visco elastic memory foam. This set up makes possible for more air to flow through thereby making it possible for foam to adjust itself way better than a normal memory foam pillow. Polyester bamboo cover makes it more breathable and makes your skin feel great against it.
One can add or remove some amount of foam to support head/neck perfectly. Allowing one to alter the shape as preferred is such an amazing feature. Inner part has a zipper to protect the foam. The outer one can be removed and washed.
A side sleeper requires a pillow that fills space between his head and the outer part of the shoulder. Coop Home Goods – Shredded Hypoallergenic Certipur Memory Foam Pillow is one of the best pillows for side sleepers. People who love to rest on their stomach must have a thinner pillow to rest their head. Similar Home Goods – Shredded Hypoallergenic Certipur Memory Foam Pillow will help him sleep comfortably.
It is made up of certified foam – no ozone depleters, TDCPP, TCEP, PBDEs, TCEP flame retardants, lead, heavy metals, phthalates, and formaldehyde.
Pros
The shape can be altered
A breathable cover can be removed and washed
Made up of certified foam
Hypoallergenic construction for sensitive skin
Comes in three sizes
Resistant to dust and mite
5 year guarantee
One month trial period
Cons
For some, it might be too firm to sleep
Popular among side sleepers than stomach/back sleepers
Initial odor isn't very pleasant
2. Ultra Soft Body Pillow – Long Side Sleeper Pillows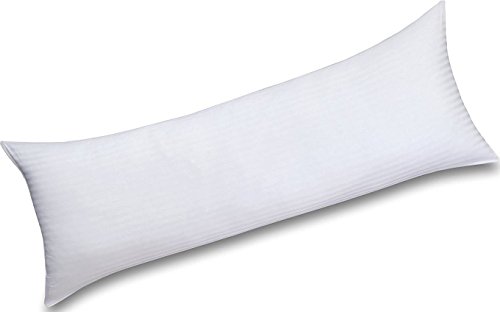 Utopia believes in using and making products of the highest quality. Ultra Soft Body Pillow provides good support to the back, hips, shoulders and the abdomen. It is a perfect pillow for all the pregnant women. The outer shell is made up of 100% cotton making it extremely soft, durable and breathable. 2000G Ball Fiber Filling is filled in it. The 100 % 240T Cotton Cover makes it breathable. The fluffy filling makes it one of the best pillows for side sleepers including pregnant women.
It can be washed in the machine in cold water. The size is quite big – 20*54 inches.
The ball fiber filling lends support to the back, hips, abdomen and the shoulders. The double stitched edges take away the stress of tearing. The pillow is available in a vacuum packed bag that will help evade damage while in transit.
A body pillow supports the whole body – from top to toe. It can be washed in the machine in cold water. The size is quite big – 20*54 inches.  It is deemed safe for pregnant women, side sleepers and stomach sleepers.
Pros
Fits perfectly for a pregnant woman's body
Tumble dry on low
Can be washed in machine
Can be used on the bed or on the couch.
Side sleepers can keep it inside the knees. Provide lumbar support
Cons
It's not as firm as claimed
It isn't too soft as claimed
Not too big to adjust tall people
Finding a cover for it is difficult and slightly expensive too
3. Leachco Back 'N Belly Contoured Body Pillow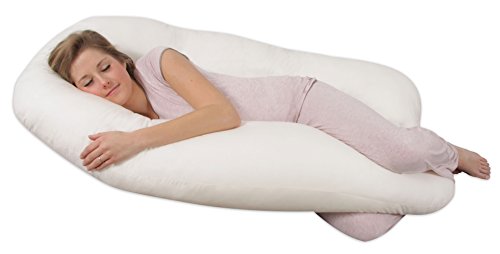 Leachco Back 'N Belly Contoured Body Pillow is a pillow designed keeping in mind the needs of a pregnant woman. It supports the growing tummy as well as the back that aches often during the phase. This saves the pregnant woman of the hassle of repositioning the pillows. A pregnant woman is often left taking multiple tucking one here and the other there to get comfort. This disturbs her sleep and may leave her in pain. The inner contours are so designed that it aligns itself to the natural curves of the body. One can take as many turns as one likes while the pillow takes the shape of the body.
The pillow is U-shaped. It has two contoured "legs". It will help a pregnant woman sleep on her back and on both the sides. The ends of the Black 'N' Belly Chic pillow can be tucked in between the knees. The head is elevated to a level that it helps in preventing heartburn which is normal in pregnancy.
The Black 'N' Belly Chic has a "caress your neck" feature for the neck and the shoulders and a cover that can be removed if one likes. Buy an extra cover while buying a pillow. It has a removable cover which comes with a zipper.
It can be cleaned with soapy cloth to remove soil. The cover can be cleaned with not too warm water and a gentle cycle. Tumble dry can be opted but chlorine bleach should never be used, advised by the manufacturer.
Pros
Lends equal support to both – back and the tummy
It aligns hips for neutral joint positioning
It is 5 1" long and weighs 7 lbs. it is 33.5" wide and 8.75" in depth
Made up of polyester
Cons
Cannot be washed in machine
Sides are firm, u bend is soft
4. Naomi Home Cozy Body Pillow, Red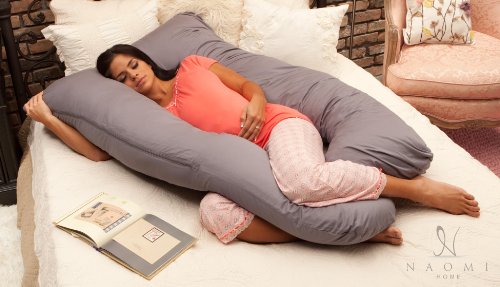 Naomi Home Cozy Body Pillow comes in two more colors other than red – gray and blue. We have picked the red color to review here.
Naomi Home's Cozy Body Pillow is one of the best pillows for side sleepers and pregnant women. Besides providing support for neck and shoulders, it is good pillow for the head, back, hips, belly and the legs. There is no chance of getting a rash or discomfort with its edges which are extremely soft.
Naomi Home Cozy Body Pillow has a wedge shape. The inner curve supports the curves of a woman's body. It has a square shaped head rest. The neck shoulder area is gusseted and has a soft and smooth transition from pillow to mattress that aligns pretty well with the shoulders for a comfortable night sleep.
A pregnant woman won't have to make any extra effort to get used to Naomi Home Cozy Body Pillow. The maternity pillow is super comfortable. It can also be used for nursing in future.
It has a 100% cotton cover which can be washed in the machine. The pillow is economical.
Pros
Made up of 100% cotton
Can be used even after delivery
Edges are smooth
It has zipper cover
Can be washed in the machine
Even non pregnant people can use it
Cons
The size is slightly larger than it should be
It is extra soft
Cannot be returned
5. Puredown C Shaped Maternity/Pregnancy Contoured Body Pillow, blue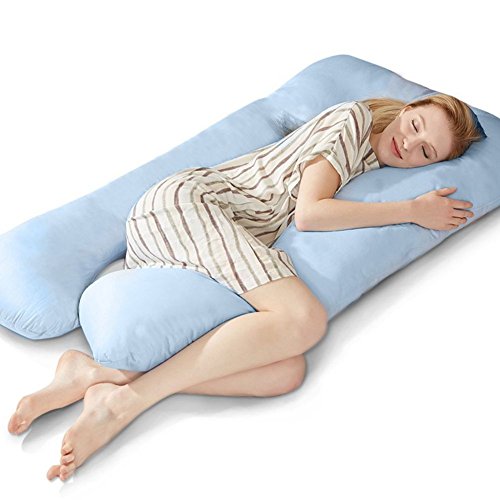 Puredown believes in gentleness, comfort and uniqueness. The C-shaped maternity/pregnancy Puredown C Shaped Maternity/Pregnancy Contoured Body Pillow is good for a pregnant woman.
It takes the natural shape of the body of a pregnant woman from top to toe and prevents any discomfort or pain as against a normal pillow.
The zip cover can be removed and washed as and when needed. It can then be dried as you would do to your normal clothes in the machine and then sun dried inner side out for it to be fluffier. Buy extra cover to maintain cleanliness.
The midsection is long enough to help tummy and back have the shape and size one's body needs. The ends are a little curved to tuck in the knees. The two legs allow a pregnant woman to sleep on both the sides. It takes the top spot among the best pillows for nursing mothers. Not only for sleeping, the pillow can use it for reading or watching TV while having a support for her belly and back and the arms.
It uses 100% peach skin fabric and 100% premium polyester filling.
The pillow helps alleviate heartburn, nasal congestion, sciatica and carpal tunnel. Puredown C Shaped Maternity/Pregnancy Contoured Body Pillow is 32″x56″(88oz) and weighs 7.41 lbs.
Pros
100% polyester filling
Hypoallergenic filling made just for sensitive skin
300 thread count 100% cotton cover
Zipper instilled removable cover that can be washed in the machine with stain release
Can be used later on for breastfeeding
Cons
It starts as firm but may become a little lose after 6 months.
6. The Scrumptious Side Sleeper Pillow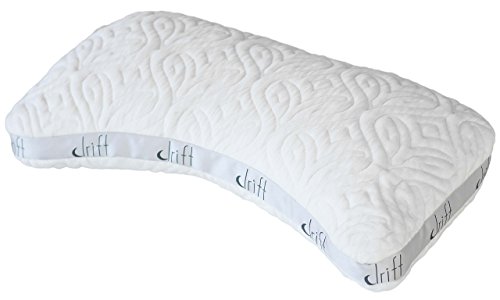 The Scrumptious Side Sleeper Pillow is considered as one of the best pillows for side sleepers. It has a nice shape that makes it possible for one's body to have comfort that supports neck, head and shoulders.
Watch this video to know more about the product for the best purchase.
A hidden zipper helps one adjust height as desired. The pillow is soft. It has been designed and filled in a manner which helps one sleep comfortably well. The neck finds a nice positioned helping one sleep comfortably. Hence, no more soreness in the neck and shoulders.
The Scrumptious Side Sleeper Pillow is made up of two things – Certipur Gel Memory Foam and Micro Gel Fiber. It is soft, not too firm but still good enough to support the head and neck and doesn't flatten out that easily.
The pillow takes about 24 hours after being taken out of the package The thickness is 5". The height can be adjusted to suit one's body and comes with a zipper. It can be removed to make it softer or lower.
It is believed to help avert snoring and improve breathing.
Pros
Big enough to adjust the filling
Helps overcome breathing problems like snoring
Good for both side as well as back sleepers
The shape doesn't change during the night as is the case with other pillows
The pillow is handmade in Los Angeles
Cons
Some people feel the stuffing isn't enough
7. Cradle Me – Cervical Pillow for Side and Back Sleepers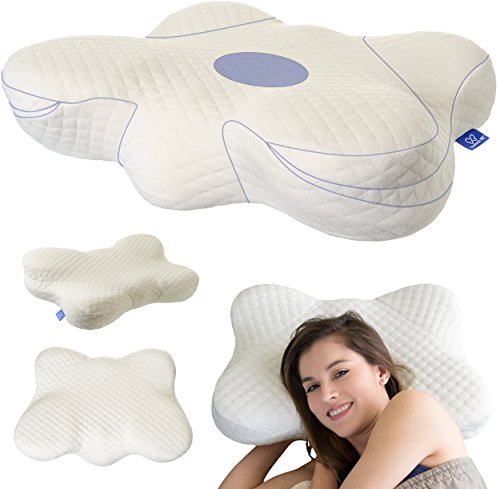 People having issues with sleeping due to neck pain can now think of Cradle Me – Cervical Pillow.
As the name suggests, this pillow is specially designed for the neck. As one of the best pillows for neck pain, this pillow promises to deal with problems of the neck – irrespective of the multiple reasons.
Cradle Me uses high quality adjustable, memory foam to build Cervical Pillow for Side and Back Sleepers. The pillow has odorless memory foam. It is a breathable pillow keeping one cool all night. This kind of foam is capable of adjusting itself as required by the body while sleeping. This facilitates good sleep which is crucial in rising feeling fresh and healthy.
The organic contouring takes the natural body shape and adapts itself to the sleep positions. This feature differentiates it from a regular pillow. The multiple heights of the pillow make it a good fit.
It has an extremely unique shape, something unheard of hitherto, a butterfly shape which supports every kind of sleeper – back, stomach or sides. The thickness is different at different points making it just perfect for side and back sleepers. It helps get rid of tension and pain with its orthopedic construction.
It is non-toxic and hypoallergenic. Good for people with sensitive skin.
It is slightly heavy on your pocket but your money will be worth.
Pros
Non-toxic and hypoallergenic
Adapts itself to different sleep positions
Unique, butterfly shape
Good for neck and shoulder pain
Cons
Too firm for some people
There are no instructions on how to use different sides of the pillow and how
8. Z 100% Natural Talalay Latex Zoned Pillow – King – Low Loft, Firm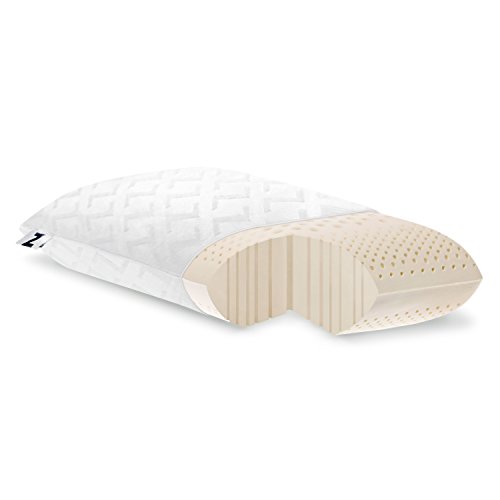 Z 100% Natural Talalay Latex Zoned Pillow is made from sustainable rubber trees by using an eco-friendly process of manufacturing. The sap from a rubber tree is whipped, taken in a mold, cooled and then heated to get an extraordinary consistency.
The technology used to make the pillow ensures that the head gets ample support with a pin core design and henceforth support neck and the shoulders. Tatalay is of strong and of uniform consistency making it the best pillow for sleeping.
Tatalay takes the shape of the body quickly and easily. It doesn't need fluffing. It is a breathable filling that maintains temperature as well.
Latex is dust-mite resistant, mildew proof and naturally antimicrobial. It is hypoallergenic and extremely comfortable.
Z 100% Natural Talalay Latex Zoned Pillow is available in king and queen sizes, firm and plush densities and high and low profiles. No other sleep pillows are available in great amount of varieties.
Pros
The latex density is ideal for side as well as back sleepers
No synthetic add-ons, just 100% Natural latex – Tatalay
The exclusive foam consistency and zoned technology supports the body well.
Releases pressure and pain from the body parts
Dust mite resistant and mildew proof.
It is extremely soft
The cover can be removed. Made up of bamboo blend rayon (75% polyester, 25% rayon from bamboo)
Cons
The initial strong smell of latex is a complaint made by some people.
Not adequately deep for tall people.
9. Snuggle-Pedic Ultra-Luxury Bamboo Shredded Memory Foam Pillow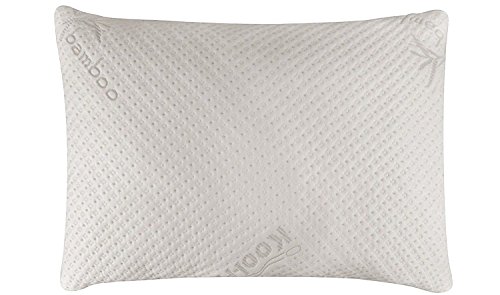 The memory foam is soft and breathable with fluffy interlocking foam pieces. This allows air flow making it cool enough for one to have a comfortable night sleep. Made up of 43% viscose of bamboo, 6% lycra and 56.4% polyester. The combination keeps one cool throughout the night. Have a look at this review video meant for better understanding.
The outer cover and liner come with a zipper.  This facilitates thickness adjustment as one likes. The foam can be removed or added to make Snuggle-Pedic Ultra-Luxury Bamboo Shredded Memory Foam Pillow the best pillows for side sleepers. The shape lends support to the neck for stomach, side and back sleepers. One doesn't need to fluff them.
It comes in three sizes – king, queen and the standard size. Standard – 26 x 19 in. Cut Size. Queen – 28 x 20 in. Cut Size. King – Cut to 35 x 20 in. Cut Size
It is resistant to dust and mites and is suitable for sensitive skin people. The pillow can be washed in the machine.
The manufacturers provide 20-year warranty, sleep trial of 120 days and personal customization if a customer feels unsatisfied. The pillow is shipped eco-friendly with Vacuum sealed packaging.
Uses Biogreen® and CertiPUR-US® Certified foam. It is deemed to be made with depleters. Lead, mercury and other such heavy metals, phthalates, formaldehyde, PBDE flame retardants.
Pros
It is dust-mite resistant
Hypoallergenic
20-year warranty, longest sleep trial
No added fillers
Machine washable
Cons
Some may find the smell to be strong initially
10. Ear & Neck Pain Relief | Back & Side Sleeper Pillow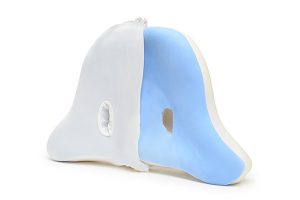 The pillow should be of the shape of the head. Ear & Neck Pain Relief | Back & Side Sleeper Pillow follows this principle. Every human head has a different size. So there are different of different sizes – the MediumSoft has a 1" thick piece of foam. WomfySoft comes in 2 thicknesses – low (wo the riser) and medium-rise (w/ the riser).
Ear & Neck Pain Relief | Back & Side Sleeper Pillow is made up of bamboo jersey pillowcase with memory and gel foam core.
The organic shape of the pillow reduces tension from face, jaw, neck, shoulder, back, ear and sinus. Other issues that can be taken care of include forehead elevens, morning lines and pillow creases.
It is among one of the best pillows for side sleepers. It doesn't hard press against mouth, face or ears. Good for people with sensitive earlobes, ear buds and piercings. The ear holes can remove the side pressure caused by ordinary pillows. The anti compression contours control forehead creases, restlessness and sinus obstruction with Womfy's curves caress. Basically, it takes the shape of your head.
It is machine washable, good for people with sensitive skin. Pillowcase is made from velvety bamboo jersey.
One will definitely find it easy to sleep on this pillow.
Pros
Made up of memory and gel foam core
Head shaped
Hypoallergenic
Machine Washable
Available in different sizes for different head sizes
Cons
Some people may find it hard for their ear lobes.
In conclusion
Buying a pillow isn't easy. The health perspective attached to it cannot be ignored. We really hope that the description above helps you take the final call. This article assists you in buying the best pillow for pregnant ladies , children, elder people, youth, women , patients and others.
Whatever be your decision, just make sure it is fully adjustable, breathable, cooling and should suit all types of sleepers apart from the filling – latex or foam. Both are fine but personal preference varies from person to person.
The economics is another factor involved in buying one of the best pillows for side sleepers. There are a few you may like but are out of your budget. Don't feel disheartened, there are plenty to choose from. Sometimes a good pillow requires is a little effort which we have already made through this article.
If this article has helped you, please let us know. Your words are precious for us.
How useful was this post?
Click on a star to rate it!
Average rating / 5. Vote count:
We are sorry that this post was not useful for you!
Let us improve this post!
Thanks for your feedback!