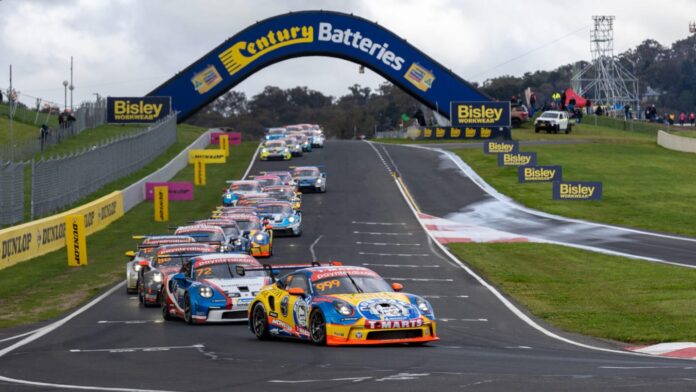 The annual Bathurst 1000 is often known as 'the Great Race' within the Supercars new sphere for a number of reasons. The race itself takes place on the 6.213km Mount Panorama Circuit in Bathurst, NSW, Australia. Famed for its sharp bends and steep inclines, the track is dangerous and is well-known for claiming 18 lives since it opened in 1938.
While only one of these was in a Bathurst 1000 race and adjustments have been made to improve its safety, there's no doubt that hazards remain, fueling the focus and tension around the event. This year, the Bathurst 1000 will turn 60, and the milestone race will take place during the weekend of Thursday, October 5th to Sunday, October 8th.
Ahead of this momentous anniversary, this article will look back at some of the record-breaking wins and most iconic moments of the race.
Famous wins
When it comes to famous winners, the most well-known is undoubtedly Peter Brock,  who won the Bathurst 1,000 nine times. Known as the King of the Mountain, Brock won the race in 1972, 1975, 1978-1980, 1982-1984 and 1987. One of his most notable wins was in 1969 when he raced alongside New Zealander Jim Richards and they achieved victory six laps ahead of the other teams.
Richards himself also won the race seven times, in 1978-1980, 1991-92, 1998 and 2002. Seemingly passed his talent on, as his son Steven is a five-time winner of the race as well.
The other seven-time winner is Craig Lowndes who came first in 1996, every year from 2006 to 2008, then again in 2010, in 2015 and in 2018. Lowndes has also appeared on the Bathurst podium 14 times, which is a race record.
There are two drivers that have claimed six Bathurst victories: Larry Perkins and Mark Skaife. Three of Perkins' wins were as a co-driver with Peter Brock and three in 1993, 1995 and 1997. Meanwhile Skaife won in 1991, 1992, 2001, 2002, 2005 and in 2010 alongside Lowndes.
Famous historical moments
1960s:
Even though it was still early days for the race, as supercars news spread, manufacturers realised that the race could be a great opportunity to boost sales, and investment in the sport from them grew significantly.
1968 was the first year that cars were allowed to display advertising, opening up a whole new world for investment and sponsorship. A year later in 1969, Peter Brock made his debut in the race racing alongside Des West; the pair placed third in the race.
1970s
In the first year of the decade, a major rule change came into effect that allowed a driver to complete the track solo. This would only last for two years, before being reversed in 1972; the same year that Brock achieved his first victory.
In a major piece of Supercars news, the race which had until then been a 500km one, was extended to a 1,000km event in 1973.
Six years later in 1979, possibly one of the most famous Bathurst 1000 images was captured when Allan Moffat and Colin Bond, both driving Ford 351 XC Falcons raced in formation down the Conrod Straight, the fastest section of the Mount Panorama track.
1980s
Throughout the 80s, Ford only had one win, achieved by Dick Johnson in 1981 who drove an XD Falcon. This was a notable win for him as his car, which had been written off the previous year due to an incident with a rock, was rebuilt with funds raised in a public campaign totalling $144,000.
In 1985, the race began operating under Group A motorsport regulations and a year later in 1986, Bathurst 1000 saw its first fatality. Mike Burgmann, who was driving a VK Commodore, crashed into the concrete base of the bridge which goes over the Conrod Straight at approximately 260km/h.
As a result of the fatality, a 41m length of track known as 'the Chase' was added, two thirds of the way down the Conrod Straight; this was an attempt to decrease the speed that competitors would approach Murrays corner.
The following year in 1987, Peter Brock had his final win at the Bathurst 1000.
1990s
This decade saw the emergence of the powerful Nissan Skyline GT-R which achieved a controversial 1992 Bathurst victory. The car was seen as unfairly advantaged but there was also severe rain during the race which caused several accidents; Jim Richards and Mark Skaife who were driving the Skyline slid into the wreckage of other cars.
Because of the perilous conditions, the race was red flagged and officials stated that the results would be based on the positions held by the drivers at the end of the last, fully completed lap. Richards and Skaife had led this in the Skyline, meaning they were declared winners, although this was deeply unpopular with the crowds.
In big Bathurst 1000 news, the race was changed to a one-class event in 1995, largely due to growing scepticism around the speed differences between V8s and 2 litre cars, which were becoming more pronounced.
In 1997, driving a BMW 320i, Paul Morris and Craig Baird won the Bathurst 1000. However, after their win they were disqualified because Baird had exceeded the limit set for a continuous solo driving period. As a result, David and Geoff Brabham became the winners.
2000-2010
A five minute penalty, the biggest ever recorded at Bathurst was given to Greg Murphy because of a pit-lane infringement where his car was released prematurely. In 2003, Murphy set a record lap time of 2:06.8594 and won the race.
In 2006, Peter Brock passed away and a trophy was introduced in his honour; Craig Lowndes and Jamie Whincup for Ford were the first winners of it.
See also: Will San Francisco Car Shipping Follow You on Your World Travels?
2011-2022
For the first time since 1998, manufacturers other than Ford and Holden entered the race. Nissan entered four Altimas and Mercedez-Benz entered three E63 AMGs. Bathurst also became part of the Pirtek Enduro Cup this year.
The Mount Panorama Circuit was resurfaced between this and the 2014 race which led to a notable decrease in lap times, however, some of the new track at Griffin's Bent began to break up during the race and caused some incidents. As a result, officials suspended the race and allowed some repairs to be performed.
In 2017 there was victory for Erebus Motorsport, an independent team, while in 2019, the Ford Mustang name had its first victory at Bathurst.
Bathurst 1000 was held a week later than usual in 2020 due to the Covid-19 pandemic; there was also a limit on the number of spectators with only 4,000 allowed daily. It was also Holden's final race before retirement and it won thanks to Shane van Gisbergen and Garth Tander.