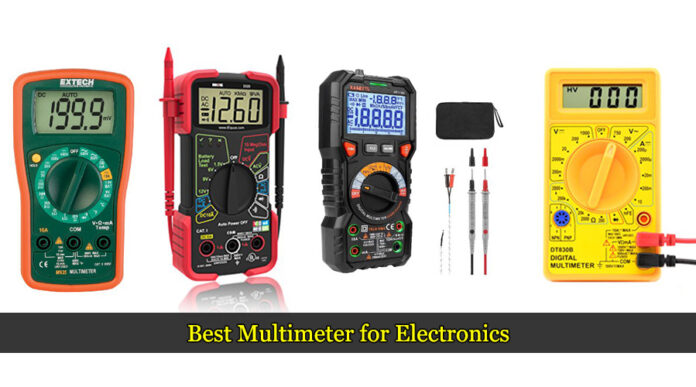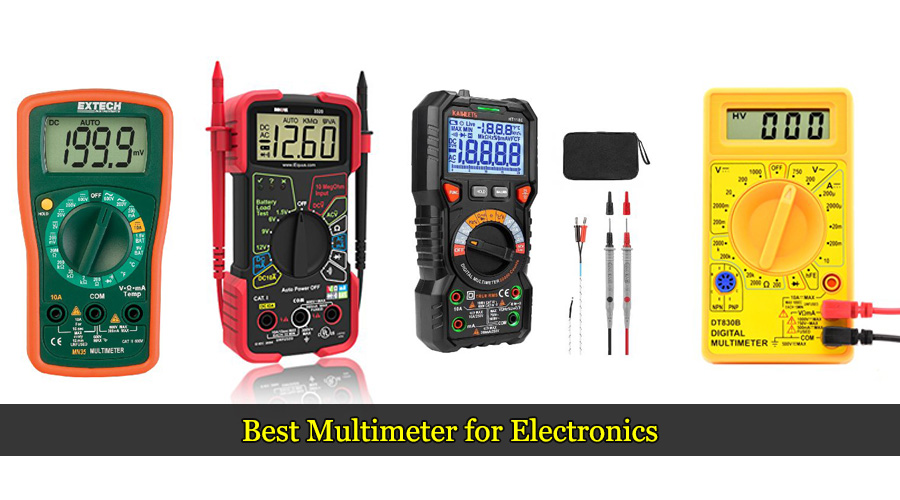 When we talk about multimeters they come in various sizes and designs. A multimeter is a combined unit of several electronic functions that measures all electronic activities.
Voltage, resistance, and current can be measured by a typical digital multi-meter while an analog multimeter uses a microammeter to display readings with a moving pointer.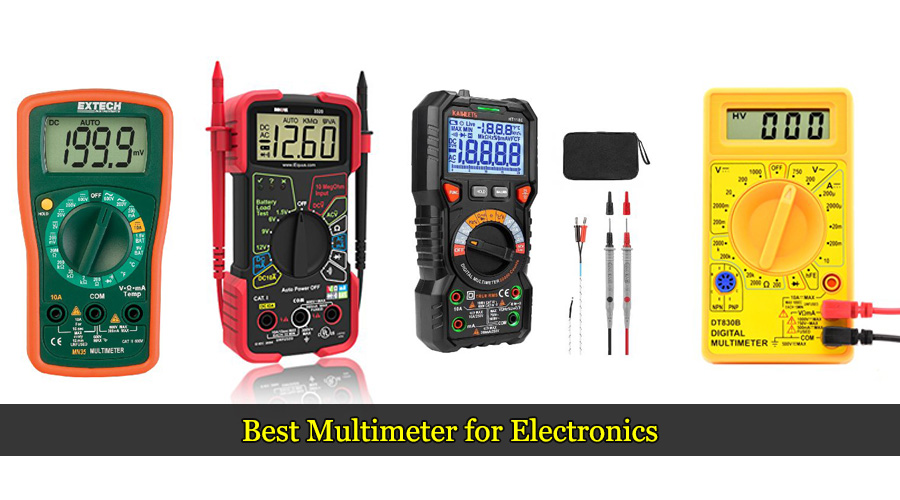 A digital multimeter shows a graphical bar of the measured value and also shows the numeric display of the measured value. If you are looking digital multi-meter for electronics & automotive usage, then this is the perfect guide for you.
Mostly, Digital multimeters are commonly used these days due to their precision and accuracy while analog multimeters are also required but in particular cases only.
For field service work; to find small faults or to measure to a very high accuracy, a multimeter can be used very well. There is a high variety and range of multimeters present these days in the market. They vary from a basic model to a laboratory-grade multimeter.
When we go to buy a multimeter normally, we end up being confused. Choosing the multimeter is not as easy as you think it is. You have to consider a lot of things in buying it online. We've done some research for you to consider in buying this product. I assure you that will find the best and high quality multi-meters here.
To help you with your confusion, the following list can help you find the best multimeter that suits your needs.
Top 10 Best multimeters for electronics:
1. KAIWEETS HT118E Digital Multimeter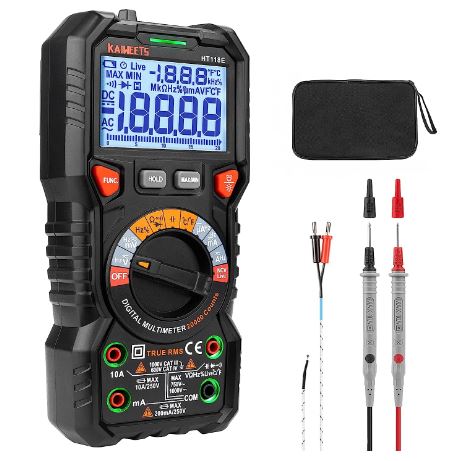 The KAIWEETS Multimeter is one of the best-selling multifunctional multimeters. This multimeter can be used for a wide variety of applications such as measuring AC/DC Voltage, AC/DC Current, and Resistance, and used to test all other household electronics devices.
Especially, Its HT118E voltage tester is used to test the values of Temperature, Frequency, Capacitance, Diodes, and, continuity of each and every connection. You can also test vehicle batteries, and troubleshoot any electronic or automotive circuits.
Meanwhile, this multimeter has a higher resolution bit that is 20000 counts, which gives an effective and accurate result. This multimeter has a high resolution LCD display, which also has a backlight to read the measurements in dim places.
The sound and light alarm is there to find out the non-contact voltage testing. This multimeter consists of a pen slot, a bright flash, and a stable kickstand. This multi-functional multimeter is used to detect, low battery prompt, max/min data, Data retention, auto-power off, auto-ranging, and to record max/min signal fluctuations.
Not only the multimeter is multi-functional but also they keep safety in mind by having IEC Rated CAT III 1000V, and CAT IV 600V, CE, RoHS Certificate. By keeping heat resistance and durability in mind, double-coated ceramic fuses and thermistor protection circuits are used.
Finally, this product is highly recommended, for one who is looking for a multifunction multimeter with accurate results.
Pros:
High resolution.
CAT III & CAT IV Certified product.
Multi-function multimeter
Cons:
Sometimes it automatically gets rebooted when we place on voltage setting.
2. General Purpose AC/DC Hand-held Digital Multimeter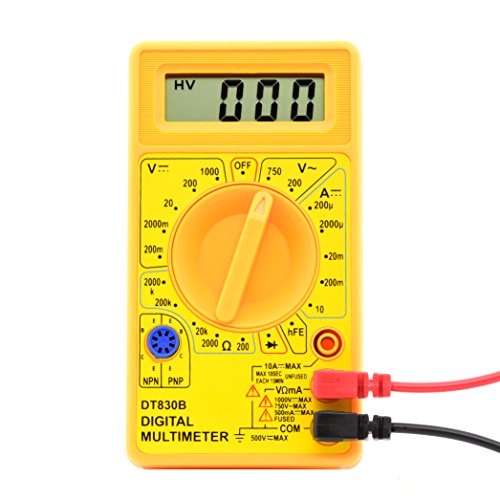 This multimeter comes with a small digital display. The weight of this product is a bit high in comparison to others. It weighs around 6.1 ounces. It requires a battery to function and comes with a battery slot. The size of the battery required for functioning of this product is 19V. It comes in limited color. The dimensions of this product are 4.1 * 1.2 * 5.2 inches.
Pros:
• It is an ideal level digital multimeter. It is basically required to test wires, cells, batteries, fuses and other electrical components.
• It is a safe and an accurate instrument for troubleshooting electrical problems for household and automotive purposes. It is indeed a best match to meet the necessary requirements in this category.
• It always shows accurate readings. It comes with a LCD screen which is easy to read and accurately shows the measurements of resistance, current and voltage with a maximum limit up to 1999.
• It can easily test electrical components such as diode and transistors with the-help of red and black leads present with this model.
• It comes with overload protection which keeps it safe from taking high load on the device. The system comes built in.
• It has an in-built system to check AC/DC diode and transistors.
• Wires continuity can be checked with this device easily as well as continuity of fuses and other electrical components can also be checked.
Cons:
• It requires a battery to function. So once the battery gets discharged it cannot be used until the next battery is installed.
• It is a bit heavy in comparison to the other models.
• Limited color options.
3. DT830B LCD Digital Voltmeter Ammeter Ohm Multimeter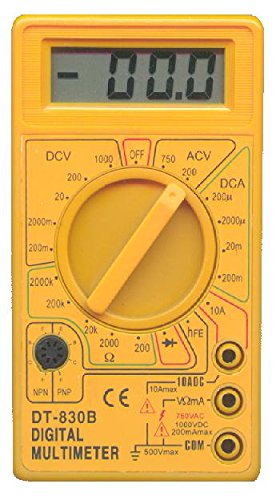 This multimeter is really amazing and soothing for the user. It has a very simplified usage description that any random person can also use this component very easily. It weighs around 6.4 ounces which makes it a really light weight component to use. The dimensions of this component are 5.2 x 4.2 x 1.3 inches
Pros:
• It can easily test diode and transistors with AC/DC.
• It is a digital mutlimeter with a good LCD display.
• It has a good reading of up to 1999 Volts.
• It shows automatically low battery and overload indication so that the user can stay alert and safe.
• It has such a beautiful design i.e. compact and can be easily carried in the pocket.
• It comes with a 1 year Tekpower Warranty.
Cons:
• It comes only in one color i.e. Yellow.
• It has very typical design structure.
• Needs to use it very carefully.
4. Extech MN35 Digital Mini MultiMeter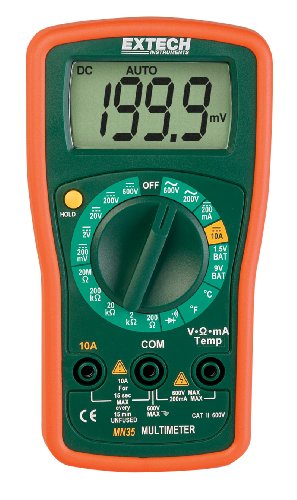 This multimeter might be compact in size but it is filled with enormous features. It is designed with curved corners and has a 2000-count LCD display which gives it a beautiful appearance. It comes with a tilt stand and as well as rubber grip with the tool box which gives it a unique look and style. It weighs around 6.4 ounces. The dimensions of this multimeter are 2.3 x 1.3 x 5.8 inches.
Pros:
• It is a compact multimeter which is a unique thing about its design.
• This comes with 8 function requirements including temperature measurement as well.
• It has a large display which is really easy to read.
• It can easily measure AC/DC voltage with DC current, resistance, type K temperature and diode continuity function.
• It has 1.5 V and 9 V battery test function.
• It has a convenient mini size with protective rubber and tilt stand.
Cons:
• The battery is not good with this multimeter.
• Due to its small size it becomes very delicate to use at times.
5. Extech EX330 Autoranging Mini Multimeter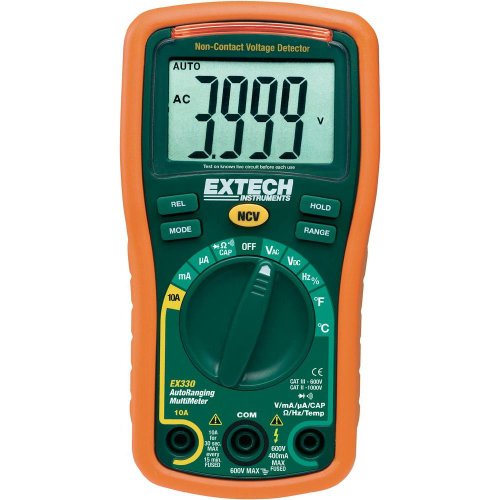 This multimeter comes with an in-built thermometer with type K remote probe. It's deign is very interesting and very unique. It weighs around 1.1 ponds which makes it a very light weight component. This multimeter is ideal for electric troubleshooting of any kind. It includes two meters in one component. It is a fully featured digital multimeter with a non-contact voltage (NCV) detector. The EX330 meter measures AC/DC voltage up to 600 volts with an accuracy rate of 0.5%. This is a rich feature multimeter which test resistance and performs various diode and transistor tests. Its dimensions are 5.7 x 1.6 x 2.9 inches.
Pros:
• It has an amazing AC voltage detector which uses a combination of audible beeper and red LED indicator lights to alert the presence of voltage in live wires, switches and more.
• It has a large one-inch digital LED display which makes it look appealing. The large LED display makes it very convenient to do the readings.
• It comes with an auto ranging option which allows the user to select right measurement while working on variety of components.
• It also has auto power-off function which shut downs the multimeter automatically after 15 minutes of inactivity.
• It features an in-built type K thermometer for temperature measurements.
Cons:
• The only drawback is that it comes with a battery system. You need to install the battery again and again once it drains out and you cannot even use this device until the battery is put back.
6. INNOVA 3320 Auto-Ranging Digital Multimeter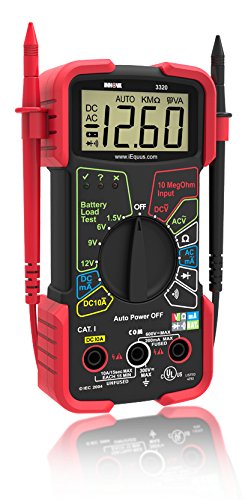 It is a UL certified multimeter designed to troubleshoot safely and accurately a variety of household and automotive electrical problems. It eliminates the need of auto dial in the correct range with auto scaling. The amazing thing about this product is that it only weights to 4.8 ounces which make it really light and comfortable in holding. The dimensions of this product are quite auto-ranging which makes it look small and stylish in hands i.e. 2 * 5 * 10 inches. This product is manufactured in the USA.
Pros:
• Highly accurate with its reading and troubleshoots safely.
• Have a large display with color LED's display present.
• For AC voltage it has a single setting resistance.
• For DC voltage also it avails with a single setting resistance.
• In case the product gets dropped from the hands, it comes with a rubber corner guard attached to it.
Cons:
• Needs to be handled carefully.
7. Craftsman Digital Multimeter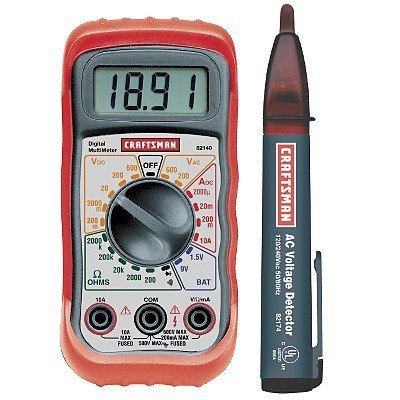 This digital multimeter is very unique and amazing in terms of its design. It only measures the AC voltage. It does have the DC volt measuring capacity. It is widely used for gifting purposes among the knowns of this device. This device is very compact and easily fit into the palm of the user. This makes it easily portable and can be carried anywhere very easily. It weighs around 8 ounces which is pretty light weight. The dimensions of this multimeter are 8.8 x 4.8 x 1.7 inches. This multimeter is manufactured in the USA.
Pros:
• It has a very comforting design giving it a beautiful and elegant look.
• It comes with a rubber holster which gives it a very good grip.
• It has 7 different functions with 20 variety of ranges.
• It has a beautiful LCD display multimeter which gives it a modern look.
• It comes with a 1-year manufacturer warranty.
• This device can be very well used to-measure the AC voltage and current.
Cons:
• It does not have a flash light.
• It is needed to be handled very carefully and delicately.
8. Etekcity MSR-U1000 Auto-Ranging Digital Multimeter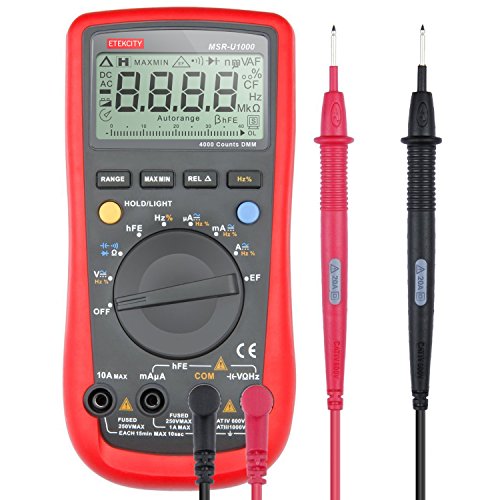 This is an AC/DC voltage and current testing multimeter. It is very uniquely designed to carry easily. It comes with a guide manual to understand the instructions clearly and on a better note. This device is very successfully used by the electricians, engineers and other operatives related to this field. It weighs around 1.1 pounds which makes it a little heavy when compared with other multmeters. Its dimensions are 9.8 x 6.3 x 2.5 inches which makes it very comforting with its design.
Pros:
• It checks frequency, frequency response, duty ratio, test diode, triode and EF probe.
• It carries additional features such as data hold, Relative Measurement and Max/Min reading function.
• It has auto ranging function which makes electronic measurements much easier.
• It comes with an amazing big LCD display which works well in the low light area as well.
• It goes in sleep mode automatically after 15 minutes of inactivity.
• Saves a lot of power through power saving mode.
• Comes with a one year warranty.
Cons:
• Battery drains very quickly.
• Needs to be used and handled carefully for a long term usage.
9. TRMS Digital Multimeter eM860T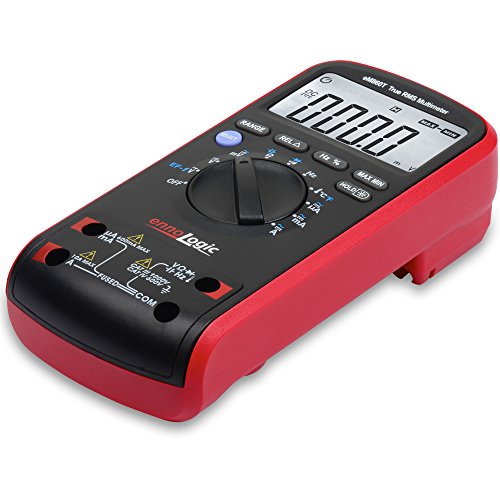 This multimeter is a professional multimeter used widely for accurate AC and DC voltage, resistance, frequency and current measurement. Diode testing and continuity test can also be done with this device. It has a backlight and a 6000 count large display. It has a fast response and Maximum and minimum data hold option as well. It weighs around 15.4 ounces. It has a dimension of 7.5 x 1.6 x 3.5 inches.
Pros:
• It is professional RMS multimeter used widely by electricians for home and automotive usage. It accurately measures the voltage, current, resistance and frequency as well.
• It has a large 6000 count easy to ready LCD display. It also features a relative measurement function.
• It gives the TRUE ROOT MEAN VALUE (TRMS) for all the AC measurements. It provides with accurate multi volt range also with 0.5% accuracy.
• It has a quick power up and very fast response rate. It has an accuracy level of 0.5% for all the measurements of resistance. It also features audible continuity checks and diode function test.
• It is compliant with IEC 61010-1:2001 for heavy voltage. For mechanical protection it has protective rubber sleeve.
Cons:
• It uses alkaline battery cell which can be harmful at times.
• Battery drains at a faster rate.
• It weighs a little heavy. So at times it gets heavier to carry it.
10. Ulincos Digital Multimeter UNI-T UT33D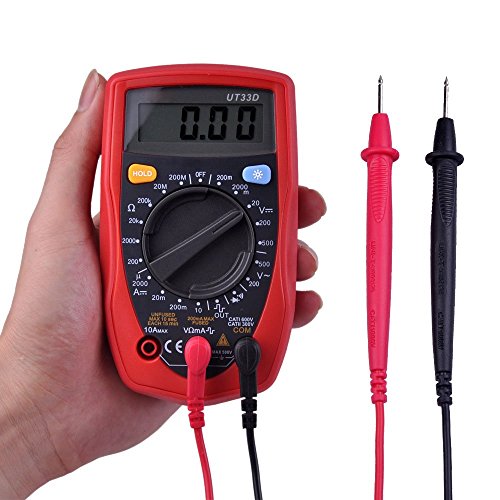 It is an excellent multimeter for professional usage. It accurately measures current and voltage. Apart from that it is also designed to measure frequency, capacitance and resistance at very accurate level. It is highly used at the residential and commercial level by electricians & engineers. It weighs around 10.9 ounces. Its dimensions are 7.7 x 5.2 x 2.3 inches.
Pros:
• It can measure square wave output, current, voltage, resistance & capacitance accurately.
• With the data hold function and the back light, it gives a beautiful look and appearance to the-device. The data hold function provides data after the disconnection as well.
• Palm size design makes it very convenient and portable to carry it anywhere anytime.
• It uses over load protection.
Cons:
• The battery backup is very bad.
• It weighs a bit heavy.
So this is our list of the best 10 multimeters available on Amazon. You can take a quick look at the given descriptions and get to know about the multimeters in detail. Now we will discuss using the multimeter correctly.
Multimeter Buying Guide:
A multimeter mainly has three important parts which are:
Display
Selection knob
Ports
The display unit usually has the ability to display a negative sign and has four digits. There are few multimeters which have illuminated displays which work very well in low light as well. Different things such as milliamps of current, voltage and resistance can be read with the-help of the selection knob. In front of the unit, two probes are plugged into the ports.
The COM is also known as common which is always connected to the –or ground of the circuit. There is no difference between the probes apart from the color which is black and red, the COM probe is black in color. There are lots of probe types such as banana-to-alligator clips, banana to IC hook, banana to tweezers, banana to test probes. These probes are available majorly for all the multimeters.
Measuring the Voltage
To start measuring the voltage on an AA battery, start with: the black probe should be plugged into the COM and red probe should be plugged into MAV. Now the multimeter should be set to 2v in the DC. Now the black probe should be connected to the ground and the red probe should be connected to the power. Now towards the positive and negative terminal, the probes should be squeezed gently. It will show around 1.5V if it's a fresh battery and if the battery is brand new its voltage will be slightly higher.
Now if the DC voltage is needed to be measured, set the knob to the straight line where V has it. We rarely use AC voltage setting as AC voltage can be dangerous at times. In case you need to mess with the AC voltage, a non-contact tester is used rather than a digital-multimeter.
There must be many questions which appear in the mind such as what happens if the black and red probes are switched by mistake. Well, the answer to this is that nothing bad will happen, the multimeter will simply show the negative reading. The reading is always measured in multi-volt by the common probe setting. If the probes are switched then the +' is defined-as the common or zero points. Now there remains a question that how much voltage is available in the end in comparison to the new zero, so the answer to this is -1.5V.
When talking about the DC range, set the knob to 20V. Generally, multimeters are not at all auto ranging. The multimeter is needed to be set to the particular range so that it can take the readings. Let's take an example, for 2V which will measure up to 2 volts, 20V will measure up to 20 volts. Now, if we are measuring a 12V battery, we need to use the 20V setting. The meter will read 1' if the setting is incorrect. Now push the probes to the exposed piece of metal with some force. Now one probe will contact to the GND connection and another one will contact to the VCC or 5V connection.
The different parts of the circuits can also be tested. This is popularly known as the nodal analysis which represents the basic buildings block in the circuit. To know the voltage required by each component we can measure the voltage all across the circuit. Now we should start from measuring the whole circuit to know that where the voltage is going in the resistor and then where the ground is on the LED. The expected voltage is 5V; to check this we should measure the complete voltage all across the circuit. Now we can see that how much voltage is the LED using. You need not fear if it's not making any sense to you. It will eventually as you will start exploring the world of electronics.
The most important thing to understand from here is that voltage at different parts of the circuit can be measured individually and as whole the voltage of circuit can also be measured. This thing should be very clear in our head to pursue the world of electronics as it offers you a vast variety of knowledge and facts but to understand that the basic fundamentals should be very clear from tip to bottom. These basic principles will help you in leading with a clear vision in gaining further knowledge.
Useful Applications Of Multimeter 
Pool of electronic equipments and gadgets are used by the people on a daily basis. Thus, troubles are very common with the electronic equipments and appliances so you are required to have the tool that can test the problems with the electronic equipments. If the problem is minor, you can try to fix the issue on your own otherwise you can call up the experts to handle the problems arising in your equipment. Every electrician carries the testing tool, a multimeter in order to identify the problems in the electronic equipments and appliances and treat the problem in the right way.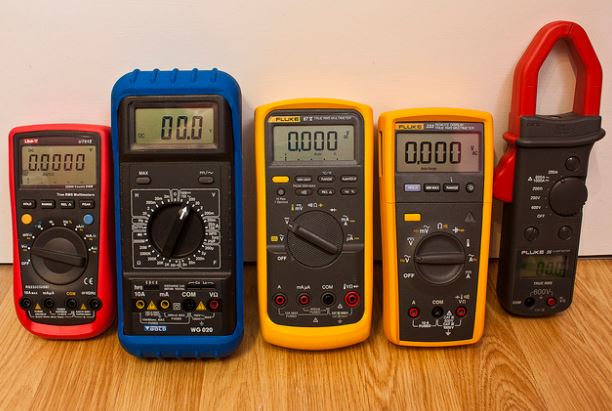 Common problems that are handled by the multimeter
Some common problems which can be fixed with the help of multimeter are:
You don't know the capacity of the electrical outlet:  Plug in the probes in the socket to know the measure of current flowing through it. Set the multimeter to 400V AC and keep the probe in the right combination to know the intensity of current that electrical outlet can provide.
When your car does not start: If your car doesn't start in the morning even after making lots of efforts, you are required to take your multimeter up and set 15V DC. It helps you to know if the battery of your car is charged or not. Turn off the ignition but turn on the lights of your car. A car has the fully charged battery at 30 degrees F. Thus, 12.588 volts will be read on the multimeter. If the battery measures less than 12.45 volts then it means that your battery has low charge and you need to recharge it. Connect a portable battery charger to recharge your car's battery.
To know the capacity of the battery: Many times, you may have several batteries around you but you exactly don't know which is working. Thus, you can use the multimeter to know the power capacity of the batteries. This enables you to pick the batteries which still have the juice.
Lighting troubles: Whether the lighting fixtures have got faulty or the bulbs do not glow brightly, there can be some lighting-related troubles. You are required to use the multimeter to find out the faults in the lighting equipments so that the problems can be fixed easily.
To know if the fuse is working or not: Fuse is an important electronic component which is helpful in preventing short-circuiting in electronic equipment. You should make sure that fuse should work properly. Do the continuity check to know if the fuse is in working condition. Positive and negative leads have to be attached with the fuse to know read the reading.
There are many more applications of a multimeter which can be used while working with the electronic equipments and electric circuits.
Use multimeters for doing regular electrical inspections
A number of appliances and electronic equipments are there which should be checked on a regular basis. This helps in finding the faults in your equipments so that the right repair solution can be considered to fix the faults.
Conclusion
There you have it the 10 best multimeters for electronics that suit your needs and budget. Each multimeter has its own pros and cons that you'll need to consider and it's up to you to find the right lamp that fits your needs.
You are now equipped with information that guides you to get the best multimeter for your indoor and outdoor activities. If you are looking to gain a good knowledge of multimeters and are confused about selecting the best one for yourself then we have given ample information to you here to extract maximum information about the best multimeters available in the market.
This information will help you compare the best multimeters for electronics available and will give you a clear vision and direction in making a correct choice. Choosing a multimeter carefully is very important as it saves us a lot of time and energy if we have the correct device in our hands at the correct time.
We have tried our best here to reveal the best comparisons in every term possible. We are much focussed on our work in terms of providing knowledge and information. We believe it is very important to have the right knowledge and information when needed.
We have also provided a guide here which elaborates how a multimeter functions. The guide will help in resolving small queries and questions that can pop up in your mind while choosing or operating a multimeter correctly.