Laptops and notebooks tend to heat up during prolonged usage. The graphic cards and batteries can have their temperature running to 100 degrees if you close their air vents. Your bed, lap or sofa can lead to this.
You can deal with this by using laptop cooling pad which is fused in with high-powered fans that directs the air flow in the right direction and minimizes excessive heating thereby enhancing the performance of your laptop.
We are rounding up some of the 19 best laptop cooling pads that can help beat the excessive heat.
Laptop Coolers review
Best Laptop Cooling Pad for Gaming
1. CM Storm SF-17 – Gaming Laptop Cooling Pad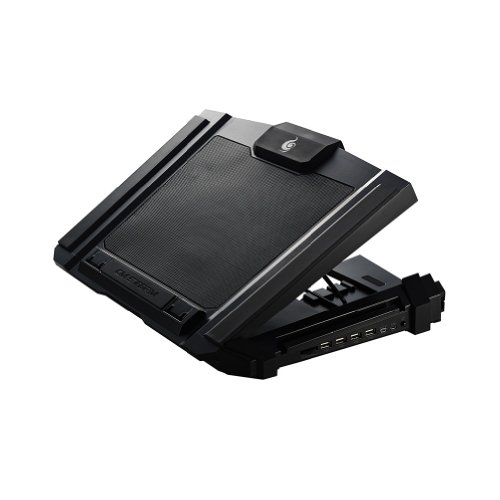 In the year 2008, Cooler master established a new subsidiary called CM Storm for the gaming crowd. The main objective is the arming the gaming community. Cooler Master offered a wide variety of products like Keyboard, cases, mouse and also power supplies. The CM Storm brand also offered the patrons like gaming laptop owners the SF-10 Strike Force cooler. This is an in-depth review of the CM Storm entry in the portable computer cooling area, namely the SF-17 Gaming Notebook Cooler.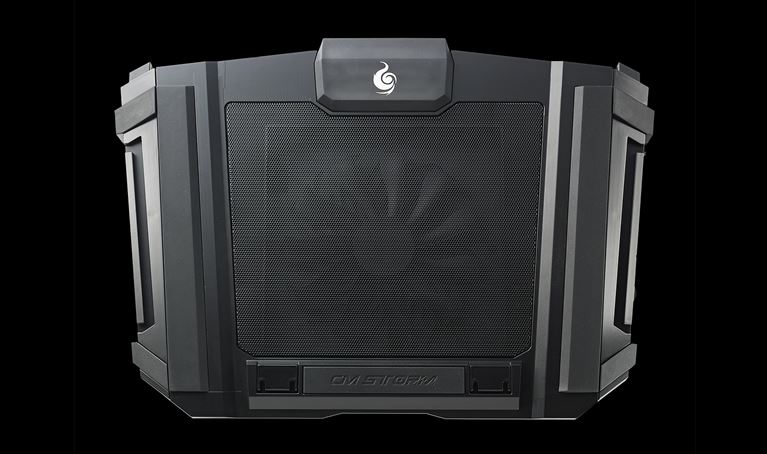 The CM Storm SF-17 has the same rugged look and feel which is unique to the CM Storm products. The SF-17 can support laptops up to 19 inches in size. It is built around a big 180mm low RPM silent elven bladed fan. This also offers four USB ports with USB 2 support and fan speed controller.
Silent and powerful fan:
The big 180mm turbine fan is silent but also powerful. A single fan is preferred instead of multiple small ones. Because it can dissipate heat efficiently by giving an even distribution of any heat generated while producing less noise.
The fan blows air rated at (700-1200 RPM) up to the laptop from the underside via a massive metal mesh to prevent it from being damaged by overheating. The cooling pad is specially designed for heavy applications like gaming that are known to generate more heat which could harm the laptop if it's being used for long period of time.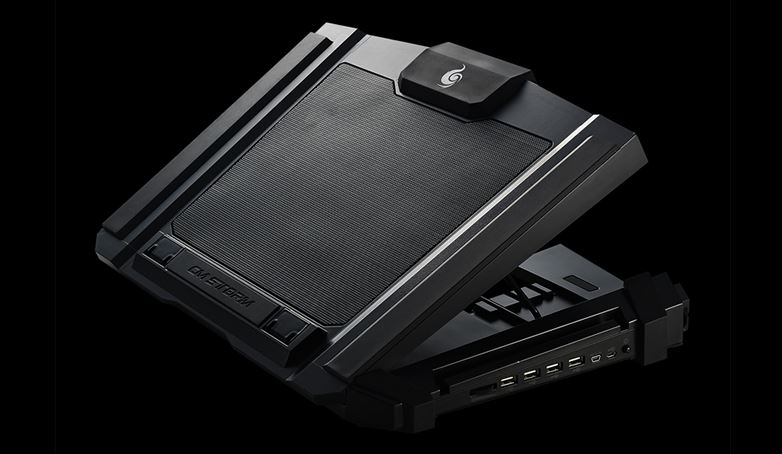 Build & Design:
The CM Strom SF-17 cooling pas is very similar to its predecessor the SF-19 Strike Force sporting a rugged angular build. The top unit is dominated by the metal mesh in the centre that protects the turbine fan. The back of the CM Storm SF-17 has a large whirlpool shaped cut-out in the centre instead of metal mesh as the mesh section on the back would not allow smoother airflow. This is where the fan's casing fits in. The intake cut-outs, however, does not seem to take advantage of the area available. There are four pieces of rubber in each corner serving as a stabilizer and raiser for the cooler.
2. iKross Laptop Cooling Pad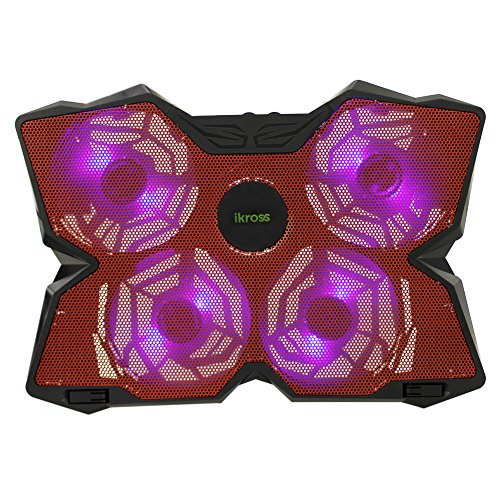 The iKross Laptop Cooling Pad comes in a super cool design with a colourful metal mesh and high performance 140mm fans with blue LEDs.
One of the best features of this cooling pad is the robust design which makes it ideal for gaming and high performance laptops. It can easily be carried in a larger laptop bag, making it ideal if you travel a lot.
The adjustable legs will allow you to with a great support and comfort for typing and screen viewing.
The iKross Laptop Cooling Pad might be your ideal choice if you are looking for comfort and fashionable design.
3. TopMate Gaming Laptop Cooler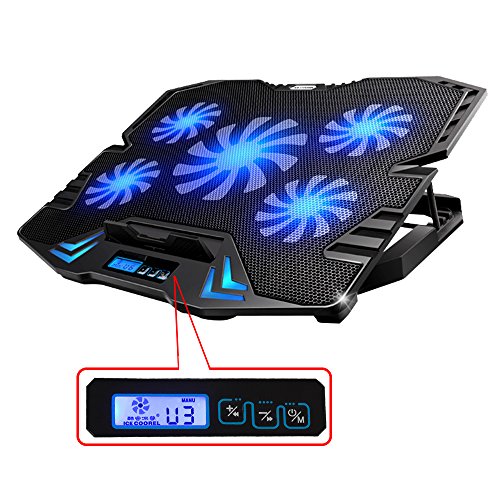 The TopMate Gaming Laptop Cooler comes with an incredible unique design.
It benefits from a very large mesh, four outer fans and a large strong wind centre fan which are all completed by few blue LEDs. This is a great feature if you play games or work in dark conditions.
A great feature of the TopMate 12-15.6 inch Gaming Laptop Cooler has 5 fans. 4 among them are outer fans and one center fan is a big one. It looks like a beast.
This notebook cooler is totally unique style and comes with 4 adjustable height. That's why you can use it as your comfortable. You can change the angle of the cooling pad if you need.
This topmate cooler has blue LED's when you are working these LEd's get illuminating. So, you can feel good and feel enthusiasm while working.
The pad comes complete with a screen display to make it easier for you to keep track of the fans speed.
Best laptop cooling pad for 17 inch laptop
4. Cooler Master NotePal X3 – Best for money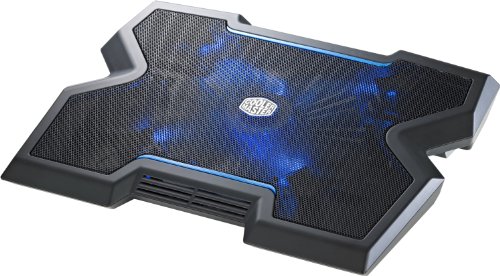 The Cooler Master NotePal X3 is perfectly designed for people that spend a great amount of time using their laptop.
It comes with a metal mesh, a massive 200mm fan and a dial wheel fan speed controller for best performance and for cooling down laptops of big size up to 17 inches.
The grid positioned at the front of the pad allows for a cool breeze to be directed towards your hands. No more sweaty hands when gaming with your mates or typing for a long time.
You will enjoy the Cooler Master NotePal X3 especially if you are a big gamer and are looking for a powerful high performance fan system that would allow you to keep going for long hours.
Best Laptop Cooling Pad for 15.6 Inches
5. ThreeLeaf T102 Laptop Cooling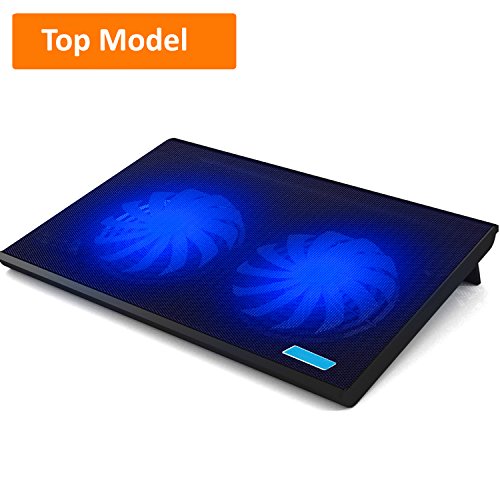 The ThreeLeaf T102 Laptop Cooling is designed for smaller laptops 11 to 15.6".
It benefits from an ergonomic back stand which makes it easier to type and relieve wrist aching that usually comes with prolonged use of mouse or keyboard.
One of the best features of this pad is the light and small design which makes it ideal if you spend many hours working on your lap.
The ThreeLeaf T102 Laptop Cooling offers a decent cooling airflow provided by the two medium size fans placed under the metal mesh.
You might want to consider this pad if you are looking for something that does the job without any fancy extras.
Best High performance Cooler
6. HAVIT HV-F2056 – Best seller with maximum reviews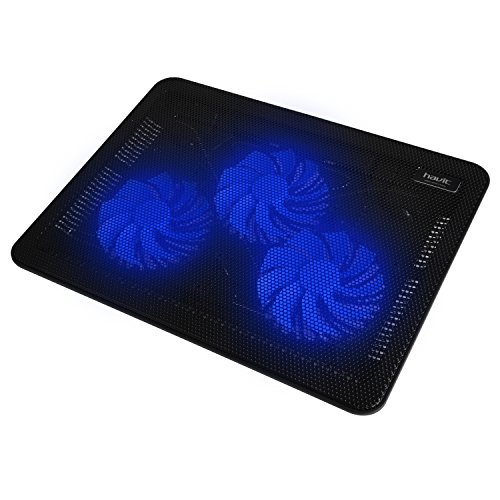 The HAVIT HV-F2056 is the ultimate cooling pad designed for travel. This makes it an exceptional feature for business people on the go or for people that travel for work such as travel writers or travel photographers.
It uses three powerful fans for a maximum airflow, which places it firmly among the most powerful laptop coolers available.
The only downside is that you cannot adjust the pad's height but it compensates this lack with other great features.
One of the best features is surely its high performance durability which is a great point for an item that might be carried around a lot.
7. Cooler Master NotePal X-Small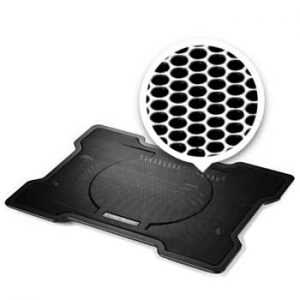 The Cooler Master Notepal X slim is a simple and compact laptop cooling pad. A good product from the classy Notepal family range. It's a pretty inexpensive cooling pad definitely does a good job cooling.
Other than water and physical damage heat is one of the primary killers of laptops. We use cooling pads to dissipate heat and get the heat away from the laptop so the laptop stays cool and components on the inside stay safe.
Features
Build & design:
The Cooler Master' Notepal X with ultra slim and lightweight design is made for effective cooling with easy carrying and storage. The materials used are black plastic, metal mesh and rubber A large fan and metal mesh surface provide cooling for overheating laptops. 
Once you place the laptop on the cooling pad there is absolutely no movement. So the rubber pieces on the bottom of the laptop bind in with that metal mesh and prevent the laptop from actually moving back and forth.
Fast cooling and quiet performance
Cooler Master Notepal X slim features a silent 160mm cooling fan. The fan along with the full range perforated metal mesh enables excellent airflow by generating 70 CFM of airflow. As a result, any type of resistance that it may receive on the bottom surface it still going to dissipate heat. Because of the vents are on the bottom of the laptop provides best in class cooling to the laptop.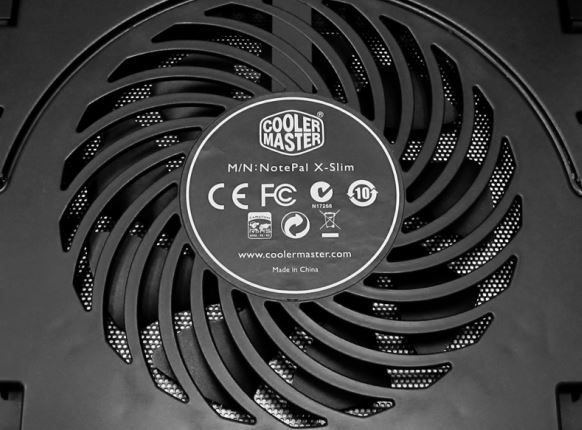 Compatibility
The Notepal X slim is an ideal companion for laptops varying from 7′-17″ inches no matter which brand it is. 
USB management
Notepal X slim has cable grooves on the bottom so you can easily manage USB cable. It is powered by USB port extender. Since its a pass through you don't lose usage of that USB port and can plug in another USB, memory stick or hard drive etc. So its very useful for laptops with less number of USB slots. Wiring on the USB port might be an issue as its right angled and might interfere if multiple USB ports are next to each other.
Slim profile
The Notepal X slim is both thin and lightweight. It is only 46mm at the highest setting weighing merely 1.5 lbs. Hence it is easily portable can be taken to go along with you. 
Adjustable height
Notepal X slim has two stages of height adjustment. There are two pegs underneath allowing you to easily adjust the X slim's incline to your preferred viewing or typing angle. So stage one is when pegs folded and stage two is when pegs are open.
Best Adjustable Laptop Cooling pads
8. Kootek Laptop Cooling Pad – Best adjustable cooling pad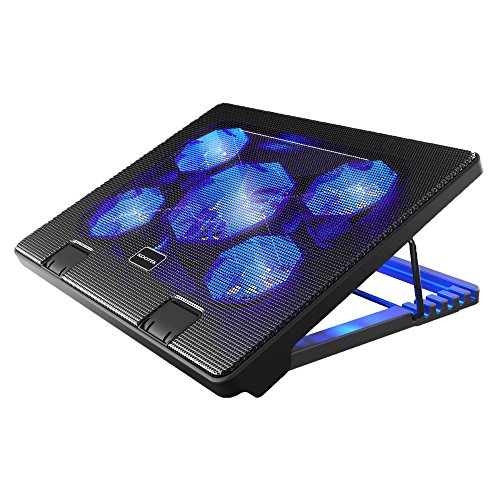 The Kootek Laptop Cooling Pad benefits from an excellent adjustable ergonomic stand.
You might want to consider this pad if your main purpose is to watch movies or to play games. The stand can be adjusted to 6 different height settings. This feature will allow you to get comfortable in many different positions.
One of the best points of the Kootek Laptop Cooling Pad is the two stoppers that lift up at the front to prevent your laptop to annoyingly falling on your belly or even worst on the floor.
If you spend long hours working or gaming on your laptop, your device will be kept cool by the 5 cooling fans strategically located under the metal mesh which you will be able to control with the two on/off switches. This way you can choose how many fans you want working at one time.
Funky blue LEDS complement the fans to optimize the use in the dark.
9. TeckNet Laptop Cooling Pad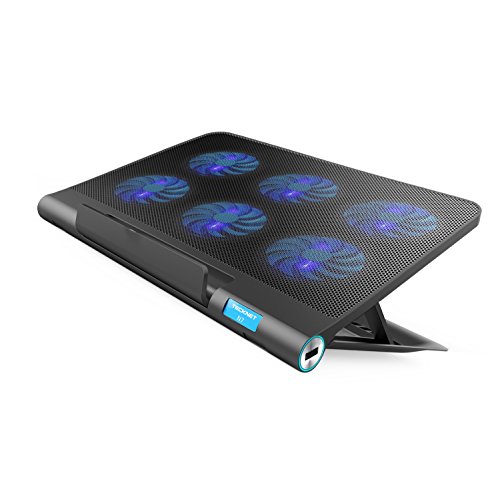 The TeckNet laptop cooling pads looks really cool. It features a metal mesh base with six 70mm fans with blue LEDs.
If you are looking for a cooling pad that you can adjust to suit your comfort, this might be ideal for you.
It has 5 different adjustable levels so you can lift and tilt your notebook for optimized comfort. It is perfect for a relaxing reading session.
One of the best features of the TeckNet Laptop Cooling Pad is that it is conveniently powered by the USB port on your computer. There is no need for a power adapter.
It comes with an 18 month warranty. Many of the persons asks "do cooling pads for laptops really work?". But after using this cooling pad you will get the answer.
Best Gaming Laptop Cooling Pad with attractive look:
10. HAVIT HV-F2063A Cooling Pad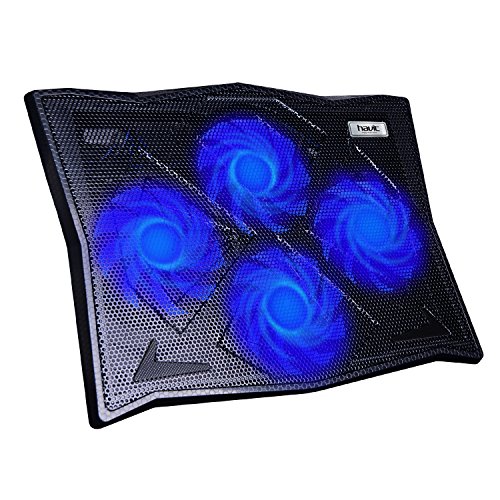 The HAVIT HV-F2063A Cooling Pad is ideal if you are looking for ultra-quiet fans. In fact the large fans work at a very low noise level allowing you to work in an almost silent environment for maximum concentration.
The pad gives you perfect control over the air flow as you can control the fans speed. Your laptop will benefit from the perfect cooling breeze as the fans are strategically located at each corner of the pad.
The HAVIT HV-F2063A Cooling Pad is highly recommended if you are looking for a practical and light weight pad but do not want to compromise high quality standards.
11. Tree New Bee – Best rating cooler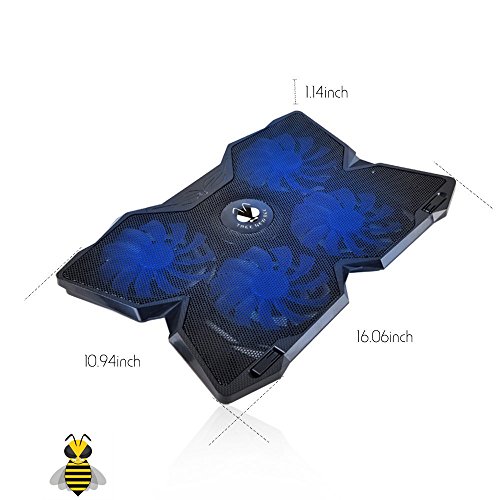 The Tree New Bee Cooling Pad's four fans provide an efficient airflow keeping noise at a minimum.
The pad has quite a distinctive design which could possibly be a downside if you are looking at using it for business. However, it would fit perfectly a gamer looking for a funky cooler or someone looking for a traveling cooler pad as it easily fit in a backpack.
The Tree New Bee Cooling Pad might just be the perfect choice for you if you are looking for a device with outstanding cooling features with a touch of cool looking design.
12. 
Belkin CoolSpot USB-Powered Laptop Cooling Pad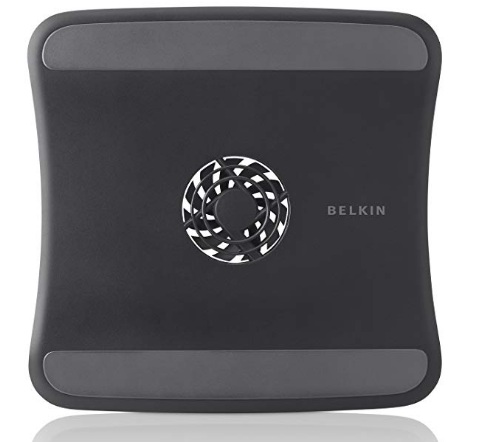 Belkin Cool Spot Laptop Cooling Pad has a simple, slim and lightweight design. Having a weight of just 1.26 pounds, it is portable and can be easily handled. Belkin Coolspot is suitable for laptops having sizes of up to 15 inches. It is a compact model with an outstanding thin and ergonomic design along with a built-in cable organizer.
Cooling Performance and Design:
With excellent heat dissipation system, it prevents overheating after a long usage. A continuous and uniform air stream is possible under your laptop because of its curved shape air flow wave design.
Instead of pushing the air inside, it pulls the air thus enhancing its cooling efficiency. No need of battery support for cooling purpose because an USB port is merely sufficient for plug in and initiating the cooling.
Also, its quiet fan won't distract your interesting tasks like games, movies and music. Overall, all these positive aspects make it run at prime efficiency.
Ergonomics :
The top position is angled thus making it convenient for typing purpose but, there is no slip ledge for holding it at a position that addresses to issues of sliding of laptop sometimes. Slipping and sliding of laptop is avoided by grip pads at the bottom.
Belkin model is considered to be small for gamers and developers. But, its design and simplicity is preferred by a set of users.
Best Laptop Cooling pad for Macbook pro
13. Merkury Innovations Laptop Cooling Stand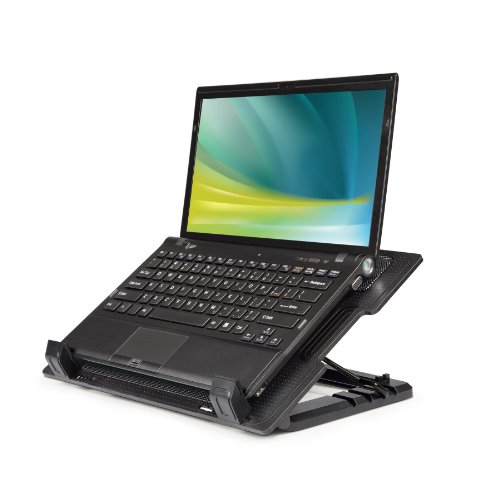 The Merkury Innovations Laptop Cooling Stand is ideal if you wish to have control over the viewing angles as the pad provides 5 adjustable different heights.
The pad will allow you to get comfortable while keeping your laptop cool thanks to the air flowing through the metal grill.
One of the Merkury Innovations Laptop Cooling Stand best features id the two adjustable ant slip props to allow you to concentrate on your work or game instead of keeping your laptop in place.
Features
Build & Design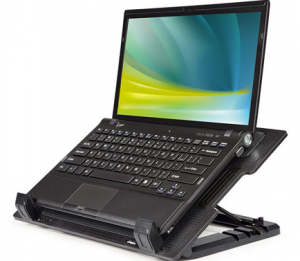 It has a very simple design and most of the design is really down to having something very useful. There is nothing big on the aesthetic front as its really down to functionality.
The laptop cooling pad is made up of thick black plastic and big metal mesh which provides a large area for cooling.
It also comes with a metal hinge for tilt. The cooling pad is secured with powder paint job making it more robust and impervious to scratches.
Once you place the laptop on the cooling pad there is absolutely no movement. So the rubber pieces on the bottom and the rubberized retention tabs prevent the laptop from actually moving back and forth.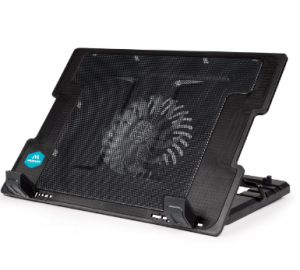 Height Adjustment
Since ergonomics plays a vital role even for laptop cooler as proper viewing and typing angles can make a huge difference.
The front has a metal hinge, which has a pretty simple mechanism and does a great job keeping everything stable at different angles.
The cooling pad in stock or normal position sits at an angle of 6.5 degrees.
It can also be adjusted further to your desired position with four other angles (19, 30, 38 & 45 degrees).
This provides the best viewing as well as typing angle which relieves your eyes and wrist of stress. Therefore, making it a convenient feature for the user.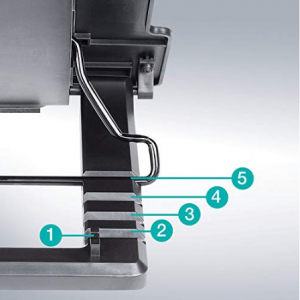 Anti-Slip
The cooling pad has a rubber padding on the bottom which prevents it from moving when working.
When the cooling pad is at an angle (tilt position) the two removable retention tabs make sure the laptop doesn't fall.
The retention tabs adjust side to side, accordingly to accommodate laptops of different size.
No external power required
One unique feature of the Merkury cooling pad is that is doesn't require any external power source to run. All it uses is the USB port to plug into the laptop.
Expanded capacity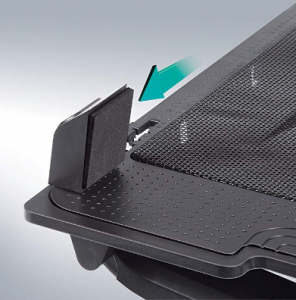 You can connect your additional accessory like keyboard, mouse or webcam using the cooling pad's additional port.
This is very useful especially if your laptop does not have multiple USB ports. Also, there is an on/off button which turns the cooling pad on or off.
This is useful when your laptop battery is low on charge and you don't want the cooling pad to drain it.
Compatibility
Merkury laptop cooling pad is compatible with laptops or notebooks varying from 9″- 17″ inches in size.
LED
Merkury cooling pad doesn't have much to do with the Aesthetic design. Yet, it has an LED light in the bottom which lights the fan.
It looks nice during low light even though you can't see it when the laptop is placed over the cooling pad.
Specifications
The stand has measurements of 10.06 x 9.33 x 6.10 inches. It is reasonable for a scratch pad with a profundity of not more than 9.4 inches.
Best Innovative Laptop Cooler
14. Opolar LC06 Laptop Fan Cooler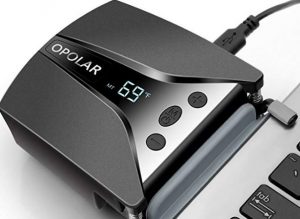 Increasing the laptop cooling is really difficult. It's not like the desktop where you can simply swap the heatsink. By replacing it with a bigger one or even changing it to water cooling solution. It doesn't work that way with laptops.
Vacuum cooling system
Laptop cooling pads have been in the market for quite some time but they are not the best you can get. Vacuum cooling fans work in a unique way by attaching themselves on the exhaust vent of the laptops.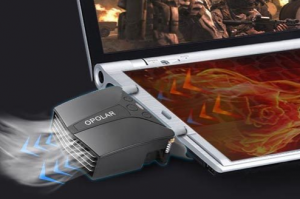 So when you think what's Opolar going to do differently?.
Since Opolar has been in the industry for several years. Hence they have several iterations of their vacuum cooler, which is in the sixth generation (LC-06).
Well to simplify, its basically a vacuum styled fan that you can attach to the outside of exhaust vent of your laptop.
It increases the speed of hot air coming out from it. So it uses a stock heatsink that your laptop already has. But it just increases the airflow that's coming in and going out of your laptop.
Inside the box
The model LC06 comes with the laptop cooling device, user guide, Micro USB connecting cable which is going to power the device.
There are three rubber shrouds varying in size. You have two types of fitment. One is temporary fitment which will come in handy if you are moving the laptop all the time and a permanent one. It also has a registration card if you want to be a member.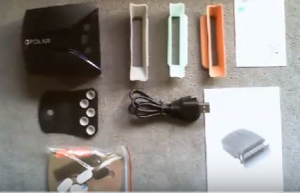 Build & Design
On the cooling device are three different settings.
The on and off switch in the middle and other two buttons are for controlling the speed of the fan.
One increases the speed and another one decreases it. Manufactured in Japan, the bearings are with much higher standards.
The fan is rated over 5000 hours which is more than few laptops themselves.
Also, you can choose from 13 different fan speeds to find the optimal setting with less noise and greater airflow. 70dbh is the sound it produces at maximum speed. It is not more than the usual house fan. Another nice feature is the bright LED temperature display on the side of the vacuum cooler. This shows the temperature of air leaving the laptop.
Installation
The installation part is just walk in the park. All one has to do it install the adhesive mount at the bottom of the laptop. Pick the correct exhaust shroud size as it will vary depending on your laptop vent size.
Another important thing in a cooling system is how firmly the fan is attached to the laptop vent. Because you want it to draw air directly from the vents and not from around it. There are three different silicon shrouds with three different thickness (0.75, 0.875 & 1 inch).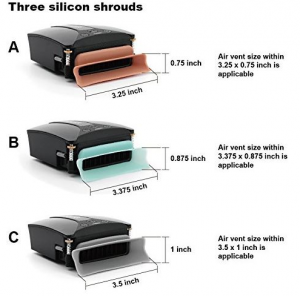 Each shroud should be attached to fan at the side of the laptop. The width of the shroud should be matched with the thickness of the laptop in order to provide a perfect seal around cooling port of the laptop. The clamping mechanism is solid so you don't have to rest the laptop on the desk. the rock-solid clamps allow you to move around freely.
Performance
Therefore by attaching to the air outlet, they are able to suck air at a higher velocity than the stock cooling system. Some of the cooling systems have boosted performance by a significant margin. Therefore it increases the performance of the gaming and kept the laptop cool by helping to drop the CPU & GPU up to 5-degree Celsius.
15. TekHome Super Vacuum Fan Laptop Cooler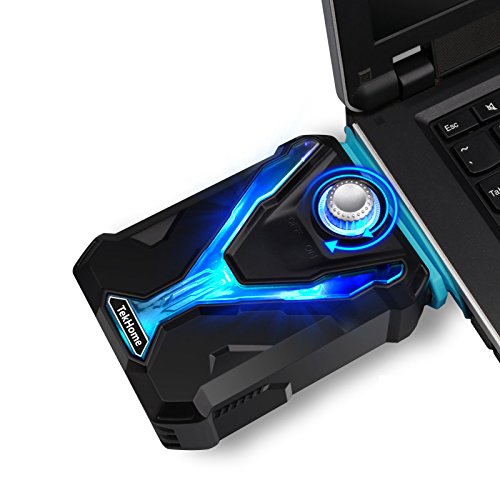 The TekHome Super Vacuum Fan Laptop Cooler is a very innovative cooling device with a unique design.
Instead of blowing cold air to the bottom of the laptop, it sucks the hot air inside through the exhaust system of your laptop.
Some of its great features include adjustable wind settings and a portable design with awesome lighting effects.
It is compatible to wide range of laptops and notebooks in the market, it comes with its mounting accessories and it should be place on the laptop exhaust vents.
TekHome Super Vacuum might be ideal for you if you are looking for something innovative, super lightweight and able to cool down your device in seconds.
Best laptop coolers for bed
16. Targus Lap Chill Mat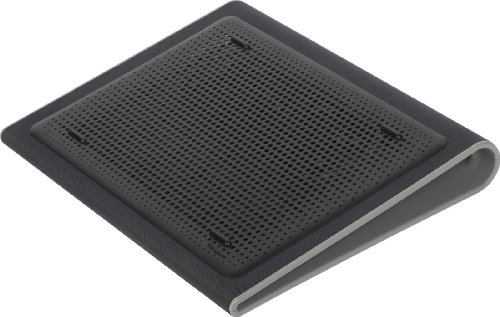 The Targus Lap Chill Mat features are designed to take care of your comfort. The neoprene exterior makes it extra comfy to have on your lap.
Four rubber stops are conveniently located on the surface of the mat to prevent your notebook from sliding and slipping.
The dual fans provide very cooling ventilation to your laptop as well as your lap. It is not recommended to use the Targus Lap Chill Mat on a cushion or comforter as they can obstruct the ventilation.
However, if used correctly it might extend the life of your laptop.
The ergonomic tilt feature makes typing easy. Most of the people often discuss this laptop cooling pad on reddit.
17. Zalman Laptop Cooling Pad
If you are looking for a funky multifunctional cooling pad this might be the right choice for you.
The Zalman Laptop Cooling Pad will not only keep your laptop cool but it will also provide you with sound entertainment.
It is perfect for watching movies and TV shows or to listen to your favourite tunes while working on your laptop. The built-in 40mm stereo speakers will provide you with a perfect sound experience by refracting the sound towards you.
One of the best points of the Zalman Laptop Cooling Pad is the ability to connect to several peripheral devices thanks to its 4 ports supporting USB hub.
Best laptop cooling pad for Gift
18. Targus Space Saving Chill Mat – Best cheap cooling pad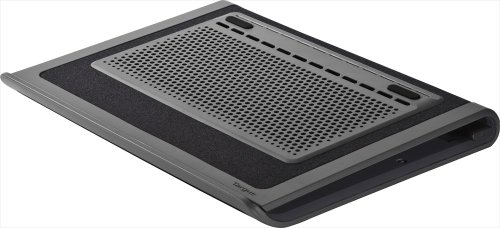 The Targus Space Saving Chill Mat has been designed with the traveller in mind.
If you travel a lot for work, or if you simply travel a lot, this cooling pad might become your traveling companion.
The pad can be easily fit in your suitcase, backpack or overnighter thanks to its small design. The plastic material makes it very light to carry around without having a great impact on your luggage weight.
Functionality and comfort are two of the main features of the Targus Space Saving Chill Mat as you can enjoy it straight on your lap or on a desk.
19. Thermaltake Massive 14 Notebook Cooling Pad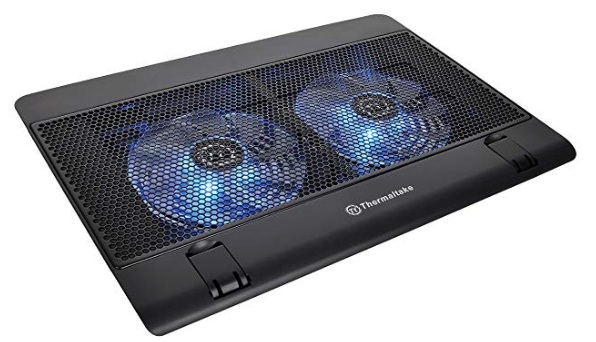 Arriving with a slim and simple design, it guarantees a dual cool performance. Thermaltake is more apt for laptop sizes from 10 to 17 inches. But, it is somewhat small for a 17-inch laptop. It consists of a separate fan and an LED switch.
Ergonomics :
An optimal viewing angle and a comfortable hand positioning with 3 different adjustable height settings are its magnificent ergonomic concepts that enable a gaming lover to spend more nights on gaming comfortably.
Cooling Performance :
Dual 140mm fans are used for awesome cooling performance by producing cool air. Fan speed upto 1200 rpm is possible and it is adjustable by a controller. The laptop is provided with independent LED lighting switch that is available at the side of the pad.
Design :
Gaming Laptops can be securely mounted using Dual Laptop levers thus avoiding its sliding when used in a docking like position. Wind resistance and noise can be reduced by Hexagonal cooling mesh design thus enabling a uniform airflow over the surface.
Since, it is equipped with Dual USB 2.0, it eliminates connection reduction. A warranty period of 3 years is provided.
Product Details
Weight : 1.5 pounds
Dimensions : 15.1 x 10.4 x 1.1 inches
Screen size : 10 inches
Benefits of Purchasing a LAPTOP Cooler
Final Thoughts:
Now, you know which of the laptop cooling pad fits well into your needs. Choose the one that is a perfect fit for your device based on the specifications and the cooling effect that it offers to reduce the heat and maximize the performance.
For more information on best laptop cooling pads, get in touch with us.
Read also: