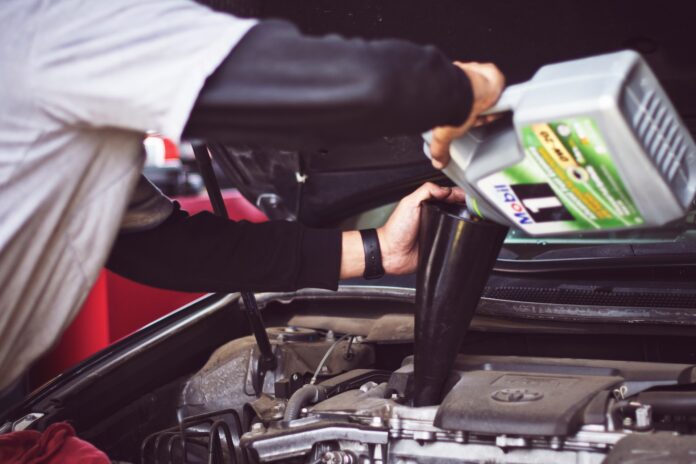 The main function of engine oil is to diminish metal-to-metal contact thereby reducing friction and wear. Heat is generated out of friction that again leads to high wear and damages the moving engine parts after a certain period. The oil also regulates the engine's temperature. Engine Oil removes sludge throughout the engine. The engine will freeze up without oil. Here we are going to see the top 10 best synthetic engine oil reviews.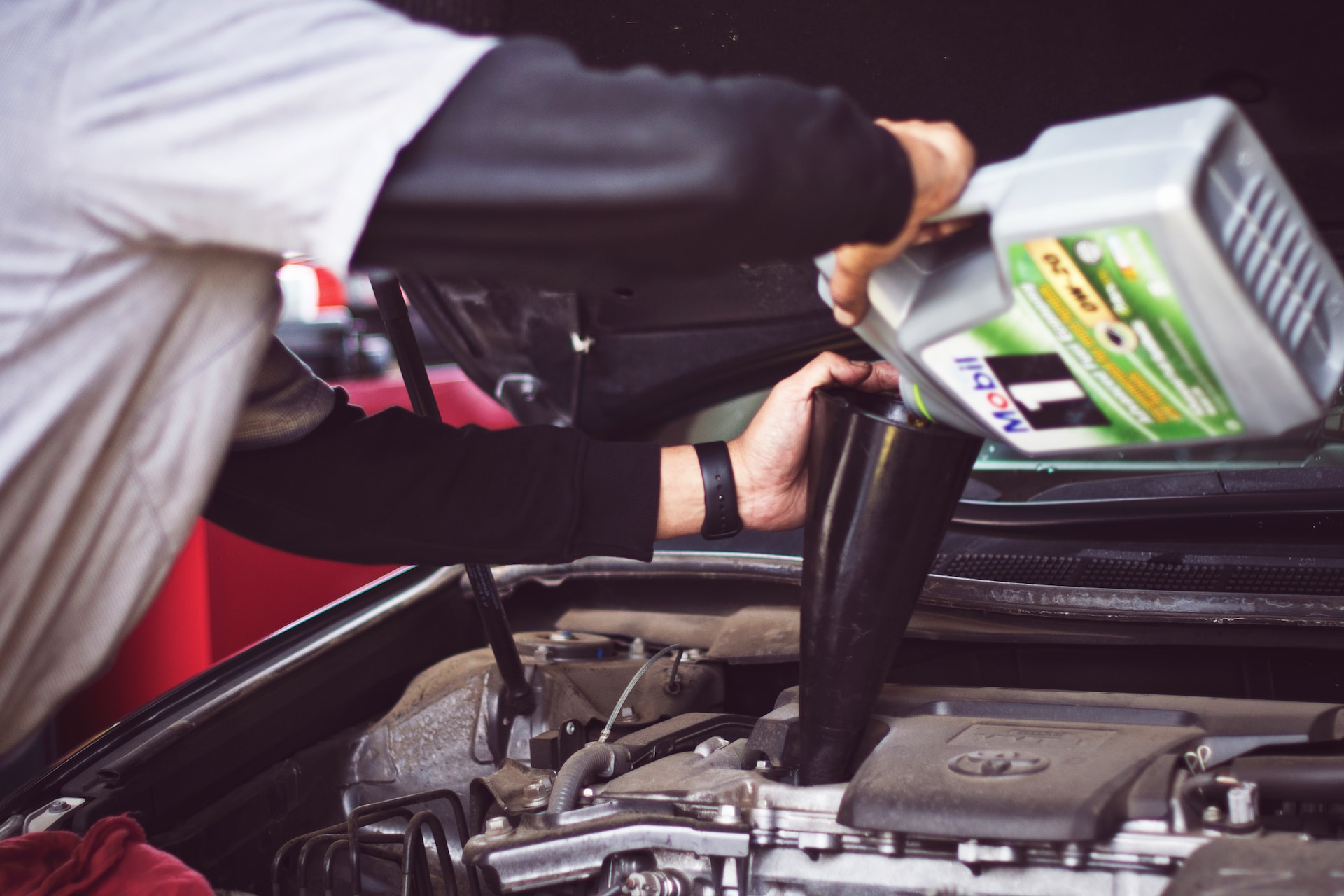 Types of Engine Oil
There are two types of engine oil available as follows :
Conventional mineral oils are traditional and are widely used even now.
Synthetic motor oils
Apart from these, semi-synthetic oils are also available in the market obtained by blending synthetic oils and conventional mineral oils at certain varied proportions. Sometimes, Semi-synthetic oils are termed as "blends". These blends can perform better than conventional oil.  Each synthetic brand consists of a mix of high-performance fluids and additives.
Full synthetic oil makes use of synthetic base stock with a diversified variety of additives boosting the oil's performance. A higher level of protection is offered by full synthetic oil than conventional or synthetic blends thus meeting the basic qualities of lubricant.
Why Synthetic Oil is needed?
Conventional mineral oils contain large impurities like sulfur and hydrocarbons and unwanted contaminants which are more reactive, unstable, and less eco-friendly. Also, these could not be fully removed by traditional crude oil refining methodology. Also, there occurs a need for efficient oil lubricants for high-performing vehicles in recent years. Owing to these needs, synthetic oils come into the picture.
Although synthetic oil was developed in 1929 for the first time, due to recent developments in technology and easy access to mineral resources, synthetic oils have been graded up. It is being used in jets, machinery, high-performing vehicles, and now, in consumer vehicles too.
Synthetic oils are synthesized from raw products and are used as an effective and specifically designed lubricant for engines. They are manufactured by chemically altering crude oil.
Highly refined base oils available in synthetic lubricants provide powerful protection and guarantee higher performance and longevity usage for many years rather than conventional mineral oils.
See also: Can You Mix SYNTHETIC Oil with REGULAR Oil?
Engine Oil Under Extreme Temperature Conditions
Under conditions of low temperature, pumpability becomes an issue while under high extreme temperatures, the stability of a lubricant is a critical problem. If these are not dealt with properly by oil, it leads to engine wear, reduced fuel economy, limited engine life, and so on. Only a customized synthetic oil can effectively deal with the above engine conditions in modern times.
Oil Flow while starting an engine 
When an engine is started, it takes some time for the mineral oil to circulate because it is thicker and moves slower. Meantime, this leads to wear and friction in the machine parts due to a lack of proper lubrication oil. Contrary to this, a synthetic lubricant circulates faster than conventional ones because of its free-flowing ability thus reducing friction and keeping the engine moving parts always in a lubricated condition.
In turn, synthetic oil increases the operating efficiency and also reduces excessive oil consumption as in the case of conventional type.
Synthetic Oil vs Conventional Oil
Both synthetic oil and conventional motor oil are made from refining crude oil taken from deep underground. But, it is hard to find the difference between new synthetic and conventional oil visually. As far as performance is considered, Synthetic oil is far better than conventional oil and semi-synthetic oils.
The main difference between synthetic oil and conventional oil lies in the level of refinement. Most synthetic oils come from highly refined crude oil while other synthetic oils have artificially made compounds.
The manufacturing process of synthetic oil not only involves removing more impurities from the crude oil, but also, tailoring or customizing individual oil molecules according to the demands of today's engines. These customized molecules keep your engine protected at higher levels by means of reducing friction and engine sludge thus overperforming the conventional oils.
Advantages of Synthetic Oil Over Conventional Oils
A uniform molecular size is available and it guarantees less friction
Reduce deposits and high-level refinement
Assists in cleaning engine sludge and deposits
Additives enhance the protection by making fewer impurities and keeping the engines clean
Functions well in extreme weather and cold conditions
Can withstand and resist extreme temperatures within an engine that justifies its usage in high-performance vehicles.
More free-flowing than traditional oil
Fewer emission levels
Better oil and fuel economy
The engine gets started quickly
Wear resistance and reduces engine drag due to thickening oil
No frequent oil changes needed
Cleaner and more environment friendly
The benefits of using synthetic motor oils can be viewed through better-performing engines, fewer repairs, and longer engine lives. Not only that, you will be spared the agony of regular visits to your mechanic, and that also means less money spent on unwarranted repairs.
Synthetic oils are derived from either of the following groups – Group III, Group IV, and some Group V bases.
Because of these amazing benefits, a lot of products get developed to this effect. Coming up with the best choice for your motor can be a tall order. It is for this reason that we have come up with a list of the top ten synthetic motor oils, which we believe will ease the burden of coming up with the best synthetic oil for your need.
There are separate synthetic oils for cars and bikes. The article briefed out a list of products with pros and cons. Customers can click on the highlighted link to know about the synthetic oil price.
Top 10 Best Synthetic Oil Reviews
Best high-mileage synthetic motor oil
1. Valvoline MaxLife High Mileage Motor Oil, SAE 5W-30 – 5qt (782256)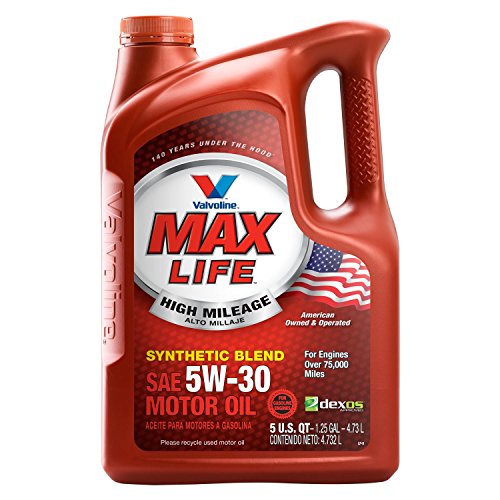 With extra detergents to keep older engines cleaner, the Valvoline MaxLife High Mileage Motor Oil, SAE 5W-30 – 5qt (782256) is an ideal synthetic engine oil. Not only that it has extra wear protection that helps prevent future engine wear,
It also has anti-oxidants. These prevent oil breakdowns that cause engine-clogging sludge and deposit formation.
Another leading factor is that it has seal conditioners that rejuvenate aging engine seals thus preventing oil leaks. It is specifically designed for higher mileage engines and provides quality service to new and rebuilt engines.
Valvoline MaxLife is the first motor oil specially formulated to meet the needs of higher mileage engines, new and re-built engines. Valvoline MaxLife is a blend of many commodities such as seal conditioning agents, cleaning agents, anti-wear additives, novel friction modifiers, and others for enhanced protection.
Pros:
Suitable for high mileage engines.
Low price
Works well with most regular oil filters
Extra additives that help aging engines
Extra wear protection
Cons:
Cannot be used in engines where you have to pre-mix oil with gas before usage.
Best 5w30 full synthetic oil
2. Pennzoil 550022689 5W-30 Platinum Full Synthetic Motor Oil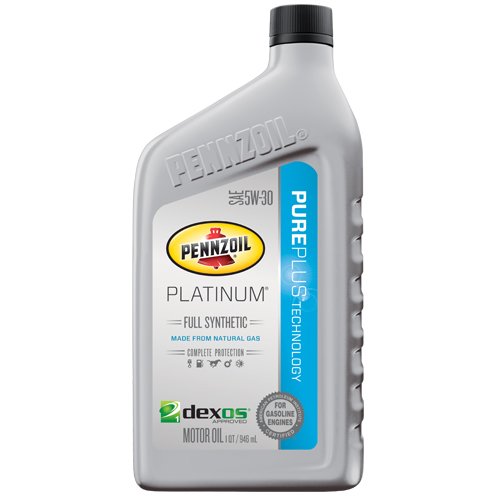 Pennzoil 550022689 5W-30 Platinum Full Synthetic Motor Oil – 1 Quart, is the best synthetic motor oil specially designed for harsh weather conditions. These can range from severe hot weather to freezing conditions.
With excellent cleansing agents, you get assured of a sludge-free engine compared to other synthetic blend oils or conventional oils. It also has the advantage of wear protection thus keeping the engine cleaner, and is suitable for severe driving conditions compared to the conventional oils.
It exceeds the most stringent car manufacturer requirements; therefore making it a safe bet for cleanness and protection.
Pennzoil Platinum Full Synthetic motor oil holds an advanced formula for engine lubrication, cleaning, and protection. Active Cleansing Agents in the Pennzoil platinum motor oil prevent deposits on difficult-to-clean engine parts and pistons and other engine surfaces better than conventional oils and synthetic blends.
The company guarantees to keep pistons up to 40% cleaner far better than the industry standard and assures that no other leading motor oil can keep the engines cleaner and also protect them from wear.
More than this, oxidation at high temperatures within the engines can be controlled thus avoiding the creation of unwanted deposits.
Pros:
Suitable for severe conditions
Superior cleansing agents
Compatible with previous versions
low price with impressive performance
Cons:
May not be appropriate for some engine models make sure to check the manufacturer's instructions.
Best synthetic engine oil for diesel engines
3. Liqui Moly 2041 Premium 5W-40 Synthetic Motor Oil – 5 Liter Jug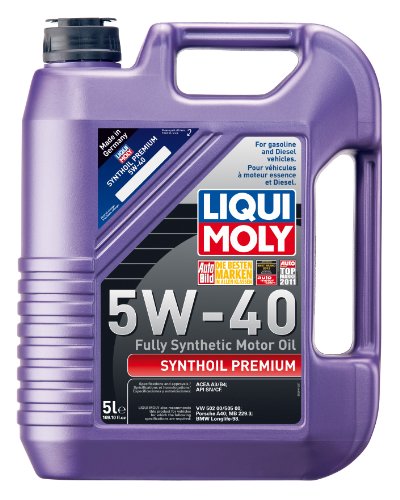 The Liqui Moly 2041 Premium 5W-40 Synthetic Motor Oil – 5 Liter Jug synthetic motor oil has rapid oil delivery at low temperatures. It also guarantees very high lubrication reliability in minimum temperatures.
Due to its ability to ensure outstanding engine cleanliness, you will not only save on petrol, but you will also reduce pollutant emissions. Be assured of a long engine life due to its high level of protection against wear.
It is a good product for engines and encompasses the latest engine concepts such as turbocharging, inter-cooling, supercharging, variable cam and timing configurations, multi-valve arrangements, etc.
The motor oil is fully synthetic and also of energy conserving type. This is the best motor oil for both gas and diesel engines built with multi-valve arrangements, variable cam, timing configurations, supercharging, turbocharging, intercooler, etc. It is capable of providing instant lubrication after a cold start and also saves fuel energy.
According to the customer responses, the oil usage is extended for long intervals and it satisfies the highest demands of an engine.
Pros:
Suitable for both gas and diesel engines
Has less pollution
Offers high lubrication even in low temperatures
A first-quality synthetic engine oil
Works well in all weather conditions
Can be used on Sprinter vehicle models
Cons:
May not be suitable for some engines which may require different oil viscosities, check instructions.
Best high-performance synthetic oil
4. Shell Rotella (550019921) T6 5W-40 Full Synthetic, Heavy Duty Diesel Engine Oil (CJ-4)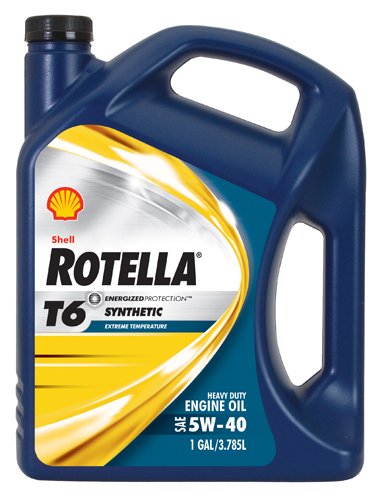 When in need of ideal engine oil for heavy-duty engines, Shell Rotella (550019921) T6 5W-40 Full Synthetic, Heavy Duty Diesel Engine Oil (CJ-4) – 1 Gallon is a good option. 5w-40 refers to the viscosity of the oil. It features low ash technology with advanced multifunction capabilities. This technology aids continuous responsive protection that adapts to your driving conditions.
It has low phosphorous and sulfur emissions and proven efficiency. Works well under low temperatures, and provides unprecedented freedom from shear stability degradation. Excellent for on and off-highway heavy-duty applications. Also suitable for devices operating under extreme cold and hot weather conditions.
Sulfur emissions are harmful to ecosystems and lead to acid rain mainly. To humans, it causes lung diseases, cardiovascular disease, and other breathing problems like coughing and wheezing.
In addition to that, they are appropriate for vehicles fitted with diesel particulate filters. Weighing around 5.15 kg, the motor oil can operate at very low-temperature flow, even at -30˚F and it assures protection against shear-stability degradation.
Heavy-duty oils are typically used in diesel engines containing a huge volume of additives that neutralize acid reactions and also clean the diesel engine. More importantly, the oil should be used for diesel engines and not for gasoline engine oil.
Pros:
Less pollution
Can work under extreme weather conditions
Multifunctional
Improved fuel economy
Extended drain capability
Improved deposit control
Outstanding shear stability
Can be used for both new and old version engines
Cons:
Does not meet some engine specifications
See also: Differences between Conventional vs Synthetic Oil for Car Engine Lubrication
Best-quality synthetic oil
5. Mobil 1 45000 5W-30 High Mileage Motor Oil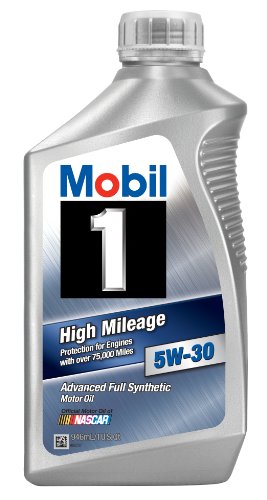 With an extra cleaning additive, Mobil 1 45000 5W-30 High Mileage Motor Oil – 1 Quart comes out as an ideal synthetic engine oil. Not only that, be assured of an extra anti-wear additive, which ensures a longer engine life.
It has an advanced full synthetic formula thereby giving you all the advantages of a synthesized oil. Also to be acknowledged is the fact that it has a seal conditioner, which helps to prevent leaks. It extends the lifespan for engines with more than 75,000 miles and is Ideal for severe driving applications such as high-speed highways and stop-and-go city driving.
Pros:
Wide range of applications, i.e., from light engines to mammoth ones
Prolongs engine life
Anti-wear additives
Supports severe driving applications
High mileage
Good price for superb performance
Cons:
Not suitable for two-cycle engines
Best rated Synthetic Motor oil
6. Royal Purple 51530 API-Licensed SAE 5W-30 High-Performance Synthetic Motor Oil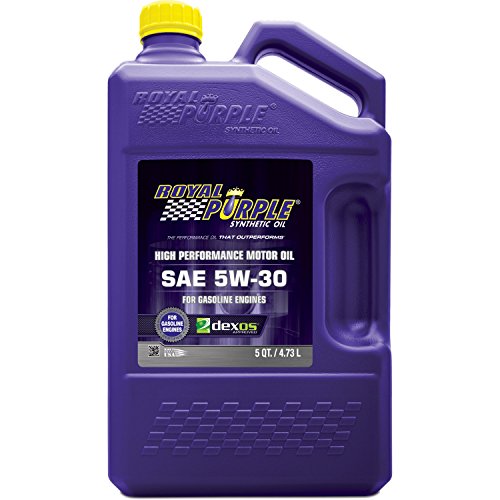 Doubling at number five is the Royal Purple 51530 API-Licensed SAE 5W-30 High-Performance Synthetic Motor Oil – 5 qt, synthetic engine oil. It is compatible with conventional fuels and those that contain ethanol, providing increased fuel efficiency.
Moreover, this engine oil has better wear protection and superior corrosion protection, these guarantee better engine performance and life. Another extended attribute is its compatibility with other mineral or synthetic oils.
Pros:
Compatibility with other oils
Wear protection
Prevents corrosion
Works well with fuels containing ethanol
Can be used on any engine whether new or old
Works well under extreme weather conditions
Cons:
An 8,000 to 10,000 miles mileage should get recorded before being used on diesel engines
Best synthetic oil for the money
7. Royal Purple 36520-6PK HPS 5W-20 Synthetic Motor Oil with Synerlec Additive Technology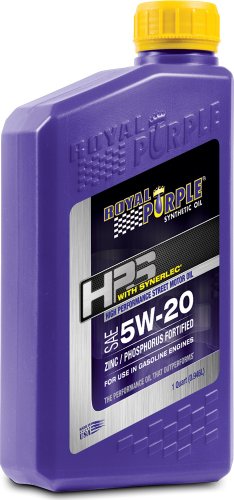 Unlike traditional motor oils, Royal Purple 36520-6PK HPS 5W-20 Synthetic Motor Oil with Mobil 1 120764 Synthetic Motor Oil 5W-30 – 1 qt. (Case of 6) boasts of superior production procedures. It gets fortified with zinc/phosphorus anti-wear additive that ensures your engine has a long life.
Noteworthy is the exceptional oxidation stability and advanced protection for performance and modified engines. These not only provide a better performance, but your engine parts can also rarely get vulnerable to adversaries such as rust.
Its complicated production yields a product that has maximum wear protection and also increases the horsepower and torque of your engine. Its additives such as Synerlec improve the conditions of metal-to-metal contact under adverse conditions for improved protection.
Royal Purple API-licensed synthetic engine oil is one of the premium products allowing motorbike riders to travel more than 12,000 miles with the suggested oil change interval.
Pros:
Anti-wear additives
Advanced protection
Increased horsepower and torque
High quality
Excellent retention
Low volatility
Higher gas mileage
Cons:
Relatively high priced compared to others
See also: Differences between 5W30 vs 5W40 Engine Oil
Best cheap synthetic oil
8. MAG1 61790-pk6 Full Synthetic 5W-30 SM Motor Oil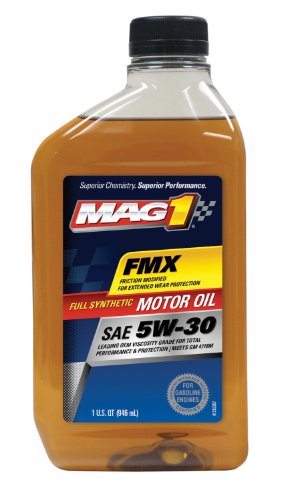 MAG1 61790-pk6 Full Synthetic 5W-30 SM Motor Oil – 32 oz., (Pack of 6), has FMX friction modifiers that reduce engine wear by a rate of 56 percent. These will enable you to get to use the motor for a very long time. In addition to that, it gets formulated with high phos retention 2DP for extended performance.
A little fuel consumption by your engine gets ensured by a leading OEM viscosity grade. In the long run, you will save a lot of cash. Its excellent resistance to cold wear start eliminates the worry of wearing out your engine in extreme weather conditions.
The oil has a weight of SAE 5W-30, i.e., it has an SAE viscosity rating of 5 in cold temperatures and a 30 rating at normal operating temperatures.
Pros:
Great performance compared to its price
Works well in a large variety of engines
Catches and suspends all the dirt
Does not form any sludge
It is a Dexos 1 approved engine oil
Cons:
May be relatively expensive when purchased in individual units
Best mobil 1 synthetic oil
9. Mobil 1 120764 Synthetic Motor Oil 5W-30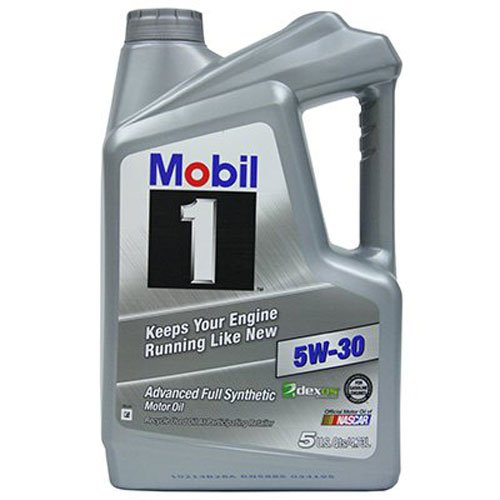 We have the Mobil 1 120764 Synthetic Motor Oil 5W-30, 5 Quart synthetic engine oil. A USA-manufactured product, it features an advanced full synthetic formula with the ability to prevent deposits and sludge build-up, and this elongates your engine life significantly.
It has excellent overall lubrication and wear protection for different driving styles. It also has outstanding thermal and oxidation stability. These characteristics will ensure that you get the maximum use of your engine.
Enhanced frictional qualities, enforced by regular oil changes will not only save you regarding fuel economy but will also aid superior low–temperature capabilities. It is a general-purpose kind of oil and can get used in any type of engine, including high-performance turbocharged, to light vehicles and vans.
Pros:
General purpose oil
It is a Dexos 1 approved engine oil
Anti-wear protection
Has low temperatures capabilities
Withstands severe weather conditions
Suitable viscosity
Doesn't leave deposits
Good price
Cons:
Cannot be used in two-cycle engines or aviation engines
Can be burdensome when refilling used oil.
See also: How Long Does Synthetic Oil Last? (Months & Miles)
Best rated Synthetic oil for a car
10. Pennzoil 550038221 Platinum 5W-30 Full Synthetic Motor Oil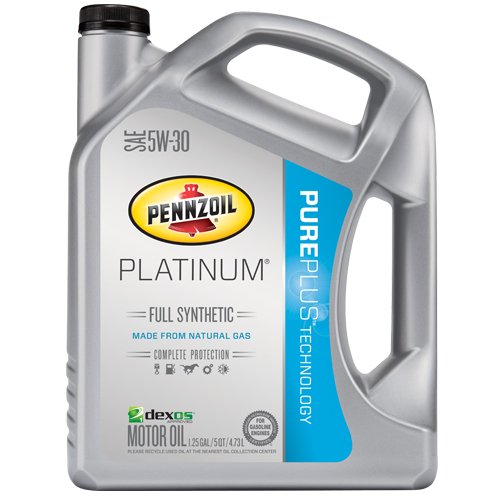 Our chosen leader for the best synthetic engine oil is, Pennzoil 550038221 Platinum 5W-30 Full Synthetic Motor Oil API GF-5- 5 Quart Jug.  It is an informed decision after a careful analysis of the services it provides compared to the price.
It is a fully synthetic oil that outshines all the conventional and synthetic blend oils and is good at cleaning sludge. Its superior active cleansing agents make it a better cleaner.
Another important factor is that it has better wear protection and has exceeded the harshest car manufacturer requirements for cleanliness and protection. Ideal for all engine types to provide superior cleansing under the most severe driving conditions to get the maximum performance out of your engine.
The synthetic oil weighs about 4 kg and 5w-30 indicates the viscosity of the item.
Pros:
Additional cleanup technology
Other friction modifiers
Anti-wear protection
Great price
Lasts longer
Enables fuel economy
Cons:
It is not properly marketed hence, you may miss an opportunity to experience the great value
Public Review :
Many customers responded with positive feedback stating that their engine runs smoother after changing to Pennzoil. Some stated that they have researched on the internet to find out the optimum one for their engines.
How Synthetic Oils are Made?
While conventional oils are made through the traditional distillation process, synthetic oils are made through a chemical process called the Fischer-Tropsch process. The process was used for the first time in Germany during WWII time when there is occurs a need for alternative options due to limited access to crude oil.
Synthetic oils are made in well-equipped laboratories and because of this, many manufacturers use different approaches to give out their respective oil products. Also, none will let the secret known to the public. However, there are some basic facts revealed regarding the manufacture of synthetic oil as follows.
Synthetic oils are obtained while reducing the crude oil to its basic molecules after it gets distilled and purified. Many impurities are taken out from conventional oils so that customization of individual molecules can be done to satisfy the efficiency of today's modern world vehicles and machinery. The customization is done by the addition of high-performing additives.
Petroleum is the main input for starting the process. Besides this, other raw materials like carbon dioxide, carbon monoxide, and methane are injected and blended with artificially prepared chemical compounds. Natural crude oil lacks these ingredients. The blending is done to make uniformly sized and weighed oil molecules.
These highly customized molecules are brought to uniform size and shape and perform the function of lubrication better than the traditional ones. Apart from this, atoms like zinc are added to it for upgrading the blended product to function effectively. Zinc acts as an anti-wear agent to the oil and also assists in neutralizing acids that come out during gasoline or diesel fuel combustion.
Limitations of using Synthetic Oils
Synthetic oil is not applicable and recommended for all vehicle models and makes. Because Older model vehicles function better on conventional oils because their engines are designed accordingly and they get accustomed to their longer use.
Before purchasing engine oil, it is always good to verify the vehicle manual to know which oil suits the best and also the safest without diminishing the engine performance.
Synthetic oil is an advanced version of convection oil or standard oil. Because synthetic oil is good for engine health & performance. The added chemicals are the reason for good mileage. But, cost-wise, synthetic oils are quite expensive as it costs twice that of conventional oils.
Synthetic oils are not suggested for rotary engines and also have problems with racecar-type engines using roller lifters. Since synthetic oil does not hold lead within it, it can't be used in older vehicle engines that require leaded gasoline.
How many miles is synthetic oil good for?
It depends on your engine. Usually, Synthetic oil is good for 3000 – 6000 miles. Anyway changing the oil once in 4000 miles is a good rule of thumb.
Importance of High Film Strength
A Lubricant's film strength is important in withstanding the effects of load, speed, and temperature without causing any interruption, break down or rupture.
A lubricant has to maintain its unbroken film between the moving machine parts that needs lubrication during its functioning.
This, in turn, will improve combustion and optimize fuel economy thus reducing wear and emissions, and also meets the latest emission standards.
The most required lubricant qualities are satisfied by the synthetic oil.
Characteristics of a Lubricant
Besides the above qualities needed for a lubricant, here are the other properties briefed as follows :
1) Viscosity
2) Viscosity index
3) Pour point
4) Flashpoint
Viscosity indicates the fluid flow capability. The viscosity of a lubricant is more related to the thickness of the layer of engine oil and centistoke (cSt) is the most widely used unit for viscosity.
The viscosity index is a measure of change in the viscosity of lubricating oils with respect to temperature. This factor is taken into account when there exists confusion over the selection of two lubricants having the same viscosity. When this factor is high, it means, it responds less to temperature changes thus guaranteeing stability at high temperatures and also helpful in starting an engine at low temperatures.
Pour Point indicates the minimum temperature at which a flowability of a lubricant doesn't cease. Below the pour point, the oil is more prone to getting thickened and prohibits free flow.
The flash point is the lowest possible temperature at which an oil-vapor-air mixture becomes inflammable. It is identified by continuously heating the oil-vapor-air mixture in a laboratory.
Synthetic Motor Oil Buying Guide
Choosing a good synthetic motor oil can be tough, but here are some factors you may consider:
Look for products that offer wear protection. Typically good motor oils contain additives that reduce the wear and tear of the engine.
Check for products that enable improved engine performance. No need to spend cash on products that do not add value. Issues such as fuel consumption, torque power, etc., can act as a gauge.
The technology. Go for the ones that give the best results
Choose products that will work for a long time before needing change, or refilling while providing top quality at the same time.
Products that can survive severe conditions while giving the best service are a sure bet.
Euro 6 Diesel Cars
Euro 6 standard suggests a 67% reduction of NOx emissions compared to Euro 5. This is a  significant reduction notified in diesel engines.
Euro 6 diesel cars shall also be equipped with:
A NOx adsorber for storing NOx and reducing it to Nitrogen using a catalyst
Selective Catalytic Reduction (SCR) uses any one of the two additives – Diesel Exhaust Fluid or AdBlue which are allowed to react with exhaust to convert NOx into Nitrogen and water.
Cerium is a fluid that gets injected into the fuel tank whenever the vehicle is refueled. This is very useful in lowering the temperature.
Read also: 10 Best Oil Filters for Synthetic Oil
Conclusion
Summarizing it all, the Pennzoil 550038221 Platinum 5W-30 Full Synthetic Motor Oil API GF-5- 5 Quart Jug is our choice for the best synthetic motor oil, simply because, apart from having the capabilities of the others, it goes a notch higher by providing a continuous attack on potential and stubborn deposits.
This ability to clean up enables your engine to be efficiently protected and improves its responsiveness. Not only that, it has a 40 percent cleaner rate than the current industry standards.
Overall, the above synthetic oil models are the widely used ones in the market. The role of engine oil is crucial in managing a vehicle or a machine because it has an impact on its lifetime, durability, how often to change synthetic oil, and ultimately on fuel economy. So, picking the right model according to the engine model and make is the first step before picking up your desired brand.