Wifi Routers are usually connected to a modem. The internet data comes into router and gets converted into radio signals.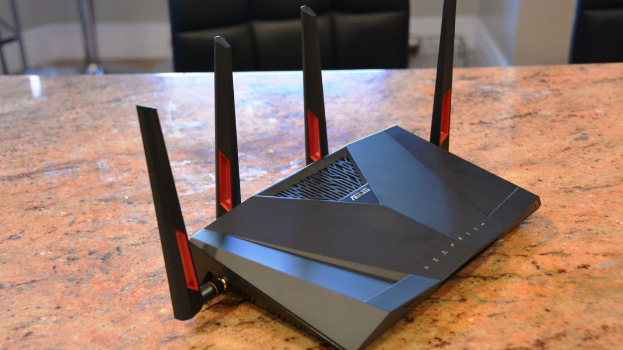 Network card available in our smartphones, computers and game consoles does exactly the opposite function of router i.e., it translates the radio signals formed by the Router back into internet.
They are used to provide Internet access by transforming the wired internet connection from modem into a wireless signal. Simply to say, it has a wireless access point and performs the role of a router. Here we are going to look top 9 Wifi routers in 2019.
Best WiFi Routers Review
1) Asus ROG Rapture GT-AC5300 – Gaming WiFi Router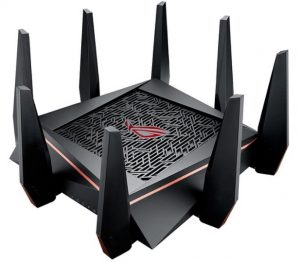 Asus ROG Rapture GT-AC5300 is a big router that comes with gamer-friendly features, perfect management console and so on. All these capabilities guarantees for lag-free gaming using tri-band 802.11ac Wi-Fi. The router poses a black and red Republic of Gamers logo on the top and arrives with eight adjustable and removable antennas protruding on all the edges and midpoints of the router sides.
Abundant I/O ports are available on the back edge of the WiFi router. Starting with power and reset buttons, the router poses one WAN port, two ultra-fast USB 3.0 ports and eight gigabit LAN ports for wired devices.
Router Dashboard shows the status of upload and download activities in real time. A seamless mesh network can be used by enabling AiMesh mode wherein each router acts as a node. AiMesh support enables an ASUS router to connect to other compatible routers thus enlarging of a network coverage is possible.
However, the other modes available in the Router includes Access Point mode, Media Bridge Mode, Repeater mode and Wireless router mode that is a default one enabled in the menu. Asus ROG Rapture is best wifi router for gaming.
Various gaming centric features like Game Profile, Game Radar are meant for accelerating game traffic triple level between the device and game server. All these features can be managed using mobile app and gaming web console. A fortified front-line network security neutralizes internet threats before hitting your network.
RoG Rapture GT-AC5300 has a VPN Fusion feature that eliminates a VPN thereby enabling online gamers to enjoy the game without any performance drop down while the other networks are in need of VPN for their tasks.
2) Asus RT-AC66U B1 Dual Band Wi-Fi Router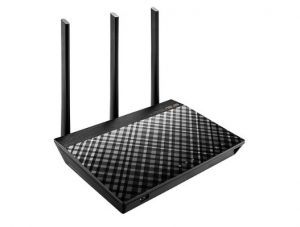 Since it is a dual band connectivity, it is possible to perform basic internet activities like browsing and downloading on 2.4 GHz band and also, simultaneously, HD video streaming, online gaming and other high data consuming applications can be done through 5 GHz band. Overall, a fast and responsive performance without any data interruption is possible with these dual-core processors.
The ASUS RT-AC66U B1 Wi-Fi Router is an affordable and easy for installation. It also guarantees speedy throughput performance. Four LAN Ports are available and it is malware protected with robust parental controls.
Dual band 3×3 802.11ac WiFi technology assures speed up to 1750 Mbps thus preferable for large network coverage area. Also, Effortless router setup is possible. Integrated USB 3.0 and 2.0 ports facilitates printer sharing over a network while AiCloud 2.0 support favors remote file access.
ASUS Router App could control your network traffic, diagnose connection issues and update the firmware without any need of connection to PC. Various operation modes of the WiFi router includes Wireless router mode, Range extender mode, access point mode and media bridge mode.
3) Asus RT-AC86U AC2900 WiFi Router
Equipped with gamer optimization and latest network technology features,  a 512 MB RAM and 1.8GHz dual-core CPU powers the the RT-AC86U router.
Similar to the above characteristics observed in ASUS routers, this Wi-Fi router also assures a solid throughput performance, perfect prioritization controls, good network protection, robust configuration and can be easily installed.
Above all, as notable highlights, MU-MIMO streaming, beamforming are the latest technologies enabled with the router. By means of these, data to clients can be sent simultaneously than in a serial fashion. Also, instead of sending data over a broad spectrum, the data can be sent directly to clients. If you ask which is the great wireless router for home usage? Then I will recommend this wireless router.
The router consists of three removable antennas that protrude from its top and the eight LED indicators on the front are meant for power, WPS, WiFi, four LAN ports and WAN. At the back side of the router, aside the power and reset buttons, there are four gigabit LAN ports, WAN port, 3.1 USB port and 2.0 USB port while the WPS and WiFi power buttons are available on the router's right side.
Guest networking, Traffic Analyzer, AiCloud, USB storage are the general settings included. Also, WTFast game acceleration and Adaptive QoS bandwidth prioritization supports are present in the router.
4) Netgear Nighthawk X10 AD7200 Smart WiFi Router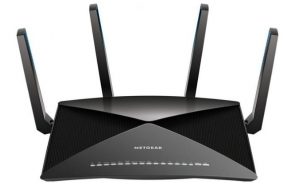 Operating with 802.11ac and 802.11ad, the Netgear WiFi router has a speedy throughput of up to 60GHz and guarantees 5 GHz performance. Fast file transfer speed, 4K streaming, VR gaming and instant downloads are possible with the MU-MIMO and 160MHz networking technologies which  are the significant highlights. The former one is capable of supporting simultaneous streaming while the latter one doubles WiFi speeds to mobile devices.
Although, the router is very expensive but proves to be worth for the latest wireless settings. A notable limitation is the lack of detailed Quality of Service (QoS) settings. Enabled with a Qualcomm chipset, the router has dual band with parental controls and four antennas. It is one among desirable high speed wifi routers on the market.
Excluding the WAN Port, there are seven wired LAN ports available. A combined wireless speeds of up to 7.2 Gbps can be achieved using a 1.7GHz Quad-Core Processor and Quad-stream architecture.
Four external high performing active antennas amplify WiFi signals for improving the range and throughput. 20+ network devices can be serviced and network management is possible through mobile apps. For conveniently handling many devices in mobile apps, it is wise to go with high RAM (6 GB RAM or above) capacity.  Seven 10/100/1000 Mbps Gigabit Ethernet ports, two USB 3.0 ports are available.
5) D-Link AC1200 Wi-Fi Router (DIR-842)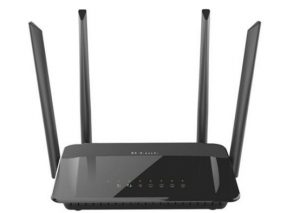 D-Link DIR-842 router has four high-gain non-removable antennas, two 5 GHz radios and Gigabit Ethernet ports (each one at the two sides). It is a dual band router (802.11 ac/a/b/g/n/ac) wherein the 2.4 GHz and 5 GHz function independently such that the former one is meant for normal internet tasks with speeds of up to 300 Mbps while the latter one for heavy streaming, large file transfers and online gaming with speeds of up to 867 Mbps.
The router looks pretty good and compact with four antennas meant for giving exceptional coverage than any other routers. They protrude out from the sides of back edge corners of the DIR-812 router. Its shiny black case is impressive and it can be hanged on a wall surface. 4x fast Gigabit Ethernet ports can offer high-speed wired connectivity.
Unluckily, it doesn't feature a USB port. QoS Technology or Traffic Prioritization support can manage the network traffic effectively. Also, lots of management settings are equipped that involves Quick Router Setup for smartphones and tablets, WPS Push Button Setup for quick connection and so on. D-Link AC1200 is excellent wireless router for rural areas. You can use this awesome router for broadband connections like BSNL, MTNL & Airtel.
A new user interface lets a user to control his home or office network through parental controls, monitor internet activities, block unwanted network devices and allows guest Wi-Fi.  A guest Wi-Fi setup can be easily made on both the 2.4 GHz and 5 GHz band frequencies. This avoids giving out your private WiFi settings password.
Intelligent QoS keeps track of the network traffic and allocates priority to the internet activities (web surfing, online gaming, media streaming) in a desired manner.
6) Trendnet AC2600 StreamBoost MU-MIMO WiFi Router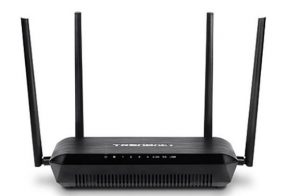 Operating on 1.4 GHz dual-core processor, the WiFi router is capable of generating two extreme quad-stream WiFi networks, one with 1733 Mbps WiFi AC and the other with 800 Mbps WiFi N network with a covering range of 120 feet. Within 5 feet distance, you can experience a maximum data speed of 622.1 Mbps.
Multiple devices can be serviced in a real time through MU-MIMO technology that processes multiple data streams simultaneously. Also, with beamforming technology, Trendnet's router is capable of distributing data to clients simultaneously. Absolutely Trendnet AC2600 is desirable commercial wifi router for your office & commercial purposes.
Further extension of the wireless home network is possible by means of wired Gigabit Ethernet ports and USB 3.0 ports and an extreme network performance with high bandwidth streaming is assured.
The router has four antennas and can be easily mounted and replaced. Consisting of nine low-key blue LEDs, it has 4 Gbps LAN ports, two 3.0 USB ports and four wired gigabit Ethernet connections. Having a memory storage of 512 MB/ 128 MB, Qualcomm QCA 9980 processes the router.
Qualcomm's StreamBoost technology allocates the 5 GHz traffic to heavy data needing applications or devices such as movie streaming, online gaming and others while 2.4 GHz traffic is for low data data hungry devices like printers and IP cameras.
Advanced networking features, Prioritizing the connected devices, Good throughput are the advantages of buying this product. On the other hand, its tedious setup, slow to serve up interface pages are the notable limitations observed.
7) Jetstream AC3000 Tri-Band Wi-Fi Gaming Router
A dual-core processor that runs at 800 MHz and 1 GB RAM powers the Jetstream AC3000, a tri-band router. It can reach upto 400 Mbps speed on 2.4 GHz band while, on the other two 5 GHz bands, it can reach up to speed of 867 Mbps and 1733 Mbps respectively.
Enabled with Wave 2 802.11 ac technology, the router also supports MU-MIMO technology and beamforming. iOS or Android mobile app can manage the router. A status screen shows the number of clients in connection, LAN and WAN network stats, wireless SSIDs and channels. Jetstream AC3000 is ideal wifi router for long range & HD streaming.
The router has black wedge-shaped enclosure that can be easily sit on a desktop or hung on a wall. Although, it is quite expensive for an ordinary buyer, its long-range throughput and file-transfer performance are far better than the above routers. But, it is deficit of parental controls and prioritization settings.
Eight non-removable adjustable antennas, two at the back side and three on the right and left side each , four Gigabit LAN ports, WAN port, USB 3.0 port and as usual power and reset buttons are present at the back side of the router. LED indication status is available at the front. A WPS and Turbo button are used to flush its internal memory.
Overall, the router is designed especially for gaming and video-streaming networking loads.
8) TP-Link Archer C7 AC1750 Dual Band Gigabit WiFi Router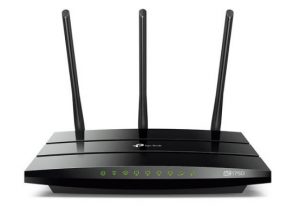 Running on 802.11ac standard – the next generation Wi-Fi, the dual band router with a 750 MHz processor consists of 2.4 GHz 450 Mbps and 5 GHz 1300 Mbps bands offering a total bandwidth of 1.75 Gbps thus enabling a seamless HD streaming, bandwidth intensive tasks and online gaming. It is also compatible with 802.11 a/b/g/n. Unluckily, it supports neither MU-MIMO nor direct-to-client beamforming.
Three external removable dual band antennas and three internal antennas with high quality antenna technology can maintain high speed wireless network over long distances at home or office. Dual Multifunctional USB 2.0 ports are used for sharing printers, media files with multiple network devices or via ftp server for devices away from home or office.
As observed, the file transfer speeds were slow due to USB 2.0 and its user interface is also old-fashioned. It comprises Lightning fast wired gigabit LAN ports and one gigabit WAN port with which 10 times faster than standard Ethernet connections are possible.
A series of LED indicators are present in the front edge. Available at affordable price, the router can offer very fast throughput performance with lots of management settings. Anyhow, it has limited performing features relevant to the price. Guest WiFi setup can be easily done such that you can share your home or office network with your guest without letting him know your password.
Amidst some notable drawbacks, Archer C7 satisfies the major need of heavy data streaming and high duty internet tasks. This is the best value industrial wifi routers for maximum usage.
9) Linksys WRT32X Wi-Fi Gaming Router
As mentioned in the name tag, Linksys WRT32X Wi-Fi Gaming Router is more suitable for gaming enthusiasts. Powered by a dual-core 1.8 GHz CPU, 256 MB flash and 512 MB DDR3 memory, it is a dual band AC3200 WiFi router offering speeds up to 600 Mbps on 2.4 GHz band and 2600 Mbps on the 5 GHz band. Linksys is trusted brand in all over the world. If you are looking for best Linksys router, then I recommend this router.
MU-MIMO and Beamforming technologies guarantee better performance. The router can be easily installed and it assures 2.4 GHz throughput performance and consists of several ports for connecting to external storage drives and gaming consoles.
Four removable and adjustable antennas, four gigabit LAN ports, a WAN port, a USB 3.0 port and an eSATA/USB 2.0 port are the available ports in the router. The front panel consists of blue LED indicators for all the ports, power, WPS and Internet.
Using Rivet Network's Killer Prioritization Engine, not only, it enables prioritization, but also, ensures the availability of necessary bandwidth for video streaming and online gaming. In order to avail this software, your PC must have the Killer networking hardware for automatic synchronisation with the router.
Speed and current application priority are shown in the Overview screen. Also, you can limit the upload and download speeds for each application. Network Traffic gauges show real-time activity. Wi-Fi Analyzer displays you all active Wi-Fi access points.
Single, Dual and Triple Band Wi-Fi Routers
As of now, we can group the available WiFi Routers into three bands of different speeds and frequencies such as 2.4 GHz/ upto 750 Mbps , 5 GHz/ upto 1625 Mbps and 5 GHz/ upto 1625 Mbps. Each of these bands are used for different purposes according to the usage limit and transmission rate.
For example, When you want to use the router for Gaming, HD Streaming and 4K TV, working from home, then, a tri-band router suits for high bandwidth activities as it need a dedicated band. A tri-band router consists of one 2.4GHz and two 5 GHz radios which are more suitable for high traffic networks.
On the other hand, for large data or file transfers within a network or video conferencing, the dual band is sufficient. Still, some of us would be using the single Band Wireless-N & G device operating only on 2.4 GHz frequency band which is used on wireless phones, Bluetooth devices and microwave ovens and other least used wireless electronic devices at home. Such single band WiFi routers might suit for very light internet users and of course, they are the least expensive ones.
Nowadays, even, people who normally use Internet for email check and social media services like Twitter and Facebook prefer dual band router model that assigns 2.4 GHz band for low throughput data while 5 GHz band for heavy data according to distinct application areas.
WiFi Standards
802.11 ac WiFi standard gives almost triple the speed of a processor in the most widely used Wi-Fi protocol 802.11n that emerged in 2007.The former one runs at 1300 Mbps on triple bands while the latter one allows maximum data rate up to 600 Mbps operating on dual band.
Anyhow, many of our home devices, laptops and smartphones use 802.11n. That's why, 802.11n WiFi router would be a perfect fit for households. Most of our wireless devices are enabled with standards such 802.11a, 802.11b, 802.11g, 802.11ac, 802.11n. Before selecting a WiFi router, ensure that your network devices support the selected router.
Well, there exists some confusion in identification of the WiFi Routers. These are rectified by labels like AC1200, AC1750, AC3200 and others. A triband router AC 3200 gives 600 Mbps over 2.4 GHz band and 1300 Mbps over two 5 GHz bands each. The number 3200 is the total sum of the speeds. Similarly, AC1750 router can offer max. rate of 450 Mbps on 2.4 GHz band and 1300 Mbps on the 5 GHz band.
New Technologies in Modern WiFi Routers
Modern WiFi Routers arrive with new technologies for enabling fast, secure and convenient transmission and reception of radio signals in a network. Of course, more the introduction of features, higher would be the cost, but, such supporting features and technologies justify the increased cost. Let us look into each one of such technologies briefly.
MU-MIMO Technology
As of now, the latest WiFi routers are using MU-MIMO technology that is capable of connecting to multiple devices at a single time with the same speed. With these latest routers, a speed of 1.7 Gbps is possible.
These are far better than the traditional routers using single user MIMO technology as they serve data to a single user at a time and distribute them in a serial manner. Although, it might be a millisecond difference for switching over from servicing first user to a second user, the latter one have to wait for that millisecond without wireless signal and we would have come across this situation while buffering.
Imagine, when you are struck up in the middle while watching HD movies or playing online games, how disgusting it would be ? These disturbances can be eliminated by MU-MIMO (Next-Gen AC). Not all WiFi routers available in the market have MU-MIMO support. So, we should be optimum in making a WiFi router selection depending on the network device standards.
Anyhow, the wireless electronic devices are getting manufactured with the support for latest WiFi technology standards.
Beamforming is an advanced option on Wi-Fi routers having 802.11 ac standard. This would significantly improve the speed and signal strength. Instead of diverging or blanketing a signal over a wide area, Beamforming (or spatial filtering) technology in the router could focus the signal toward specific devices in your home or office thus enhancing the signal strength finally.
Old WiFi router models don't support this technology. Before buying, ensure that your router have Beamforming support.
Mobile App Compatibility
Modern WiFi Routers come with mobile app compatibility these days. This enables you to adjust the speeds among the connected network devices. Also, you may restrict the sensitive content and access your home security camera from anywhere. Nowadays, budget smartphones having 4 GB RAM is sufficient to handle such apps.
Moreover, WiFi Traffic has to be prioritized when there are many network devices in use. In order to ensure the bandwidth allocation, an advanced feature of QoS (Quality of Service) can be used. For example, if gaming is prioritized than file downloading, there would not be any interruption while playing games online.
External Serial Advanced Technology (eSATA)
WiFi Routers with eSATA external hard drives allow users to connect the external storage device directly to routers thus enabling taking backups at faster speed up to 6 Gbps much better than Firewire or USB 2.0.
This article gives you in-depth knowledge on WiFi Routers functioning and models available in market before making a perfect purchase that meets your need.
How WiFi Routers Work ?
Important Points To Consider While Selecting a WiFi Router
Size of network coverage (distance between a router and the farthest network device)
Traffic (No.of network devices and users count)
Data Usage levels (Bandwidth and speed)
New Technologies and Apps (Hardware and software of network devices to support)
What are the components of a WiFi Router ?
1) Antennas
Antennas are available in all the routers as internal and external. Usually, external antennas give stronger signals than the internal ones. Routers with internal antennas generally look like a book on a table. These can perform better at a single floor level.
Routers with multiple antennas are still better because we can adjust them to each floor level suitably. Positioning of antennas make difference in the signal reception and transmission.
Usually, two antennas are equipped with the router device meant for eliminating drop-outs, dead spots and signal fading. Working on the principle of antenna diversity, Dual Wi-Fi antennas provides two reference points, one for reception and other for transmission or both.
The Wi-Fi router constantly monitors the receipt of signal at both the reference points and make use of a stronger signal. This would avoid interruption at any time. An additional hardware is required in the router for this operation and it is available in dual Wi-Fi antenna which makes it a better choice than a single antenna. On the other hand, it enhances the cost.
2) Ethernet Ports
WiFi Routers are not only specially meant for wireless connections. Instead, it can also favor a wired connection via Ethernet Ports and cables that can connect your non-portable devices like computer, desktop PC, cable TV, smart TV and game consoles by including them in the network coverage for availing Internet access.
Depending on the model and make, it can function in different manners in different networks such as a wired local area network, in a wireless-only LAN, or in a mixed wired and wireless network.
Ethernet port and cable connection is just a simple one like your telephone connection. Also, Modern Ethernet ports support up to 1000 Mbps than the older fast Ethernet support up to 100 Mbps speed.
3) WiFi Extenders
WiFi extenders are recommended if the network coverage area is large i.e., when there exists a lot of distance between routers and network devices, wireless signal can't reach the farthest device. So, these wireless range extenders amplify the signals and broadcast them again. But, the re-broadcasted radio signal is just half the strength of signal received from main router. Also, a separate network is created thus enabling a smooth roaming at home or office.
Besides such minor limitations, there are certain norms to be followed in placing WiFi Routers such that all the network devices should fall under its range. That's why, the routers are suggested to be placed at a central and elevated position in a shelf free from the disturbance of electronic equipment and large size objects.
However these WiFi routers are placed, there would be certain obstructions or hindrances to WiFi signals present by means of items such as HVAC equipment, thick concrete walls and metal objects normally available at home and office.
Summary
WiFi technology is definitely a blessing for many smartphone users in modern days. Internet users are rising day by day and every commercial activity is getting digitalised. In these circumstances, mobile phones update their versions regularly. Also, highest 8 RAM Mobiles with large battery capacity are getting released in the market to handle variety of heavy duty applications conveniently.
Of Course, for all these light or heavy duty Internet tasks, we prefer to use WiFi services rather than mobile data. In such situations, there occurs a need for transmitting and receiving huge bandwidth data at home or office environment.
Since, we are getting outdated year by year due to new technological updates, it is necessary to buy a new router with the latest WiFi technology. It was primarily introduced by Linksys on 1999. But, now, WiFi standards has evolved out with significant up gradation. Accordingly, the relevant changes are observed in the manufactured hardware electronics.
Read also: