The very basic idea behind the manufacturing of Best Wireless Earbuds for Running & Sports is that they are so much easier to move around with you do not have to worry about long cords, messy entangling or cable getting stuck somewhere.
This flexibility is what most of the active runners and Sports people seek in these Wireless earbuds.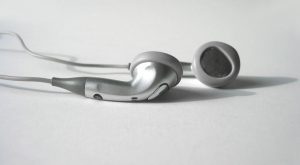 Even those of you who love to workout in gyms and listen to your favorite music must certainly invest in some finest quality of earbuds.
Now, you might think, why not invest in Full-sized Over-the-ear Headphones? Well, such design is pretty bulky which might be a cause of hindrance during your physical activities.
And so, we recommend you to have a look at these 13 Best Wireless Earbuds for Running & Sports in 2019, each boasting some incredible quality of features and uniqueness of its own. These models fall into highly expensive to mid-range as well as an extremely low-priced category as well. Some of them are intended for Outdoor activities, while others are just good for daily indoor use.
Wireless earbuds are all designed with a minimalistic approach; you won't find any complexity in its frame, too much fanciness or even bulkiness. All of them are quite petite in size and depending on the quality of materials used in craftsmanship, you'll know whether it's cheap or of premium quality.
Buying Wireless earbuds is a pretty effortless task, you just need to know some basic features, technical aspects and what exactly do these technical specs mean. This resource also comprises of an Ultimate Buying Guide that enlightens you on what technical factors you need to consider before buying any pair of earphones.
Depending on the constraints of your budget, type of application and desired features, you can select the one that best meets all your necessities. Make sure to always check the Battery life and weight of the earphones, as these are most crucial factors to consider.
Top 13 Best Wireless Earbuds for 2019:
1. Jaybird X3 In-Ear Headphones – Best Sports Headphones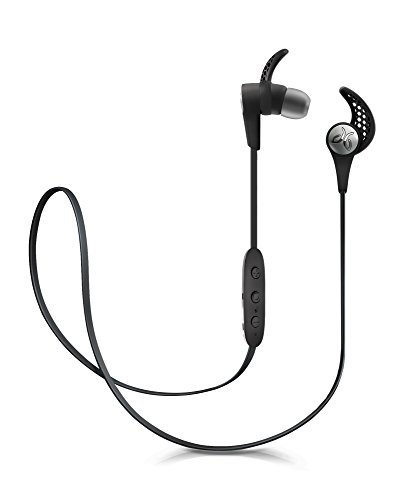 Owned by Logitech, Jaybird Company is famous for designing and producing fine-quality headphones and other activity gear. Jaybird is especially well-known for its Wireless Bluetooth Sports Headphones series, out of which, today we are reviewing the most recent Jaybird X3 Sports Headphones.
Jaybird X3 Wireless Bluetooth Sports Headphones is the improvised version of its previous avatar Jaybird X2, but with slightly better features and functionality. X3 Sports Headphones are deliberately designed to be tiny yet packed with remarkable features.
Third launch from Jaybird's X series, the Jaybird X3 features a longer battery life, high sound quality and much enhanced fit. What makes it stand out from other products of X series? The design of its in-ear speaker has been meticulously reduced down by 20% and also features a superior 6mm driver that produces gentle lows and a thriving bass.
Petite design of X3 is much easier to handle and fits different ear size more efficiently. Frame of the earbuds is made from sandblasted and injection-molded metal, offering high durability and sleek looks without compromising with the signal strength of Bluetooth.
Unique NANO-coating on them makes it fairly waterproof and sweat-proof, ideal for working out, running, etc. Most importantly, you get patented silicone ear fins that can be wrapped around the ear for securing it snugly during physical activities. The cord of the earbuds can be worn in 2 distinct styles- leave it to hang beneath the ears or lift it off your neck and wear it over your ears for flexible movements.
If you are worried about noise, then the memory foam ear tips are deliberately made to offer maximum noise isolation and comfort to your ears. As regards to features, the multipoint function lets you pair your X3 to 2 Bluetooth devices simultaneously. With up to 8 hours of remarkable battery life, the Jaybird X3 Sport wireless earbuds delivers excellent performance.
As for its appearance, use your discretion to select from classic Black, Sparta White, Roadrash Red and Alpha Green- all of which are vibrant beautiful colors. Ear-buds look pretty decent with minimalistic design. Sleek metallic accents on the back has been imprinted with Jaybird's signature logo and the ear wings on the top add to the aesthetics of the earbuds. The cord that connects two individual earpieces is flat, so you need not worry about entangling whatsoever. On the other hand, cord is of just the right length, neither too small, nor too long. Plus, the inline microphone has 3-button configuration for your expediency.
Pros:
Petite design
Sweat-proof and waterproof
Long battery life
Provides very good noise isolation
High sound quality
Includes a carrying pouch and a shirt clip
Backed with 1 year of Limited warranty
Cons:
Charging unit is proprietary
Microphone seems to be of poor quality
2. Anlo Best Wireless In-Ear Earbuds – Best Cheap Headphones for Running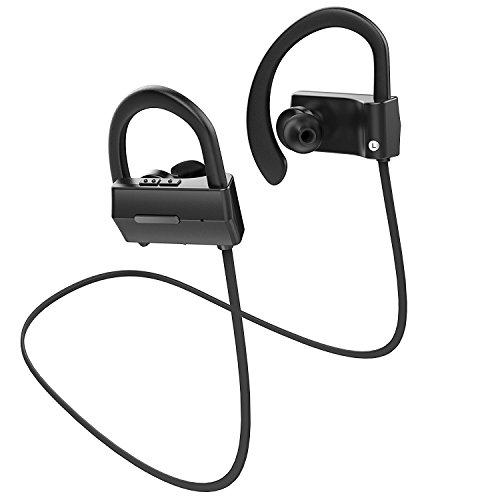 Carrying an extremely affordable price tag, the Anlo In-ear wireless earbuds boast pretty impressive features and also come with a set of accessories for your convenience. They are very lightweight and have minimalistic design approach, perfect for travelling, workouts, etc.
Unique In-ear ergonomic design of ear hooks are made to fit your ears securely so they won't fall off, whereas the neckband design will prevent unnecessary entangling of wires. Anlo earbuds feature full fidelity design, inbuilt battery and good sound quality.
CVC noise cancellation 6.0 technology blocks out outdoor noises, and the integrated microphone allows you to take calls without much interference. Silicone gel surface is provided to reduce skin friction and offer comfort to your ears.
The design of the earbuds is pretty simple and uses latest Bluetooth 4.1 Technology for quick pairing with other devices like tablets, smartphones, etc. For uninterrupted connection and better signal strength, there is a ceramic antenna incorporated in its design.
Best thing about Anlo earbuds is that they are very inexpensive, yet are feature-packed. You get a 'Voice prompt' function as well, which lets you know the status of the device. As for additional accessories, you get an extra pair of ear-buds of different sizes to fit small ears as well as other ear sizes.
Needless to say, the most important factor in headphones is its sound quality. Thanks to its excellent bass, Anlo offers one of the best Wireless earbuds with mic for running. It gives out clear sound with ideal crisp and minimal interference. If you are worried about sweat or weather conditions like rain or snow, these are fairly resistant to moisture as well.
These tiny earphones are offered in 3 jazzy colors- All black, Green-Grey combo and Black-red combo. However, all of these earphones do not differ in their function at all. The over-the-ear hook is soft, so the back of your ear won't feel pain after wearing them for too long. But, they might feel a little too big for people with small ears.
Overall, we feel that Anlo Ear-buds might be a great purchase if you don't really want to invest much in wireless headphones, yet seek good sound quality. For its cheap price, these earbuds are certainly a win.
Pros:
Good sound quality
Amazing bass effect
Great value for money
Decent noise isolation
Perfect for running
Cons:
Poor battery life
Button configuration is not so impressive
3. Anker SoundBuds Slim Wireless Headphones – Budget-friendly Earbuds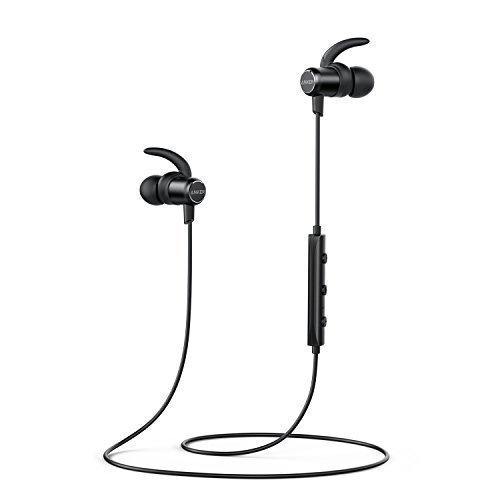 Anker, very popular for its powerbanks and charging cables, has now established its break with wireless headphones. We are specifically going to talk about the SoundBuds Slim Wireless Headphones version.
Extremely lightweight in design with just 0.48 ounces of weight, these Anker Bluetooth wireless earbuds with microphone are pretty cheap yet functional. You will see that they are very easy to connect and give out clean sound with least distortion. Even though, the bass is not really overpowering, it is still quite acceptable at this low price!
Worried about misplacing your headphones? Anker has incorporated Magnets at the back of each earbud, so when not in use, you can simply form a Magnetic connection and these earbuds will look like you are wearing anecklet. Plus, with in-ear hooks, you also get different sizes of eartips so you can choose your impeccable fit. These Bluetooth 4.1 Stereo Earbuds feature IPX4 NANO coating, which is what makes them fairly sweat-proof while running, exercising and so on.
Let's talk about sound quality, the integrated 6 mm drivers provide clear sound with ideal crisp without losing connection. For convenience during your travels, you can just tuck away these headphones in a pouch that comes with a drawstring.
At such a low price, Anker offers you several accessories like different sized eartips, in-ear hooks, shirt clip, micro USB cable and a FitClip for adjusting the cord's length. They do not really provide 100% noise cancellation, but the CVC Noise Suppression is not that bad as well. The battery is claimed to last for up to 7 hours whereas the connection range is said to be about 33 ft.
There are 3 colors offered in this model- Black, Red and Blue. All of these feature a very simple appearance, nothing too exquisite.
For hands-free calls and skipping songs, you get an inbuilt microphone along with a 3-button remote control.Anker backs its SoundBuds Slim Wireless Headphones with 18 months of warranty.
Pros:
Is very reasonably priced
Sweat-resistant design
Very easy to establish a connection
Comes with different ear tips
Build quality is quite impressive
Good battery life
Cons:
DO not provide 100% Noise cancellation
Cord might feel too small for some people
Micro USB cover seems to be flimsy
4. SENSO Bluetooth Headphones – High Quality and Budget-Friendly Headphones (Under $40)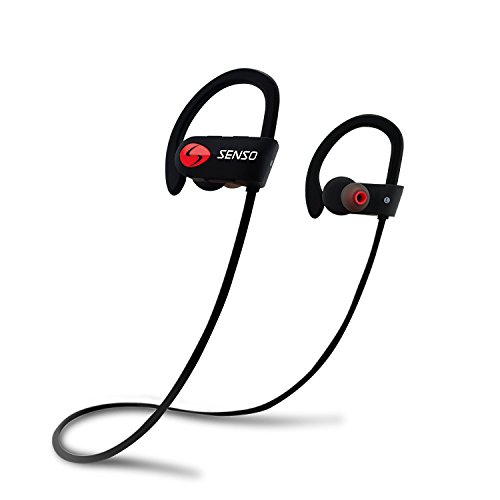 With raving amount of reviews, SENSO has to be one of the best budget-friendly headphones out there that are highly functional, good quality and packed with features. In terms of its aesthetics, there's nothing too fancy here, SENSO ActivBuds S-250 boast a simple black look with a connective cord, over-the-ear hooks and earbuds that highlight SENSO's logo with either red or grey color accents.
The ear hooks are not really huge, they are just the right size. However, the size of earbud might be a little too big for some of you. SENSO offers several fine-quality accessories with the product such as a carrying case, dual port USB Car charger, 3 different sizes of eartips, a charging cable, a clip for cord management and a user manual.
Along with low-quality sound, you will always find that cheap headphones do not provide good durability. They last for a few days and before you know it, parts and pieces are already starting to come off. That is not the case with these SENSO Bluetooth Headphones. Even if they are cheaply priced, you will indeed experience good sound quality.
With 20-22 kHz of frequency response and latest Bluetooth 4.1 CSR technology, these earbuds deliver true High Fidelity sound with booming bass and clear treble. Best of all, Wireless earbuds longest battery life has to be up to 9 hours in single charge, which is exactly what SENSO S-250 offers.
Integrated microphone is what lets you switch between songs and take calls hands-freely. The connectivity range for ActivBuds is up to 30 ft., which is another bonus. Additionally, the IPX7 waterproofing allows you to use these ActivBuds for any intense physical activities. Gel Flex Silicon eartips are ergonomically designed to provide comfort to your ears and also are durable.
Even though, SENSO headphones are not really high-end earbuds with excellent sound quality, there are still great in its category for this affordable price! And also, they weigh just about 0.16 ounces!
Pros:
Uses Bluetooth V4.1 Wireless Technology
Passive Noise Cancellation
Several bonus accessories included
Great battery life
Ergonomic design and IPX7 waterproofing
1 year warranty and 30-days Return policy
True HD sound with deep bass and crisp treble
Cons:
Not very ideal for running
Earbuds are somewhat bulkier in size
5. WISZEN Wireless In-Ear Sport Headsets – Good-quality Earbuds Under $80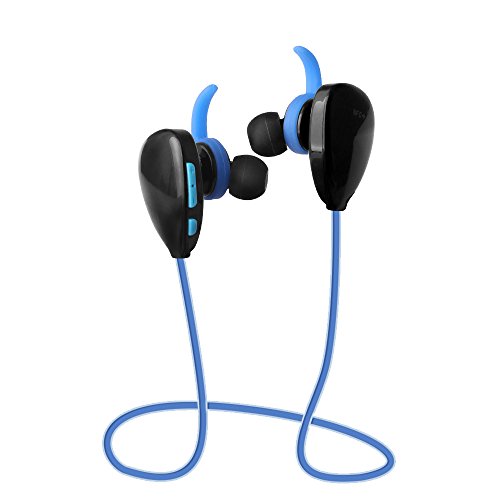 WISZEN offer these best Noise cancelling wireless earbuds that uses CVC 6.0 Noise reduction technology and an inbuilt mic that delivers skip-free stereo sound with no background interference. And most importantly, it has been reinforced with a powerful battery- just a single charge and you are good to go for up to 8.5 hours for music or 10 hours for calling!
These wireless headphones can be connected to two devices simultaneously. The Winged tips on the top will keep your earbuds in place during severe workouts, sports activities, etc. without causing pain.
Aesthetically speaking, these headphones are offered in various funky combocolors that look pretty cool, whereas the anti-wrap noodle-shaped design isoptimum for running, exercising, biking and so on. Slim design and lightweight housing does not compensate with its high performance. You will be pleased as to how light they feel on your ears. As a result, they won't cause quick fatigue as well.
That's not it, with the help of Voice recognition Technology, you can effortlessly answer or decline your calls by instructing 'YES" or 'NO'. As for accessories, you get 3 different sizes of ear tips to favor all ear sizes, a USB charging cable and a user manual.
For those of you who love different color options, you will certainly love WISZEN earphones. Why? Because they are offered in 7 different color combinations, all of which are equally priced; you are free to choose any one that you like! These earphones look very plain, there's nothing too sleek or shiny, and neither does it comes with any logo. And very importantly, the cord feels too small for our liking. For huge people, the cord might just lack in length and feel uncomfortable, further hindering your flexibility.
There's no remote provided along with the earphones, which is good thing if you do not like the additional weight that they demand. However, no remote also means that the button configuration is minimal, meaning less functions. Such design feature single button for multiple functions, which can be very confusing at times.
At such a low price, WISZEN In-Ear sports Headphones is definitely a steal. Even though, they are not as good as some other high-end headphones, they are still quite impressive.
Talking about sound quality, it's pretty overwhelming to experience such a crisp highs, clear sound, great bass and treble at this price! Moreover, the Bluetooth connectivity range is strong as well.
Yet again, these Headphones feature Magnets in them so you can easily clutch both earbuds together whenever you want to wear it around your neck, so you won't misplace them.
Pros:
Simple yet functional design
High Battery Performance
Noise Suppression is pretty good
Bluetooth pairing is very easy
Very lightweight yet sturdy construction
Good Sound quality and great bass
Great value for money
Cons:
Cord might feel too short for some of you
Does not come with a carrying case
6. Phaiser BHS-730 Bluetooth Sport Earphones – High-end Headphones for Runners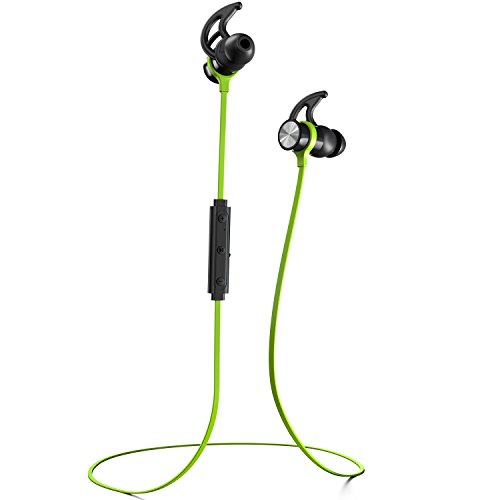 Phaiser is a recently launched brand in 2014 which has shortly gained much fame and is now recognized as one of the Best brands to manufacture Wireless Headphones for workouts. Main objective of Phaiser is to provide you with great performance, durability, high-quality sound and an impeccable design, all with the help of engineered technology.
Deliberately designed for Runners, the BHS-730 is one of the Best headphones you will come across for any rigorous activities. Its unique behind-the-head wearing style and bullet-shaped Comply T-400M memory-foam eartips won't let them fall off from your ears and also provide total noise isolation.
BHS-730 delivers HD sound and a booming bass from its 8mm speakers accompanied with Bluetooth 4.1 Technology. Top best thing about this particular headphones is that it has been backed with Lifetime Sweat-proof Warranty by Liquipel® NANO-coating Technology, so you can rest assured that in terms of sweat-proofing, these earbuds certainly won't disappoint you.
For extensive Bluetooth range, the enhanced ceramic antenna provides true wireless connectivity and the inbuilt microphone allows for hands-free calls. This headset can read out the caller's name whenever there's an incoming call, which is a major pro. Also the magnetic design helps you wear your headphones around your neck so you can use them instantly, as and when needed.
LifeState™ Technology of Phaiser allows you to interface these Wireless earbuds with android devices and Apple iOS for checking the status of the headset's battery handily. High-quality Transducers and hardware with A2DP Stereo transfer protocols incorporated in these headsets deliver amazing bass, fine light treble and clear sound.
BHS-730 is crafted from Aviation-grade alloy material (Aluminum-Magnesium) which is fairly lightweight. Additionally, you also get a Travel Pouch from Phaiser made from Hard Foam for storing your Headset as well as other accessories. Must say, this Travel pouch is of premium quality, not just something made from flimsy or thin material.
We love how Phaiser has offered these earpieces in some appealing Neon colors- Limegreen, Heliotrope, Black, Oceanblue, Redheat. All of which carry same price tag and have similar operation and features. The gleaming metallic finish on the back of the earbuds add to the beauty and the Patented Wings design ensure its ergonomic efficiency.
Want to know the best part? Phaiser has backed this product with 1 year of warranty against manufacturing defects and 60 days of money-back guarantee!
Pros:
Excellent sound quality- HD Stereo and powerful bass
Easy-to-use button configuration
Audible and visible battery status
HD microphone with good Noise Cancellation Technology
Lifetime warranty against sweat
Magnetic design comes handy
8 hours of battery life
Cons:
Eartips might feel uncomfortable after some time
Battery drains out real quick
7. INNLIFE Wireless Sports Headset – Good for Bass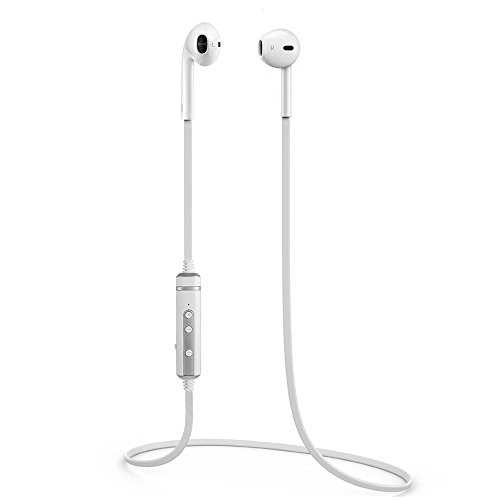 INNLIFE introduces their version of Wireless Headphones that utilizes Latest Bluetooth V4.1 Technology for connectivity. With this technology and apt X-tech, these headset deliver high fidelity stereo sound as well as music.
As name suggests, you can efficiently use them as Sports Headphones, but they might not be very great for running or other strenuous activities. You can connect INNLIFE headphones with 2 devices at a time and they can function as Wireless earbuds Samsung, tablets or forany other Bluetooth-enabled devices.
The packaging comes all-included with these headphones, a USB charging cable, a cord clip and user manual. On the down side, you do not get any carrying case. For hands-free calling, all you need to do is say 'Yes' or 'No' and the incoming call will be accordingly handled. Inbuilt microphone with CVC 6.0 Noise Cancellation reduces noises, but is not very effective.
Seeing its price, INNLIFE headphones are functional but do not provide satisfactory treble. The design of this headset is pretty simple and has minimal approach, nothing too fancy. INNLIFE claims that these headphones operate for up to 4 hours (for music/calls). Extremely lightweight and fairly sweat-proof in design,you can use it for indoor as well as during travels.
For those of you who prefer a booming bass, might love these headphones! However, if you are looking for precise sound quality, ideal treble and mids, you might want to skip this one. For customer assurance, INNLIFE offers 1 year of warranty for this product against manufacturing defects.
INNLIFE presents this earbuds in two basic colors- Black and White, which is very disappointing. The earbuds do not have any brand logo, mixed color accents or any metallic finish. They are just plain simple earphones on which 'L' and 'R' has been engraved for you to understand the right and left pieces. The cord provided along with the product is of just the perfect size, not too small or too long. But, the remote provided along with the inline microphone can get too heavy. So much that, they might obstruct your movability and eventually cause these earbuds to fall off.
Mimicking Wireless earbuds by Apple, INNLIFE earbuds do not come with any silicone eartips. So if you like the Apple earphones but seek an inexpensive alternative as a Wireless Bluetooth version, then INNLIFE headphones are for you!
Pros:
Comfortable to wear for long time,
Great hands-free calling feature
Cord Clip provided comes handy
Easy setup and quick Bluetooth Connectivity
Good battery life
Includes Ear hooks for secure placement
Cons:
Control functions are very less; Poor Noise cancellation
Button configuration is too heavy, Earbuds tend to fall off due to this weight
Poor mid-frequencies and high-frequencies
8. BeatsX Wireless In-Ear Headphones – Best Fast Charging Headphones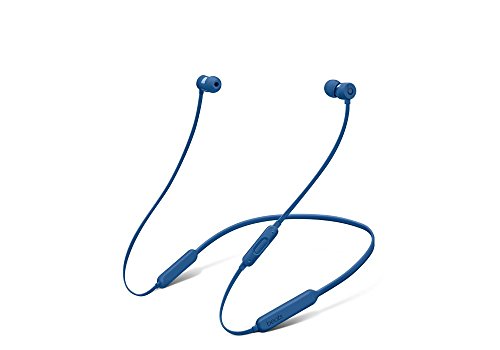 Beats, known as a subsidiary of Apple Inc., mainly masters in the production of headphones and speakers. As a matter of fact, these In-ear headphones has been integrated with Apple W1 Chipforstreamlined setup and switching with your other Apple devices. Plus, these Beats wireless Bluetooth earbuds have powerful battery life and features 5-minute Fast Fuel Charging as well.
Meaning, with just 5 minutes of charge, the headphones provide 2 hours of playback; this feature comes handy when the battery is too low. Most amazing feature here is you can take calls with RemoteTalk- which is Siri compatible. Use the on-cable microphone to take calls, switch between songs and so on.
BeatsX Wireless Headphones carry a hefty price tag, but with that comes amazing noise isolation, satisfactory sound quality, good mid-frequencies, great highs and deep bass. The flex-form cord providesflexibility and it comes with different eartips for customized fit.
Talking about battery life, the Best Wireless Earbuds for Running & Sports by Beats flaunt a strong battery backup of up to 8 hours, thanks to its Apple W1 chip. When not in use, just use the Magnetic Connection to secure the earphones around your neck for tangle-free storage.
The packaging of BeatsX is very impressive and includes four sizes of eartips, wingtips for secure fit, pocket-size of carrying case, USB charging cable, user manual and a warranty card (1 year of warranty period).
Coming to its technical aspects, BeatsX connects via Class 1 Bluetooth and features the classic 'In-ear' design. On the down side, after repeated use, the battery fails to hold its charge well and the sound quality might not be of excellent quality, which is much expected seeing its high price tag.
Beats offers these earphones in very ordinary colors- Grey, Black, White and Blue. Beats logo has been incised on the back of the earphones. The cord that connects two pieces has a flat design, meaning no worries of these getting tangled at all! On the other hand, the cord feels very soft, flexible yet firm; they won't wear out too quickly. Since the assembly of the electrical components has been equally distributed between the cord lumps, you won't witness falling off of earbuds due to heavyweight (this is quite common problem noticed in Wireless earphones with remote).
Covering all these amazing features, BeatsX In-ear headphones have to be one of the Top rated wireless earbuds for running in 2019.
Pros:
Amazing battery life of about 8 hours
Fast charging technology
Very easy to setup the Bluetooth connection
Magnetic design is impressive
Hands-free: Calling and controlling playback
Remarkable Apple W1 chip
Cons:
Too expensive, Does not come with bonus features seeing its price
Battery does not hold its charge well
9. Apple Airpods Wireless Bluetooth Headset- True Wireless device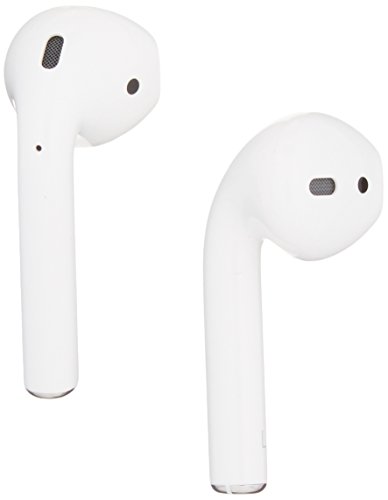 Even when many products out there say Wireless Headphones, there is still a small cord that connects two separate earbuds, which is not the case with these Apple Airpods. This design is what designates Future wireless earbuds viz. True Wireless design- No cord whatsoever.
Compatible with iOS10 and later versions, the Airpods boast state-of-the-art technology that automatically plays audio whenever you put these in your ears and takes a pause when you remove them.
With easy-to-use interface, all you need to do is Double Tap and 'Siri' will be activated. With Voice recognition, you can adjust volume, switch songs, make calls and even get directions. Driven by the exclusive Apple W1 chip, these Airpods utilize Optical Sensors and a motion accelerometer which is what helps it to detect that they're placed in your ears.
Another accelerometer functions with microphone to filter outdoor noise and deliver clear sound of your voice (when you are on call or talking to Siri). Thanks to Apple's W1 chip, it delivers high battery performance- with just one charge, you get up to 5 hours of playback time.
Apple Inc. also offers a charging case along with the Airpods that can hold Multiple Additional charges so you can experience 24 hours of uninterrupted playback time. The instance you take out Airpods from the Charging case, they turn ON and connect to your device like iPhone, Mac, iPad, etc.
For this high price, you get pretty amazing features in these iPhone earbuds like automatic connection, automatic ON, very easy one-touch setup with Apple devices, high-quality sound, quick charging, Siri activation with just double tap and good battery life. Lightweight design of Airpods does not cause ear-fatigue.
Coming to its looks, we all know Apple gadgets are always flaunting their classic White color. These Airpods too come in full white color scheme as well as a White charging case. Modest yet posh-looking, the aesthetic factors of these Airpods certainly assures Apple's premium quality build and state-of-the-art craftsmanship.
With True Wireless design, how do you keep the Airpods from falling out of your ears? You could always invest in Earhoox 2.0 which are silicone attachments that will prevent your Airpods from falling off, perfect for running, cycling, snowboarding, etc.
Pros:
Extremely lightweight and petite design, Weighs 0.14 ounces
Lightning Charging Case provides Quick charge
Magnet design inside charging case keeps your earphones in place
Dual Optical Sensors and motion-detecting accelerometer allows automatic connection
Includes speech-detecting accelerometer and dual beam-forming microphones for clear voice and sound
24 hours of playback time, 11 hours of talk time
Single charge gives 5 hours of playback time
Cons:
Fit might not be very comfortable
No other way to switch songs or increase volume without the help of Siri
10. Bose QuietControl 30 Wireless Headphones – Top-notch Sound Quality
Bose is one of those few companies that has mastered the concept of Active Noise Cancellation and is also popular for introducing some of the Best Wireless Headphones in the market today. One such model is QuietControl 30 Wireless Headphones from Bose.
As its name suggests, radical technology used in these Bose earbuds allows you to control the level of Noise Cancellation as per your preference. One Unique feature that you get here is NFC pairing along with Bluetooth for easy Wireless connectivity.
Priced very expensively, these earphones flaunt a stylish Neckband design that adapts with the shape of your neck for comfortable wearing experience. As for calling, the voice is heard very clearly, even in noisy ambience, thanks to the noise-rejecting dual-microphone design.
Bose claims that these headphones deliver 10 hours of playback per charge. Along with the product packaging, you receive 3 sizes of ear tips, a USB charging cable and a carrying case with a pouch for storing accessories.
For sound quality, the volume-optimized EQ offers well-balanced performance. Meaning, whether you are working in a quiet ambience or walking on a noisy busy street, you will still hear your music clearly and with high quality. However, the microphone quality is not satisfactory.
One thing that we don't like about these earpieces is that for such a High price you don't get a Standby mode. Either the earphones are completely OFF or the noise cancellation is draining out its battery, but you cannot put it in Standby mode. Next con, we also expect Magnetic design for sticking earbuds together when not in use. But here, the earpieces are just hanging down which is quite flimsy.
And in the end, for easier connectivity, you could also use Bose Connect App. Its flexible interface makes the whole task of connecting and switching between several Bluetooth devices much easier. Along with Airpods, these Bose QuietControl 30 are one of the Best Earbuds to use with iPhone 6. This is one among the awesome wireless earbuds for sports activities like Gym, Running, Hiking & more.
Pros:
Amazing Sound quality
Customizable Noise Cancellation is very impressive feature
High-quality materials used for its construction
Comfortable neckband design
Powerful battery life
Strong Bluetooth connection, Minimum interference
Cons:
Neckband tends to slip around your neck- No magnetic design
Microphone is of poor quality
11. Bose SoundSport Wireless Headphones – Best High-end Earphones for Running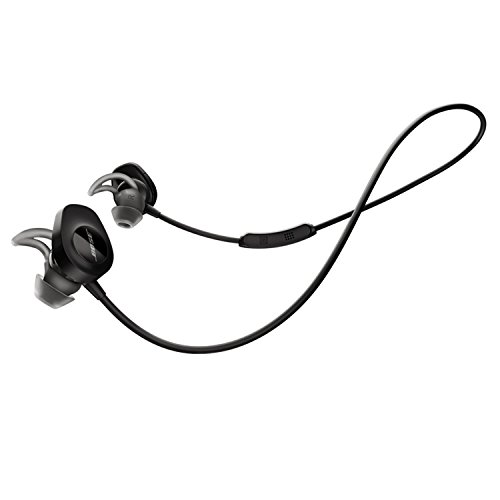 Another great product from Bose, the SoundSport headphones are deliberately made for your seamless workout sessions with some great music. Take heed that they are pretty high-priced, but that's expected from Bose's amazing product line and their remarkable quality.
Use your discretion to choose between four different colors offered for SoundSports headphones, all of which are quite cool. The audio quality is amazingly high and satisfactory, credits to Bose Active EQ. Moreover, they are also very comfortable to wear for extended period of time.
Inbuilt microphone is works just fine, not too bad or not very impressive. Nonetheless, the Bose also backs SoundSport with 6 hours of battery life, however it might drain fast if you play music too loud.
For impeccable connectivity, you can utilize Bluetooth as well as NFC pairing feature along with bonus of Voice prompts. With product packaging, you get the exclusive Stay Hear+ eartips made from silicone that will keep your earbuds in place, even during exercises.
Worried about sweat? The SoundSport design is weather-resistant as well as sweat-proof. For convenient storage, you get a portable carrying case as well. With Bose Connect App, you can switch between Bluetooth devices efficiently.
Aesthetically speaking, the eartips for these Bose earphones are small-sized, but the external assembly is quite bulky. Which is why, when you put these ON, the earpieces protrude out of your ear which kind-of looks weird. Apart from this, the earphones are pretty stylish, sleek and comfy to use. Also, SoundSport is hands down one of the Best Earbuds for running in 2019.
Black Matte finish on the earphones has been amalgamated with sleek center that highlights 'Bose' logo. The wings on these earphones are not too long, neither too short. They are precisely designed to be of right size, so they won't irritate your ear canal when worn for longer period of time.
Also, SoundSport is hands down one of the Best Earbuds for sports activities in 2019.
Pros:
Crystal clear mid-frequencies and treble, Great bass
Offered in 4 cool colors
Ear wings prevent them from falling off
Sweat-resistant design
NFC pairing feature
Comes with carrying case
Extremely comfy to wear all day long
Cons:
Battery does not hold its charge well
Bulky earpiece design
12. Sennheiser HD1 In-Ear Wireless Headphones – High Fidelity sound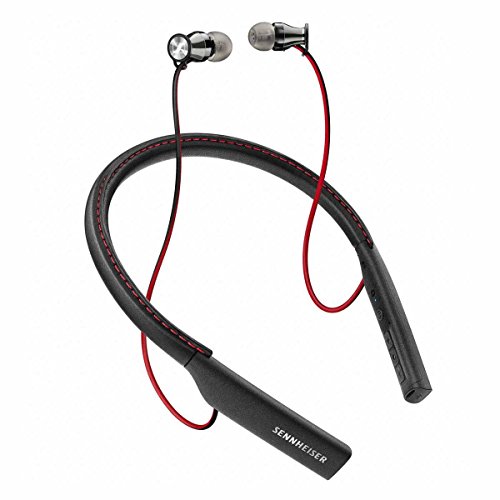 Sennheiser, a German company well-known for its high-fidelity audio products brings forward their version of In-ear Wireless Headphones. Featuring an ergonomic neckband design, these earphones are integrated with soft stitched sheepskin Nappa Leather neckband that offer extreme comfort all-day long.
Sennheiser HD-1 uses Bluetooth 4.1 version with AAC codec and Qualcomm aptX compatibility; which itself explains the exceptional audio quality and crystal clear sound. It claims to provide up to 10 hours of battery life and also can be connected to 2 different devices at a time.
Best feature of these headphones? It has 3-way calling capability and NFC pairing feature! Sennheiser HD-1 carries a hefty price tag, so naturally you would expect it to deliver high performance. Finest quality of dynamic transducers are assembled in stainless steel in-ear tunnels, which is what results in powerful bass response, great sound quality and enhanced vocal projection.
Inbuilt microphone comes with 3-button remote for managing calls and control music as per your liking. With the headphones, you also get 4 differently sized eartips for personalized comfortable fit. For durability and rugged use, you get a good-quality hard-shell carrying case for protecting your HD-1 headphones when not in use.
Highly responsive Voice prompt mechanism lets you know battery life status as well as pairing status. Plus, it also supports USB audio. Sennheiser HD-1 Headphones are backed with 2 years of Global warranty!
Speaking about looks, every aspect of Sennheiser HD-1 flaunts its sturdy and remarkable build quality, durable design and comfortable fit. The metallic finishing of the earpieces, red-black accents incorporated in the cord and finest quality of neckband is what compensates for the high price of these headphones!
Pros:
Incredible audio quality, booming bass
Connectivity range is good
Looks stylish, sleek and aesthetically pleasing
Powerful battery life
Responsive microphone design
Qualcomm aptX enhances sound quality
Fine-quality Carrying case
Cons:
No Noise Cancellation technology for this high price
No magnetic design, earbuds just hang down
13. Hussar Magicbuds Bluetooth Headphones – Best Affordable Sports Earphones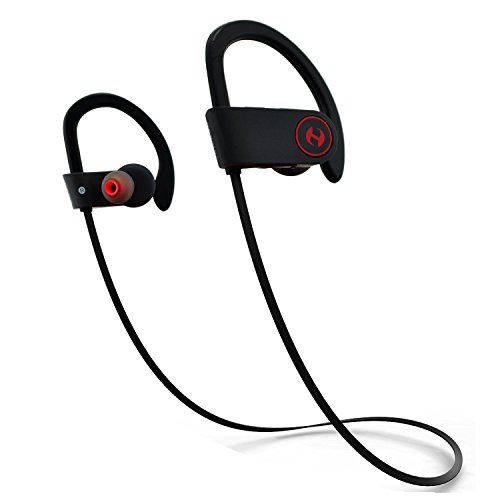 Hussar MagicBuds has to be the Best Wireless Sports Headphones, all credits to its noteworthy features, functionality and build quality. These Waterproof wireless earbuds feature latest IPX7 Waterproof NANO coating design, so as to serve you even in bad weather conditions like snow or rain.
Ergonomically designed with comfortable fit of silicone ear hooks, MagicBud Headphones will be secured behind your ears all throughout your activities. The soft silicone gel surface also makes them fairly sweat-proof as well. Which is why, you can use Magicbuds while running, jogging, hiking, in gyms, biking, or any other impact sports.
Utilization of contemporary aptX codec compression delivers amazing sound quality with deep bass response and crystal clear treble. And hence, they are optimal purchase for soundtracks, techno music, audio books and much more.
With inbuilt microphone and CVC 6.0 Technology, these headphones can proficiently reduce background noise as well. Bluetooth 4.1+ EDR technology seamlessly syncs with other devices, be it iPhone, Android, iPad, Windows, etc. with up to 33 feet of connectivity range.
You also get Voice Prompt function and 9 hours of playback time on a single charge. You will be notified whenever there's an incoming call along with the phone number. And here's the kicker, these headphones are also compatible with Siri!
Magicbuds comes all-included with small, medium and large sizes of ear tips so every user can pick their most comfortable size. Moreover, you get a micro USB charging cable, zippered carrying case, a clip for cord management and user manual.
For its high price, Hussar certainly offers Powerful In-Ear Bluetooth earbuds that do not compromise with quality. Both aesthetic as well as ergonomic aspects have been taken into consideration for producing these Funky and solid Magicbuds.
Sports Headphones ought to have some kind of design incorporated specifically for preventing the earbuds from falling off, and Over-the-ear Hooks provided here do the same. Even if you are performing severe gym exercises or high-speed jogging, these earbuds won't budge at all.
Pros:
Okay bass, amazing high-fidelity sound
Over-the-ear hooks prevent them from falling off
Powerful battery life
Carrying case is of good quality
Easy pairing
Cons:
Unintuitive button controls
Over-the-ear hooks are not adjustable
Read also:
Comprehensive Buying Guide for Best Wireless Earbuds for Running & Sports :
We know many people out there meticulously believe that Wireless earbuds are totally worthless in terms of sound quality. This might be the case in ancient models. But considering today's market, you will find several High-quality Wireless earbuds out there.
Even though they might not be as sound-efficient as wired headphones, there are still many Wireless earbuds today that deliver premium quality of audio. Let's have a look at what are the different factors to consider before buying Wireless Earbuds, how to choose them and other essential buying guidelines.
What is the use of wireless earbuds?
If you are one of those selective audiophile, you might not ship the concept of Wireless earbuds fondly. However, for those of you who a seek pair of earphones that are free from messy tangling and are not much fussy to store, would certainly love Wireless Earbuds!
You can just keep the connected phone in your pocket or on a table and enjoy the music! No need to worry about cord tangling or getting stuck to your shirt meaning- it is very flexible to use. You know the best part? Wireless earbuds can be connected to multiple devices simultaneously, which is a huge benefit.
Such gear is great for workouts, exercising, biking, or other indoor/outdoor activities. Regarding sound quality, many people say that Wireless earbuds do not deliver stereo sound that is as efficient as the wired ones. But that is absolutely not true, at least not for today's market.
We have discovered several fine-quality Wireless Earbuds models out there today that offer amazing sound quality, noise isolation, boosting bass and high performance, you just need to do a little research.
In the middle of playback, if you get a call, these Wireless Earbuds allow you to answer it with the help of One-button control. Some of them even feature Voice Recognition Technology for answering/rejecting calls hands-freely.
Some particular Wireless Earbuds also have completely Waterproof design, highly optimum for strenuous workouts, biking, running and so on. Not all of these devices are highly priced, some of them carry minimal price tag yet are stuffed with features.
Types of Wireless earbuds:
Types of Wireless Earbuds is a comprehensive category which can be divided as per different factors.
Depending on the technology used:
Wireless Earbuds use three different types of signal technology for establishing connection and sending out sound from main source to earphones, viz.:
Infrared Earbuds: Infrared is very primeval Wireless technology, you might not find It often in today's earphone models. They could be connected to audio devices as well as computers. Infrared earbuds are less likely to cause interference amidst your music, but these signals are very easily hindered by walls or other solid objects. Sound quality and affordability is much better for Infrared Earphones as compared to Radio frequency Earphones. Sennheiser, HP, etc. are the brands that manufacture good Infrared Wireless headsets.Range for such earbuds is generally 30 to 35 feet.
Radio Frequency Earphones: Signal for Radio frequency is not obstructed due to walls or other objects, and so you can easily use these in other rooms. Conversely, you cannot really move far away from the source or else you will experience harsh static. Main benefit of RF earbuds is that the connectivity range is pretty powerful (100 – 150 feet) as compared to Bluetooth and Infrared signals.
Bluetooth Earbuds: Very popular technology used nowadays than RF/Infrared earbuds, the Bluetooth Earbuds are a much secure option amongst all three and it does not need any transmitter. Most important benefit of Wireless Bluetooth Earphones is that they can be used with Smart phones, tablets, or any Bluetooth-enabled devices, they do not promote much interference and also demand less power to operate. Range can be up to 32 feet. Jaybird, Bose, Phaiser are some of the renowned brands that produce fine-quality Bluetooth earphones.
Depending on the design of earbuds:
In-Ear design: In-Ear design of earphones is commonly seen in most of the Sports headphones nowadays. They usually come with eartips at the end of the speaker that are made from rubber or foam and is provided to seal your ear. And so, such earphones tend to offer better Passive noise isolation, so you don't have to flare up the volume too loudly. Several earbud models come with pairs of differently sizedeartips so as to precisely fit different ear sizes.
Ear hook:Ear hook design of the earphones feature a loop-like design imitating a hook or wings. Main purpose of these ear hooks is to secure the earbuds to your upper ear snugly. This is best for running, exercising, biking, etc.
How to choose the wireless earbuds? (Guide and tips)
What are the technical factors to be considered while buying a headphone or earbud? Here we have delineated few key points which you ought to know before purchasing any wireless headphones.
Audio Quality: Wireless earbuds that use aptX, aptX HD or AAC codec compression deliver CD-like performance viz. high-quality stereo audio. The audio player as well as wireless earphones, both need to be compatible with this codec. SMC codec works just okay. The expected audio from the Wireless earbuds must give out well-balanced treble, mids and bass frequencies.
Bluetooth Version: Improved versions of Bluetooth technology found in Wireless earphones would be v4.0, v4.1 or v4.2 and v5.0 being the latest. These versions have low latency, meaning you won't feel like audio is out of sync. Older versions might offer poor performance in this factor, e.g. Bluetooth v3.0.
Noise Cancellation: If you are going to use Wireless earbuds for running, excellent Noise Cancellation feature is what you must root for. Noise Cancellation Technology is aimed to reduce outdoor ambience noise and seal your ears efficiently. As a result, you do not have to increase earphone's volume too loud. And thus, such earphones won't cause quick fatigue to your ears and you can enjoy your music at low level.
Active Noise Cancellation is something that uses a Power source (microphone, battery, noise cancelling circuit) for this blockage whereas Passive Noise Cancellation is the one that use physical materials like rubber tips for noise isolation. Active Noise Cancellation is ideal for low frequencies whereas passive one is preferred for mid and high-frequencies. Active Noise Cancelling Earphones might be more expensive.
Strength of Battery: Wireless earphones need to be charged for its operation. How to charge wireless earbuds? Most Wireless earbuds come with integrated rechargeable batteries and USB charging cable as well. Make sure to look for earbuds that deliver battery performance of 8 to 12 hours for all-day long playback. If your device uses latest Bluetooth version, more better will be its battery life. However, if your Wireless earbuds are too small, it might affect its battery performance adversely.
Accessibility of Button Controls: Button configuration is a major factor to consider during the purchase of Wireless earphones. Generally, such design features simple button controls along with an inbuilt microphone for taking calls. Make sure these configurations are easy to access, provide several functions and do not demand too much pressing.
Earbud design: Even though the name suggests Wireless, you will find a short cord is always connecting two earpieces. Look for earbuds that come with differently sized eartips, ear hooks or clip for managing the cord for comfortable fit. As for True Wireless Earbuds, like Apple earbuds namely 'Airpods', there is no cord whatsoever. All you get are two independent Earpieces. Such earpieces might lack in battery performance and are more expensive as well.
Fit: Fit is the most important thing while purchasing Wireless earbuds. If they won't fit your ears snugly, they become pretty useless. This factor is even more important when your earphones do not have any Active Noise Cancellation technology. In this case, it will total depend on the snug fit of the eartips to reduce the background noise. If the ear-tips fit loosely, you will be hearing all of the ambient noise.
Sweat-resistant: Main reason why users actually want to invest in wireless earphones rather than wired ones is the flexibility that it provides during workouts or any other strenuous physical activities. If you are planning to use them for gyms, biking, running, etc. make sure they are fairly resistant against water, snow and are sweat-resistant.
Safety of use:
Even though technology is being a boon to our lifestyles, enhancing comfort levels and luxuries, you still need to careful about bad effects it might be having on your health. And this is why, the question arises, are there any effects of sleeping with earbuds on (listening to music)? And the answer to that is- Yes!
If you are used to listening at a high volume (more than 90 dB), you ears are prone to hearing problems or a permanent hear loss.
If you sleep with earphones on, you are most likely blocking air passage, which might cause ear infections.
Electromagnetic waves that are generated by earphones have damaging effects on your brain. Consistent sleeping with earphones on might cause brain-related issues.
Practically speaking, if there's ever any Fire alarm that's going off, you won't be able to hear it when you have earphones on, especially when they are Active Noise cancelling earphones.
Conclusion:
Comprehensively speaking, hope these Top rated Wireless earbuds reviews have made it easy for you to choose the model that suits you best.
All of these products are one of its own kind and feature some unique qualities. If you ask, which product is the winner amongst all these 13 Wireless earphones, then we would gladly say its Phaiser BHS-730 Bluetooth Sports Headsets.
Everything you look for in a pair of good-quality earbuds is found in Phaiser Headphones. Which is why this brand has gained popularity in such a short time. Intentionally made for runners, you get exceptionally impressive features in BHS-730 such as HD sound, deep bass, latest Bluetooth v4.1 technology, Magnetic design, lightweight frame and most importantly you get Lifetime Warranty against sweat!
That was for high-end model.
Now, for those of you who are looking for cheap yet good-quality Wireless earphones must consider Anker SoundBuds Slim Headphones. As compared to other cheap earbuds, these from Anker are pretty good and feature-packed.
First of all, these are extremely lightweight in design, so you won't even feel like you are wearing them. Next, they give out pretty clean sound without much distortion, which is most commonly seen in cheap earphones. And, at such a low-price, the bass response is also quite acceptable.
One thing that you won't find even in high-end models is the Magnetic design, but Anker makes sure to keep your earphones secure around your neck. Apart from this, you get different sizes of ear tips, Bluetooth 4.1 technology, IPX4 NANO coating, a travel pouch, in-ear hooks, a shirt clip, a FitClip for cord adjustment, pretty good noise reduction and up to 7 hours of battery life.
All these amazing features are provided at such a shockingly affordable price, which is indeed a steal.
Hope these reviews have provided an in-depth insight into each and every product's features and functionality. We aim to make the whole process of Wireless earbuds purchase much easier for you!
How useful was this post?
Click on a star to rate it!
Average rating / 5. Vote count:
No votes so far! Be the first to rate this post.
We are sorry that this post was not useful for you!
Let us improve this post!
Thanks for your feedback!