Whatever the design of your kitchen is, island or modern, L shape or one wall, it is the cardinal unit of your house. This is where the delicacies are cooked and make way for sweeter relationship. From curbing hunger to impress people, a kitchen plays many roles at once. All the other spaces in your house might need work once a day but the kitchen is one area where it needs constant work as it is the most used space of the house.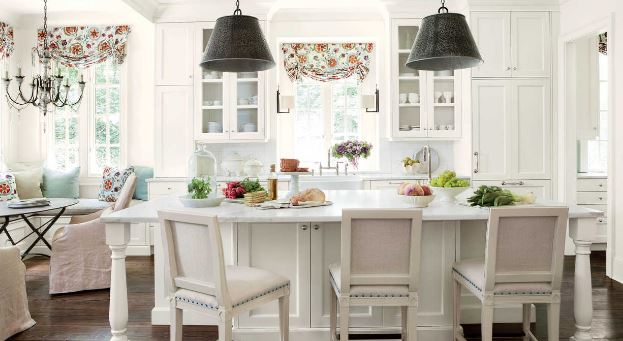 It is indeed the heart and soul of the house. As much as the final outcome of cooking is, it may prove to be a hectic process especially if your a professional working typical 9 to 5 or toiling during odd hours. So, to make your cooking time a happy one, here are a few tips that could give an instant makeover to your kitchen without making a big dent on your pocket.
12 Makeover Tips For Your Kitchen
Light Up The Space
And we are not talking only about the natural light here. You may not know it yet but good lighting can beautify the kitchen in no time and may also induce calmness in the environment making cooking a laid back job. Lighting in this area is as important as the one in your living room. If you don't have anything in mind, take some cues from the internet. Whatever you choose for interiors, sunlight is quite needed too to bring the freshness and kill germs and bacteria promoting the health factor of the kitchen.
Spruce Up With Some Greens
You have to see it to believe the magic that an indoor plant could do to make the interior of your house look lively. Place a lucky bamboo on the top of the refrigerator or near the window sill and see the positive vibes flowing in the space. One of the most popular plants to place in the kitchen is Lucky Bamboo. You can pick a Bamboo Plant online and avail discount too.
Re-organize Your Kitchen
This will turn the tables towards a beautiful makeover sooner than you expected. Decluttering is the best way to make your kitchen look different. You don't need to go Marie Kondo on it because even if something doesn't bring you joy, you might need it to make a recipe delicious but organise all your storage needs and voila! You may have a new kitchen in the house.
Declutter Entire Kitchen
Beauty sometimes lies right before eyes and needs a heart to be recognized. Give it a day and deep clean your kitchen with sponges, duster, cleaning solutions and what not. From top shelf to the chimney, drawers to glass jars, give a good cleaning and get ready to be dazzled with a kitchen  that you might refuse to recognize as the same old one you started with.
Paint The Cabinets
Pick a classy colour palette and paint the cabinets to lend a renovated look to your kitchen. You don't need to spend hefty money on the makeover of the kitchen. You can always look up for some colour schemes on the internet and within a day, have a new kitchen in the house without a big mess.
New Handles and Pulls
That's it, nothing more! Making this minor change only will lend a new outlook to your favourite space in the house. You can go for classics like with metallic sheen or be playful and mix and match them with the accent of the walls or cabinets.
Tile It Up
Adding tiles to amp up the looks of the kitchen is a safe and cheap way to jazz up the ambiance. Not only they are easy to clean, but are also sturdy enough to last for years. Choosing the right color and design can lend a mesmerizing backsplash to your kitchen. A new, brighter look that you just can't stop loving. You don't have to stop halfway on the walls with tiles, take them as high as you wish to.
Keep It Clean
Nothing can make your kitchen look prettier than a clean space. Keep separate clothes to wipe your countertop, cabinets, and sink. You might have to keep 3-4 cloth to wipe your kitchen out but this trick will make it shine day in and day out. Spending 10 minutes wiping your kitchen will make it shine bright like light.
Try Open Shelves
Remove the doors of cabinets and try open shelving. It will make your kitchen look more spacious than ever and you will find everything easily than before. The colour of the accents and a few little touches can really tie a look together. It is one of the most easy and inexpensive ways to refresh the outlook of your kitchen.
The Countertop Edition
Yes, replacing a countertop might be an expensive affair but don't worry, only creativity rules are applied here which will fall well within your budget. No need to spend thousands to get quartz or granite for your countertops. You can always buy kits to paint your counters to look like stone. So if you wish to change the look and color of your countertop to look like something else, this is how you do it.
Stencil, Stencil On The Wall
Instead of painting the wall or putting up new tiles, use an ornate stencil to create a stunning pattern on the wall. Apply your choice of colors on the stencil and leave it to dry and you will have a new wall in no time. You can pick the design as per your choice or could mix and match, floral, geometric, chevron or anything that fancies your interest.
Paint The Floor
It might be the weirdest idea you've heard but the outcome will take your breath away. Depending upon the size of the floor, painting it will cost your ten times less than refurbishing making it one of the most affordable
She is a content writer & editor for more than 12 years. She usually writes about technology news, country news, arts & science, travel & automobiles. She used to test the product and write reviews for popular magazines.