You don't want your kitchen to be fogged by smoke, steam, and odor when you cook. So you've purchased and installed a kitchen exhaust fan. But you also know that maintaining it is the best way to extend its lifespan for a long time.
So if you are looking for a complete guide that explains all you need to know about how to clean your kitchen exhaust fan, then you've come to the right place.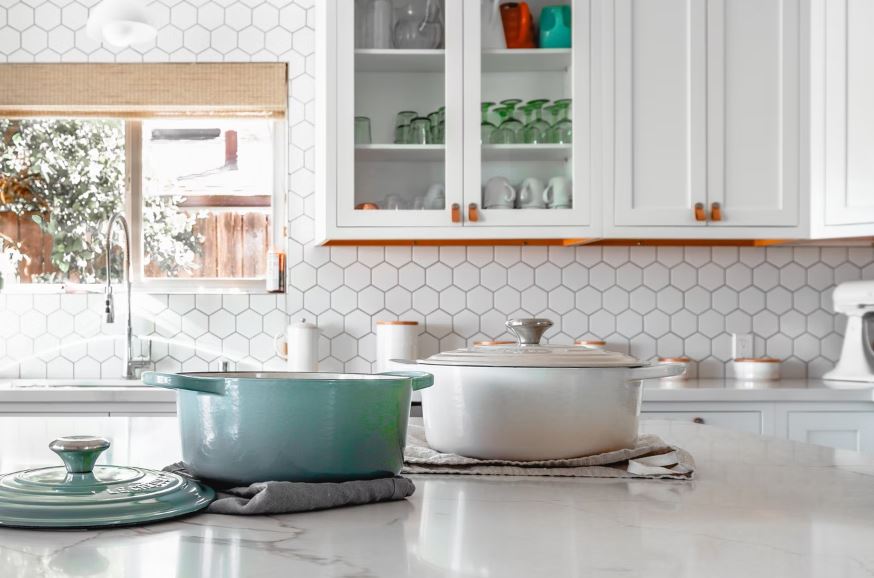 In this post, we are going to have a deeper look at the step-by-step instructions on how to clean your kitchen exhaust fan, the types of kitchen exhaust fans you'll find in the market, and much more.
So without any more delay, let's get started!
Steps to Cleaning Kitchen Exhaust Fan
What most people do when it comes to cleaning their kitchen exhaust fan is they will call an expert to do the job. But the thing is you can do the cleaning if you know the exact steps to follow.
If you don't have any idea of what steps to follow, no worries. We'll walk you through it.
The first thing to do in cleaning the kitchen exhaust fan is to remove the grease filter. Turn off your exhaust fan and unplug it from the circuit. This protects you in many ways.
Even if the electricity surges, you wouldn't be in any danger when you have already unplugged the fan from the circuit. After making sure that you've unplugged everything, the next step to do is to remove the grease filter carefully. Kindly make sure to put on gloves for both hands when you do that.
You should see a rectangular, metal mesh section on the backside of the fan. So in order to remove the filter, just loosen any leavers or tabs that are holding the filter in place. Once you've finished that, try to pull out the filter gently.
If it doesn't come out easily, you can use a butter knife and slide around the edges to make the process easier.
After successfully removing the grease filter, keep it in a large pan or container gently. Just make sure that you choose a container that is large and deep enough to hold the filter fully into it. You should understand that once you start cleaning the filter, the container will invariably get dirty. So choosing a plastic bin would be ideal.
See also: 10 Best Bathroom Exhaust Fans (with Light & Speaker)
The Cleaning Process
After you've chosen the container and placed the grease filter into it, it's time to put together a kitchen exhaust cleaning solution. Actually, preparing it is very simple.
Mix baking soda and dish soap together in a water pot and boil it. These two ingredients are very powerful in removing grease and they are non-toxic in nature. So when you mix them together, you don't have to worry about inhaling unhealthy chemicals.
Now that the cleaning solution is ready, it's time that we clean the filter. Take a measuring cup and fill it to the brim with the cleaning solution. Pour it inside the container or the pan that holds the filter.
Continue the cleaning solution one cup at a time until it reaches the top of the filter. When the filter is covered fully with the cleaning solution, leave it alone for 15 to 30 minutes. This'll give the solution a chance to remove as much grease and grime as possible.
Once the time is up, you can start scrubbing the filter with a sponge or a bristle brush carefully and gently. The grease will come off easily. If it isn't coming off as expected, then you can let the filter sit in the solution a little longer.
After cleaning the filter fully, rinse it with hot water to get rid of any grease residue or cleaning solution.
Related: Reasons to Have Bathroom Exhaust Fan & Tips to Install
Allow it to Dry
After you've completely cleaned and rinsed the filter, set it on a cloth towel and let it air dry at least for two hours. It is critical to ensure that all moisture has been removed and dried out before putting back the filter into the exhaust fan.
Number 1, this needs to be done carefully due to safety reasons and number 2, the leftover moisture can cause unnecessary electrical issues.
Clean the Exhaust Fan
While the filter is drying, you can actually go for cleaning the exhaust fan itself. You can use a damp sponge or cloth to remove the grease stain. Avoid flushing chemicals onto the fan directly.
There is a high chance that it will cause an electric issue and if it happens, your fan's internal components will be damaged and it'll severely affect its lifespan.
Kindly make sure to wipe out as much grease as possible, and do it even for the fan blades. When you don't clean the blades, it'll lead to residual grease buildup and it'll eventually require more frequent cleaning.
Put the Filter Back in its Place
Once you've finished cleaning both the filter and the kitchen exhaust fan, insert the filter back in its place. Put it back exactly like how you removed it and ensure that the leavers and the tabs are tightened properly.
After making sure that everything is perfect, you can plug back the kitchen exhaust fan and start using it normally.
Types of Kitchen Exhaust Fans Available in the Market
Here's a list of the types of kitchen exhaust fans you'll find in the market.
Wall exhaust fan.
Island exhaust fan.
Outdoor exhaust fan.
Range hood inserts kitchen exhaust fan.
Outdoor range hood exhaust fan.
Custom range hood kitchen exhaust fan.
Microwave vent hood exhaust fan.
Downdraft vent hood kitchen exhaust fan.
Conclusion
We hope that our guide on how to clean your kitchen exhaust fan would have provided you with a clear overview of doing it effectively and efficiently. As we say in all our guides, keep your needs and your budget in mind before you decide to purchase a particular model.
Want to add your thoughts? Put them in the comments section below!
Related: 10 Proven Ways to Save Money on Your Home's Electricity Bill
FAQs about Kitchen Exhaust Fans
How to Install a Kitchen Exhaust Fan?
Here's a list of steps you need to follow when installing a kitchen exhaust fan.
Measure the length of the pipe you need to extend the wire connection from your wall to the outer area.
Read the exhaust fan instruction manual for specific installation requirements for the model you've purchased.
Cut ventilation on your wall or ceiling to fit the exhaust fan.
Mount the fan after turning off the main box switch of your home's electricity supply.
Make sure to read all the installation instructions carefully.
Turn on the electricity and ensure that your kitchen exhaust fan functions fine.
What are the Key Points You Need to Look for When You are Planning to Purchase a Kitchen Exhaust Fan?
Here's a list of key points you need to consider before you purchase a kitchen exhaust fan for your home.
It should be energy efficient.
A kitchen exhaust fan must be the ideal size and performance for your kitchen area.
Determine the budget for the exhaust fan.
Write down the needs that you expect an exhaust fan to fulfill.
She is a content writer & editor for more than 12 years. She usually writes about technology news, country news, arts & science, travel & automobiles. She used to test the product and write reviews for popular magazines.