If you're new to TikTok, the app can be a bit overwhelming. Although it is user-friendly and fairly intuitive, there's just so much in it that you may be at a loss over what you should do. If you haven't heard of it, you can be forgiven for missing it's extremely rapid growth. Using a real world example to illustrate this, Facebook took 6 years and a 5 months to reach 500m users, Instagram took 6 years and 1 month to reach that same target, TikTok however took just 1 year 10 months, talk about rapid growth.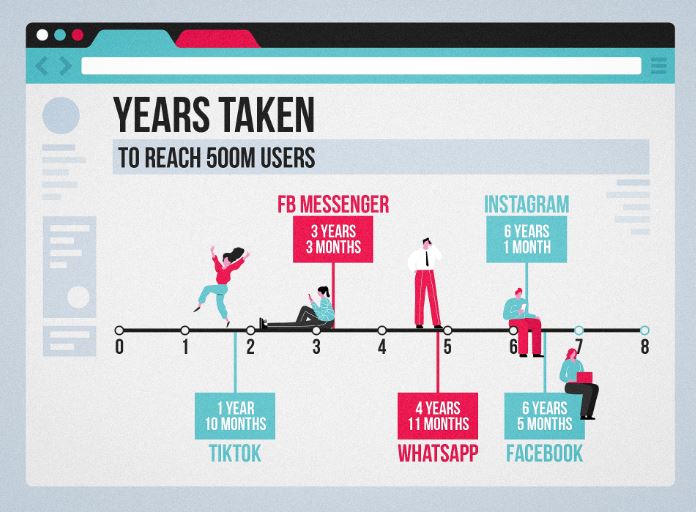 (Research and graph taken from Betway)
To make things a little bit easier when you first get started, there are a few useful tips for beginners should help:
Normally TikTok will automatically generate a username when you sign-up. If you sign-up with your phone number your username will be something generic like 'user523432', whereas if you sign-up using your email or a third-party platform it may attempt to use the information from it.
In general it is best to change your username as soon as possible and create a new personalized ID. To do that just tap on the profile icon in the bottom-right corner and select the 'Edit Profile' option. While you're at it you may want to edit your bio and profile picture too.
Adjust the privacy settings
By default all TikTok accounts are public when they're first created – which means that anyone and everyone can view your profile and the videos that you upload. If you do not wish for that to be the case, you can go to your profile, click on the three dots in the top-right corner, and select 'Privacy and Safety' to change it.
One nice feature in TikTok is how easy it is to browse videos. In the Home section there are two main feeds: The 'For You' feed will show trending videos that the app thinks you'll enjoy, and the 'Following' feed shows videos from users you've followed.
In the Discover section on the other hand you can take a look at TikTok videos that are tagged with a trending hashtag. On top of that you can search for users, videos, sounds, or hashtags.
Starting to record videos is simple – just click on the plus-sign near the bottom of the app and it'll open up the camera. From there you can set up your video and choose a music track, AR effect, or filter.
When you have the time you should explore the full range of options in TikTok's camera. It is nothing too complicated really, especially if you've used Snapchat or Instagram.
While technically you don't need to set the timer, it is definitely more convenient than holding down the record button manually as you create your video. To use the timer you should click on the 'Timer' icon on the right side of the camera display, and select the duration that you prefer.
When you click 'Start Recording' a 3 second delay will be added automatically before it commences. That should give you enough time to get into position and prepare.
TikTok offers some decent editing tools that will pop up once you record a video. It will let you trim the video as well as add music, filters, AR effects, stickers, and text overlays. Simply put – you can touch up the video you recorded before you publish it.
Get into hashtags and challenges
Hashtags and challenges are a big part of what brings the TikTok community together – so you should definitely get into them. Challenges are basically fun activities that can either be organic or sponsored.
To start off you could try browsing through challenges that are trending right now and see if anything interests you. Once you feel more familiar with TikTok, you can get involved and create videos of your own to respond to challenges. It will help you engage with the TikTok community, and build your following.
That should (more or less) cover the basics that you need when you first start using TikTok. Of course there are a lot of other aspects to the app, but you can slowly discover most of them in your leisure.
At the end of the day, TikTok is a lighthearted and fun platform that people use for quick entertainment and laughs. If that's what you're up for then it is great at what it does and could keep you occupied for hours on end.
She is a content writer & editor for more than 12 years. She usually writes about technology news, country news, arts & science, travel & automobiles. She used to test the product and write reviews for popular magazines.