Even if a house or apartment is equipped with the strongest entrance door and safe locks, you should not keep documents, securities, or money in a visible place – there are safes that provide excellent protection to all content.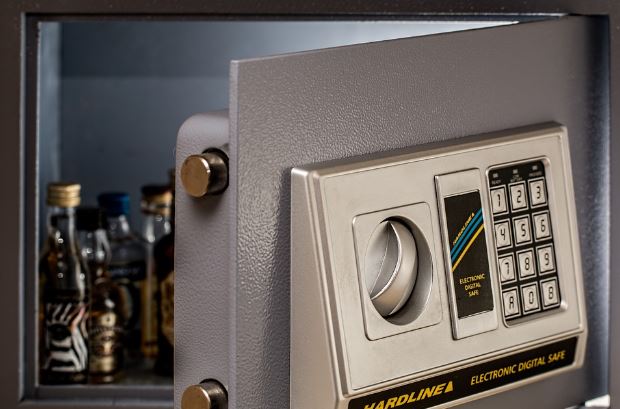 To make the right choice when buying a safe, you should, first of all, decide what will be stored there – the contents determine the safe type. For example, a fireproof safe is suitable for storing personal documents and a family photo album, while money and valuables are best stored in a burglar-proof safe.
Choosing a hidden wall safe for home use, it is worth considering quite a few nuances. So, it should not only be reliable but also not spoil the interior of the room, and be as inconspicuous as possible.
When choosing, you need to take your room measurements into account, know where the safe will be located, as well as the size of the safe itself which means you have to decide the number of things that need to be placed inside of it.
It is also important to decide in advance whether the property is more threatened by burglary or fire, and, depending on this, choose a safe with a certain burglar or fire resistance.
Attention should also be paid to the type of lock, manufacturer's name, certificates, and guarantees.
Guide to Choose a Wall Safe
1. BURGLARY RESISTANCE CLASS
In terms of burglary resistance, safes are divided into 12 classes – the higher the class, the harder it will be to open the safe. In addition, some models are marked "0" or "H0" which means that such a safe is practically not resistant to burglary but can be used, for example, to save valuable items from fire.
For home safes with a high level of burglary protection, solid steel sheets with a thickness of about 3 mm are used. The construction may include several sheets; the space between them is filled with concrete. The durability of the safe is also influenced by the type of lock used: code, electronic, biometric, lever, or key. For maximum protection, at least 2 different types of locks should be used in a safe.
As for the necessary class of burglary resistance, a Class 3 safe is quite enough for home use. If it is necessary to store important documents and serious money sums, it is better to pay attention to Class 4, Class 5 is intended for jewelry storage. If the content of the safe has a very high cost, then the 6th class of burglary resistance will be optimal.
2. FIRE RESISTANCE CLASS
Safe deposit boxes are also divided into 12 classes. To make the product as fire-resistant as possible, the manufacturers use steel walls together with heat insulators and seals. In addition, new solutions that allow higher protection are constantly being developed.
The class of fire resistance is defined at testing and depends on how many minutes the safe can last in a fire. As a rule, the index varies from 1 to 2 hours. It is necessary to choose a model that will meet your requirements at most.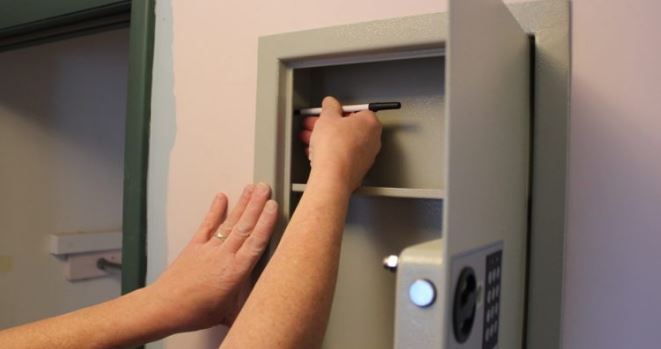 3. SAFE SIZE
Choosing the right size is important because it affects how discreet a safe will be and whether its contents will be secure or not. So, if it is an apartment safe, it is better to choose a compact one. The safe should be well mounted into a wall, floor, or niche so that it cannot be simply removed. The side and back walls of a safe have special holes for fastening, and when using anchor bolts the safe can be installed in the chosen place. Safes with low weight (up to 80 kg) are perfect for an apartment.
If you need a safe for your house, you can choose from a wide range of options. With a competent approach at the stage of planning and repair, it is possible to provide several secluded places, and then your safe will not be evident at all. In this case, you can even install several safes and store documents, money, jewelry or weapons separately, creating a new level of security. Even if intruders open one of the safes, you can save the rest of your valuables.
In a private house, you can use more sizeable safes than in an apartment. When choosing, you should take into account the number and size of stored items, shelves, cash registers, etc. All this is necessary for the most rational use of the safe space.
See also: What Are The 5 Best Home Security Systems For Every Budget?
4. INSTALLATION METHOD
The next step in choosing the best safe for your home is the way of the installation which will depend on the size of the room, its features, and the contents of the safe. To date, home safes have mainly been installed in these ways:
built-in;
furniture;
freestanding.
The ideal choice for home is a built-in safe. Firstly, such an installation option will not take any extra place. Secondly, the safe will be hidden from curious eyes. And it is almost impossible to snatch a correctly installed safe from the wall – as for burglary resistance, such installation provides the best protection. You can hide the place of installation with a painting or other decorative elements: thus, the safe will have maximum safety and simple access. However, in addition to the obvious advantages, there are also some drawbacks.
Firstly, wall thickness. According to the installation technology, it should be at least 10 cm higher than the depth of the safe, i.e. it is possible to install a safe in a 25 cm thick capital wall with a depth of no more than 15 cm. Secondly, the installation process itself is not easy and involves noisy and messy work. Therefore, it is best to do it at the stage of repair, until the completion of finishing works.
A furniture safe is another good option for a house, which is great if you are going to use the stash often enough. In this case, the safe is built into an existing or new piece of furniture, and it looks like an ordinary closet.
Safes that stand alone are more eye-catching, but at the same time can hold more things. They are much less frequently used in apartments and houses, as they take up a lot of space and can disturb the harmony of the interior.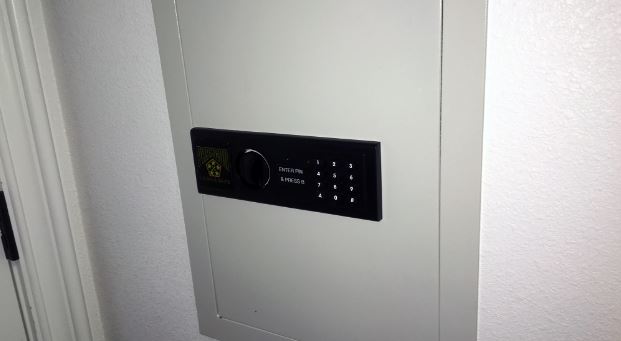 5. SAFE TYPE
It's important to decide in advance what you'll store in your safe to choose the right model. So, today the following basic options are popular:
document safe, equipped with several shelves for convenient paper storage;
a safe for valuables, jewelry;
a weapon safe. It will be useful for those who are fond of hunting, have cold steel and firearms. There are different models, designed to store different amounts of weapons of different sizes;
a combined safe is an excellent variant for an apartment because has enough functionality for storage of any valuable things;
a safe for magnetic media is designed for storing USB sticks, CDs, and films. It is a small construction that will fit in an apartment and will protect all important materials from burglary and fire;
a mini-safe is a great invention for the smallest apartments, designed to save money and jewelry. It is very compact, and lightweight, but at the same time, reliable, and provides high security for your stuff.
See also: 7 Best Places to Put Security Cameras at Home
6. LOCK TYPE
An important element of any safe. Today the main types of locks for safes are the following:
a key lock. In this case, a lever lock is used: it is very reliable, has a small price, and you do not need to constantly keep any digital combinations in mind, as in a case of a code lock. If a safe will be used often enough, a key lock will simplify the task because the use of the key takes much less time than a dial of code. But there are also disadvantages: the key to such a lock will need to be constantly carried with you, or stored in a safe place. But then it also needs to be found, and the risk of losing the key remains high;
a mechanical code lock is simpler because you will never lose the key since there is none. It is also unpretentious to the environment, though there is still a little chance your forget the set of numbers of the code, and the time to unlock such a safe is longer because you have to turn the lock knob many times, and there is no certainty that someone will not be able to sneak peek and remember the right combination. If the lock is not programmable, i.e. the code set by the manufacturer cannot be changed, then, in case you forget it, it will be necessary to address the manufacturer – a long and quite expensive process. Such a lock is suitable for owners with a long memory, and if you do not need to access the safe regularly;
an electronic code lock also eliminates the problem of the need to store keys, but if the password is forgotten, it is possible to open the safe with a special master key. Such locks can be reprogrammed, they are much faster to open and have several security levels. Among the disadvantages there are the price and batteries dependence, as well as environmental sensitivity;
a biometric lock can be opened by user's fingerprint identification. There is no need to remember any passwords or save the key, and the opening procedure is really quick. At the same time, these locks are pretty expensive, depending on the batteries and environmental conditions.
It is better if the safe combines at least 2 types of locks from above.
7. THE MANUFACTURER
The price of a safe depends not only on its technical parameters but also on the name of the manufacturer. Today there are several companies on the market with products that have already proved to be of high quality. They should be trusted even if the price is 5-10% higher than that of competitors with a little-known name.
It is considered that the price of a safe should be about 1/5 of the value of those things that are stored in it.
Among the manufacturers of trust, it is possible to highlight the following:
Format. The German company which is known for a long time in the market of metal furniture and safes. It offers several series of safes, which are perfectly suitable for home use, differs in size, type of installation, indicators of burglary, and fire resistance;
Technomax. The Italian manufacturer has been on the market for over 25 years. It offers built-in, floor, and furniture safes for storing weapons, jewelry, documents, and money. There are very compact variants weighing from 9 kg. Perfect for home use;
Safewood. The brand specializes in the production of prestigious and unique models. As a material for finishing they use natural wood, which has undergone special treatment. Only modern equipment is used in production. It is possible to make a custom safe taking into account the design of an interior of a room. The durability and reliability of the products have been achieved thanks to the double-layer steel which is poured with concrete. The doors of the models are locked with an electronic lock. It cannot be drilled thanks to a special plate of strong alloy. A 35EL storage unit is of high demand which can be attached to the floor. However, the price of the model bites.
KASO. The company from Finland is constantly improving its model range. Specialists are constantly working on studying the consequences of real theft and fires. Based on such analysis, safes of unsurpassed quality are created. PTK models are ideal for the office. The best choice for preserving treasures in your home is the KASO E300 series – the safes are ideally suited to the interior design of a room thanks to several exterior finishes. The catalog includes corrugated panels, oak, birch, cherry, and aluminum products. Experts warn about fake KASO safes and advise to buy products only from a trusted seller.
8. MORE TO PAY ATTENTION TO
When you have already decided, what type and size of a safe are necessary, it is still necessary to consider some more important aspects before you buy.
A safe should not have visible defects or damages and should completely correspond to the parameters declared in certificates;
A safe must have an issued certificate based on the results of laboratory tests and confirm the protective features declared by the manufacturer. If there is no certificate, this means that the safe has not been tested or has not successfully passed "the exams." In such a case, it is necessary to consider twice whether it is worth the risk;
Warranty and post-warranty service. Because no one is insured from the key or password loss. In these cases, specialists of the company should help.
A high-quality and reliable safe costs a lot, but calmness and safety do not come cheap. If you have no desire to "share" your money, jewelry, or memorable things, it makes sense to pay for their reliable protection.
CONCLUSION
A home safe is an excellent protection for all precious and important things. If your home stores valuable things, then such a stash is simply a necessity because it is able to protect not only from intruders but also from the devastating effects of fire. Given a competent approach and analysis of your own requirements for a safe along with features of a premise, it will be possible to find an ideal option for your place.
Frequently Asked Questions:
What is wall safe?
A wall safe is a small metal box that helps to store your precious things like jewels, cash, and paper materials. These wall safes mount in the space or beam of the house. Some models are designed to place inside the cabinet. But the purpose is to conceal the valuables.
Things to consider before choosing a wall safe:
There are a lot of things you need to consider while choosing Wall Safe like brand, quality, warranty, customer service & safety features.
How much does Wall Safe cost?
Wall safes cost from 50$ to 1000$. But you can buy quality wall safes for 100$ to 150$ which is enough for high security.
Pros & cons of Wall safe?
Pros: It can be used to store your valuables like cash, jewels, and paperwork in a safe place.
Cons: If any person who has bad intentions notices it and if they have the right tools then they can steal it. So, high-quality wall safe is essential.
What are some good wall safes available on the market?
Below are some of the quality wall safes. She is a content writer & editor for more than 12 years. She usually writes about technology news, country news, arts & science, travel & automobiles. She used to test the product and write reviews for popular magazines.