Shopping for garden tools can be quite confusing as there is a wide range of sizes and designs. New garden tools arise each season as garden tools keep evolving through the years. many questions run through your mind like: How much does it cost? Which ones do I really need? Is this the right size?
You can relax now because we are here to help you. Before buying garden tools, remember to choose a tool that will make your work easier and more efficient. Here are some tips on making the right choice for each garden tool.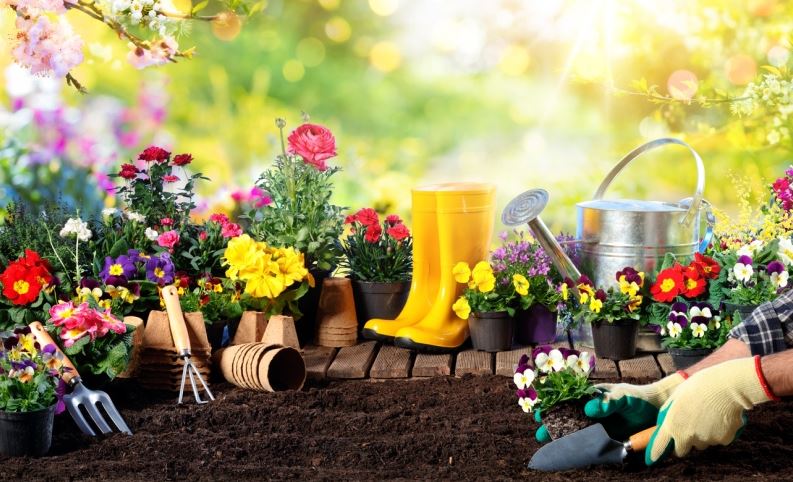 1. The Right Shovel and Spade
A shovel and spade are the most important tool a gardener should have. Shovels are common tools that are used for moving soil, gravel, or coal. They are also used for lifting and digging.
Many think that shovels and spades are the same gardening tool, but they are not. A spade is used for working with soil amendments like slicing under the sod and making edges for beds. They have a flat and squared blade and often have short handles.
What To Look For: Choose a shovel that has a flat top edge to be able to dig comfortably and with power. The height of the shovel's handle should be right for your height. Look for blades that won't rust or bend easily.
Shovel handles are commonly made of wood or fiberglass. Shovel blades are typically made of steel or hard plastics which are very strong.
Choose a garden spade that is made of stainless steel or carbon. The head and the handle socket should be hand forged from thick metal. The strongest handle connections are the strapped ones, so make sure to choose that. If you're looking for a large spade, look for one with shoe protectors or treads on top of the blade.
See also: Choosing the Right Irrigation System For Your Garden
2. The Garden Trowel
A garden trowel is also used to move, dig or smooth around small amounts of material. It is a tool that has a pointed and scooped-shaped blade and handles. It makes tasks that involve soil a lot easier. They are the perfect tool for small jobs like digging soil and making holes.
What To Look For: There are two factors to consider the most: the comfort of the handle and the strength of the tool itself. Choose a trowel that is made of sturdy material that won't easily bend or give up on you under pressure. This tool has many uses so look for a handle with a padded grip. The newer ergonomic handles are good on the wrists also.
3. The Garden Rake
It is the tool needed for breaking up chunks that formed in the soil and is also used when preparing your soil for planting like smoothing over it. There are some garden rakes that have spring-loaded tines that can be easily used without damaging the plants.
What To Look For: Choose a rake that has sharp teeth to be able to break up the dirt and clod and a back that is flat to tamp down the dirt. You should keep away from materials that rust easily and check the tool head regularly to see if the tool heads are coming loose.
4. The Hand Cultivator
This is like a small bow rake that can be easily held by your hands. This is a multi-purpose tool that can be used for cleaning up weeds from the soil or turning the soil where the plants or vegetables were planted. This tool can also be used for digging up plant rows in small gardens. This is also useful if you want to rough up the soil for seeding in garden beds or containers.
What To Look For: Choose a hand cultivator that has curved tines that are strong and a handle that is comfortable. For tight spaces, opt for a narrow cultivator. And for breaking up soil, choose the wider ones.
5. The Garden Hose
As the name itself implies, a garden hose is commonly used for transporting water for gardening and other purposes like landscaping.
What To Look For: There are many factors to consider when buying a garden hose. The first and most important one is the length of the hose. Longer hoses cost more, so be sure to buy only the length that you need. The material should be made of rubber because they are the strongest and will last for a long time. And lastly, consider the flexibility, you will be keeping the hose in storage, so make sure that it is flexible enough, but not so flexible that it will kink easily.
More Tips in Choosing the Best Gardening Tool
1. Product Quality:
It can be difficult to assess the quality of the product when choosing from a variety of brands. Before buying the product, try it out first. Check if it is the right size and weight for you. See how balanced the product feels in your hand. Consider the length of the warranty and the services covered.
If you want to make sure that the tool will do the right job, then check what material it is made of. Tools that are made out of stainless steel are easy to clean and can slide through the soil with so much ease.
The strongest types are solid forged steel tools, that are also known to be light and long-lasting. The lightest ones are made of plastic, carbon fiber, and aluminum.
2. Interchangeable Heads:
Tools with interchangeable heads should also be a part of your options. You can buy a separate tool head (rake, brush, or fork) and handle that has the right length for you. You can easily check if the handle and tool head goes well together as needed.
Yes, these can cost more than the regular ones. But they possess good quality and can be interchangeably used depending on the job you are doing.
3. Handle of the Product:
To prevent yourself from experiencing pain and stress, choose a tool with a long handle. This will allow you to work comfortably, not bend too much, and be able to keep a good posture while working.
Also, choose the product with a wooden handle. Because the wooden handle is the most preferred handle for gardening tools. It will last longer and be flexible.
Other than wooden handles you can also use forged steel handles. This is also a strong and long-lasting handle and easy maintenance.
When it comes to handles don't go with plastic because plastic is the least preferred and easily broken.
4. Easy Maintenance:
When it comes to choosing the tools for gardening make sure to check if the product is easy maintenance or not. Because gardening tools need to be clean and maintained for lifelong usage. Make sure the product should be rust free and easy to clean with water.
After every wash, you should wipe out all the water present in the tools. So, that only the rust will not affect the product. For detailed maintenance make sure to check the product manual for more details.
5. Product Warranty:
Many of the cheap gardening products will easily break. If the product does not have a warranty then your money will waste. So, always check the warranty of the gardening tool before going to buy the product. So that you can use the product with peace of mind.
These are the top 5 tips you need to know before buying any gardening tools. Stay tuned for more updates about gardening. She is a content writer & editor for more than 12 years. She usually writes about technology news, country news, arts & science, travel & automobiles. She used to test the product and write reviews for popular magazines.