Have you recently invested in your first ever golf cart? Do you want to make sure it stays in good running condition for many seasons to come? Learning how to properly maintain your golf cart will easily extend its lifespan, making sure that it not only operates smoothly, but also looks great. So, before you start using the golf cart and really putting it to the test, here are the top six golf cart maintenance tips to use this season.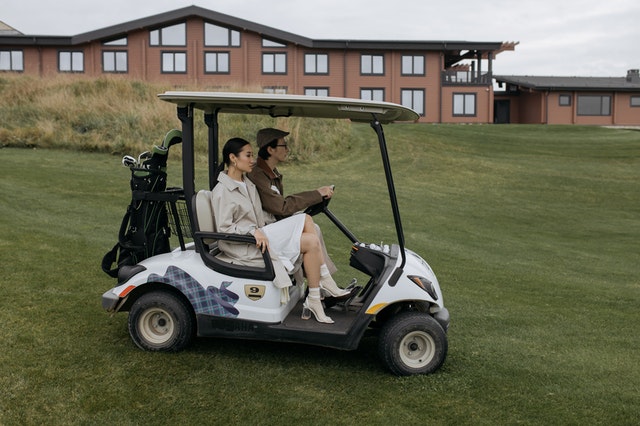 Make Sure You Keep the Batteries Charged
One of the most important tips for your electric golf cart is to keep the batteries charged whenever you aren't using the golf cart. This means charging it after your game, regardless of whether or not you drained the battery. The last thing you want to deal with is a dead battery halfway through your game.
Take Steps to Clean the Batteries
Another tip is to make sure the batteries stay nice and clean. This means taking a close look at the connections to ensure there is no dirt, grime, grass, or mud built up. If there is anything building up, you can use warm water and baking soda on a soft towel to gently clean it.
Use Seat Covers as Protection
Because the seats of your golf cart are exposed to the weather at all times, and just normal wear and tear, it's a good idea to invest in seat covers. Obviously, these will protect the seats themselves from rain, dampness, dirt, and grime, but they can also add a sense of style to the cart. Once they become worn or you just don't like the look of them, you can easily purchase replacement seat covers and give the cart a like-new appearance once again. 
There are a couple of tips to keep in mind when shopping for seat covers: make sure you've got the right size; pick a material that is easy to clean; make sure the cover will fit snugly and not move around; and ensure that they are built to last. Normally it is good wear helmet and knee pads for outdoor activities because of safety purposes.
Ensure the Tires are Properly Inflated
Just like with your actual car, the tires on your golf cart need to stay properly inflated. This will ensure the cart is safe to drive, and handles properly.
Stick to the Recommended Load Restrictions
Be sure to also refer to your owner's manual on the load limits for the golf cart. You want to be sure you stick to the restrictions and not overload the cart, as this can severely damage the cart itself. 
So, what happens if you are weighing it down too much? This is a good indication that it's time to go through your golf bag and remove unnecessary items. It may also mean that you can't carry as many passengers with you.
Take It in for Professional Service
Even by following all these tips, it's still a good idea to have your golf cart professionally serviced once a year to ensure you haven't missed anything. Think of it as preventative maintenance.
During the professional service, some of the things they will be looking for are oil leaks, the battery connection, and how the brakes are performing. The brakes are made up of brake drums, pads, and cables and you want to be absolutely positive that all parts work as intended.
While each of these tips many not seem like a big deal, when combined, they do an excellent job of keeping your golf cart in great working condition and thereby extending its lifespan. Not only that, it ensures that you've got a reliable and comfortable ride while out on the course.