Greetings from the other side of the screen. I hope you are all happy and playing good games. I have been particularly focused on one new game recently, called Cook It! It is an amazing cooking game called Cook It Game filled with different sorts of challenges that leave the player engrossed in a fun time.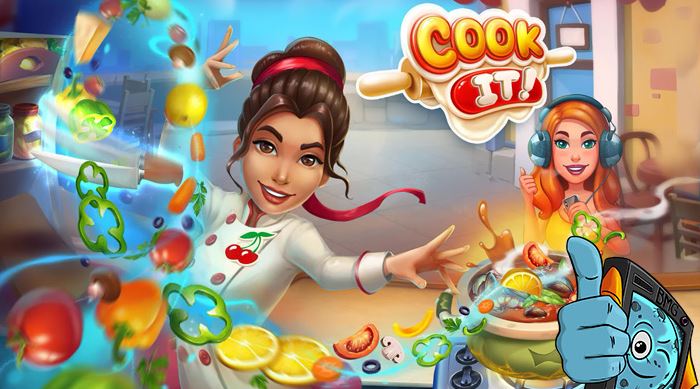 Cook It! is an excellent cooking game
There are many cooking games available on the internet. People who enjoy cooking and spending time in the kitchen, find joy in playing these kitchen games. However, Cook It! goes beyond the scope of just simple cooking games. It is highly interactive. It is a simulation of a real restaurant kitchen where the player spends the whole time assuming the position of the master chef. He is in charge and must keep on striving to protect the name of his restaurant. He must please customers, manage timely orders and keep his restaurant looking spick and span so that customers are attracted to it.
Cook It! is different from other kitchen games
Other cooking games let the player stay in only one kitchen setting where the player has to repeatedly make the same sort of food. However, in Cook It!, the player gets chances to move around and cook in newer kitchens. After about every 10 levels or so, the player is promoted to a new restaurant. The new restaurant serves different foods than the last place.
The game has a wide range of continental restaurants. The player is sure to enjoy all these opportunities.
Cook It! has redefined the kitchen experience
Cook It! has surpassed the technology and innovation of other kitchen games as it lets the player truly enjoy the experience of standing in a kitchen. It eliminates inconveniences like heat and sweat but retains the important lessons that are necessary for one to learn. For starters, the game shows the player the importance of planning ahead. The player knows that in order to keep up, they must move their hands fast and take quick action. One small setback can set them back from the game for a huge time as the orders from customers can pile up and be the cause of a migraine.
Cook It! lets the player enjoy picking single ingredients like eggs, tomato, cheese, and buns. The player can incorporate them in various combinations to create a delicious dish to serve to the customer.
Cook It! teaches the player the importance of time!
Cook It! is truly a life-changing game. This game taught me that not only does planning ahead of time actually save you time. But also that in order to accomplish great things, I must be consistent in the things that I do. While making and preparing food, the player will learn that they can not achieve success in the level by just being quick. Their movements must be fluid with their thoughts. Time management games are of utmost importance. That is how their restaurant will be worth flaunting.
Cook It! will keep you sane.
Cook It! may sound like just a cooking game but the concept goes beyond that. From the friendly faces of the customers to the vivid graphics, this game wants the player to feel welcome. The environment of the game is extremely friendly and people of all ages can enjoy playing.
The game even consists of Happiness Challenges. These happiness challenges are short and fun challenges like smiling, deep breathing and thinking positive thoughts. You don't need many resources to finish these challenges. All you need is to clear your head and think.
This is the reason for happiness challenges so that the players can relax and unwind.
Cook It! is a family game.
Cook It game is a game that is fit for all family members. Parents, grandparents, children, older and younger siblings can equally enjoy this game. Fun is guaranteed, along with learning some basics of the kitchen. I have had the best time playing it with my brother. I recommend you play this game!
She is a content writer & editor for more than 12 years. She usually writes about technology news, country news, arts & science, travel & automobiles. She used to test the product and write reviews for popular magazines.