Greetings to all my wonderful fellow gamers, I am here today with an exceptionally top of the notch cooking game. You can forget the inconvenience of a real kitchen because now you can cook all you want by playing this game right under a cool AC. That's right, I am talking about one of the coolest new cooking games, Cooking Crush.
It is one of the finest cooking games in comparison with other kitchen games as it not only has the thrill and excitement of cooking food but also the challenge and pressure of an action game. Cooking Crush will have you dialed in within a matter of seconds and you will love playing it every moment.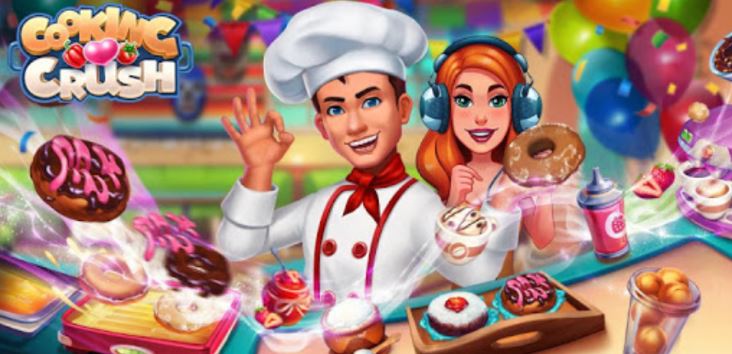 How would you define this Kitchen game?
Cooking Crush is a kitchen game designed for all food games lovers and food enthusiasts. The game lets the player cook meals from a wide variety of geographical areas and cultures. The player thoroughly enjoys the challenges and feels a sense of accomplishment.
What should the player expect from this game?
Cooking Crush lets the player suppose the position of a master chef attending his restaurant. From order taking to food preparation, the restaurant is controlled by the player. I found this very appealing as I personally always wanted to run my own business! I was my own boss and I controlled every aspect of everything.
Such cooking games start off easy, letting the player set into the wonderful world of restaurant management but as the levels progress, the game speeds up and becomes more challenging. From easy burger meals to exotic chicken tikka, you can expect to learn a whole lot about gourmet food.
How should the player play this time management game?
Cooking Crush offers a violence-free atmosphere to the player. The game is studded with keen, friendly faces and healthy challenges, so the player can sit back and enjoy the experience of this interactive game.
On starting the game, it loads pretty quickly and saves the player time as there is no long waiting required. The player is then greeted with a positive message of daily rewards that is sure to boost mood. Every level starts in a spotless and clean kitchen which is instantly filled with bustling customers ready to order. Ingredients are readily available and can be accessed with the tap of your fingertips.
Each food has its specific preparation time and it is up to the player to manage the preparation with the corresponding orders. If a dish is served in due time then the customers leave with a smile on their faces and a lot of coins are earned as a reward. However, if the food is not served in time, the customers will become impatient and lose their temper. This will result in them leaving the restaurant and the order being canceled. If the food is halfway prepared or even finished cooking after they have left, it may go to waste if other customers do not order it.
What is the best tactic to play this Food game?
My best advice is to play this game with your mind. Pay attention to the details and plan ahead. If you have good time management games skill, then it will be a breeze for you. If not, then you will have to learn.
Also, be conscious of your customers. Offer them treats to prevent them from getting agitated if you can not finish their order in time.
Use your coins wisely. The game lets the player choose from a range of decorations to personalize their kitchen. However, as a long term player of Cooking Crush I would advise you to invest in boosters. Try buying new pots and pans to speed up food preparation time so you can cater to the customers more smoothly.
Daily bonuses and happiness challenges are your friends. Make sure you sweep all the coins you can before you hit the game shop.
Now, go forth and get a cooking crush. She is a content writer & editor for more than 12 years. She usually writes about technology news, country news, arts & science, travel & automobiles. She used to test the product and write reviews for popular magazines.