The industrial workplace has several inherent risks that may result in injuries. And injuries from accidents that occur during forklift operation is common. Although a forklift is handy equipment to move bulky items around the workspace, improper handling and maintenance can result in fatal accidents.
Forklift accidents are a frequent occurrence in the US that result in serious injuries. According to statistics, an average of 34,900 fatal injuries and 61,800 non-fatal injuries are sustained by employees each year. Forklift overturning accounts for 24% of all forklift accidents.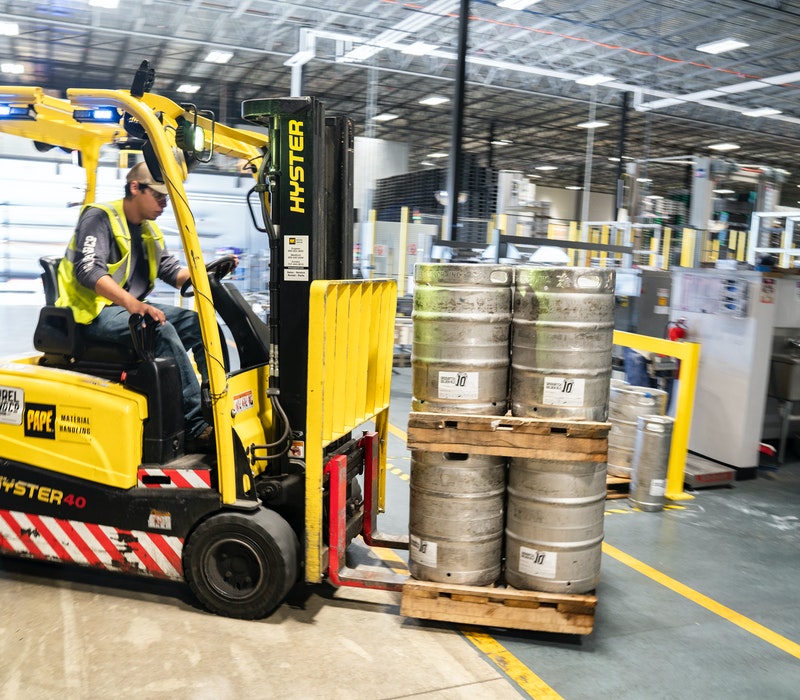 The best way to eliminate the chances of forklift accidents is by mandating all forklift operators to carry a valid forklift certification to operate them safely. In order to be compliant with OSHA guidelines, it's essential for forklift operators to certify. Also, if you are a forklift operator, you should know how to renew your forklift license every three years.
Why Is It Important to Renew Forklift Licenses?
While you might have certification for operating forklifts, it's essential to renew your license before expiry. A refresher training to review your knowledge, as well as the skills to identify potential malfunctions in the forklifts, is critical to ensure the continued efficiency of forklift operations.
Besides, to avoid penalties for invalid licenses and to stay compliant with OSHA's requirements, all employers should ensure that their forklift operators hold valid certifications.
How to Manage Forklift Certifications and Renewals
Managing forklift certifications may seem simple at the outset. However, it's vital to keep track of expiration dates and manage training schedules.
Several leading forklift certification training providers offer online courses with a 'save a bundle' package. This means that you can also schedule to renew your license with online refresher training, when required, along with the initial certification purchase. Instead of buying distinct packages for certification and subsequent renewals, you can opt for a single package for faster renewals and tighter safety controls.
When to Renew Forklift Licenses
Besides the three-year validity period of the certification, operators should also undergo refresher training and renew their licenses for comprehensive safety in the following scenarios:
In case of a change in forklift equipment or the addition of new accessories or components in the current forklifts.
In case of forklift-related accidents in the workplace.
If improper handling and inadequate maintenance of forklifts are observed.
In case of a change of jobs or roles involving forklift operators.
Step-by-Step Process on Forklift License Renewal
Step 1: Enroll for the Online Course
As you reach the expiration date, log in to an online training provider's website and take the recertification training.
Step 2: Finish the Online Training Course
Employees no longer need to visit a facility to undergo refresher training. They can opt for online training and schedule it according to their work routines. You can complete all the training modules using your digital device. The course typically entails the following modules:
Operating a forklift and its mechanical controls.
Performing equipment inspections.
Navigating forklifts through ramps, grades, rough terrain, and tight spaces.
Step 3: Hands-On Evaluation
Once you have finished the training process, it's mandatory to complete an evaluation led by a trained operator. This phase of the renewal process involves an adept forklift supervisor or trainer to assess how well the operator can operate the forklift in real-time working conditions. The trainer will then fill out the due paperwork to record your evaluation scores.
Step 4: Complete your OSHA Compliant Renewal Training
With simple steps, you can complete your OSHA forklift renewal certification within an hour. Besides, leading forklift certification training schools offer 'train the trainer' programs that can help meet the employers' needs for an in-house forklift trainer who can perform hands-on evaluation processes for operator certifications and renewals. This way, your workplace can conform to the safety norms of OSHA and prevent forklift-related accidents.
Since you now know how to renew your forklift license, don't compromise your workplace safety. Invest in the right training program that is fast, convenient, and affordable, making your renewal process every three years a simple procedure to check off your workplace safety requirements.
It can be challenging for organizations or individuals to manage operators' forklift certifications and renewals. However, if you choose the right training provider, you can streamline the entire process and prevent skipping of forklift renewal training and which can compromise workplace safety and compliance issues. She is a content writer & editor for more than 12 years. She usually writes about technology news, country news, arts & science, travel & automobiles. She used to test the product and write reviews for popular magazines.