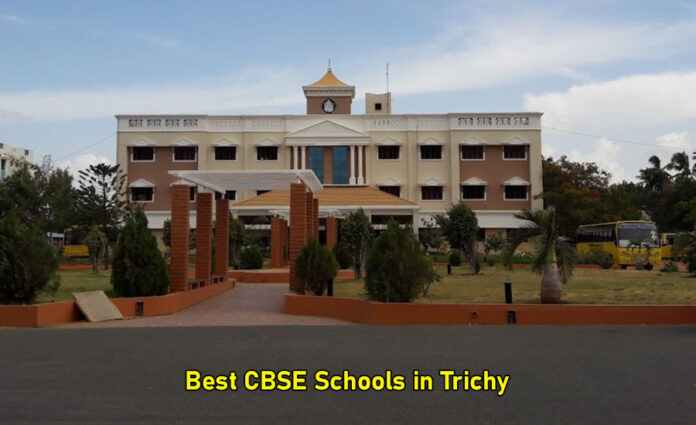 For a growing child, the right school gives a basic foundation for their successful career growth. However, schooling education provides basic knowledge and experience to lead a successful life. All schools provide a basic education for the growing children but, in today's world, children should learn about how to tackle every anonymous situation that happens in their life. Some of the top schools make their students to think out of the box and make them unique survivors in this world. Nowadays, parents are in a chaotic situation when choosing the best school for their children's education. Hence, here we listed some of the top 10 best CBSE schools in Trichy.
Top 10 Best CBSE Schools in Trichy
1. Montfort School
Montfort School is a co-educational CBSE School located in Trichy. The Montfort Brothers of St. Gabriel ran this Christian religious Congregation Institute. The school was founded in the year 2006 and as of now, the school achieves extraordinary growth by providing excellent education for more than 4000 students. As of the CBSE syllabus, they offer education from Kindergarten to Class XII. The School consists of skilled teachers who will provide high quality mentoring to their students.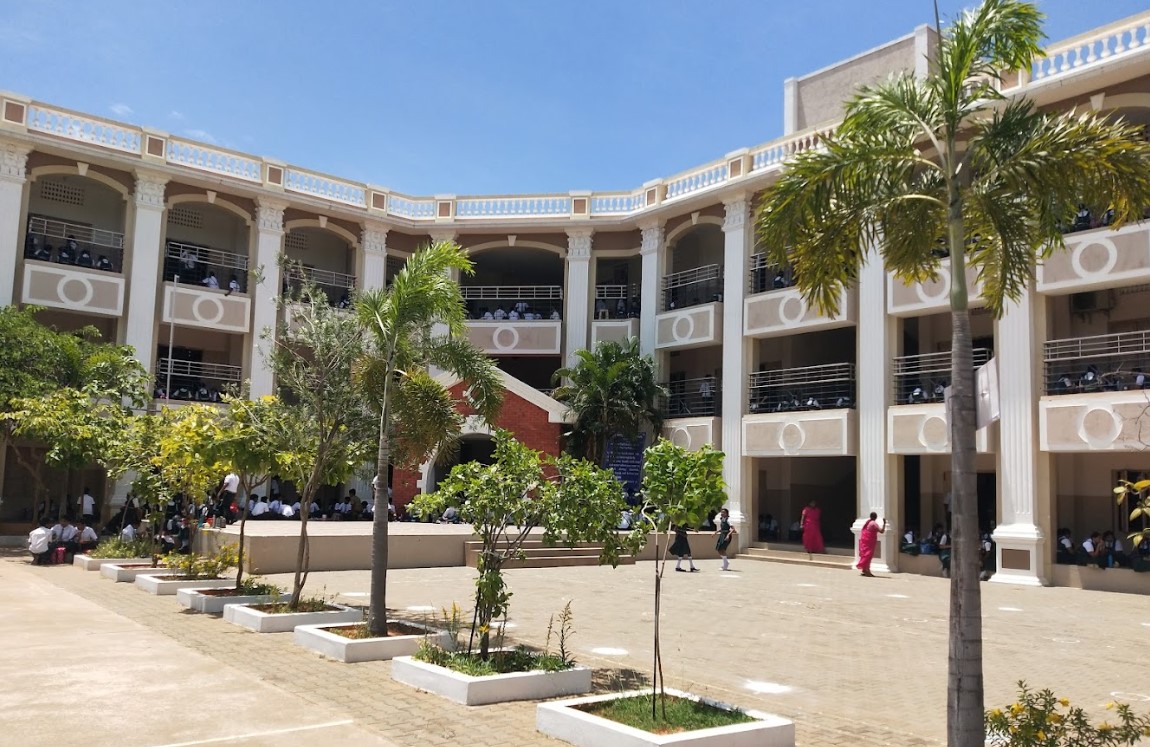 This Montfort School has the best infrastructure with various facilities like E-Library, Audiovisual halls, well-equipped Laboratories, and mineral water. Various club activities are there to improve student's social activities. And they provide various extracurricular activities like sports and train their students for different competitions. By keeping children's growth in mind, they provide a holistic educational approach to make their students better in academics as well as overall well-being. The school receives various recognition and awards for its educational excellence.
Hence, Montfort School is considered to be one of the best CBSE schools in Tiruchirappalli, Tamil Nadu.
2. Kamala Niketan Montessori School
Kamala Niketan Montessori School is a co-ed school in Trichy, founded in the year 1991. One of the best CBSE Schools in Trichy was initiated by Mrs. Geethanjali Sathiamoorthy. By following the CBSE syllabus the school offers education from Kindergarten to Class XII. This ISO Certified School has a Montessori educational method for the students from Pre-KG to Class III. Kamala Niketan School also provides training on IIT, and JEE exams and this well-disciplined school provides extracurricular activities to bring out the qualities of each and every student.
The school has good infrastructure with smart classrooms having projectors, a Library, and well-equipped computer and science laboratories. By keeping student's physical health in mind, the school conducts general eye and health check-ups for the students.
Overall, Kamala Niketan Montessori School provides great academic as well as holistic education to its students. Hence, this School is the best among various CBSE schools.
3. Amrita Vidyalayam
Amrita Vidyalayam is a well-known CBSE school in Trichy, and the school was directed by Mata Amritanandamayi Math. This national network school was initiated to provide quality education and also they teach about the art and science of living. Amrita Vidyalayam School offers education from Kindergarten to Class XII. The school has well-equipped classrooms with audio-visual facilities, modern laboratories for each and every practical class, a library, computer-based learning, and online labs which helps to promote extra knowledge to the students.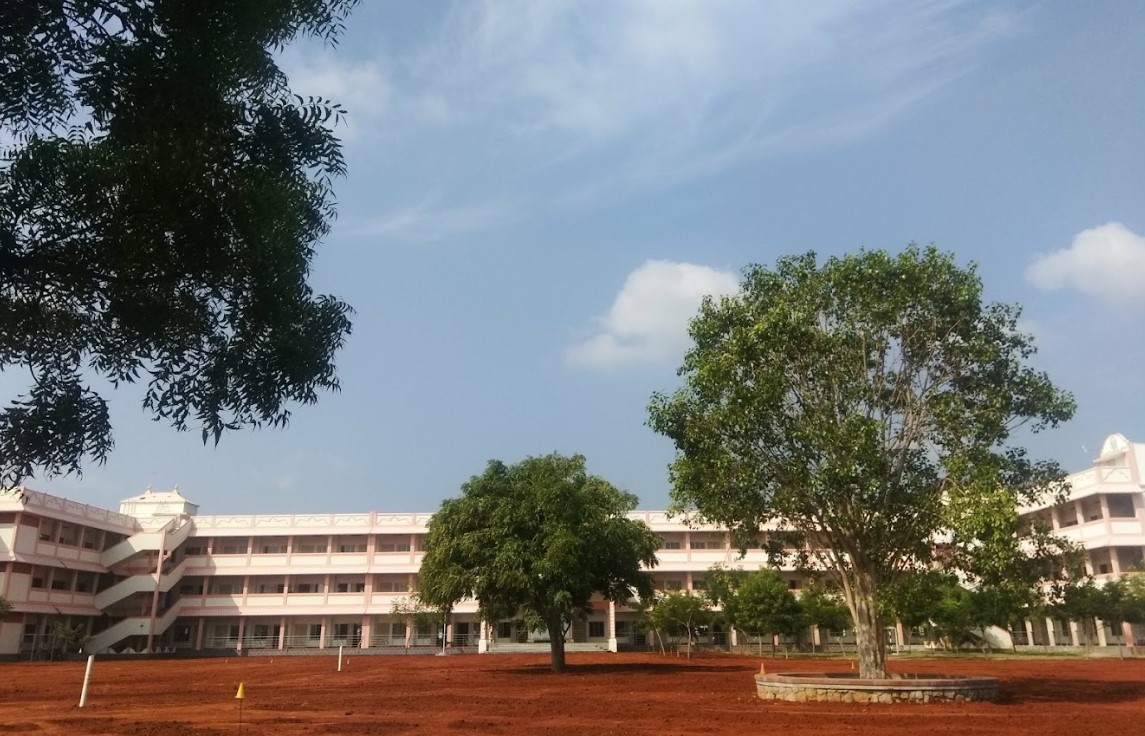 Extra-curricular activities like sports, arts, music, and other events, and competitions are conducted regularly to encourage students and make them more enthusiastic.
Overall, Amrita Vidyalayam School provides an excellent platform for students to develop themselves in both academic and holistic ways.
4. Kendriya Vidyalaya No.1
Kendriya Vidyalaya No.1 was founded in the year 1966 and was initiated under the Kendriya Vidyalaya Sangathan (KVS) which is a Central Government School in India. This CBSE school was founded in the year 1971 and this educational institute aims to promote quality education to all their students and also children of central government employees. And they provide education from Primary to Class XII.
The KV No 1 has a decent infrastructure with modern facilities such as digital classrooms, computer laboratories, a library, maths and science laboratories. To provide extracurricular activities they conduct various sports events, hence the school consists of a playground, basketball and volleyball court, and indoor game facilities. The medical room is there to provide first aid for the students who are getting accidental injuries. To improve the creativity level, they provide art and music training for interested students.
Overall, Kendriya Vidyalaya, as a central government school creates a bright future and provides a holistic learning environment for each and every student.
5. BVM Global School
BVM Global School is one of the best and most popular co-educational CBSE schools in Trichy. This school is not only affiliated with the CBSE and IGCSE boards but also has the largest board NIOS Accreditation. The BVM Global School provides outstanding education in different locations such as Trichy, Coimbatore, Chennai, and Bangalore. They offer excellent education from Kindergarten to Grade 12. The well-trained faculties shape each and every student by nurturing them in both academic and holistic manner. The modern infrastructure of the BVM Global School has huge facilities including spacious classrooms, science and computer laboratories, and a library with updated resources.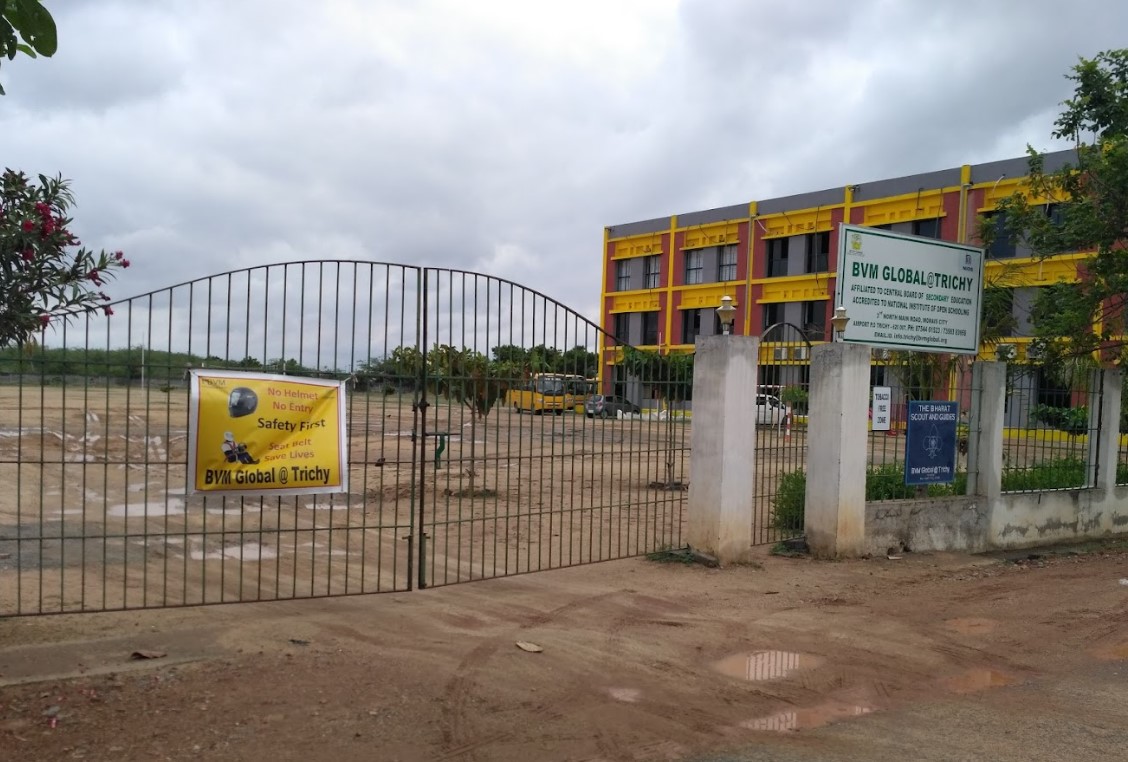 Along with a unique learning experience, the school offers various co-curricular activities for a stress-free mindset. They follow some unique policies to reduce the stress of the students including No exam, no homework policy, and no-uniform (KG to grade 5) policy. Also, they bring "Every student on stage" policy during the School Day to bring the students out of stage fear. Then they eventually conduct extracurricular activities such as Sports, music, drama, yoga, foreign language training, and art.
Overall, BVM Global School trained its students to survive at IIT, NIT, and other prestigious Universities around the world.
6. Orchard School
Orchard School is one of the reputed CBSE Schools in Trichy, which was founded by Mr. S. Mani in the year 2010. The vision of the Orchard School is to provide quality and holistic education to the students.  They offer education from KG to Grade 12. The school provides joyful assessments including activities, projects, and orals for stress-free examinations. The huge infrastructure of the school provides all the facilities to the students such as an Air-conditioned Library, science Laboratories, and Water purification plants. Obviously, the well-trained faculties pay attention to each and every student's performance and growth.
On the other hand, the school offers more co-curricular activities to bring out the student's talent beyond the classroom. They conduct Sports, music, art, drama, club, and social activities. Overall, the school provides excellent academic results as well as shaping its students to excel in this competitive world.
See also: 5 Steps on How to Paraphrase Text
7. Tiruchy Public School
Tiruchy Public School is a well-known Co-Educational CBSE School in Trichy. The School was formed by respectable members of the auspices of Jignasa Educational and Charitable Trust to create broad-minded students with all humanitarian values. The school consists of two campuses in Trichy, located in Thuvakudi and Kattur. The Thuvakudi Campus is the main campus, which offers education from Kindergarten to Grade 12. Whereas, Kattur Campus offers education from Nursery to Grade 5. Basically, they nurture holistic education in 3R's, 3H's, and 4C's formula. That is they create core competencies, Integrative deployment and they provide regular practices to excel in academics. They provide joyful and holistic education by giving different activities including innovative, technology-supported, project-based activities and interactive processes.
The School has an attractive infrastructure with huge facilities such as a smart classroom, Library, Coaching classes for government board exams, Swimming Pool, and Computer and science laboratories. Overall, the school offers Bag-less schooling with holistic education which creates a humanistic and well-trained student.
8. Sri Vignesh Vidyalaya Senior Secondary School
Sri Vignesh Vidyalaya is one of the renowned CBSE Schools in Trichy. The school was founded in the year 2006 by D. Viruthachalam and now the school is run by Shri. V. Gopinath, a great entrepreneur and also the Chairman of the institute. The Vignesh Group of Institution educate their student by providing quality education along with humanistic qualities. The well-trained teacher will shape each and every individual with their victory acts and motivated souls. The School offers education from PreKG to Grade XII. The school has excellent infrastructure with modern facilities including a Montessori Method of learning, a well-stocked library, smart classrooms, labs, ATAL Tinkering lab, Hostel facilities, and RO Purified water and it provides many choice subjects for senior secondary students. Additionally, they prepare their students by providing extra coaching for board exams like JEE, and NEET.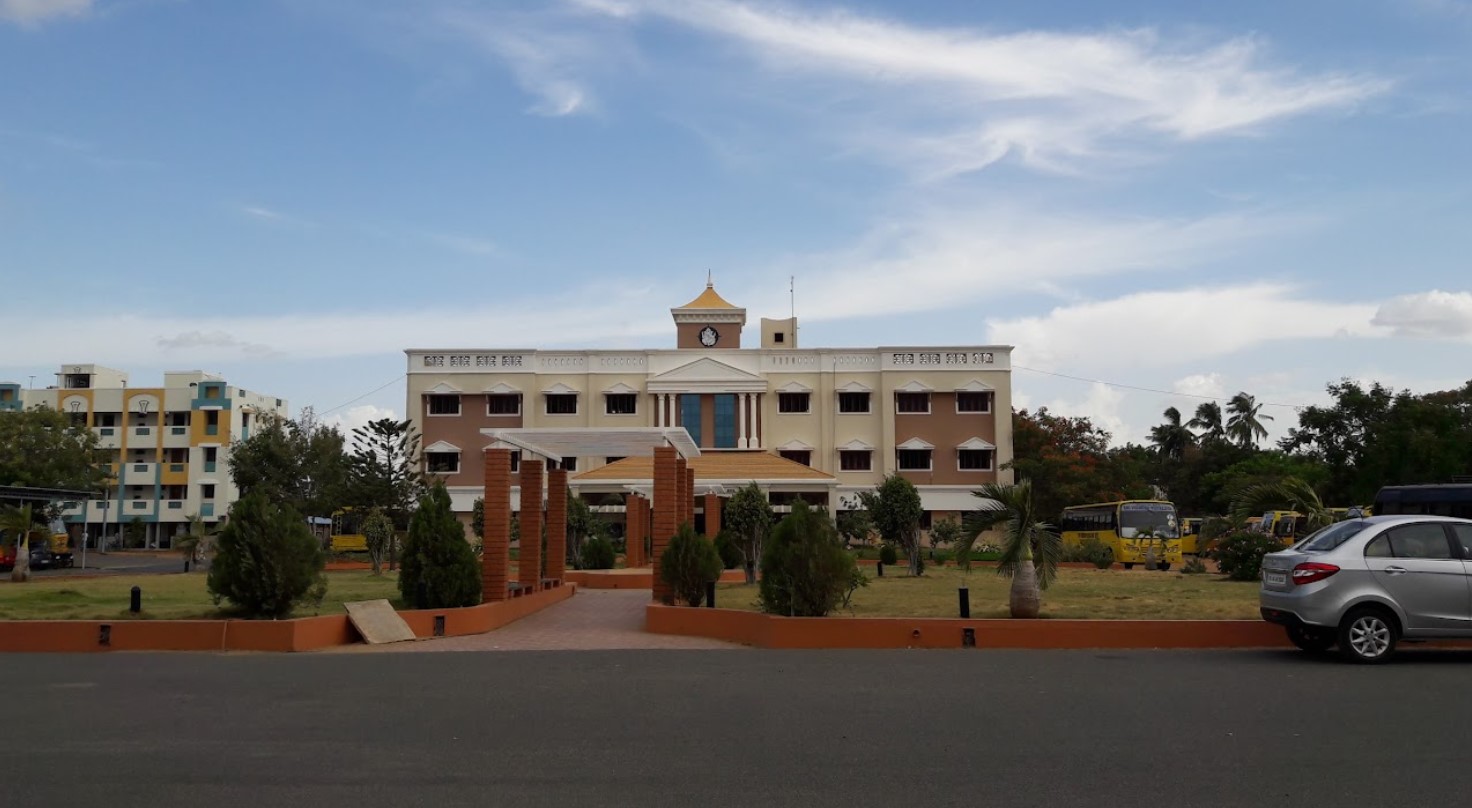 Apart from education, the school conducts extra-curricular activities to bring out the student's intelligence. Training will be given for extra-curricular activities and it has a world-class indoor stadium, swimming pool, cricket academy, and skating rink. Altogether, the school provides an excellent education system and helps to develop the students personally and professionally for their successful future.
9. Sri Akilandeswari Vidyalaya
Sri Akilandeswari Vidyalaya is a well-known CBSE school in Trichy. The school was founded in the year 1975 by Shri. K. S. Venkataraman. They offer education as per the CBSE syllabus from primary to Class X and they evaluate the students in accordance with the CCE system. Obviously, well-trained faculties always train their students to achieve the best academic results. By encouraging the students' co-curricular activities, they conduct regular events and sports activities.
The good infrastructure of the school is facilitated with a library, laboratories for mathematics, science, computer and audio-visual labs, and various clubs like Literary, science, eco, quiz, citizen consumer, and mathematics club. In addition to the academic activities, they also offer sports facilities to develop the interest of the students. To motivate the students, they offer award ceremonies for toppers and faculties. Also, the school conducts regular parent-teacher meetings to update the student's performance with their parents.
All over, Sri Akilandeswari Vidyalaya is a reputed school for providing high-quality education with essential skills for the overall success of the students.
See also: Who should edit my statement of purpose?
10. Mahatma Gandhi Centenary Vidyalaya
The School MGCV is a well-known educational Institute in Trichy. The school was founded in the year 1969 by Sri. K. Santhanam. MGCV is one of the co-educational CBSE-affiliated educational institutes with traditional values and a modern educational system. The school provides education from Nursery to Class X. They offer a quality education and extracurricular activities to prepare their students as the best in this competitive world. The infrastructure of the school has enough facilities with a Library, smart classrooms, RO water, an Auditorium, and composite labs for Physics, Chemistry, Computer, Maths, and Biology.
Beyond the academic excellence, the school offers extracurricular activities like traditional,  indoor, and outdoor games including table tennis, chess, volleyball, badminton, silambam, Kabbadi, etc.. Apart from this Karate and Taekwondo trainings are given to improve their self-defence. The school has excellent track records on the academic side and they always achieve cent percent results in CBSE exams. Overall, Mahatma Gandhi School provides quality and affordable education with overall development to make a perfect individual.
Why CBSE Schools are better than others?
Choosing the best board of education is still tough for many parents. But when compared to other boards of education, CBSE brings a plethora of knowledge and it has global recognition.  Also, this CBSE syllabus focuses on physical and mental development which helps to survive everywhere in the world. And they train their students for competitive examinations like NEET and JEE. Obviously, children will get stronger in their problem-solving and critical-thinking skills. Additionally, the regular assessments will create awareness among the child and parent.
Final Words
In today's world, giving the right education in the early days for your child is a very important thing for their successful future. There are several outstanding schools that are there to sharpen the child during their KG's. But it is hard to choose the right school for your kids. Hence, by keeping this in mind, here we listed the top 10 Best CBSE Schools in Trichy. These schools consist of skilled faculties, and modern infrastructure with huge facilities that provide valuable and holistic education to their students without any constraints. Choose the best one to shape your child's future.