English is widely used as a communication language. Today in most parts of the world, English is used as the standard communication language. With the help of this language, people across the globe can communicate with each other fluently. This is the reason why English is introduced in school academics. It helps students to develop emotionally and mentally as well. English, therefore, leads to complete personality development. It helps the students to create their individuality.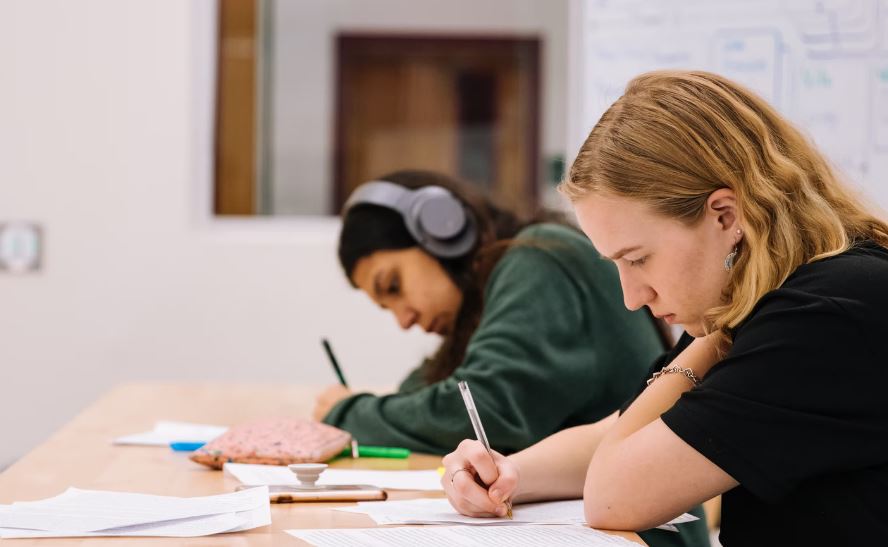 In this article, we will see how to prepare for the class 7 English examination.
English syllabus for class 7-Following is the syllabus for class 7
English class 7 syllabus is divided into two books-
English Honeycomb
English- The Alien Hand
| | | |
| --- | --- | --- |
| CHAPTERS | ENGLISH: HONEYCOMB | ENGLISH: THE ALIEN HAND |
| 1 | Three questions and the squirrel | The tiny teacher |
| 2 | A gift of chappals and the rebel | Bringing up Kari |
| 3 | Gopal and the Hilsa fish and the shed | The desert |
| 4 | The ashes that made trees bloom and Shivvy | The cop and the anthem |
| 5 | Quality and trees | Golu grows a nose |
| 6 | Export detectives and mystery of the talking fan | I want something in a cage |
| 7 | The invention of vita- Wonk and dad and the cat and the tree | Chandni |
| 8 | Fire- friend and foe and meadow surprises | The bear story |
| 9 | A bicycle in good repair and garden snake | A tiger in the house |
| 10 | The story of cricket | An alien hand English |
Tips and tricks to improve your communication skills-
When we talk about English, we mean both verbal and written communication. The student should look towards their verbal and effective writing skills. Following are the points which will help students to score well in English-
Students should pay attention to each word said by their respective English subject teacher. This is one of those subjects which require proper attention in the class.
The student should maintain a separate diary. They should write new words learned every day in it. These words will improve their vocabulary skills and writing skills.
The student should develop a habit of reading dictionaries, different novels, stories, and literature books. This will help them to enhance their reading skills.
Another way the student can improve their communication skills is by reading any known English newspaper. Example- The Hindu, The Times of India, etc.
The student can also improve by daily practising in front of the mirror. This will increase their enthusiasm
Students should never feel shy in speaking in front of others. They should try to overcome their fear and nervousness.
Tips and tricks to prepare for English examination-
The student should keep in mind that they should stick to the NCERT books for English. NCERT is loaded with ample knowledge, which is sufficient for class 7 students.
Following are the points to prepare for the English examination
Always make a proper study timetable. Mark the important keywords, highlight the new words, and new phrases, etc. This will help their brains to adapt to new words.
Always develop a reading habit in English. Reading helps the students to improve their vocabulary skills. By doing so, students learn new words.
Always pay attention to what the teacher teaches in the classroom. They guide the students in their best possible ways.
Students can test their potential by attempting various kinds of comprehension tests conducted by their teachers. They should keep in mind that tests only improve their skills. So they should not miss them.
The student should participate in various poem speaking, debate, storytelling competitions, etc. By doing so students will develop their speaking skills. They will learn new words, which they can use in their grammar examination.
The student should make a summary for every chapter. This will help them to study easily and fast.
Students should keep in mind that they should practice the grammar section by heart. The literature section is a scoring part in English, but students should focus more on improving grammatical mistakes.
Before the examination students should revise the entire course once. This will help them to recall the chapters
Never touch on new topics just before the exam day. It will only create pressure and at the last moment, nothing can be learned.
Students can solve CBSE Sample Paper 1 for Class 7 English with Solutions. This will help them to a great extent.
How teachers can help the students to improve English speaking skills
Teachers are students' second parents. They provide their knowledge in the best possible ways. Teachers play a vital role in developing the future of the students.
Following are the ways teachers can help their students to improve their English speaking skills-
Teachers should conduct various competition exams like storytelling, poem telling, speeches, etc. they should encourage the students to participate in them.
Teachers should behave in a lenient manner with the students, they should try to understand the doubts of the students.
Teachers can conduct a demo class in which they teach the students the importance of English.
Teachers should motivate the students to maintain the English language as their communication medium in schools.
Teachers should motivate the students to be loud and clear in the classroom while speaking in front of classmates in English to build up their confidence.
Teachers should provide students with attractive rewards. By doing so students actively participate in the competitions and they try to give their best.
They should try to figure out mistakes in the students. And should provide the best possible solution for them.
Conclusion
English is not a tough language. Students should attend their classes timely, complete their homework on time, revise daily, etc. they should try to learn new words every day. By doing so they will develop good English skills.
English is a vast subject. They are no boundaries for learning the subject. Students should focus right from the start so that they can set their desired goals and ambitions. She is a content writer & editor for more than 12 years. She usually writes about technology news, country news, arts & science, travel & automobiles. She used to test the product and write reviews for popular magazines.