Moving is no easy job, it engages lots of effort and an amount of money. But there are so many reasons when you have to move with little or almost no money for things like studying, volunteering, interning, or simply staying in abroad far from your homeland. In such a situation, you have to look for the easiest and cheapest way to make your way.
Here, in this article, we have listed a few beneficial tips for you to move with an extremely low budget. Now, have a glance: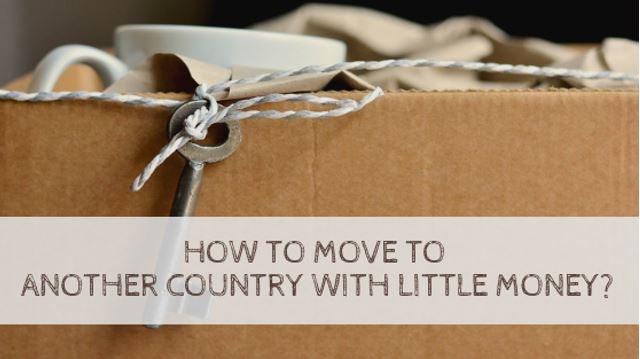 How to move to another country
Consult a budget-friendly moving company:
For moving the first and the must thing to do is to contact a moving company. For this you can search on the internet for the convenient list of licensed national moving companies near you or you can also ask your friends, colleagues or neighbors for a suggestion. In case of your low budget, you should compare and choose the best-suited moving company according to your spend-ability.
Use groupage shipments which is more cost-effective:
There is another option to compress your moving budget by sharing the space of a moving container with other people's stuff if the total volume of your belongings is small enough. You will be provided with two options in case of overseas shipping – one is Full Container Load (FCL) and the other one is the Less Than Container Load (LCL) which is much more cost-effective than the former one.
Don't make your bags heavier with the things you don't need, to reduce the shipping cost:
Think and pack strategically the essentials like medications, chargers, day-to-day toiletries and a couple of changes of clothes in an open-first handbag and always try to use every ounce of space of your luggage in the most logical way. It will help you to make sure that your every essential belonging fit well and will be protected along the journey.
You can get rid of any needless things like your unnecessary tools, kitchenware, junk and old extra clothes by organizing a garage sale. In this way you can also make some extra cash by selling those unwanted items, and remember the fewer things you bring, the cheaper your shipment will be.
Try some creative ways to save money:
Instead of buying moving boxes every time, you can search for cardboard of various sizes at any nearby grocery shop or any other local shop. Then organize your stuff in these boxes and label them, it will help to remember where did you keep the things you need. Don't increase your moving expenses buying things like moving blankets, bubble wrap and stretch wrap to protect brittle things.
You can use domestic items like socks, clothes, blankets, towels, linens to provide padding and protection to the fragile things like glasses, stemware, vases, picture frames, platters mirrors, and other breakables. If you have to take things like electronics, books, shoes and any expensive valuables or jewelry then pack them safely in your personal suitcases under your clothes.
Try to do your own packing:
You can easily schedule and do your all packing job all by yourself before the moving truck arrives. Well, it takes some courage and effort too but remember that it means avoiding the extra payment to a moving company to do it for you. You can also ask the moving company for free packing materials.
Conclusion:
Towards the end of your packing schedule make a free day and through a farewell party with your friends, colleagues, and neighbors. Celebrate your farewell with your own home-baked cake and cook some of your favorite food.