Among all the different parts of your car that needs maintenance, the windshield wipers are probably the most neglected and forgotten thing.
There is nothing fashionable, exotic, beautiful or even exciting about windshield wipers. They are generally not given any attention. But they are one of the most important parts of the car. They serve an important safety function that cannot be taken for granted. Keeping this in mind, today we are going to bring you the 13 best Windshield Wiper Blades.
What are we going to cover in this review guide?
Types of windshield wipers.
An extensive review of the 13 best windshield wipers.
Buyers guide
Shall we jump in?
What is a windshield wipers?
Windshield wipers ensure clear visibility in adverse weather conditions such as rain, fog, and snow. It is sometimes used on a car in collaboration with windshield washer system, that sprays a washing liquid, or antifreeze windshield washer fluid for use in winter to help clean off debris, dirt, dust, snow, and ice from the windshield.
Many people do not pay attention to this issue. But when you notice that your wipers are not functioning as efficiently as they once did, it is time to inspect them for damages to see if they need to be replaced. Signs they need to be replaced are blotching and smudging instead of wiping or omitting areas of the windshield while cleaning.
You may have to replace the wipers of your car every 6 months to 1 year as some are more durable than others. Whether the weather condition of your environment is moderate or extreme, it can contribute to spoiling your windshield wiper blades.
Replacing the windshield wipers for your car is not an impossible or expensive task.
There is a wide range of windshield wipers in the market with different styles and sizes available. They can cost from $10 to as much as $40 or more for special types like winter wipers.
Our Favorite 13 Windshield Wipers Review
Bosch 4816 Evolution Wiper Blade

Bosch 4816 Evolution Wiper Blade is a beam wiper blade from Bosch that has no metal brackets or plastic brackets, it is entirely bracket less. It also has no joints or hinges unlike the conventional wiper blades. Because of this smart design, there is no space within the wiper blade for ice or snow to accumulate and cause problems with the smooth working of the system and also the preservation of its lifespan. This makes it the perfect solution in stubborn winter conditions. Bosch is the best brand of windshield wipers on the market.
The design of Bosch 4816 Evolution Wiper Blade has a double precision-tensioned steel springs to do the work of even distribution within the length of the wiper blade. This genius design is patented to Bosh Evolution and it gives assurance of perfect visibility no matter the weather condition. The wind spoiler system is designed to be asymmetrical, this helps to take advantage of the natural direction of wind to better increase the wiper blades contact with the windscreen.
Pros:
Contour very well on windscreens.
Requires only a few swipes for clear screen.
Easy installation.
Cons
The shape is too curvy for a windscreen and sometime affects contact.
2. Valeo 900207B Frameless All-Season OE Replacement Wiper Blade- 20"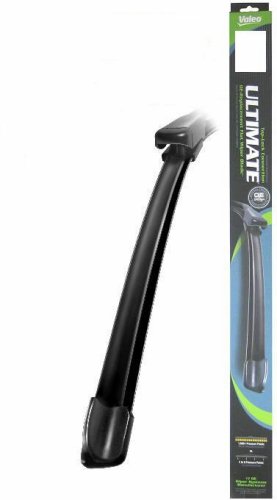 With the beam style design of Valeo 900207B Frameless All-Season OE Replacement Wiper Blade- 20", distribution is equal throughout the entire surface of the windscreen. The aerodynamic shape of the design leaves for minimum dragging and lifting on the wiper blades. The 20-inch wiper blade makes use of the Tec3 technology in the elastic of the rubber material to remain still and undisturbed while in wiping motion and will not collect snow during the winter season.
The design of the frameless wiper blade is that of a flat, one piece, sturdy material to eliminate vibrations and chatter. With an added 1,500 pints to make sure there is quite wiping. The material that makes up the blade is strong and reliable. Valeo 900207B Frameless All-Season OE Replacement Wiper Blade will make certain that you enjoy perfect visibility consistent in bad and good weather alike.
This model is exceptionally simple and straightforward to install, as it does not require the use of an adaptor as a connector. It usually comes in a pack of one 0-inch blade but there is a wide range of lengths from 16 to 28 inches that you can choose to mix and match with the 20-inch, in order to create a complete set for replacing your windshield wiper blades. It can be used in all seasons and on a wide variety of vehicles.
Pros:
Tremendous resilience to all seasons of the year.
Noiseless smooth gliding over windscreen.
No adaptor needed to install.
Cons:
Does not come with adequate instructions to use.
3. Bosch 3397009034 Replacement Wiper Blade – 26″/26″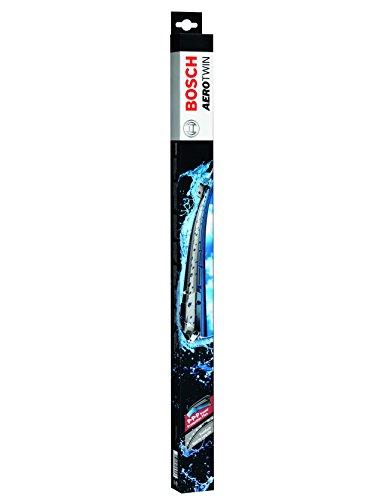 Bosch 3397009034 Replacement Wiper Blade – 26″/26″  is a high quality built dual set of 26-inch replacement wipers that have uniform pressure points in the steel spring, purposely positioned for precision tension to provide the best wiping experience.
It is equipped with a weather shield connector system which protects the connection of the blades to the arm against terrible weather conditions, like snow and ice or dust storms. The best Replacement Wiper Blade has a double rubber engineering that keeps the blades from damaging the windscreen in strong wind conditions. It has a wind spoiler feature that gives stability to the blades even in such strong wind conditions, and when the car is on high speed producing its own counter wind.
The double rubber engineering also contributes to the durability of the wiper blades and can extend their lifespan up to twenty percent longer than normal. The length of the blades combined with the special bracket-less design of the blades makes it lighter in weight than other traditional windshield wipers, and ensures smooth, hitch free functioning with excellent results.
The aerodynamics capacity of the wiper blades gives the driver the go ahead to move freely during heavy rainfall or snowfall, without having to worry about visibility problems, and having to slow down speed of movement to wipe the windscreen from time to time. So if you need to be early to a function or make a delivery on time, the weather conditions will not be an issue if you have Bosch 3397009034 Replacement Wiper Blade. This is best windshield wiper for cars like Honda, Toyota, Mazda Hyundai, Jeep, & more.
Pros:
Double rubber engineering makes it durable.
Aerodynamics design provides stability in high wind
Bracketless design makes it lightweight for more effective functioning.
Cons
Does not fit all types of windscreens properly.
4. Bosch 26A ICON Wiper Blade – 26″

The Bosch 26A ICON Wiper Blade is made of quality FX double rubber material, that is supposed to be high performing and last up to forty percent more time than other highly guaranteed wiper blades.
The material helps it to resist impairment by harsh weather. Even in the most scorching heat and the freezing cold, the Bosch 26A ICON Wiper Blade will not melt or crack or deteriorate in any way possible. The asymmetrical pattern of Bosch 26A ICON Wiper Blade – 26″ is protected by patent laws. It is a genius innovation that is well balanced and spreads its weight evenly across the face of the windscreen.
The asymmetrical design distributes smooth pressure instead of focusing pressure in the center due to the contour of the figure. This even distribution allows for a perfect wiping motion from the blades. It is almost a universal fit for many vehicles and a wonderful option to deliver streak-free functionality. Due to its peculiar shape, the 26-inch Bosch 26A ICON Wiper Blade comes with an adapter included in the pack to help fit more models that are not easily adaptable.
Instructions that come with the blade are easy to use even for a first time windshield wiper changer. With no hinges or brackets on the wiper blade, there is assurance of minimal clatter noise even when using the wiper at high speed. A built-in wind spoiler also helps with this, as it removes the chances of wiper lifting up due to the effects of wind.
Pros:
Fits most windscreens like a protecting glove.
Perfect wiper blade for winter.
Double rubber engineering.
Cons:
Wiping is not so smooth.
Does not function as quietly as others.
5. Motorcraft WW2201P Premium Wiper Blade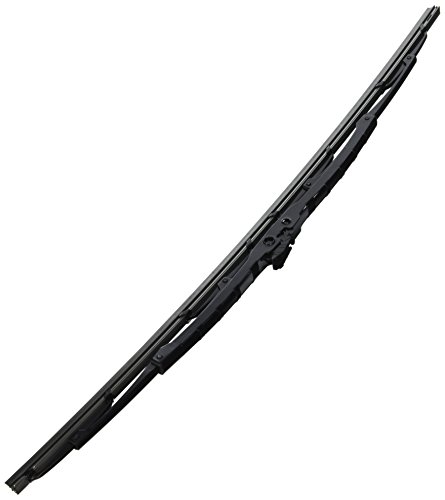 The Motorcraft WW2201P Premium Wiper Blade is made of high quality durable metal and covered in an advanced rubber formula, to achieve high levels of durability and shield against corrosion. This artificial rubber that the wiper blade is covered in also doubles as an instrument to reduce noise to the minimum, as the wiper blade comes in contact with the windscreen to function during wiping motions.
The design of Motorcraft WW2201P Premium Wiper Blade will ensure that it withstands harsh weather conditions to last long and serve its duties to the fullest capacity. Motorcraft WW2201P Premium Wiper Blade has a wear indicator function too. The color of the wiper blade unit is black, but as it is used and it begins to wear over time the wear indicator will change from black to yellow to indicate that the wiper blade is due to be changed, due to its usage.
Motorcraft WW2201P Premium Wiper Blade is designed to work together with ultra-violet rays and the climatic conditions to make this wear indicator feature work. The unit also feature DuoTec+ technology to allow the blades to work together in their unique motions to bring the best results in visibility. Although this wiper blade is best for extreme winter conditions, it can be used through all the seasons of the year. Go with Motorcraft brand if you are looking for unbeatable, long lasting windshield wiper blades.
Pros:
DuoTec+ technology is phenomenal in knowing when to change wiper blades.
Resistant to corrosion.
Strong and durable wiper blades.
Cons:
Nothing negative about this product.
6. Michelin 8526 Stealth Ultra Windshield Wiper Blade with Smart Technology- 26"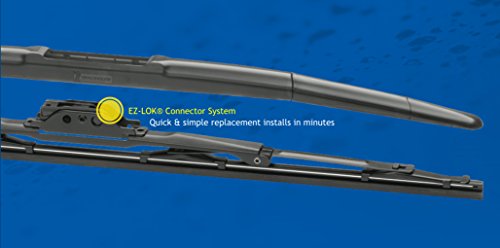 With its 19-inch sharp and argute flex design, the Michelin Stealth Ultra Windshield Wiper Blade is a strong and top class wiper equipment. The EZ bolt engineering for this wiper blade fits with the connectors and it uses a free intermission that fits with the windscreens of most cars.
The unique patented hybrid flex design will not allow snow, water or ice to build up on the windshield of your car, and dirt will not clog below the wiper blades. There are other sizes of equal quality framed wiper blades, that can accompany the 26-inch blade and be used as a set to replace your windshield wiper blades. It is attached to the arm of the connector by a sturdy, smart hinge joint that lets the wiper blade to grip the connector securely and stand balanced exerting equal pressure throughout the blade to achieve perfect visibility as the wiper works. Its hard plastic case covering stops debris from getting into the body of the wiper blade.
The slightly curved shape of the blade and its flexibility due to SmartFlex suspension guarantees smooth movement in any kind of weather. All of the materials, including a squeegee rubber and a metal frame that is coated in powder and always reverts, are corrosion proof and expected to last a long time. It has an aerodynamic design too and although it is not meant for a very wide range of vehicles, it is still easy to install. Since it is built for some certain types, there is no need to attach any aid to the control arm in order to fix the wiper blades. Great flexible & heavy duty windshield wiper blade. It is Eco-friendly and high speed while wiping.
Pros:
Budget friendly.
EZ bolt and smart flex engineering for secure install and good wiping.
No problems with installation.
Cons:
Does not work well with adaptors above 22-inches capacity.
Short lifespan.
7. Motorcraft WW-2242 All Season Wiper Blade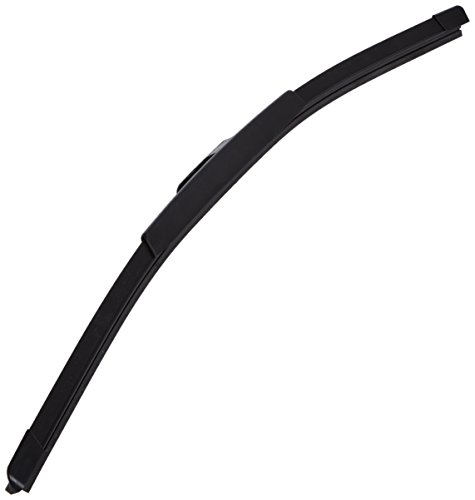 Spanning a length of 23 inches, the Motorcraft WW-2242 all season wiper blade is made specially to protect against extreme bad weather of any time of the year. It has a low design outline that makes it able to reduce and or withstand strong wind from lifting it off the windscreen.
It is made of an optimized rubber compound so that it carries out excellent wiper function. Motorcraft WW-2242 all season wiper blade will be a certain fit for Ford and Lincoln cars and also for other brands, because it fits a high number of wiper arms. There is therefore no need for a wiper arm adaptor when using Motorcraft WW-2242 all season wiper blade, it fits easily and slides on with an assuring click when it is properly in place.
They last for a relatively longer time when compared to other regular wiper blade because it is durable and made to withstand a lot of environmental factors. When installed in the right way and maintained properly, it will outlast the usual 5 or 6-month lifespan of some windshield wiper blades.
Pros:
Low design and aerodynamics help with avoiding lift off.
Specially made to withstand very extreme weather conditions.
Cons:
Shorter life span than some wiper blades.
8. Rain-X RX30218 Weatherbeater Wiper Blade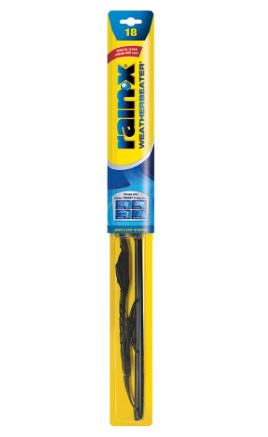 If you are looking for the best windshield wiper blade that has all the great features you need, then you are going to love the Rain-X RX30218 Weatherbeater. Its design is more attractive than all the other brands. This wiper blade is made of galvanized steel frame that prevents rust and corrosion while providing strength and durability. Also, it supports extreme weather conditions such as heat, cold, and rainstorms. The Natural rubber squeegee protects the wiper blade from cracking, splitting, and tearing.
The Rain-X RX30218 Weatherbeater Wiper Blade Provides a smooth, clean, and a streak-free wipe due to multiple press points that conform to your windshield. It also comes with a Pre-installed small j-hook adapter and contains multi-adapter for side pin, large j-hook and bayonet wiper blade arm. One of the main aspects of this company is that it is well known and trusted over a decade for its high quality and durable wiper blades.
Pros:
Made of galvanized steel frame that prevents rust and corrosion.
Natural rubber squeegee.
Provides a smooth, clean, streak-free wipe.
Cons:
Nothing negative about this product.
9. ANCO 31 Series Wiper Blade -15"

ANCO 31 Series Wiper Blade -15" is made from a patented rubber material called DuraKlear, to make the basic wiping function of the wiper blade clear with a very clean finish, that is consistent every time.
ANCO 31 Series Wiper Blade -15" rubber gives the blade a sharp wiping finish which helps to eliminate smearing or missing spots. The blade is coated in a natural no-wax solution that will protect it from environmental factors like ultraviolet rays, road dirt, pollution from the air, and other effects of the degrading ozone layer. The stable adaptable design of the 15-inch wiper blade has a vented scaffold and is also fitted with a metallic flexor, that is specially for a few cars.
It is an ideal fit for some windscreens with all the benefits and capacities of a longer wiper blade. The wiper blade is simple to fix, and take off as the system has been simplified by a KiwiConnect installation kit that is included with the package. This installation kit makes it easy to use different adaptors to install the system on more varieties of cars, and the installation process is so straightforward. There is an added assurance click that you can hear when it has been properly fixed.
The company advice that you clean the wiper blade every time you are doing a periodic cleaning of the windscreen, because dirt from the road could have gotten stuck in to the blade and will cause an inefficient functioning of the wiper blade. It also advised to change your 15-inch ANCO 31 Series Wiper Blade every six months to guarantee continued perfect visibility protection. If you live in a place where there is buildup of snow and ice on your windshield during the winter, you should use a scrapper to remove them before using this wiper blade to clear your windscreen completely.
If you skip the part of using a scrapper first and use this wiper blade, then the ice will damage the blade and you will be in a position to change them more often. The ANCO 31 Series Wiper Blade does not have some of the exotic features of some wiper blades and does not promise an unbelievable product lifestyle, but it is very economical compared to the other wiper blades that produce the same results.
Pros:
Very easy to install.
Great rubber material that will last long.
Cons:
Only fits the windscreens of a few new model cars.
Not all-ways support harsh winter environment.
Rain-X 5079279-1 Latitude Wiper Blade- 22'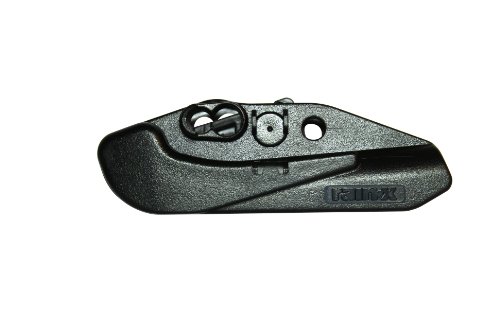 Rain-X 5079279-1 Latitude Wiper Blade- 22' from Rain-X is very well known and sought after product. It is 22-inches long and the rubber is well coated with granite presents and extremely sleek movement of the blades over the windscreen ultimately producing a seamless, immaculate finish to the windscreen.
The aerodynamic design of the wiper blade ensures that the blade do not drag and they leave behind a streak free surface. The weather resistant finish makes it perfect for very hot and very cold climate conditions. The blades are equipped with granite edges and extra upgraded grasp to move dirt and debris away from the windscreen without damaging it. It comes pre-installed with a J-snare hook that will easily clasp unto the arm of many vehicle models making it very easy to install. It is the best aftermarket windshield wipers.
Pros:
Granite edges are great for dealing with debris without scratching the windscreen.
Can fit variety of different vehicles.
Cons:
Will make squeaky noises and streak when rubber starts wearing.
Life span is shortened by extreme climate conditions.
11. Bosch 3397001359 Replacement Wiper Blade – 28″/25″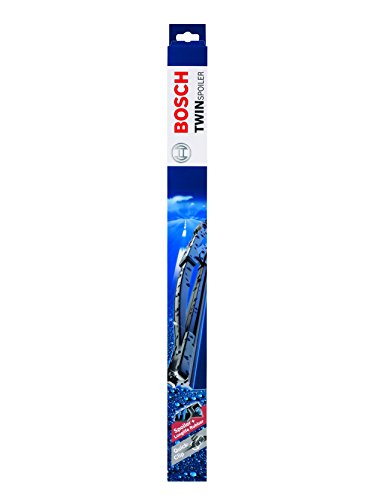 Bosch 3397001359 Replacement Wiper Blade – 28″/25″ is a pair set of windshield wiper blades with one 28-inch and another 25-inch, built to be durable and work together seamlessly. Most of the people buy this product for their jeep. So, it is the best jeep windshield wipers.
It has an aerodynamic wind spoiler function that produces a down force effect when the blades want to lift off of the windscreen. This mechanism gives a good wind resistance to help the windshield wipers to be more stable as time goes on, and they do not easily wear off. Because of the inbuilt precision tensioned steel spring through the length of the blades, the system delivers pressure uniformly to the whole windscreen when wiping it to produce a smooth finish.
The blades run quietly and effectively providing the best function with the added advantage of silence. The connection of the blades to the arms of the system is further protected by a weather shield that is pre-installed into the blades, as they are connected with the arm. It helps to protect the connection from harsh weather conditions and prevents debris from entering the parts of the blades where they are connected to the arm.
It increases the efficiency of the wiper blades for a longer period of time and the Bosch 3397001359 Replacement Wiper Blade can continue to serve its function to protect against any weather or external materials that threaten to reduce visibility while driving!
Pros:
Does not make noise.
Weather shield protection helps to stretch the life span.
Perfect set for some windscreens.
Cons:
Does not fit all windscreens.
12. AERO Chevrolet Chevy Equinox 2016-2010 Windshield Wiper Blades – 24″+17″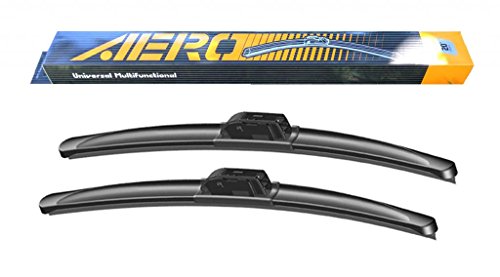 Every pack of 24-inch plus 17-inch AERO Chevrolet Chevy Equinox 2016-2010 Windshield Wiper Blades comes with original wiper blades that have soft rubber material, made from natural rubber and coated with DuPont Teflon, it is not too harsh for the surface of any windscreen and designed to be used in all seasons throughout the course of the year.
The material for AERO Chevrolet Chevy Equinox 2016-2010 Windshield Wiper Blades – 24″+17″is patented to protect it under patent law from being copied and inferior materials used. The material undergoes quality control testing so the customers can be assured of high class products and overall quality assurance is ensured.
All AERO Chevrolet Chevy Equinox 2016-2010 Windshield Wiper Blades –have a six-month warranty statement on their products which competes well by the standards of the industry. Although the brand name of AERO is not widely known, AERO Chevrolet Chevy Equinox 2016-2010 Windshield Wiper Blades – 24″+17″ set stands in the right grounds to compete with bigger brand names producing the same caliber of wiper blades.
It is a direct original equipment manufacturer product which gives the assurance that it will fit perfectly to many vehicles and have the high class quality that is guaranteed. The durable material of the wiper blade along with its ability to be used both in hot and cold climate makes its life span long and saves you the trouble of having to change the wiper blades too often. The frame-less beam design helps to prevent buildup of ice and snow during the winter and the aerodynamic reduces drag and lift as well as noise during use. It is one among the best windshield wipers for snow.
Pros:
Suitable for all seasons.
Cheaper than other brands with same level of quality.
Cons:
Brand is not as well trusted as bigger brands.
13. Rain-X 5079281-1 Latitude Wiper Blade – 26"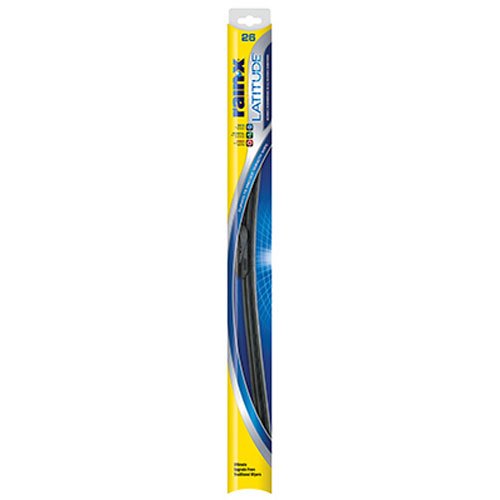 The Rain-X Latitude Wiper Blade in 26-inches is the best wiper blades for areas with regular rain storms. It comes with a contoured beam which aids in maximum contact between the wiper blades and the windscreen of the car, and the ultimate result is perfect visibility. The blade is completely coated in graphite which protects every metal part of the windshield blades from exposure making it more liable to last long and removing the problem of snow build up.
The structure of the wiper blade also has no framework which further helps to prevent snow and ice buildup. The graphite coating also serves to wipe the windscreen very smoothly leaving it sleek and without any chatter.
The aerodynamic spoiler that has been integrated into the windshield wiper does the function of minimizing wind lift as well as noise. Installing the Rain-X Latitude Wiper Blade is not a problem, because it fits easily on many vehicles and it is available in other sizes apart from the 26-inch blade.
The wiper blade comes complete with a J-hook, but adapters can be used to attach it to other vehicles that are not adaptable, which makes their wiper blade a very universal choice.
The rubber material that covers the metal frame and is coated in graphite is high quality to protect the stamina of the blade system for as long as possible and it has a 'squeegee' effect to keep the wiper blades from cracking under pressure of extreme weather conditions. It is also the best price value windshield wipers for all season.
Pros:
Graphite coating gives sharp edge for perfect wiping.
Excellent wiper for rain storm environment.
J-hook type arm for easy attachment.
Cons:
Many customers have bad experiences regarding its wiping capabilities.
Tends to have a shorter life span than expected.
Read more:
Types of windshield wiper blades:
In the world of windshield wipers, there are three most common types available.
Conventional frame-style wiper: it has a rubber hardened by halogen or ordinary rubber body mounted on a metal frame. This metal frame supports the rubber blade at every point the windshield wiper touches the window. The frame is usually spring tensioned and the rubber over the frame can be replaced instead of changing the entire unit of the wiper. It is the most widely used, most common among vehicles, and usually the cheapest option available.
Beam blades style wiper: this frame is a single piece of rubber design that has steel spring merged on the inside with the rubber. It offers nominal parts as well as uniform pressure on the windshield. Some of them even have a double rubber or silicone engineering to them. Although the appearance of a wiper does not add or reduce from its working ability, Beam blades style wiper is often chosen because of its look and it has slightly better outer appearance than the conventional blade. They are becoming increasingly popular these days with the curved windscreens of the current models. The costlier versions of beam blades are as good as and sometimes even better than the conventional blades. But the cheaper version fails to cross this bar and under-performs at the task.
Winter wipers: as the name suggests, this one is especially made for people living in or often visiting or driving through severe winter weather. Winter wiper design is a conventional blade style properly covered in a preservative rubber case. It is specially made like that to keep ice and snow out of the wiper blade. And it is believed that the life span of the wiper will be lengthened by its design, allowing it to serve longer in harsh snow conditions. Winter wipers are not as appealing to the eye as conventional or beam blades, they are also not the most aerodynamic, but they are the best fit for harsh winter weather conditions
What factors to consider in selecting the right one for you?
There is a specific type of windshield wiper for your car that may have been stated in the car manual. You can measure your old blades to get a fit and perfectly sized windshield wiper for your car. Read the manual for your car or simply ask an auto-parts shop for what you need. A lot of these stores will most likely have wonderful options for you and will fix it for you for free, if you buy from them.
You can decide to change out the entire wiper (rubber and frame together) or you can decide to take out only the rubber part, removing it from the frame by lightly tapping on the edges with a hammer or prying it off with a screwdriver. Changing only part of it could actually be a way to save money.
The problem with this is windshield wiper manufacturers are making less replacement inserts and more complete unit these days. Even if you are lucky enough to find the insert only sold alone, there is still the problem of fixing it. It is more tedious to try to pry off the rubber part of the blade and replace the insert. It takes longer and requires more skills and patience.
Then, the option is to easily detach the old unit completely from the hook and replace it with a new one. You might end up hiring a professional to help with your replacement and still spend the money you were trying to save and more. So why not go with the simpler solution from the start?
There are also many options out there with different price tags ranging from lowest to highest. It is not advisable to reach for the cheapest to save cost or choose the most expensive one, believing it has the most quality and will serve you the longest.
Manufacturers of windshield wipers have different reasons for setting their prices but that should not determine your choice of it, and prices differ depending on the different manufacturers. It may surprise you to know that some of the good quality windshield wiper blades for sale are amongst the cheapest options. So, price really does not dictate the quality of wiper blades.
You will do well for yourself to go through different reviews on the topic and search for other people's experiences with different wipers. You will definitely find some great options for your car while doing that, and you will also be able to narrow down on the best choices available for you. Another best way  is to ask a professional for help with this process.
Buyers guide:
1. How to replace my wiper blade?
You can replace your wipers by yourself or hire an auto-shop worker to do it for you.
Many wipers are made to unlock and lock back in place easily, thus making it a simple task to change your own windshield wipers. Nonetheless, there are some styles that are attached with screws and you need a screwdriver to unscrew one or more screws and screw them back with a replacement wiper blade.
The manufactures provide a set of universally compilable tools that can be used for your set of new wiper blades. These tools can be used to attach different arm styles of wiper blades to allow them function properly. Be sure to take your time while going through the process of changing your windshield wiper blades.
That is why it is advised to think ahead and determine when you need to change your wipers so you have the time to plan adequately and do this job in the comfort of your garage or an open space, at a good time of the day when there is enough light to see what you are doing. Some people keep this task due until they have to change wipers as an emergency and the conditions are most likely not favorable. If you do so, you could end up doing a useless rush job under stress and frustration.
While checking your wiper blades and changing them as frequently as needed, another thing to watch out for is the windshield washer fluid. Even if your wiper is working well and still good to go, lack of washer fluid could still limit your vision while driving. It could also happen if the windshield begins to be covered by dust on the road and you have no washer fluid to help your wiper blades deal with the problem.
If there is a record of harsh winters in the place you live in, you should make use of winter washer fluid which is a low freeze point liquid. The normal washer fluid might freeze up in very cold weather and thus may become worthless.
Instead of changing your wipers once every 6 months, it is best to carry out periodic checks to be sure they do not need replacing. If your car's wipers are not working effectively, cleaning the wiper blades will be a good idea. Raise each wiper and touch all along the blade to check for torn or rough edges.
You will soon notice if it is just dirty or totally damaged. If the problem is just dirt stuck in the blade, you can clean it off with a cloth soaked in washing soap. Clean off the blade properly to use the wipers for years. Make sure to check the rear wiper as well if your car has one periodically. When it is time to change wiper blades, you should do so for both the windshield wipers as well as the rear wiper because they aren't always used to the same capacity, but they are still exposed to the same weather conditions.
2. What should I do if my wipers degrade?
Degrading of wipers is usually gradual which may cause you to ignore the early signs and eventually get accustomed to its poor functions. However, do not resort to managing your bad windshield wiper because it is a serious safety feature that could probably save your life on a day with unavoidable or unforeseeable terrible weather.
Poor visibility is the cause of many road accidents that badly injure or prematurely end the lives of many people all over the world. Aside from the obvious issues of poor visibility because of bad wipers, there is also the need to protect your windshield for optimum services. If you allow your car's wipers to become so terrible without changing them, the blades can begin to scratch against your windshield and deface or damage it. When it is required for you to change your entire windshield, you will rarely regret of not going with the choice of simply changing the inexpensive windshields instead.
Now your turn:
Windshield wipers on your car serve the highly important role of providing better visibility in rain, snow, fog or by wiping the windscreen with the use of windshield washer fluid. Yet, a lot of us neglect the maintenance and necessary replacement of the wiper blades on the vehicle's windscreens. If you have noticed some smear, streak or patches while using your windshield wipers, they either need to be cleaned or changed entirely.
Take some factors into consideration before choosing a wiper blade to replace your old one. Consider the type of wiper, its functions and how it matches your need, the procedure for replacing, as well as the price and quality so you don't have to change it too often.
You can visit a local auto-shop to help you decide which one might be best for you and also help you fix a damaged one. After you have replaced your wiper blades, you should take good care of them in the future.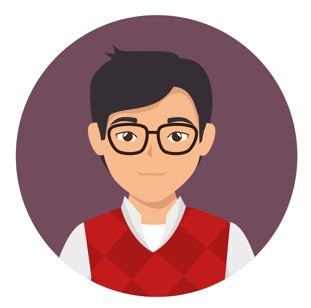 Hari is a freelance writer who writes exceptional product reviews. When he is not writing, he spends time with reading and listening to music.