It is highly impossible to get a good night's sleep when you are feeling hot and sweaty. In fact, if you don't get quality sleep during the night, you may be feeling drowsy the next day.
Hence, it is highly important to get quality sleep and the Elegear Revolutionary cooling comforter will help you to achieve that. When you look at it for the first time, you will not believe that it is a cooling comforter.
That is simply because you can either use it as a cooling comforter or a cooling blanket. This cooling comforter is made of special Japanese fiber that helps to observe heat.
The upper layer of this cooling comforter is made of 80 percent of mica nylon and 20 percent of polyethylene. What it does is that it observes the excess heat from your body and thereby, it keeps you cool and dry.
On the other hand, the bottom layer is made of 100 percent cotton which helps you to have a restful sleep throughout the night. Also, if you are suffering from night sweats, then this cooling comforter is the best option.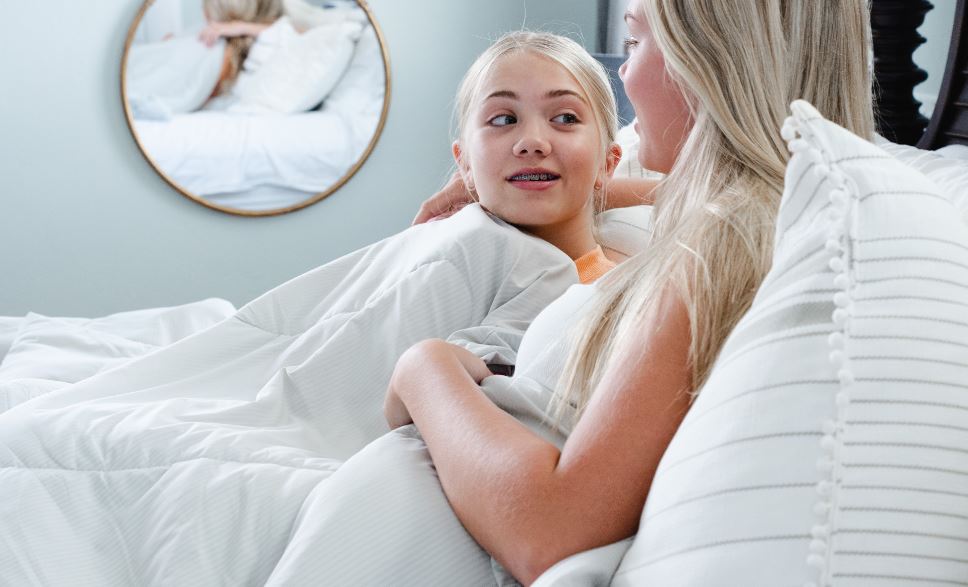 Get 10% OFF 2SLJS9I8 end date: 2022/03/25
It is easy to clean. Just make sure to stuff the comforter into a mesh bag before throwing it into a washing machine for washing. This is recommended by the manufacturers. You can also use this comforter during every season and it makes a great gift as well. This comforter comes in 3 different sizes and five various colors.
What it means is that you can get the comforter that is the best for your family.
Also, if you have a pregnant member in your family and you want her to maintain a sound sleep throughout the night, then you can get it for sure. The comforter will balance the temperature in her body and let her have quality sleep.
If you want to wrap yourself around the body and at the same time, not be weighed down by its weight, then it is a perfect pick for you. This is possible thanks to its lightweight manufacturing. You will feel comfortable using this comforter even during the fall and winter seasons.
Some users complained that when they opened the package for the first time, it had a disgusting plastic smell. But, here's a solution to get rid of the smell.
After taking the comforter out of the package for the first time, wash it with a washing liquid before using it for yourself.
The impressive aspect of this cooling comforter is that it will remain cool even after several hard and soft washes. Another great thing about the comforter is that when you run your AC unit or your fan for some time and slow the speed, it observes the cool temperature and keeps the cool temperature locked into the fabric.
Perhaps, this is the secret behind it maintaining a supreme cooling temperature throughout the night! Even if the temperature keeps fluctuating at night, the cooling temperature of the cooling comforter will remain the same.
If you have a baby in your home and he/she is sitting on your lap while you are wrapped around in the comforter, the temperature won't change and it will remain the same. After purchasing this cooling comforter, you can enjoy all the snuggles there is in the world with your baby without having to worry about sweating. It will surely make a difference of your sleep quality in a super positive way.
The multi-color option lets you choose the one that fits the ambiance of your room. It is a Hypoallergenic product, meaning that anybody in your family can use it even if they have allergy issues. The use of this comforter won't aggravate the problem.
When you use this comforter on a regular basis during your sleep, you will wake up the next day feeling refreshed, rejuvenated, and ready to take on the day.
After using your AC unit or your fan for some time, you can even turn them off and we are sure that you won't feel any difference at all.
All in all, a quality cooling comforter that won't pinch your pocket for sure! She is a content writer & editor for more than 12 years. She usually writes about technology news, country news, arts & science, travel & automobiles. She used to test the product and write reviews for popular magazines.