Who doesn't like to give her hair a shiny and smooth salon look! Everyone, right! But if you are thinking that to have that salon finish and perfect hair look you need the help of professional hands, then it's high time that you stop worrying unnecessarily.
Yes, hair dryers can save you all the trouble of spending bucks on visiting professionals or salons. As long as you have a basic knowledge of how to use it, the best hair dryers can add the extra volume, the needed style and shine to your hair, without any damage at all.
Having one of the best hair dryers simply means that you have the absolute freedom of making your own hairstyle in minutes. Nowadays there is a wide variety of hair dryers available that you can choose from. However, irrespective of the amount you pay for, many hair dryers tend to make the hair all damaged and frizzy. Are you tired of searching for the right hair dryer? Or, are you all confused among different brands?
Well, then here are the reviews of 15 Best Hair Dryers for Fine & Curly Hair that are proven to be very effective in terms of performance, features, and comfort of using.
How to use a hair dryer ?
15 Best Hair Dryers for Fine & Curly Hair Review
Elchim Classic 2001 Dryer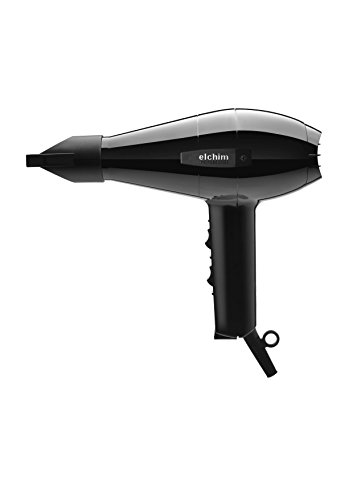 The Elchim Classic 2001 Dryer is the most powerful hair dryer in its category and is durable and well balanced. The dryer has the classic Italian engineering that determined the High-End AC Motor Dryer Market worldwide. This best hair dryer for curly hair helps in drying your hair faster compared to the other dryers with ionic technology because of the heat output and high airflow. It has a detachable narrow front nozzle enables in drying and styling the hair quickly. It has a direct grip filter which helps in easier cleaning. The best part about the dryer is the fact that it is designed for all hair types.
This model comes in six different colors. It does not have a cool shot but comes with a cool setting that helps in making the styling easier. This model comes with a lifetime warranty and is the only dryer to provide that. It comes with a bit expensive price. But, for the all the features that it provides, it is worth trying. The dryer is lightweight, weighing about 1.1 pounds making it easier to use and carry.
Pros:
Has the narrowest front nozzle
Comes with a lifetime warranty
Extremely lightweight
Cons:
Some consumers find this a bit expensive
Conair 1875 Watt Soft Touch Tourmaline Ceramic 2-in-1 Styler / Hair Dryer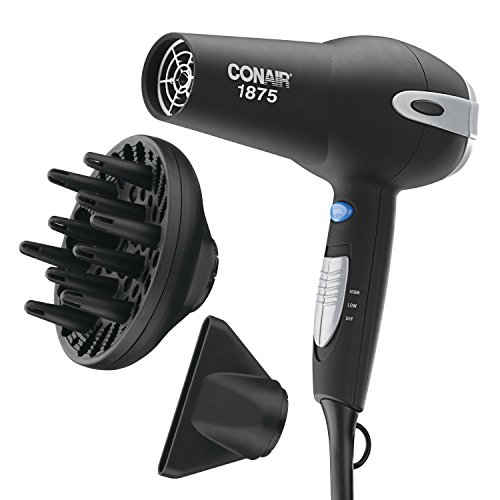 Conair 1875 Watt Soft Touch Tourmaline Ceramic 2-in-1 Styler / Hair Dryer gives you healthy and shiny hair in minutes. Ensuring both comforts of using and versatility of styling, this tourmaline and ceramic technology based dryer lets you to frizz-free smooth hair without any damage. Emitting natural ions for reducing hot spots and static-free hair, its use of the ionic technology not only reduces the flyaways and frizz but also gives a healthy look to your hair.
If you are looking for a feature-rich styler cum hair dryer, then this dryer can be ideal for you. You can get the desired smooth look for your hair with its 2 speed and 3 heat settings and can lock the hair style for the long day ahead with a gush of cool wind through its cool shot button. The diffuser and concentrator that come along with the dryer are ideal for defining the natural waves and curls of the hair while bestowing a sleek and smooth look to it.
Pros:
It is extremely lightweight which makes it easy to carry anywhere
Its tourmaline ceramic technology eliminates chances of hair damage
It comes with a hinged filter and a hang-ring
Cons:
Its matte finish makes it slippery and little difficult to hold
The cool switch might seem very short
Conair 1875 Watt Hair Dryer (White)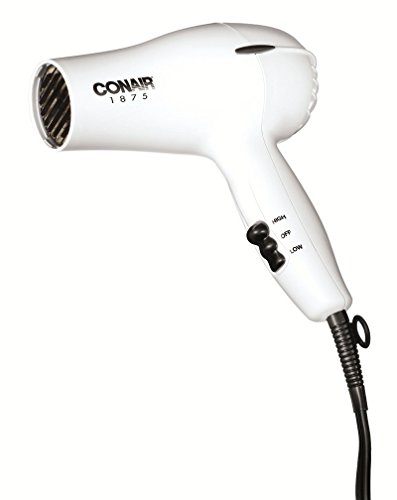 Despite having its own set of pros of cons the Conair 1875 Watt Hair Dryer (White) has its own uniqueness to present. Being available for an extremely low price, this best hair dryer for fine hair offers 1875 watts of heating power. It offers three different settings, which are high, low and off and are easily interchangeable. It is one of the most convenient hair dryers considering the features and the price you are getting them for.
Choosing the temperature between high and low, you can give your hair the best drying experience possible. Not only the package that it comes within is attractive, but there comes a user manual in two different languages along with it as well which makes understanding the functions very easy. If you are looking for a simple yet strong hair dryer with cheapest price range, then this hair dryer can be the ideal choice.
Pros:
It features an ergonomic handle with a non-slip grip design
It is not only extremely lightweight but very much affordable too
The three settings are easily interchangeable
Being compact and small it's easier to carry around
Cons:
The hair drying time is longer compared to other dryers
Not as feature rich as other dryers available in the market
Below is the review video of the hair dryer model useful for handling it safe.
BaBylissPRO Ceramix Xtreme Dryer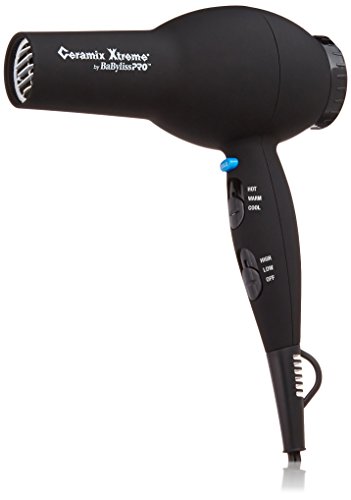 BaBylissPRO is a renowned brand that provides various high-quality hair care and hair styling equipment. BaBylissPRO has served you another hair styling masterpiece of its. It is one fine example where technology meets with power and design. Featuring a ceramic technology it provides a far-infrared and gentle heat that eliminates every possibility for damages caused by heat.
Whether you consider the long life of the dryer motor or the durability of its body material, this dryer excels in everything. You can not only choose from its six different heat combination settings; but also can easily clean it after each use, as the filters are removable. Not only this, it is designed in a unique narrow barrel style with a micro-concentrator nozzle, that enables it to provide maximum air pressure.
Pros:
The 2000 watt powered AC motor makes it ideal as an efficient dryer
The rubber material used on the body makes it comfortable to grasp
Its instant shot button enables you to use it safely and easily
Cons:
Some may find the design a bit bulky
Compared to other contemporary dryers, it is weighty
Remington Hair Dryer with Ionic + Ceramic + Tourmaline Technology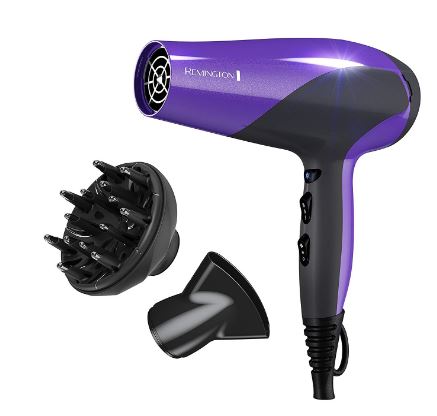 If you are looking for a hair dryer that doesn't break your bank account, this is going to be your best bet. This hair dryer gets the job done well and fast. You also get a lot of perks you would get with a more expensive dryers such as the ionic, ceramic, and tourmaline technology to have a smoother hair. Although it is an affordable option, you will be surprised to see how well it works after purchasing it.
The 1875 watt max power motor means that you can get a quick dry, and the three different heat settings and 2 different speed settings allow you find the correct and custom setting for your specific hair type. Hit the cold shot button that releases cool air  to lock in your carefully created styles.
You'll even get some attachments such as a diffuser and a concentrator.
Pros:
Three different heat setting available.
The package includes a diffuser and a concentrator.
Two different speed settings available.
Cons:
Berta Professional Hair Dryer Ceramic Negative Ionic Blow Dryer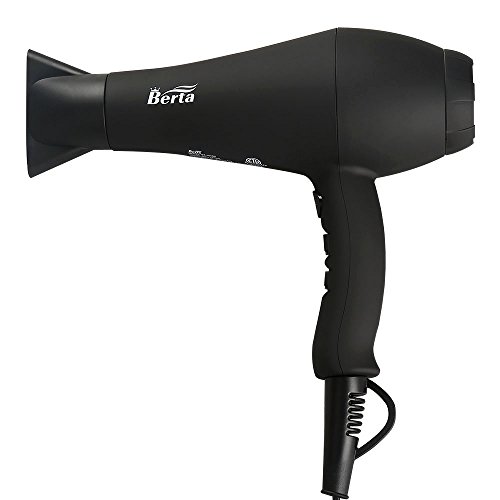 The Berta Professional Hair Dryer comes with a built-in ionic conditioning technology that helps in reducing frizz and static to give you a healthy looking hair every time. It also has the tourmaline ionic ceramic technology that helps in preserving in hair's luster and moisture. This best hair dryer for curly hair has an 1875 watt AC motor that enables 40% faster drying and has a three times longer motor life. It has a removable end cap that allows easy cleaning. The dryer also has a hanging loop guard for convenient storage.
The dryer comes with a one-year replacement policy and a two-year warranty. The attached airflow concentrator in the dryer caters to all your styling needs. The cord length is 1.8m which is rather short for a professional hair dryer. The dryer comes with several features that will dry in no time and will effectively protect your hair too.
Pros:
Has 2 speed and 3 heat settings for easy styling
Built-in ionic conditioning technology
Removable end cap enables easy cleaning
1875 AC motor allows 40% faster drying
Cons:
Small cord length
Is a bit expensive
Conair 1875 Watt Pro Styler / Hair Dryer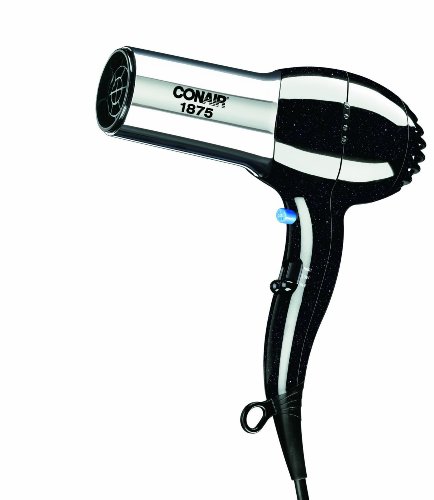 This 1875 Watt Pro Styler / Hair Dryer with Ionic Conditioning brought forth by Conair comes with three heat settings and two-speed settings which assure speedy styling. It also offers a cool shot that helps lock in a hairstyle. Unlike other dryers, you do not have to hold the button for the cool setting. You can simply set the switch and it will be good to go. It also comes with a concentrator attachment that helps in pinpoint styling.
This awesome hair dryer for fine hair is great for styling and will ensure that you get the desired look each time. It comes with a removable filter too. The dryer comes in the color black and Chrome and weighs lesser than two pounds. The dryer offers a lot of adjustable features and is very easy to handle. If you are looking for an affordable hair dryer with great features, this is the one to go for.
Know more about the
Pros:
Provides iconic conditioning
Comes with 2 speed and 3 heat settings
Has a cool shot making styling easier
It is very affordable
Cons
The cord length is shorter compared to other dryers
Does not work great as a heavy duty dryer
Twin Turbo 3800 Ionic & Ceramic 2100 Watt Hair Dryer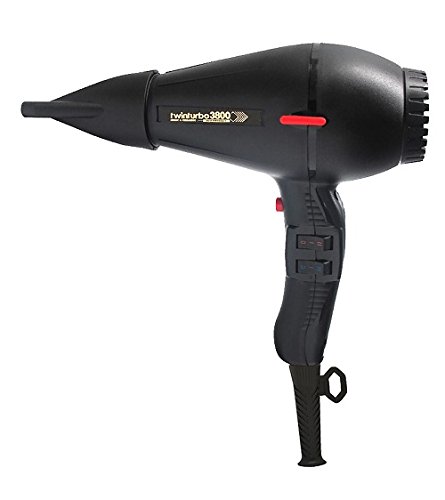 Twin Turbo 3800 Ionic & Ceramic 2100 Watt Hair Dryer comes with such awesome features that can eliminate your need to look beyond it. Combining both the ceramic and tourmaline technology it keeps your hair safe and healthy, even after repeatedly drying or styling.
Admired all around the globe as one of the ideal professional hair dryers, it is usable on all types of hair, whether it's too curly or too coarse. Giving you a frizz free feeling after hair drying, it features an anti-overheating mechanism; so that your hair doesn't get affected from overheating. Being popular among the buyers as an absolute time saver, it is lightweight too. 2 Speed and 4 temperature settings are added advantage.
Pros:
Being built with durable material, it is sure to last for a long time
Its 3-meter long cord gives the freedom of using from any part of the room
The nozzles that come along with it provide a tight fit; so no worry of falling off
Being extremely lightweight, no chance of your hands getting exhausted
2100 wattage capacity dries even the heaviest hair really fast
Cons:
Some people considered this product is quite expensive.
Revlon Pro Collection 1875W Infrared Dryer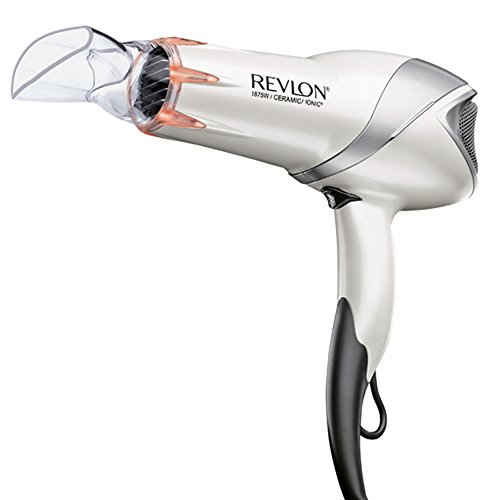 The legacy and the history of the brand Revlon is itself a proof of the reliability and efficiency of its various styling products. Revlon Pro Collection 1875W Infrared Dryer is one such fine hair blower for daily use. It utilizes the infrared technology for drying even the thickest and coarse kind of hair. It's 1875 wattage capacity motor and two speed and heat settings are ideal for quick drying and perfect salon-like styling.
While its ceramic infrared heating helps to dry the hair in a fraction of moments; the ion works towards reducing the frizz. It also features a cold shot button and the end cap is removable. There are also one diffuser and one concentrator that come along with it. It retains the natural moisture of the hair while giving it maximum shine and softness.
Pros:
Comes for a very affordable price
It's infrared technology reach inside the hair cortex
The tourmaline technology provides ionic conditioning to the hair
Its ceramic coating helps to reduce heat damage to hair
There's also a hanging ring along the dryer body for easy keeping
Cons:                                                                                                
Its cord length is comparatively short, around 60 inches
RUSK Engineering W8less Professional 2000 Watt Dryer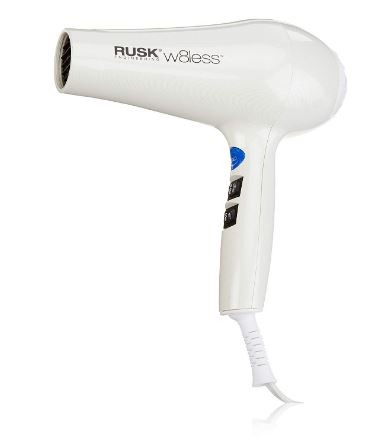 Boasting various professional qualities like the far-infrared rays or being infused with tourmaline and ceramic, RUSK Engineering W8less Professional 2000 Watt Dryer is one of the best lightweight yet strong hair dryers in the market. Being a product of one of the premium salon brands in the whole world, it perfectly knows how to satisfy the different hair drying and styling needs of everyone.
Weighing only less than a pound, it won't hurt your hands even after holding it throughout the day. Being ideal for using on the hair of any length, its far-infrared heat and the emission of the millions of negative ions gives less-frizzy touch and shinier appearance to your hair. Coming with 7 different speed and heat settings, it brings a concentrator nozzle along with it for a more focused air drying.
Pros:
Ideal for coarse or thick hair that is hard to blow dry
This professional hair dryer comes with an 8-meter long cord
The rear filter is removable; making the cleaning a lot easier
The whitish color makes it attractive compared to the common dark shades
Cons:
Switches being on the inside can be easily bumped into while holding the handle
Berta Professional Hair Dryer 1875W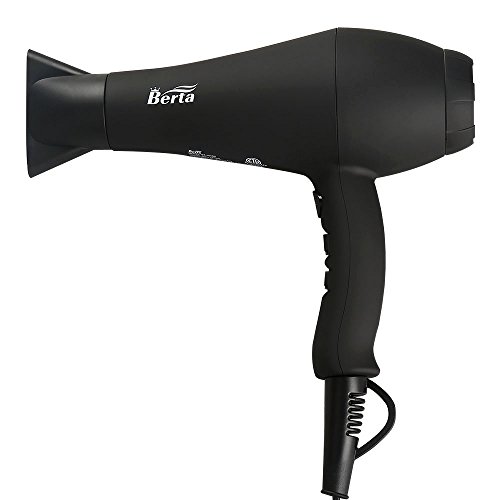 Berta offers its Professional Hair Dryer 1875W that has already become known as a revolution in the hair dryer world. The ionic generator that this dryer is integrated with provides the hair with smoothness and super shine. It uses a technology of infrared heating that ensures the drying process to be less damaging and safer. It offers 100x more negative ions than any of the other such ionic dryers available in the market.
Coming with various alluring features such as three heat settings or two-speed options, it has qualities enough for giving a tough competition to other ionic dryers. There is also a cold shot button on this dryer. Promising to give the hair salon like drying and styling. As an added bonus to all of its attractive features, this dryer comes with a two-year warranty and another year of a replacement warranty.
Pros:
Its design makes it very comfortable to hold
Not being too heavy, it is ideal for carrying
Irrespective of the hair volume it dries hair quickly
It is fairly quiet; doesn't make high pitched sounds
The length of the cord is perfect, around 2.65 meter
Cons:
Compared to other feature rich dryers, it may seem over priced
Remington D3190A Damage Control Ceramic Hair Dryer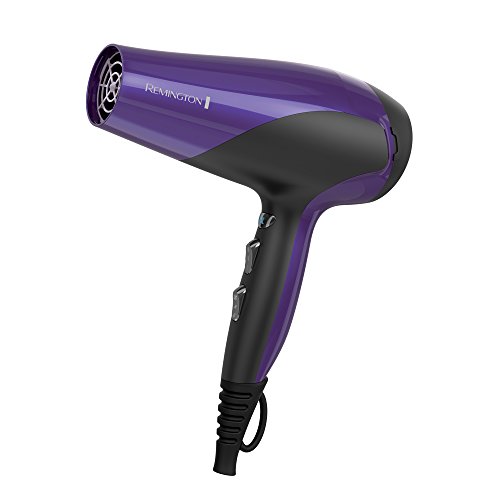 Remington is a known name worldwide for presenting a wide range of various personal care products over the years. The D3190A Damage Control Ceramic Hair Dryer is one of its top blow dryer models. Each time it produces warm air; micro-conditioners are released that are already infused with its grill, which helps to increase the shine of your hair. This 1875-watt motor-based dryer is capable of drying wavy and thick hairs in no time, giving a salon like smooth appearance to them.
Compared to other Remington dryers, this one gives 3x more protection to your hair. Yes, while its advanced technology of negative ions helps to lower hair-frizz; its inclusion of tourmaline technology keeps your hair cuticle protected from the overheating. The grill of Remington D3190A Damage Control Ceramic Hair Dryer being coated with ceramic, it generates infrared heat, drying your hair as fast as possible. Featuring two speed and three heat settings, it lets you set the right airflow and temperature for safely drying your hair.
Pros:
Its filter at the rear end is removable which makes the cleaning very easy
It comes at a very cheap price, compared to the fantastic features it offers
It is proven to work wonders in controlling the hair frizz
Its use of advanced technology reduce the drying time
It features a cool shot button
It comes with a concentrator and a diffuser
Cons:
There are a few reports of it as not being powerful enough
The following video gives users the in-depth review of the product.
BaBylissPRO Nano Titanium Dryer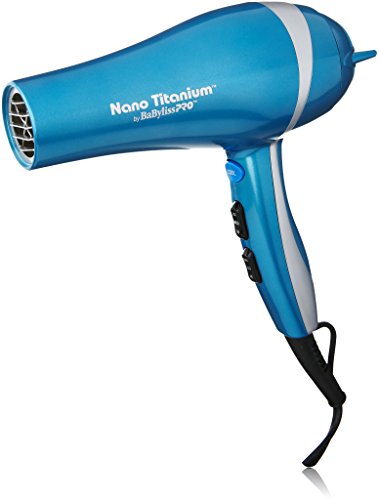 If both the design and performance matter to you when it comes to buying a hair dryer, then BaBylissPRO Nano Titanium Dryer is just the thing for you. The brand BaBylissPRO doesn't need any separate introduction, as it is a well-known brand for providing people with quality hair styling and care tools. A stellar blend of both power and sleek look. Though mainly preferred for its lightweight handling and heavy-duty performance, this dryer also offers plenty of styling options as well.
Featuring six different speed and heat settings, these best hair dryers lets you choose the desired temperature easily to dry your hair, without causing any damage. There is also a button for a cool shot that gives your hair a blast of cool wind. The stylish concentrator nozzle that comes along with it lets you style your hair the way you like. The filter is easily removable which makes the cleaning process trouble-free. As a heavy duty and powerful blower, BaBylissPRO Nano Titanium Dryer can be one of the bests in giving you the salon-quality results in minutes.
Pros:
Being a blow dryer of 2000 wattage, it takes less time to dry the hair
This hair dryer is extremely lightweight
It works perfectly for even the curliest and thick hair
It makes the hair smooth and shiny; no creases or dryness at all
The super cool design makes it excellent for holding in different angles
Cons:
May seem a bit pricey compared to other hair dryers
The titanium body material is not that good heat distributor
BiBOSS Ionic Hair Dryer Powerful Salon
This professional Hair Dryer has the Negative Ionic Tourmaline Ceramic Technology that helps in drying the hair quickly. It helps in keeping the hair healthy resulting in softer, shinier hair. This best hair dryer for fine & curly hair has a 3500W AC motor that gives it an extra long life. It has two-speed settings and three heat settings and a cool shot button that helps in locking the hairstyle in place. You can any combination of these settings according to the length and texture of your hair. The blow dryer comes with two detachable concentrators that allow focused airflow.
The dryer comes with a one year warranty. It weighs about 2.6 pounds meaning it is a bit heavier. It is a bit expensive compared to other dryers. This dryer allows you to achieve frizz-free, sleek hair without any damage. The customizable settings enable easy styling. The hair dryer is great to use before flat iron to achieve that perfect look every time. If you have a higher budget and are looking for a product that helps in achieving a perfect hairstyle, this is the one to go for.
Pros:
Includes two concentrators allowing focused airflow
Comes with a 3500W AC motor for faster drying
Cons:
The cord is bit short, about 2.75m
Jinri 1875w Professional Salon Infrared Hair Dryer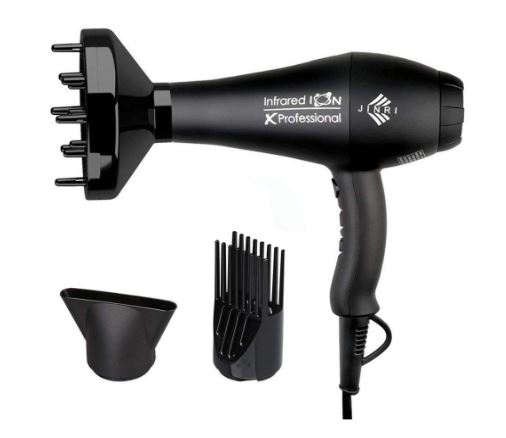 The Jinri Infrared hair dryer is all about options. It comes with three attachments namely a diffuser, a straightening comb, and a concentrator. This hair dryer operates quietly and has two different speed setting.
It also has three different heat setting, and you can exactly choose how you want to dry your hair. This dryer works fast, we mean it. It will dry even the thickest of hair in minutes. It utilizes infrared heat and negative ion which will make your hair smooth and helps to reduce frizz.
It is an excellent hair dryer for people with curly hair as the included diffuser keeps the hair still when drying it as fast as it can, without frizzing it up.
Pros:
Three heat settings and two speed settings available.
Best for people with curly hair.
Has a powerful diffuser.
Cons:
Some people complain about its heat settings.
Read also:
How to Choose the Best Hair Dryer for Your Hair?
The first thing comes to mind of the majority of the people is the price, when it comes to choosing the ideal hair dryer. Yes, the price factor is indeed important but not at the cost of your hair getting damaged beyond repair. Therefore, while you opt for selecting a hair dryer you need to consider some significant factors like the heat options, cool shot switch, use of technology, nozzle design, wattage etc.
Irrespective of the price of the dryer, whatever model you chose, it must have different heat options for controlling at least the high and low heat settings. So that if you find it too hot, you can switch to the lower heat option. While the dryers that uses the infrared tech makes the frying process a lot gentle to your hair; the tourmaline technology dries the hair quickly, while mitigating heat damage. On the other hand, dryers with ceramic technology help to radiate the heat evenly on your hair.
It is not always that a super expensive hair dryer is the best. You need to consider all of its features, including the cord length, motor capacity, and noise level, before choosing the best hair dryer for your hair.
Types of Hair Dryers:
With the continuous progress of technology, now there are various types of hair dryers are available. However, you must understand there is no specific type division. Types of hair dryers may vary based on its various features. While some dryers vary based on their heating capability, some types vary mostly because of the capacity of the motors.
But if you take the use of technology as the leading factor in various types of a hair dryer, then the two main types of hair dryers are the Ionic Hair Dryer, Ceramic or Tourmaline Hair Dryer. Nowadays, however, the majority of the hair dryers come with the dual technologies.
Conclusion:
Though there are plenty of other hair dryers available in the market for various price ranges, the above-mentioned 15 best hair dryers for fine & curly hair are the most preferred ones by the people. With each and every brand highlighting various alluring features of their products, choosing the right hair dryer becomes very difficult sometimes.
This review can get you out from this dilemma and can help you narrow down your search while giving you the details about the dryers. So that you won't end up buying a hair dryer that may not be suitable for your needs. If you wish to buy an effective dryer that won't affect the natural moisture of your hair; considering the technology it relies upon or the cord length it provides or the portability will definitely be a good idea. She is a content writer & editor for more than 12 years. She usually writes about technology news, country news, arts & science, travel & automobiles. She used to test the product and write reviews for popular magazines.