Your website has become the medium of informing your target market about your portfolio of products and services and any new messages that you wish to send out. However, your website is at constant risk of being hacked by cybercriminals. Statistics show that there has been a cyberattack every 39 seconds, and hackers steal an average of 75 records every second. It requires you to be on your guard as any data breach can lead to significant loss of reputation, and hence revenue and customers and your organization may be subjected to severe penalties from government authorities. To put things in perspective, data breaches on an average can cost US$ 150 million in 2020.
How can you protect your website? The answer is that you must install an SSL certificate based on site's needs. The increasing trend of using SSL certificates shows how useful they are in protecting your website. If your website is engaged in the e-commerce industry, you must compulsorily install one. There are various types of SSL certificates that you can use for your website. However, based on the utilities, you must choose one for your website. In this article, we shall discuss the differences between the three of them and why you must use them.
Multi-Domain SSL certificate
It allows you to secure several domains using a single SSL certificate. They are also known as a SAN certificate as it uses Subject Alternative Names or a United Communications Certificate (UCC) as it helps to protect multiple different level of domains. Earlier, webmasters had to buy several certificates to protect all their domains leading to a cumbersome affair having to manage all of them together, and renewal was indeed very painful. The pain was compounded if the certificates were bought from multiple vendors.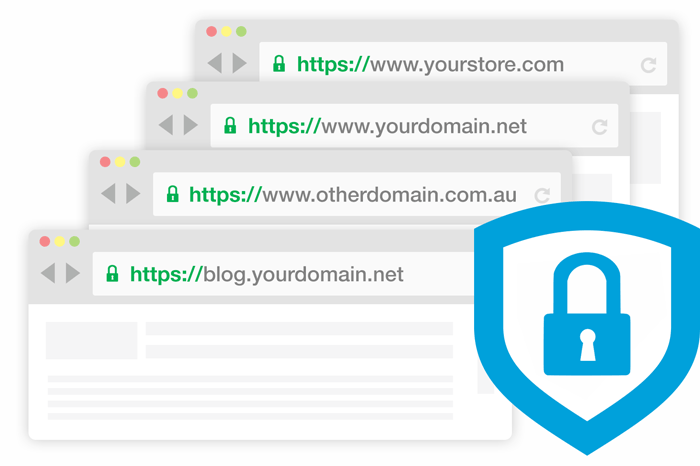 Webmasters can breathe easy with the advent of the Multi-Domain SAN SSL certificates as it helps them to secure several domains that can be included in the SAN field and allows the certificate to work for all the included domain names. You can secure shop.mydomain.com, mail.domain.com, autodiscover.yourdomain.com, etc.
Wildcard SSL
It allows you to protect a single domain and its first level of subdomains. A Wildcard SSL prevents the hassles of having to install multiple certificates for the domains and the underlying sub-domains. 


For example, if you have sub-domains like services.name.com, blog.name.com and shop.name.com; you will be able to secure all the sub-domains using a single certificate under main domain *.domain.com. You may even add sub-domains at the specific level during the entire validity period of the certificate. A single asterisk (*) can allow to secure unlimited subdomains under this certificate as shown in above image.
Difference between Multi-Domain SSL certificate and Wildcard SSL
| | | |
| --- | --- | --- |
| Parameters | Multi-Domain SAN SSL | Wildcard SSL Certificate |
| Domains and sub-domains supported | Webmasters can protect several domains and sub-domains. | You can secure multiple sub-domains at the same level. |
| Restriction from Certification Authorities (CA), if any | However, the maximum number of domains you can secure using a single Multi-Domain SAN SSL depends on the CA. | All CAs allow you to secure unlimited sub-domains at the same level |
| Other restrictions | The CAs require you to define the various domains that you wish to cover under the SAN certificate. | The sub-domains to be included in the certificate can be added at any time within the validity of the certificate. |
| Options available | It comes with all three options, viz. Extended, Organization and Domain Validation. | Available with Organization and Domain Validation options only. |
How to choose between the two?
Let us now understand the various scenarios through an example. Usually, shopping websites have numerous sub-domains. If you have more than four or five sub-domains pointing to a main domain that you wish to include in the certificate, you must choose a Wildcard SSL Certificate. It will allow you to include more sub-domains later.
You may have different websites for your various brands. In such a scenario, you must choose a Multi-Domain SAN SSL as it will allow securing multiple domains under the umbrella of a single certificate. However, you must compile all the domains you wish to cover in the certificate at the time of installation. Many SSL providers do a charge for adding additional domains to the certificate. However, both wildcard SSL and multi-domain SSL certificate supports the latest modern 256-bit encryption and 2048-bit CSR strength encryption.
Multi-Domain Wildcard SSL certificate
It uses the benefits of both the Multi-Domain SSL certificate and Wildcard SSL. In an ideal scenario, you may need to secure all your domains and sub-domains through a single certificate. So, will webmasters need to buy numerous certificates to cater to this need? No, help is nearby with the Multi-Domain Wildcard SSL.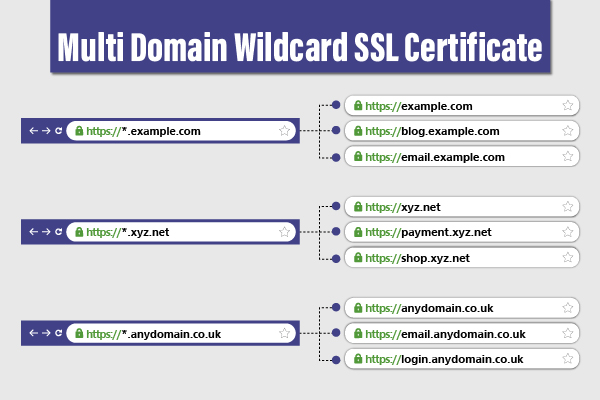 There are businesses, mainly the global conglomerates, that have separate websites for each of their lines of business. These different websites also have sub-domains for several products and services. In such a scenario, it becomes difficult for the IT department to manage several vendors for separate SSL certificates. For example, you can add multiple wildcard domain *.domain.com, *domain1.com, *.domain2.com and their respective subdomains.
None of the websites can be allowed to remain as web browsers led by Google have been exceptionally severe in marking non-HTTPS websites as "Not Secure". Such a measure from the web browsers means that visitors will be intimated that the non-HTTPS website is insecure, and they will abandon the site right away. It will lead to loss of prospects and revenue in the long run. It is where the Multi-Domain Wildcard SSL certificate is of help as it will help webmasters to ensures that all domains and sub-domains can be secured using a single certificate.
Some of the features of a Multi-Domain Wildcard SSL Certificate are:
Provides security for up to 250 domains and their unlimited sub-domains(depends upon CA)

Ensures 256-bit Encryption with a 2048-bit signature

Allows unlimited Server license

99.9% browser compatibility

Entrusted by all operating systems
Conclusion
As the websites become the primary tool for gathering leads, the need for securing them increases manifold. For e-commerce sites, the risk is diverse. The risks associated with a data breach is too high even to allow insecure websites. It is the reason for the exponential growth of the cybersecurity industry. Securing your website starts with procuring an ideal SSL certificate. Now, there are numerous options available, and among the various types of certificates, it becomes challenging to choose one.
Most conglomerates with multiple business lines and a vast portfolio have several domains and sub-domains. It becomes difficult for the webmaster to manage numerous partners for procuring SSL certificates. It is ideal for consolidating all certificates into one. There are various SSL certificates that we have discussed in this article that can help in such a scenario. Webmasters must either one of these certificates based on their requirements – now as well as in future. She is a content writer & editor for more than 12 years. She usually writes about technology news, country news, arts & science, travel & automobiles. She used to test the product and write reviews for popular magazines.