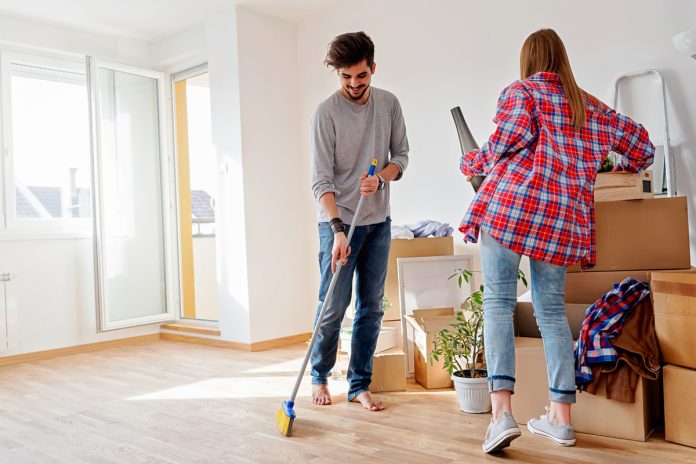 Moving brings excitement but also a dreaded feeling of facing a lot of damage and breakage. There is a lot of worry during relocation including dented furniture, lost boxes, damaged appliances and broken china plates. However, there is another face of the moving process that too revolves around damages and repairing them.
Besides worrying about your stuff, you must also attend to the damage that the loading and unloading causes to your home. Yes, with all the heavy and large furniture moving in and out, there are many risks of damage to the property.
Moving Feedback works with the USA top-rated long distance moving companies and states that despite professionals at work, chances of an untoward incident and damage are always there. While professional movers always try to ensure a safe and damage-free move, there can be a slip which might result in broken tiles or a big hole on the wall. 
The good news is most of these damages can be easily repaired. You do not need to engage a handymen as the repair job is easy and efficient to DIY. 
So, if you are moving and have large and bulky furniture to move, let us discuss some of the best ways to repair any damage that happens to your walls, floor or carpet while moving.
Damage to the walls:
Wall might sustain two types of damages- holes and scuff marks. 
Holes on the walls repair:
Even if you safely remove all the items off your walls and out the house, the overtime usage can always make your walls show the signs of wear and tear. Moreover, if you had a lot of shelves and artwork up on the wall, there must be holes showing where they were hanged. Before you handover the key to the landlord, you must attend to such damages. The repair is simple. You must apply the spackle to the holes with a putty knife, let it dry and once done, sand it off to get a smooth surface. 
Scuff marks on the walls removal:
Scuff marks are common as the walls get the paint from your furniture as you move it across the rooms. They do not cause a cut from your security deposit but certainly look bad on the walls. You can use a magic eraser to remove all types of scuff marks. Follow the instructions on the product and you will get the best results.
Damage to the floors:
Scratches are the biggest damage that can make your house look dirty and cost you a part of your security deposit as well. Here is how you can remove scratches from ceramic tiles and hardwood floors.
Removing scratches from ceramic tiles:
While replacement is the only way to repair deep dents and scratches, you can easily fix light ones. Toothpaste, a very common household item is your key to remove scratches from ceramic tiles. Apply toothpaste on dry and clean ceramic tiles with the help of a soft cloth. You can always try Vinegar or brass polisher to fix the scratches on ceramic tiles. Once done, use a car wax to seal the area and the tiles are as good as new.
Removing and fixing scratches on hardwood floor:
For hardwood, it is always recommended to take preventive measures than too find ways to fix. However, if despite the protective layer, the hardwood has sustained scratches you can fix them easily. Use fine thin wool to cover the scratch and then apply pre-mixed wood filler, let it dry off. Use a sandpaper and remove all the excess filler, finally, apply a coat of varnish and make the hardwood floor look perfectly fine.
Check also: 5 Decoration Elements to Beautify Your Walls
Damage to the carpeting:
Damaged spots, displaced carpets and holes are your biggest enemy in maintaining your carpet as you move your house. Here are the quick fix for these damages.
Stain removal from carpets:
Both store bought and homemade solutions work fine for carpet stain removal. You can use products like baking soda, acetone, ammonia and rubbing alcohol depending on the type of stain. If the stains are stubborn, you can plan renting a heavy duty carpet cleaning machine and save your pricey asset.
Fixing displaced carpet:
Carpets often get pulled out of their metal threshold and need to get reattached. This can be done by removing the old threshold and installing a new one. The carpet may also show signs of fraying and a new carpet installation would become must. 
Patching damaged spots:
Plugging new patches to the damaged spots is the best way to deal with spot damages. You must use remnants of the original carpeting, but in case of unavailability, take out a patch from the inconspicuous area of the carpet.
As you move out of the house, you must ensure that the property is left in the best condition. These easy DIY tips and tricks will help you work on the damage to walls, floor and carpet and leave a home as good as new as you venture for your new plans.