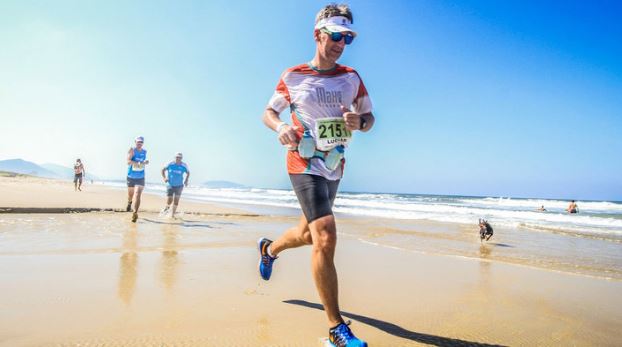 Today, we are going to look at the best triathlon watch. This review is being written specially for serious triathletes. We've compiled top 11 triathlon watches to help you become a successful triathlete by using one of these smartwatches. So read this list carefully and choose the best one for yourself.
This guide is going to cover about what is triathlon? Top rated brands of triathlon watches, and the pros and cons of each brand.
Without much ado, here's the review of top rated brands!
What is triathlon?
Triathlon is a multisport that combines swimming, cycling, and running in a single event. The first recorded triathlon was conducted in California on 1974. Also, this sport is considered to be the best endurance testing sport in the world. The standard distance in triathlon is 1500 meter swimming, 40 kilometer bike, and a 10 kilometer run.
Best Triathlon Watches review:
1. Garmin Forerunner 920XT: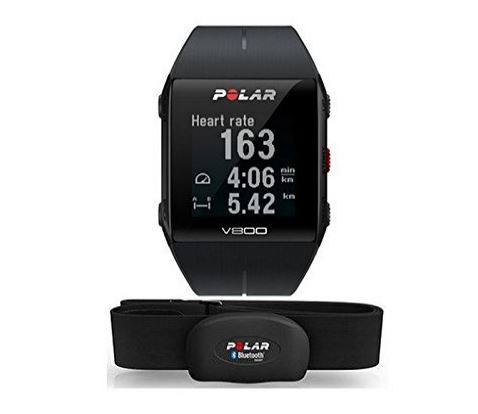 The black and blue Garmin Forerunner 920XT with HRM-Run Monitor contains many advanced training features into a watch. It is 15 % lighter than all of its competitors. Its features include a high-resolution color display and a tracking activity function. This is particularly helpful in keeping a record of the daily calorie burn rate.
The 920XT also records your swimming data which helps to improve your distance, stroke count, pace, and stroke rate. This triathlon watch is compatible with some sensors such as the speed and cadence to provide advanced training capabilities. You can also save, plan, and share your efforts using Garmin Connect app.
Features of the product:
This product comes with an HRM-Run heart rate monitor.
Provides excellent running dynamics.
It records speed and distance.
It has a race predictor.
Auto pause and resume timer.
Pros:
Easy to use.
Has the ability to simplify data acquisition and online distribution.
Long battery life.
Cons:
It is harder to look at the watch when biking.
Auto upload doesn't work perfectly all the time.
2. Polar V800: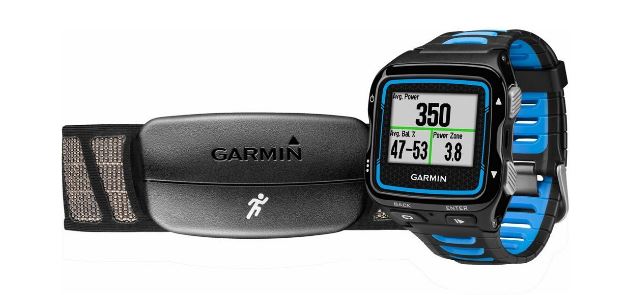 The Polar V800 is considered to be the best triathlon watch available in the market. It is also a great model for fast GPS pickup. If you are a real runner, you don't have to look for other options because of its features.
Note: Polar V800 doesn't gather your current time based on the information from GPS like most fitness watches do. So, you have to set your time and date manually.
Features of the product:
Integrated GPS to enhance your speed.
Route and distance tracking.
14-hour rechargeable battery life.
Has customizable profiles for multiple sports and recording transition times for each activity.
Syncs your workouts to the polar flow app.
It has an H7 Bluetooth Smart heart rate sensor for accurate heart rate while training and swimming.
Pros:
Overall appearance and aesthetics of the product is excellent.
Easy to pair new devices.
Fast GPS pick up.
Cons:
Training schedules cannot be set in the watch but only through Web application.
Certain features can only be accessed by a long press.
3. Timex Men's T5E901 Ironman Classic 30: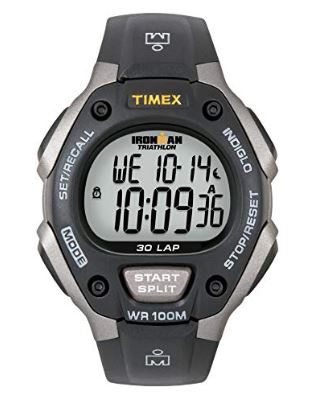 The first Timex Ironman triathlon watches were introduced in 1986. It is built on the brand's performance heritage. This model triathlon watches are your best companion when it comes to improving your morning runs and laps in the swimming pool. Its distinctive 30 lap memory recall enables one to review his or her workout effortlessly. Every model of Classic 30 comes equipped with a 24/7 hour countdown timer with stop and repeat functions. The Timex Ironman watches are water resistant which is great if you are a swimmer.
Pros:
Lightweight model.
Easy user interface.
Water resistant.
Cons:
Durability and battery life is somewhat doubtful.
4. Garmin Forerunner 910XT: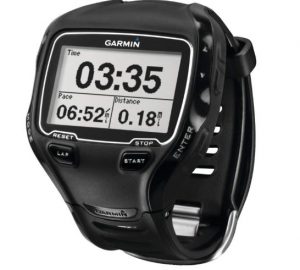 The Garmin Forerunner 910XT is the best triathlon watch with GPS enabled you can find in the market. Its attractive features makes it a must've sports watch for every triathlete. This brand is the most referred sport training watch in the world. It offers a detailed swim metrics and it tracks pace, heart rate, and distance for all triathlon activities.
Forerunner 910XT has a comfortable wristband and an easy to read display. The auto multi-sport feature lets you switch from one sports mode to another with just a press of the button.
Pros:
It has a customizable screen
Auto scrolling feature is available.
Provides heart rate-based calorie computation data.
Has vibration alerts.
Cons:
The lack of ability to ad maps is a serious drawback to this brand.
It does not have a stopwatch.
Incapable to record temperature.
5. TomTom Multisport GPS Watch:
Whether you are training for running, swimming, cycling, or you are trying to train for all three activities in a day with a separate schedule, the TomTom Multisport GPS Watch got you covered! With TomTom Multisport GPS Watch, you can see your running, swimming, and cycling metrics at a glance to stay motivated and achieve your goals.
Track time, distance and pace on an extra-large, high resolution display.
Achieve your goals with the help of the TomTom Graphical Training Partner.
Navigate easily through menus with the intuitive One-Button Control.
With these great features, the TomTom Multisport GPS Watch is a must've when it comes to training for triathlons!
Pros:
Grate user interface with one button control system.
Easy to compare your current activity with the past performance data.
Navigating through the menus made easier with the one button control system.
Cons:
The battery life is too weak.
6. Timex Ironman Rugged 30 Full-Size Watch: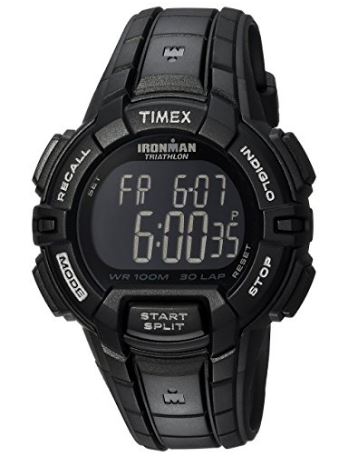 The Timex Ironman Rugged 30 full-size watches are built with the brand's performance heritage. It features a large display and a fast five-button to 100 laps. This is the absolute go to brand for triathletes when we think about its features. Stopwatch memory, customizable alarm and interval/countdown timers are the major benefits to consider when you want to buy this multisport watch.
The Timex Ironman Rugged 30 full-size watches are water-resistant up to 100 meters. It is a lightweight build and you can directly access all timers and alarms. It is also built with rich metallic accents.
Pros:
Suitable to use in dark areas since it has the indiglo light.
Easy user interface.
The band is comfortable and durable.
It is water resistant up to 100 meters.
Accurate timers.
Cons:
It has brighter lights which are uncomfortable for some users.
You can't use it when you dive into the water.
7. Suunto Ambit3: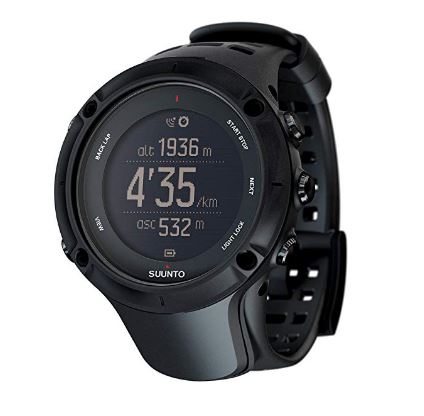 No matter what activity for which you are training, Suunto Ambit3 caters to all your needs. The Suunto Ambit3 lets you plan, track, and analyze your sporting activities through an activity log.
The Ambit3 Sport is the Suunto's first Bluetooth Smart compatible product. This best triathlon watch gives you exact results for your workouts and training sessions. Its super cool features include performance measurement metrics and route navigation system which are very helpful for triathletes.
The Suunto training courses provide you with a very comprehensive tool kit meant to monitor your performance during and after your training continuously. Combined with the Suunto Moves-count App, Suunto Ambit3 enables you to keep track of your progress while balancing training with rest.
Pros:
Excellent battery life.
Easy user interface.
Exceptional quality.
Able to track heart rates even while swimming.
It has multisport navigation features.
Cons:
Heavyweight model makes it uncomfortable.
Limited daily fitness summary
It is pricey.
8. Timex Ironman Sleek 50 Full-Size Watch: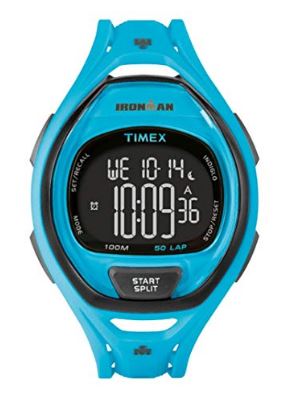 The Ironman Sleek full-size watch is the best collection you need to have if you are starting your career as a triathlete. It is also the best triathlon watch for beginners amongst all of its competitors. This is lightweight in nature which makes it attractive for any athlete. The Sleek 50 series is usually built with streamlined aesthetics. It is more than just a stopwatch or a fitness watch. Ironman Sleek 50 comes with three individually customizable alarms.
Pros:
Easy user interface.
lightweight model.
Water resistant up to 100 meters.
It has a large and bright display.
Substantial battery life.
Cons:
Finding the replacement band is stressful.
The watch is expensive.
9. Timex 66801 Men's Ironman Triathlon 100 Lap Sports Watch with Flix Indiglo Night Light: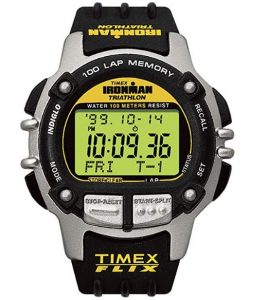 Not all triathletes want the various features that accompanies with a multisport watch. All that they need is a timer and a stopwatch to make their next move effectively. With these in mind, let's have a look at the features of this triathlon watch.
It has a stainless steel case.
This watch consist Black polyurethane strap.
Has a Digital dial with over sized digits.
All Day INDIGLO display.
INDIGLO night-light and a NIGHT-MODE feature.
It has 100-lap memory recall during chronograph.
Has a Dated training log diary which is very helpful to track daily activities.
These are great features for a multisport watch. That's the reason why the Timex is the best brand for beginner triathletes.
Pros:
Has a comfortable band.
Easy user interface.
Water resistant up to 100 meters.
Cons:
Lacks a diverse connection with other devices.
Can only monitor one activity at a time.
Cannot determine heart rate.
10. Garmin Forerunner 220: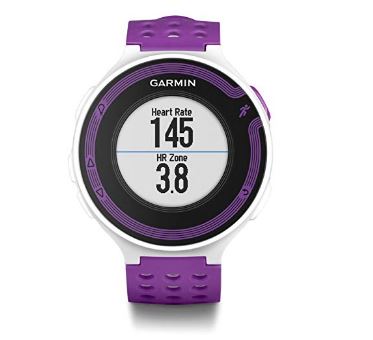 Having the Garmin Forerunner 220 is like having a coach with you all the time. It tracks your every move and provides you with instant feedback. You can easily setup alerts for heart rate, pace, and run intervals to help you stay within the expected range. It has both vibration alert and audible signals with regards to notifications.
A post-run summary helps you analyze how well you've performed during your running, swimming, and biking activities.
Pros:
Able to find and connect to satellite signals.
Battery life is excellent.
Syncs with all devices.
Cons:
Has a too weaker signal in hill stations.
11. Timex women's T5K7419J Ironman Traditional" Sports Watch: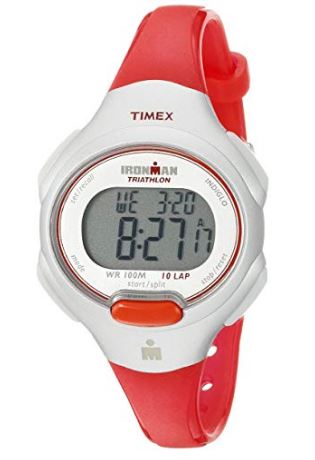 The Timex women's T5K7419J Ironman Traditional" Sports Watch is built on the core themes of extraordinary performance and longer durability than its competitors. It has an extra-large display which is very useful for a clearer view of your metrics. This multisport watch is water resistant up to 100 meters and it has an Indiglo back-light technology. It is also lightweight which makes it a perfect fit for staying active.
Pros:
It has a highest durability score.
The presence of indiglo backlight is an excellent feature to use even in dark areas.
Easy user interface.
Lightweight model.
Water resistant up to 100 meters.
Cons:
can't determine heart rate.
It doesn't have a GPS connection.
Read also:
Buyers Guide Questions:
How to Pick Out a Triathlon Watch? Which is best for you?
Many will struggle at this thought arriving in their mind. What on earth do I have to look for when I have to choose a triathlon watch? Don't worry, we'll make it simple for you!
As you know, triathlon consists three activities. Swimming, running, and biking. So, you need to look at the swimming features. Is it water resistant?
Then you need to look at cycling features.
You need to check whether your triathlon watch has a cycling mode. With this mode, you can measure distance, speed, rotation per minutes, and time.
Finally, you need to look at the running features.
You need to look at all the possible features your triathlon watch offers. Make sure that your watch counts steps, distance, pace, calories, elevation gain, and all others. Make sure that your watch offers whatever running feature you are looking for in a triathlon watch.
Also, think hard about the battery life before purchasing as it is so important.
What Is The 11 Best Triathlon Watch For Me?
Each watch has its merits and demerits. It all comes down to what you want in a triathlon watch and how much you are ready to spend to get one for yourself.
Do I Need A Triathlon Watch?
Yes. Every triathlete need a specific watch designed for triathlons to meet the requirements of a triathlete.
Are all smartphones compatible with all triathlon watches?
Unfortunately not. There are certain products that won't have the ability to connect and sync with your devise. If integrating with your smartphone is Important to enhance your training, then spending a little more on your triathlon watch is worth it.
How Far Will the Range of Bluetooth Travel?
It is not necessary that you invest in a smartwatch. However, most triathlon watches will integrate Bluetooth technology and lets you sync seamlessly with your smartphone.
Why Even Consider Triathlons?
Alright, the answer for this question lies with your interest level in triathlons. Ask this question.
As a normal Joe, why you are interested in triathlons?
Figure out the answer within yourself. Find out the reasons for the interest/non-interest state in the sport. If it is a positive response, continue to excel in triathlons.
If it is not so positive response, go do something else. Just simple as that!
Why Won't It Pair With Your Smartphone?
There are several reasons regards to your smartwatch's non-compatibility with your smartphone. If the Bluetooth range is too far, they won't sync. If it is not the issue, you may have disabled Bluetooth in your smartphone. The accompanying app with the sport watch should notify you if the Bluetooth is disabled. If that also doesn't solve the problem, checkout the charge of the battery. It may be low and make sure that the battery is fully charged up and ready to go.
How Strong is the GPS Signal?
There are so many factors that come into picture when receiving GPS signals. First of all, the devise must've a high sensitive receiver than a standard receiver. To answer this question in one line, the GPS signal will be very strong are very weak depending upon the devise.
Final words:
After reading this review guide, what else you need to know about the best triathlon watches? Nothing.
We've unpacked all that we know about these types of watches. As a multisport person, you need to decide what features you need when you are participating in an event. Whether the watch is comfortable is also very important. All these in mind, select a perfect brand for yourself and be a winner in your multisport. At this point, you must know what watch you want. From there the decision making process of becoming a triathlete is fairly basic.