Given how the effects of climate change are bearing down on us, it is crucial that we take steps to help reduce our impact on the environment. This is why we have put together a list of green home improvement projects that you can implement this year. You will not only update your living space but also do your bit to preserve the environment.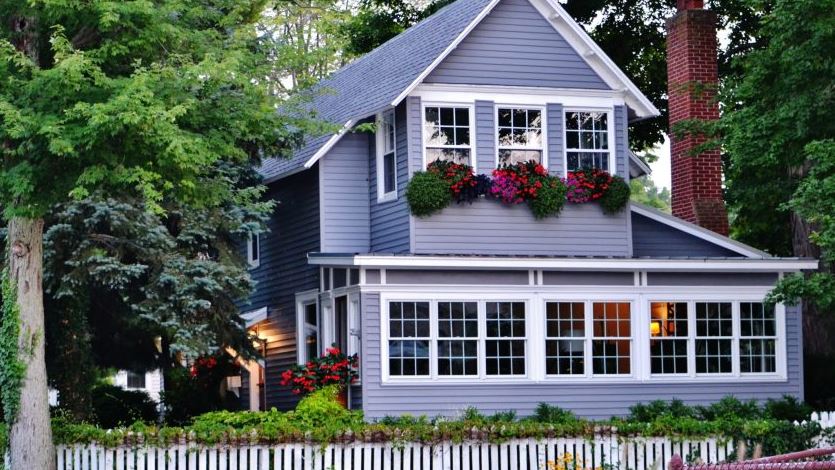 It is a good time to experiment with eco-friendly, green home projects for a better tomorrow.
Here's a list of t ideas that will help you in your quest to be green this year.
10 Green Home Improvement Projects To Complete this Year
Switch to Renewable Heating
Installing renewable heating systems like air and ground source heat pumps and biomass boilers will do wonders for clean and green energy production. Heat pumps absorb heat from the ambient air and the ground to cater to heating and hot water requirements in your home. Biomass boilers generate energy using wood pellets and chips to produce energy. This shows how renewable heating alternatives burns no fossil fuels which instantly reduces your carbon footprint considerably.
Moreover, renewable heating technologies are highly efficient as they do not consume electricity to generate heat. This makes them over 300% more efficient when compared to their traditional counterparts. For every unit of electricity that heat pumps use, they produce 3 units of heat making them highly efficient.
Add to the mix government subsidies through business or commercial RHI, the investment will basically pay for itself!
Consider Reinsulating Your Home
Topping up existing insulation with a fresh layer might not change the way your home looks but will surely change the way it feels. Over time, insulation tends to wear off which makes room for cavities and gaps. This results in heat loss which leads to increased cooling and heating costs. While the insulation you have applied is long-lasting, leaking roofs, animals, punctures along with other factors can seriously harm its endurance levels. To make a sound insulation decision, take a look at your home's history and the energy bills to find out if you can benefit from a layer of top-up.  Also, you can read more about indoor fountains
Start a Compost Pile
Use the organic waste you produce to start a compost pile in your garden or backyard instead of simply throwing it away. It was estimated by the EPA that almost 25% of the waste disposed into landfills every year could be composted. What's more composting adds to the quality of the soil and prevents soil erosion. It also helps keep pests away from your garden area. This means you can save money on pesticide while enhancing your yield of organic food that's healthier.
Install Larger Windows
If you are looking for a more substantial change, you could turn to the windows of your home and consider altering their layout. You can make the most of the natural light that you receive and lower your energy bills by cutting down your lighting and heating costs. Having larger windows installed will promote enhanced air circulation all year round which in turn will improve the indoor air quality.
Conduct an Energy Audit
Hire a professional to conduct an energy audit in your home to discover the problem areas that facilitate heat loss. Energy auditors evaluate your home and identify how you might be losing energy. They will then provide suggestions so that you fix it. Performing an energy audit can help you save anywhere between 5 to 30% on your energy bills so make this one a priority.
Invest in Appliances with Energy Star Labels
The appliances we use consume up to 30% of the total energy in our homes. Therefore, investing in home appliances carrying the Energy Star label is not only good for the environment but also for your pocket. What's more, Energy Star appliances are vouched for by the government as they help curb the emission of greenhouse gases. As compared to their non-Energy Star counterparts, these appliances are highly efficient. So, when you go shopping for replacements, ensure that it has the energy efficiency label on it. That way you'll know that the investment was worth it.
Make Your Living Space Green
The addition of a few houseplants in your home is perhaps the easiest way to greenify your living space. With just a few pots placed indoors, you can improve the quality of the air. Houseplants help absorb airborne toxins like formaldehyde and benzene and of course, reduce carbon dioxide in the ambient air. Although, keep in mind that not all plants are suitable for your home. So do a bit of research and get plants that will flourish despite of being indoors. Snake, spider and aloe vera plants are some of the best houseplants with excellent benefits with regards to indoor air quality.
Get a Low-Flow Toilet Installed
Installing water-efficient low flow toilets can save between 25 to 50% of water per flush when compared to the traditional ones. Building on this information, a family of four can save up to 22,000 gallons of water which translates to a considerable amount saved on your water bills per year. Depending on your budget, you can choose from a wide range of options available. Some systems have the functionality to recycle greywater from the sink which can do wonders for water conservation and, by extension, for your water bills as well.
Give Your Flooring an Upgrade
If you are thinking of brightening up your home while slightly changing its appearance, installing new flooring is ideal. The idea here is to be eco-friendly with your choice so choose linoleum flooring over vinyl. If you install vinyl flooring, over time these emanate VOCs which can seriously affect the indoor air quality of your home and cause respiratory issues. This is why opting for linoleum is for the best as its not toxic and it won't emit harmful gases.
Do a bit of Spring Cleaning
Take some time out and comb through your closet, the attic and other areas of your home where you just store thing you no longer use or want. Instead of tossing these things straight into the trash, you can donate them to charity or participate in a car boot sale to earn some extra cash. When you repurpose unwanted items, you keep them out of landfills which in some small manner reduces your impact on the environment.
Final Thoughts
The efforts, no matter how small, can add up to reduce your carbon footprint so make it count. Make it cleaner and greener with these home improvement ideas. She is a content writer & editor for more than 12 years. She usually writes about technology news, country news, arts & science, travel & automobiles. She used to test the product and write reviews for popular magazines.