G Suite is a perfect platform for teams to collaborate and have everything they always need in just one place like business email, doc, spreadsheet, calendar, security, etc. And all of that comes with a price, but for those who don't know it yet, G Suite offers distinct plans. That's why many people compare G Suite Business vs Basic, to decide which one of them is better for their companies.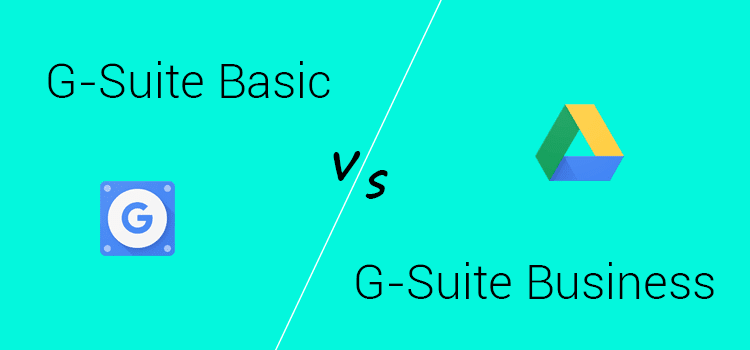 Nowadays, G suite offers a 20% promo code on their business and basic plan, the coupon is valid for all countries across the world.
In this article, we will compare all the plans, their prices, and also help you to find the one that fits all your needs.
G Suite Basic
Well, G suite basic is good for a single users like students, teacher or personal use. However, if you think this plan is not powerful for being basic, you're mistaken. It offers a set of tools and powerful resources that are ideal for small and medium companies.
Keep in mind that all the features the Basic plan offers are also on the other G Suite plans.
In general, the main aspects of the Basic plan that can change or not on other plans are:
Storage: Users can also benefit from 30 GB of storage in Google Drive
Domain: Create email accounts with your own company domain
Shared calendars: Use Google Calendar to set up your company important dates and terms
Hangouts Chat: Exchange messages with your team in real-time, securely.
Hangouts Meet: Set up video and voice conferences with up to 100 simultaneous participants per call.
The Google Office Suite
G Suite is completely based on collaboration for companies. This really means that most of the features they offer have this aspect present on apps. Google's office suite is a great example of this.
It includes the apps Docs, Sheets, Presentations and Forms. All of them allow your team to collaborate in real-time, simultaneously.
Support
In terms of support, this plan offers 24/7 support by phone, email and online. Plus, from the security aspect, it allows you to manage user accounts, security settings, and everything you need to keep your account safe. Finally, you can view all the alerts, notifications and important actions across G Suite on the Alert Center.
Sites
This Google app allows you to create simple websites from scratch. You can integrate your websites with other Google apps, such as Google Drive and Google Maps. It's possible to even create levels of permissions within your website (Owner, Editor, and Viewer).
Among other features, it supports embedding HTML and JavaScript.
Price: The Basic plan costs $6 per user, per month
G Suite Business
G Suite Business is a plan that fits the demands of medium to large companies or teams. But keep in mind that there are solutions that can be useful even to small teams, depending on your workflow.
When we always make the comparison G Suite Basic vs Business, there are some main differences that the intermediate plan can offer.
Same but better 
When you have the G Suite Business plan, the cloud storage in Google Drive is always unlimited. But if you have a team of fewer than 5 users, it can be of 1TB per user.
When we talk about Hangouts, the number of people that can attend video conferences simultaneously rises to 150.
Cloud Search
Cloud search is compatible with G suite business, its not come with g suite basic plan. This allows you to find everything you need inside the cloud storage quickly and easily, in a very secure way. This means you have access to Google smart searches. For example, if you type the word "Financial report", the results that will appear can be from Google Drive, Gmail, Sheets, Docs or Presentations. As long as they are stored in any place of G Suite, you can find whatever you need.
Google Vault (eDiscovery)
Google Vault, is a tool focused on data retention and eDiscovery. So, according to Google, it "keeps track of what really matters". You basically can also "retain, search, and export your organization's data from select apps with Vault".
You can protect your data, setting retention rules and also retrieve information from any account in your G Suite, even from the ones that were suspended.
Finally, it's possible to obtain auditing reports to track user activities, which can be useful when you have larger teams and want to have more control over what has been done
Price: The Business plan costs $12 per user per month.
Is it possible to use G Suite for free?
This is another doubt that can pop up in your mind, and it's important to have a lot of freebies in stock for its users, and even prospective users are not left out. These are the benefits that concern to the payment you can enjoy:
Discounts
It's possible to find some promo codes and deals online to use in your purchase. One good option is also to check web hosts to search for these promo codes. But be sure to do this before signing up for a G Suite package on Google's website.
14-day free use 
You can have a free trial of two weeks, to decide if G Suite is suitable for your company and if your teammates will adapt to it. This facilitates the process of decision-making, mainly if you are considering a G Suite competitor as well.
G Suite for Education
G Suite for Education is a free package for employees and organizations related to education, and with the purpose of serving schools.
Notice that there are two educational plans: Standard and Enterprise. The Standard is utterly free, whereas the Enterprise is not, due to its advanced features.
The free version includes the following features:
Unlimited access and storage in Google Drive
Video conferencing and voice calls in Hangouts
Email accounts for the school in Gmail
Shared calendars
Office suite
Collaboration with Google Classroom
The premium version offers advanced security features, Cloud Search, bigger Hangouts meetings (up to 250 participants), and live transmissions (up to 100.000 participants). This plan is ideal for bigger institutions, such as universities.
G Suite for nonprofits
This free plan is available for nonprofit organizations and offers some advanced features of G Suite. The organizations have also access to G Suite Basic at no cost. This means they can get a personalized Domain for their email accounts.
G Suite Basic vs Business: which one you should always choose
Keep in mind what is the most important aspect you are going to need for your work security, amount of storage available, include features, or all of them. For example, if you need more storage to save your important files, maybe G Suite Basic is not the right choice.
Go with the G suite business for the more storage.
She is a content writer & editor for more than 12 years. She usually writes about technology news, country news, arts & science, travel & automobiles. She used to test the product and write reviews for popular magazines.