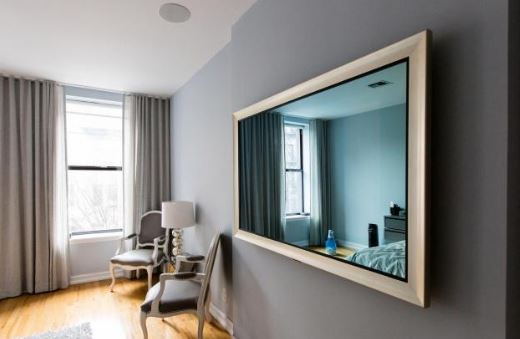 Smart Mirror or Mirror TV is one of the best ways you can hide your TV. It is a cool option if you want to place your TV set in a central location in the living room but you don't want to look at it all the time. Your flat screen doubles up as a mirror and is able to easily switch back and forth. How does this technology work? What should you consider when shopping for one? This article provides in-depth answers to these questions and also shows what is involved in the installation process.
This definitely adds up a great touch to your TV lounge and your entertainment devices. One quick type after mounting up your TV to avoid any inconvenience is just to set up your channel through a channel list as it's a one-time thing to avoid looking for channels all the time.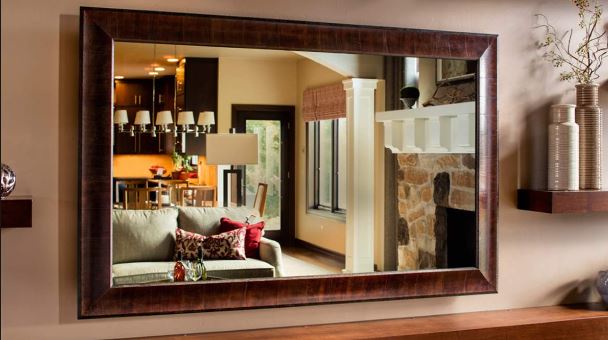 The technology used is dielectric glass which is also referred to as smart glass. The physical properties of a smart glass use electricity to change when switched on. This allows the glass to go from transparent to opaque. Since this is an advanced process, there is variety when it comes to the type and quality of mirror TV. Low-quality ones will decrease the TV's brightness once it is turned on and thus result in a weaker reflection once it is turned off. Hence, it is vital that you visit a showroom to see how the TV works before you purchase any model.
There are companies that offer several glass options and this is important depending on where exactly you want to place it. For instance, the bathroom uses a different mirror in order to compensate for the different lighting of that room. They also have other amazing options such as an extensive frame collection and the availability of waterproof or outdoor models. The mounting support should be strong enough to support the extra weight of the glass. The TV should also be set in a place where there is proper ventilation in order to avoid overheating.
In this regard, you might want to have LCD TVs instead of plasma. A black TV is recommended because it works better at reflecting during the times when the TV is switched off. Although this technology might cost you a fortune, what you get is worth the investment. They provide an attractive layout to your living room.
See also: 8 Ways to Boost Outdoor TV Antenna Signal Homemade?
Different Types of Mirror TVs
The technology makes it possible to completely hide off the TV when it is off and create brilliant images when it is turned on. The main competitive advantage of mirror TV is that it allows for 99% of the light to be transmitted through the mirror from the TV. This ensures that you get the brightest image while watching your favorite movie, documentary or live events. Here are the various types available on the market:
Iris mirrors: these offer stunning quality and one of the main advantages is that there is reduced glare and the viewing experience similar to a standard HDTV. When the TV is off, it virtually vanishes and leaves only a faint outline of its perimeter that can only be noticed when someone is in close range. This mirror TV allows comfortable viewing even during the daylight with direct sunlight. It is often used in non-bathroom applications as it is slightly darker than the typical mirror. Examples include living rooms, guestrooms bedrooms, and
Spectrum mirrors: this type of mirror is ideal for makeup application since it has a very good reflective mirror surface. It is therefore recommended for bathroom installations. Its brightness is very high and when the TV is off, it camouflages and you can only see a light grey image on that spot.
V-mirrors: when the TV is off it completely disappears. You will surely be very impressed with this vanishing technology. It performs best when it's in a dark environment. In a highly lit environment, the vanishing qualities can cause increased glare. Its reflection is 80% as bright as the typical mirror. It is best used in bedrooms, den, and living room.
B-series: if you are looking for an affordable option for bathrooms and guestrooms then this is your ideal choice. They have a reflective mirror surface and its brightness quality is also very good with no increased glare.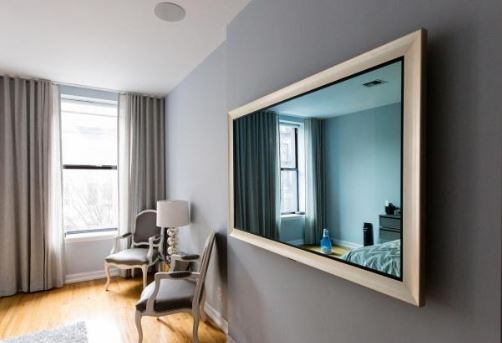 What is Screen Mirroring?
If you want to content from a tablet, computer or Smartphone to a TV display you will use a mirroring device. Screen mirroring is quite different from media streaming. Knowing these differences will better help you understand how these technologies work and which one best suits your needs.
Screen mirroring allows you to take the full contents of your computer or tablet and sends these to an external screen through a wireless connection. When mirroring your Smartphone display, you will see an exact replica of what is in the mobile device or computer.
For instance, if you are launching an application or reading an email message that is exactly what will be displayed on the external screen. If you are browsing the internet, your audience will see what you are doing. Screen mirroring is essential if you have a presentation to give. It will help you benefit from PowerPoint's' presenter mode. As your audience views the presentation, you can also watch with them and compare with your prepared notes.
Media Streaming
Media streaming takes only a particular content from your tablet and sends it to a digital media player through a wireless connection. Typical examples are Netflix TV shows that are selected from your tablet and then streamed into your TV display. The good thing with this technology is that you can continue to use any other app without interrupting the video.
Screen mirroring and media streaming have their advantages and offer an entire user experience. Media streaming will be good for you if just want to watch a video and don't need to control the shared content. Screen mirroring will best suit your needs if you are looking for a solution that facilitates screen sharing and collaboration when presenting a show during meetings. Just think about your needs before choosing a certain type of technology. These capabilities are flexible and robust for professional environments. Select these options to enjoy better viewing.