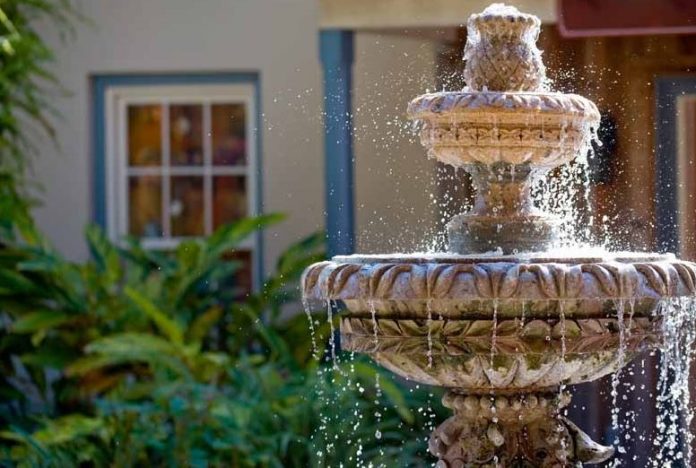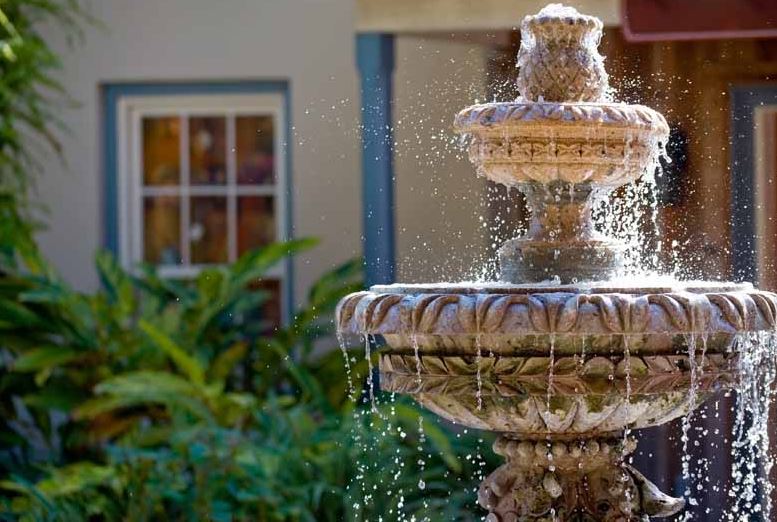 If you want to add a touch of elegance and serenity to your backyard, a fountain garden is a perfect option. Nothing is as relaxing as the sound of Falling splashing water. You'll even find yourself spending much time outdoors when you have a fountain garden in your yard. Growing a fountain garden is an easy DIY weekend task that requires little skills. If you are planning to use a flower pot or a water fountain, and you have no idea how to go about growing water plants, don't worry. We've prepared useful tips for growing a fountain garden that will accord you relaxation after a long working day.
Tips for growing a Fountain Garden
1. Garden fountain placement
Fountain placement is crucial. A perfectly placed fountain can transform your backyard into a hideout paradise for you, your family, and your friends. So, where should you locate your fountain garden? If you want to get the full benefits of a fountain, find it a spot that is easily accessible and frequently visited to enable people to enjoy it. The idea is to make it a focal point, where people can gather and chat the night away as they listen to the subtle white noises. Also, it's best to place outdoor water fountains near a source of power to avoid power installation costs. Remember to check your garden's theme, so your fountain does not appear weird or out of place. Matching your fountain to your garden theme creates a seamless design that's pleasant to the eye.
2. Use greenery and Colorful flowers
Once you have selected the placement of your garden fountain and chosen a suitable fountain that fits the location, it's time to add some natural look to it. Greenery and flowers work magic when it comes to creating natural scenery. Your flower and plant selection should take into consideration how tall they will be in the future. Some flowers can grow taller than the fountain itself undermining its beauty. Choose flower types of the same shape and those that won't grow too high. Flowers will give your fountain a blast of dazzling colors without overwhelming your eyes or covering the fountain.
3. Add healthy vegetables
Planting vegetables and fruits at the base of your fountain will not only add vibrant colors to your water garden but also, you'll have a constant supply of healthy vegetables. You can consider it as your small kitchen garden. When selecting veggies and fruits to include, you should consider those that don't grow too tall. Broccoli, blueberries, and strawberries will be a perfect selection for this purpose. Once they mature and bear fruits, your fountain will undoubtedly be the center of attention. Birds will love visiting your vegetable garden to share your fruits, and if you are an animal lover, you will always have these flying friends in your backyard.
4. Put up pathways and Seating place
The only way to enjoy your fountain garden is to visit and maintain its beauty. Paths give you access to the fountain without damaging the greenery and flowers around. To avoid carrying your indoor chairs outside, install benches near the fountain where you can enjoy a cup of coffee and a magazine while admiring your new garden. You can also consider installing a swinging bed, hanging chair, or a hammock nearby. You can sleep on the hammock and relax, the perfect way to spend the weekend or evening after a hard day's work.
Check Also: 7 Tips to Secure your Garden (Simple Guide)
5. Lighting
To enjoy your fountain at night, add lighting. Light adds a new dramatic effect to your aquatic garden, making it the center stage and spot where everyone wants to hang out. Your fountain becomes a great entertainment space where you can hang out with friends in the evening for a party or to catch up and share memories. String lights are the best option because they are easy to install and inexpensive. Once you connect them, you are ready to get cozy and enjoy your water garden. You can also use LED neon lights. They are energy efficient, come in a wide range of colors, and are highly durable.
Tips to maintain the Garden Fountain
First of all, you have to decide the best place for your garden fountain. Hence, that would not be disturbed by others.
Make sure to clean the water fountain on a monthly basis to prevent the growth of algae and other bacteria.
Clean the limescale buildup by using vinegar.
Clean your fountain pump regularly for the perfect flow of water and it helps to clean algae formation inside the pump.
Empty the water in the fountain once in six months.
Make sure that enough water is there in the fountain, hence, a lower amount of water will damage and overheat the pump.
Check for cracks once a month to avoid water leakage.
Make sure to clean the fountain using a suitable cleanser according to its material.
Do not use bleach or any other chemical substance to clean your fountain. Hence, it may damage your pump and fountain.
Final Words
You can build a water garden on a weekend, but you will need to do more than that to keep it blossoming and healthy. Ensure your plants get a constant supply of water by refilling your fountain. Remember, water evaporates, and the levels are bound to decrease. Keep checking and refilling according to need. Also, weed to maintain your garden in great shape and ensure your plants are not fighting for resources with weeds.