Modern businesses need to produce good-quality video content. Video is a must for a successful online advertising campaign.
Many companies, even SMBs, struggle with in-house skills for video production. Hiring the right professionals to produce and edit video can be time-consuming and simply out of budget range. However, missing out on video marketing means a wasted opportunity for promoting your products and services.
One solution to this is to hire an animation video company. This way your business can benefit from leading video creation experts without taking on the fixed costs that come with hiring permanent employees. Bringing a quality video agency on board means your firm can produce leading video production content that you can be proud of. Most importantly of all, quality content gives your ads the greatest chance of successfully converting to web traffic – and sales.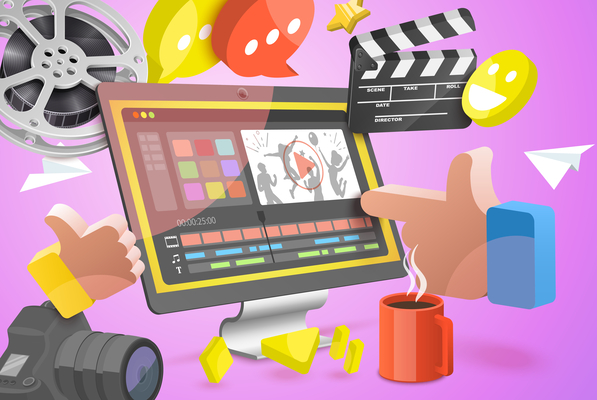 How to recruit an animation video company
There is a massive amount of choice in your search for a corporate video production company. A simple Google search will throw up a plethora of options. This can be a good thing and also a bad thing. How do you make a shortlist? Which companies will be a good fit for your budget and requirements?
Many video agencies have their own signature style. Look through their websites to see their portfolios. Even their work for different clients will show you some similarities, and the ways they approach projects. Ask yourself whether you like the style and the perception they create.
In short, you need to separate the contenders from the pretenders. Follow a process to shortlist some candidates. You will be spending your hard-earned budget on an agency, so approach it with the same vigour as you would a new hire process.
What should you look for?
The main thing to consider with a video company is its portfolio. What have they produced for their other clients? Is the style one that could potentially suit your business?
Do not just look at the video. Dig into the results too. How well do they convert? How many views and interactions have they received on YouTube and social media? Producing great-looking videos is only half the battle. For it to deliver the return on investment you need, it requires people to take positive action at the end of the video.
Also, look at customer feedback. Has the agency got any client testimonials on their website or on third-party websites? Have a look at their social media accounts to see if any customers have positive things to say, and how they react to their posts.
See also: 7 Things you must know about audio and video Post-Production
Be clear on your goals.
Defining what you want from your video is also a crucial success factor. Producing a great video is no longer enough. Decide whether you will focus on a particular product or your business in general. Focus on the challenges you solve for your potential customers, and how buying your product will help them. In short, make videos about your customers, not about you.
When selecting your animation video company, discuss your goals with them. Ask for their advice on driving engagement and leads from the videos. This should help you get a feel for how focused the agency is on ROI and not just on making pretty videos. Modern agencies know that this is what companies are looking for just as much as the quality of the content.
Look at Their Passion: 
When hiring an animation video company look at their passion towards their work. If someone works only to earn money then their work is not 100% perfect. But if you choose an enthusiastic person to work on your video then you will get awesome videos.
Ask the person a few questions towards your project and ask demo. How they answer the questions and how they present the demo will show how they are passionate towards their work. So, remember this point.
See also: 5 Key Reasons To Add Video Marketing To Your Content Mix
Your content strategy
Deciding what type of content to produce is also important. Fitting it into your budget can be challenging.
To address this, discuss your maximum budget with your chosen agency. Get their views on what they could deliver for that. Try to produce a short explainer video about the problems your company solves for clients. Also produce a few shorter clips for social media that highlight particular products or services. Creating a catalogue of different types of video can make your rich media library highly effective if viewers see different content every time they log into social media.
Good video content can also be used for a long time. A well-made explainer video can be used for at least a year and can easily be refreshed when the time is right.
Making your choice
In short, you need to find a credible agency that can produce the videos you need. You also need to be confident that you can form a productive working relationship with the people involved. A good agency will become an extension of your in-house marketing and management team. It is therefore imperative that you can work together efficiently. She is a content writer & editor for more than 12 years. She usually writes about technology news, country news, arts & science, travel & automobiles. She used to test the product and write reviews for popular magazines.