Contrary to the common belief of using chemicals for a healthy and beautiful lawn, a great one, aesthetically, requires constant care. This care revolves around weeding, mowing, and watering.
A healthy lawn resists disease and is dormant to drought. However, getting and maintaining one is not a walk in the park. It needs guidelines and some discipline to do so. Fortunately, you don't have to fret on that as here's a comprehensive guide to help you verse yourself with the tips of having and maintaining a healthy lawn.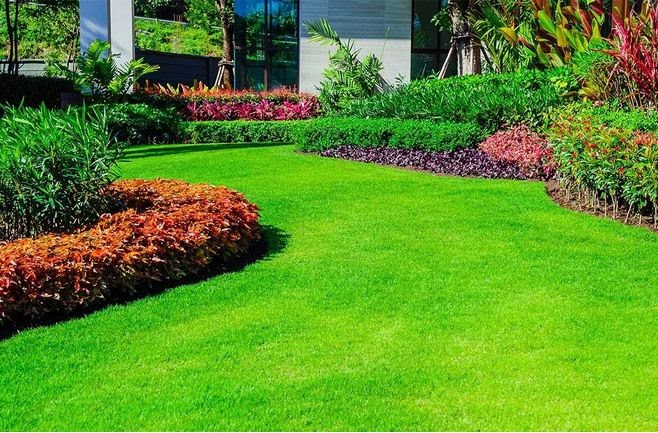 Read on to find out how to approach it.
Prepare the land
The first step of any planting is land preparation. Preparing the ground helps getting rid of any material that will deter the growth of your lawn.
Preparing the land also includes knowing the soil type of your lawn and its Ph levels. Knowing these characteristics helps you discern the ideal grass to plant in your yard. To get this vital information, liaise with your local university or a local agricultural expert.
If you prefer sod over the conventional planting, then clear the ground for a perfect installation. Use a leaf blower to get done with any dirt or debris for easy leveling. Once your land is ready, it's time to plant something.
Choose your Grass
As stated earlier, it's vital to know the alkalinity levels of your lawn's soil. This information comes in handy in deciding the type of grass you need for your yard.
Knowing the right grass revolves around picking a dormant grass that grows and perseveres in all weather conditions. To acquire such information, consult with your local university or any local agricultural expert.
If you prefer sod over seeds, then pick a wet sod that lacks any dry or cracked areas. Sod might be expensive, but it takes a shorter time to come through compared to conventional planting.
Plant or Install
Depending on your preferred type of lawn, it's time to plant or install. Getting a healthy lawn stems from how you plant it or fix it.
Once again, this is another area where you need an expert. An expert will guide you on the right criteria for sowing your seeds. This criterion includes what to use to sow or spread the seeds, what pattern of planting to follow, and such.
If your preferred choice is sod, then your work is easy. Just follow the instructions on how to install; these instructions are generally straightforward.
Water Your Lawn
Water the seeds lightly to avoid washing them away. Water consistently until the seeds germinate, this usually takes a period of one to two weeks. Once the seeds have germinated, you can water heavily.
If your preferred choice is sod, then water well and compact it against the soil base using a lawn roller. Water consistently and heavy targeting the soil underneath the turf. Do so every morning for a week.
Also, avoid overwatering it. Overwatering may lead to the sod rolling up from the soil.
Now that your lawn is ready, it's time to maintain it.
Keep Off The Lawn
The first step of a well-maintained lawn is keeping off the lawn on its early stages of development. Avoid any traffic on the sod in the first week of installation and be light on the first month.
Seeds take a more extended period to sprout as compared to sod. Therefore, avoid any traffic in the first month of planting until the blades appear. And use your lawn lightly in the first six months.
If the grass grows to 2 to 3 inches, then roll it with a lawn roller. When it grows over 3 inches, it's time to mow it. Avoiding and reducing traffic in the first stages of development help prevent any damage on your lawn.
Keep on Watering
As the grass grows, it's time to keep watering. Target the roots by watering deeply; this guarantees you a lush lawn.
Ideally, water your lawn in the morning and evening. These times of the day experience no heat. Therefore, there is little chance of evaporation.
While occasionally watering it, allow it to grow dormant. Despite being an optional choice, letting your lawn grow dormant has a lot of benefits. First, it makes it resistant to drought and disease. Secondly, a dormant growing lawn requires less supervision.
Letting it grow dormant is prepping it to be a healthy lawn, making it natural to resist any adverse conditions that might deter its growth.
Fertilize your Lawn
Fertilizing your lawn boosts its growth and provides it more nutrients. Fertilize lightly upon the first days of planting. Keep on adding nutrients in the coming weeks after planting.
Also, avoid synthetic fertilizers. Synthetic fertilizers contain chemicals that might affect your lawn in the long-run or the nearby ecosystem. Organic fertilizers, on the other hand, improve soil health as the content is organic.
Weed Your Lawn
Approach weeding either mechanically or chemically. Of the two, the former is the best option as it has no adverse effects on the surrounding ecosystem.
You can achieve excellent weeding by using the right mowing height to fight any weeds sprouting. Upon mowing the lawn, let the cut weed back to the ground as nutrient supplements. Also, if you opt for chemical weeding, make sure you choose the right weed killers.
Work On The Drainage
If your lawn is in an area prone to sogging water, then work on its drainage. Poor drainage raises the chances of sogginess or water runoff.
To avoid this work on the drainage system and improvise your watering if the soil is like clay or the lawn is steep. You can improvise by watering bit by bit in hours apart.
Mow Your Lawn
consistently mowing your lawn is fundamental in making it a healthy lawn. Whenever the grass grows tall, mow to the highest setting of your mower.
Aerate your Turf
To maintain a healthy lawn aerating it during fall or spring is the secret. Also, annually dethatching it fights compaction and thatch buildup.
Removing the plugs of soil also helps counter diseases.
A healthy lawn is a beautiful one. Getting and maintaining a healthy lawn provides an aesthetic look to your yard and home. If you're in search of how to obtain and maintain a healthy lawn, the above hacks and tips will guide you to having one. She is a content writer & editor for more than 12 years. She usually writes about technology news, country news, arts & science, travel & automobiles. She used to test the product and write reviews for popular magazines.