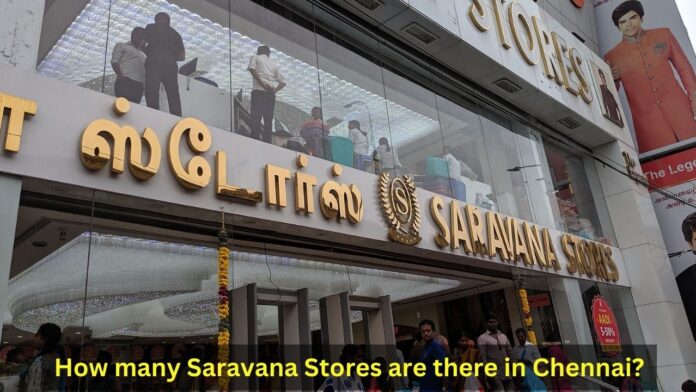 Saravana Stores is one of the big-box retail stores in India founded in the year 1970 by a team headed by their father Mr.Shanmuga Sundara Nadar. Initially, the store was started by selling vessels in the name of "Shanmugam Stores" at Ranganathan Street, Chennai.  Later, they opened their second store in the name of "Saravana Stores" with all types of household vessels at T. Nagar, Chennai.
Because of their hard work, they started many branches with a wide range of products. The high-rise store consists of different sections such as textiles, electronics, household items, Jewellery, Cosmetics, and furniture. People enjoy grabbing all the products at one shop.
How many Saravana Stores are there in Chennai?
Saravana Stores has 7 branches in Chennai including, T. Nagar, Porur, Sholinganallur, Chromepet, Usman Road, Purasawalkam, and Padi. Also, they made their footprints in Madurai, Tirunelveli, and Coimbatore. Apart from this, they are planning to open their superstores in India's megacities such as New Delhi, Mumbai, and Bengaluru.
Biggest Saravana Stores
The most giant Saravana Stores is located in the famous city Madurai. Such an elegant store with 10 floors extended over 6.5 lakh sq. ft. The store consists of vast products with attractive prices. This rocking mall will beat large departmental stores in famous cities like Tokyo. This massive Super Saravana Stores in Madurai City approximately gets 50,000 shoppers every day.
Check Also: Legend Saravanan Plastic Surgery Before and After Images (New Look)
Unsung Heroes of Indian Retailing
In the year 1970, the brothers Yogaratnam, Selvaratnam, and Rajaratnam started a small shop. After some years they have they planned to start the famous Saravana Stores in Chennai. In 1977 they took their first step by providing vast products at one stop, called Saravana Stores. And they opened stores located one after another with five and four-storey buildings. Each store has particular products like household items, jewelry sections, and textile stores. Obviously, Saravana Stores have become one of the busy stores in that area.
Most customers love to shop at Saravana Stores because of their discount strategy and product quality. Their attractive discount beats their competitors and attracts lots of customers to the shop.
In modern times, the great retail store Shoppers' Stop has attractive interiors, employees with dress codes, with multi-storey buildings in 6 different cities. Hence, Saravana Stores planned to customize their stores like that of Shoppers' Stop. After the successful shop customization, the Saravana Stores sell their wide range of products under one roof. The store has huge regular customers and they earn 70% high turnover when compared to other great retail shops.
After that, they opened their other 7 stores in different locations of Chennai and provided such an enjoyable shopping experience to their customers.
The success philosophy of the Saravana Stores is "Low Margin – High Turn Over". Obviously, the price and quality of the product are important aspects to attract customers. Hence, they are providing a wide variety of products at discounted prices under one roof.
Revenue
The revenue of the company Saravana Stores is reported annually as 2495 crore which is 300 million US dollars.
Average Salary for Saravana Stores Employees
The average salary package for Saravana Stores employees annually ranges from 1.0L -4.5L per year. The 10% of top employees get around 6L per year and other higher position employees get around 40L per year. Hence, the salary is reasonable and it depends on the employee's position, performance, and experience.
Check Also: Saravanan Arul (Legend) Age, Net Worth, Wife, Height, Biography & More
Frequently Asked Questions (FAQs)
1. Where is Saravana Stores headquarters located?
Headquarters of the Saravana Stores located at Purasawalkam, Vepery, Chennai-600007.
2. Who is the current Chief Executive Officer of Saravana Stores?
The current CEO of Saravana Stores is Soundhar RV
3. Who are considered to be Saravana Stores's worldwide Competitors?
The competitors of the Saravana Stores are considered to be Alfamart in Indonesia, Frigelar in Brazil, and Great Outdoor Shop in US.
4. Who is the Saravana Sores Brand ambassador?
Mr. Saravana Arul is the brand ambassador of Saravana Stores.
Final Words
In Chennai, Saravana Stores is one of the popular stores to shop all kinds of products for a family at one stop. Currently, online shopping facilities are also available for a wide range of products. Also, the store provides an exciting shopping experience with its premium products at affordable prices.
Saravana Stores was awarded as a "Best Big Store of the Year" by the Indian Retail Forum. Overall, Saravana stores is an authentic retail chain in India, which always satisfies the customer's needs.