Your home is one of your greatest assets so it's important that you take care of it but more often than not some small tasks can go overlooked and while they may only take a few minutes to complete, they could cause lasting damage that takes hours or is costly to have repaired. 
One of these menial tasks is checking over your guttering regularly, it's not a task you need to do daily but even a couple of times a year can help protect your home from leaking, damp patches and mould growth. Your guttering does more than simply funnel away the water that lands on your roof but provides damp proofing for your external walls, protecting against excessive moisture that can lead to penetrative damp and unsightly patches on your inside walls. Over time this can damage paintwork, cause wallpaper to peel and more drastically, begin to weaken the structure of your property.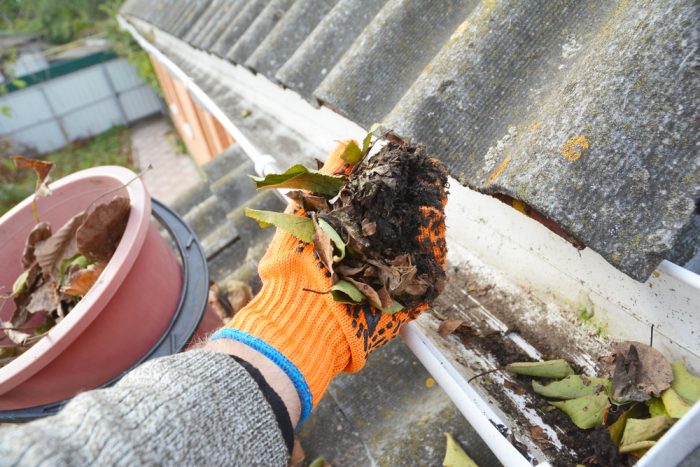 The Guttering and Downpipe Health Checklist
First, to check over the parts of your guttering properly, you should understand the different sections. You don't need to know all the different angles and brackets but you should be able to point out your guttering – the 'halfpipe' like, most likely plastic system that runs around the outside your home positioned underneath the lip of the roof. The downpipe, which is the section of pipe that runs down the external wall, to the part called the shoe, which is a short, curved section of pipe that directs rainwater into the drain. 
Some guttering systems may include a hopper – this was a common feature of Victorian properties that used heavier guttering systems with narrower pipes and needed to maintain a 'full flow' in the downpipe to prevent overflow. Also leaf guards or screens, these are more modern solutions to help prevent downpipes from becoming blocked with fallen leaves and other natural waste.
Clear the gutters
This job might need to be carried out more frequently depending on the season and if your home is surrounded by trees. It's important that your gutters are clear and free of all leaf litter and natural debris that can fall and collect there. Including taking out any leaf guards and screens and ensuring these are clean and free of any debris that may slow or prevent water flow. To check that you haven't got any blockages out of sight or in your downpipe, you can pour some water from the furthest point and check that it is free-flowing from the start to the drain.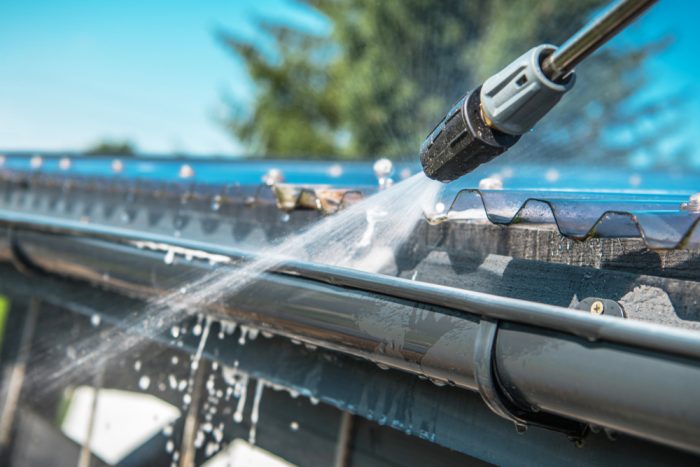 Alternatively, the best time to check your guttering for blockages is when it's raining as it's easier to identify where you might have blockages, as well as leaks or cracks that aren't as obvious in the sunshine or when there's only a small flow of water. Just make sure to take extra care, especially if working at height on ladders or scaffolding that might become slippery when it's raining. If you can clearly see your guttering from the ground, don't attempt to assess it at risk. 
Check the downpipe for leaks
If your downpipe has a crack, split or unsecured joint, it isn't likely to be obvious and may result in water leaking from the unseen face where your downpipe meets your external wall. If this issue goes unnoticed for some time it can lead to issues with damp on your internal walls, cause damage to mortar between bricks and gradually wear away the brickwork itself leading to more expensive structural repairs than a simple online search for how to remove dampness from walls. 
While checking over leaks, it's recommended to check the quality of brackets that are holding the downpipe to the wall. Any unsecured or broken fixings could lead to damage to your downpipe or your downpipe pulling away from the wall, interrupting the direction of rain flow and resulting in extra moisture dripping onto your walls. 
Investigate the drain
The final part to check over is the shoe – the curved section of pipe leading to the drain and the drain itself. The shoe should be checked to ensure that it is pointing in the right place without resulting in too much water splashing around the drain rather than going down it, this can be a result of the shoe being too high or set too far forward over the drain. You should also ensure that drains are free of any obstruction including natural debris and blockages that prevent water from free-flowing. This is even more important during winter when temperatures can drop to freezing overnight, if your drain is blocked, leading to rainwater landing around the drain and potentially flowing onto your drive or walkways, this will freeze overnight and become a slip hazard. 
By carrying out each step of this guttering checklist once a quarter or after particularly extreme weather, you can ensure the longevity of your guttering and downpipes and help to support your guttering in protecting your home from the elements. She is a content writer & editor for more than 12 years. She usually writes about technology news, country news, arts & science, travel & automobiles. She used to test the product and write reviews for popular magazines.