Choosing a mattress that would help you sleep soundly is not easy.
Especially in a rapidly growing market.
However, knowing your sleeping position might ease your search by helping you narrow the range of suitable options.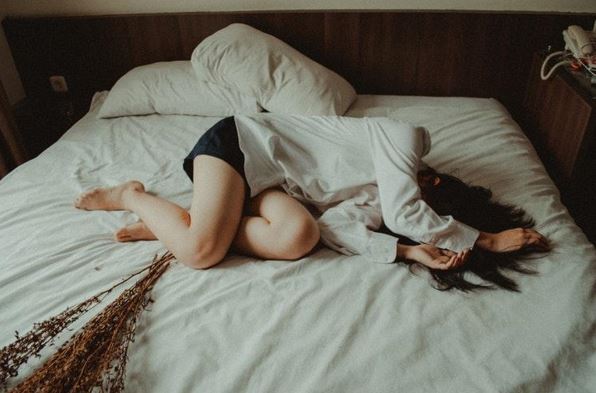 So, here's everything you need to know about side sleeping, along with an overview of 3 most recommended mattresses for side sleepers.
Pros and Cons of Sleeping on Your Side
According to recent studies, 74% of Americans sleep on their side. This somehow resonates with the statement that sleeping on the back is the most comfortable position.
But that's a fact. We do like to sleep on the side, and researchers explain this by the resemblance of side sleeping to the fetal position. Thankfully, it not only feels comfortable but also has a lot of health benefits, such as:
snoring prevention;
digestion improvement;
lymphatic system boost;
brain waste cleansing;
heart health support;
It should be noted that most of these advantages are specific for sleeping on the left side, but this does not mean that sleeping on the right one is unhealthy.
In fact, if you switch sides during the night, you might avoid the most common downsides of side sleeping:
hip and shoulder pain;
"rubber hand" syndrome;
neck strains.
And the best thing is:
Most of these issues can be solved by choosing a comfortable mattress.
"Side sleeping is a highly recommended pose for pregnant women, as it doesn't allow the womb to squeeze large blood vessels and internal organs."
What Makes a Good Mattress for Side Sleepers?
Here are the key things you should consider when looking for a perfect mattress for side sleeping:
Proper support. The aim of a good mattress is to maintain proper spine alignment in your favorite sleeping position. This is crucial for side sleepers since their shoulders and hips, if lack cradling, can easily put the entire spine out of alignment.
Relief of pressure points. Hips and shoulders are the most protruding parts of your body when you're lying on your side. Thus, they are the areas where your body resists the mattress most actively, which creates pressure. If your mattress isn't able to relieve that pressure, you risk waking up with morning pain.
Breathable materials. Deeper sinkage means more heat around your body. To avoid waking up in a pool of your own sweat, choose a mattress from materials that absorb and conduct heat well.
What Mattress Type Will Be the Most Comfortable for a Side Sleeper?
The type of mattress is not the determining factor but still very important when it comes to defining whether a bed is suitable for side sleeping or not.
In the list below, the most common mattress types are reviewed according to how they match the needs of side sleepers:
Memory foam. These are the best fit for side sleepers, as they perfectly conform to the body curves, relax the pressure points, and support the correct spine alignment.
Latex. These are a choice of eco-enthusiasts. Latex has excellent breathing properties, so you probably won't need a cooling topper. Also, latex adapts well to the body shape but may sometimes be too firm for lightweight side sleepers.
Hybrid. These mattresses usually combine coils and comfort layers of various materials. In general, side sleepers who lack the bouncy feel in their bed might rely on this mattress type. It provides the most balanced support and compensates for pressure points without creating awkward curves.
Innerspring. The technology used in the manufacturing of these mattresses has not changed much since their invention. The spring block has excellent breathable properties and provides adequate edge support (the latter means that you will not roll off the bed while sleeping). However, these mattresses in the majority of cases aren't suitable for side sleepers because they lack cushioning.
"Pay attention to mattress certifications. OEKO-Tex, GreenGuard, Certipur-US, and other independent organization are responsible for testing mattress materials. Their logo may ensure you that the product you chose is safe for your health."
Choosing the Right Firmness
Both too firm and too soft mattresses will not provide you with proper comfort. So, firmness is a priority when choosing a mattress for side sleeping.
So, according to the universal scale from 0 to 10, where 10 is the firmest, mattresses are divided into:
Soft (4-5/10). These mattresses offer users a lot of cushioning, which is perfect for side sleepers. Note that softer mattresses might be made of less dense materials (and hence have lower durability). So, make sure to choose a quality product.
Medium (5-7/10). This is the optimal choice, as it might work for all positions. Side sleepers will find good support for their back and a sufficient amount of cushioning to cradle their pressure points. Medium is also a perfect firmness for combo sleepers, i.e. those who switch from their side to their back or stomach during the night.
Firm (7-8/10 and up). This level of firmness won't work for sides sleepers in most cases, as firm mattresses promote even larger pressure in hip and shoulder areas. However, they might sometimes be a good choice for heavier side sleepers.
"Remember that some manufacturers might evaluate the firmness of their mattresses using their own scale, so testing a chosen model yourself should remain the best way of understanding if the firmness is suitable for you."
Can a Side Sleeper Sleep Cool?
One of the main issues that a side sleeper faces more often than those who sleep in other positions is sleeping hot.
That's because sleeping on the side — especially on a soft mattress — creates more sinkage. Thus, the contact area of your body with the mattress increases and more heat is starting to accumulate.
Here is what you can do to solve this problem:
choose a mattress made of natural materials, such as latex, or a hybrid model with a more breathable design and incorporated cooling technologies;
purchase a cooling mattress topper, which will serve as an additional layer of comfort and will promote heat withdrawal during the night;
equip your bedroom so that it maintains a suitable temperature (60-67 degrees).
"Besides feeling good overall, a cooler environment promotes a more restorative shut-eye time and prevents insomnia."
3 Best Mattresses for Side Sleepers
Now, you understand that just any mattress cannot meet all the needs of a side sleeper. But the 3 mattresses below can (according to user reviews). So, if you're a side sleeper planning to replace your old bed, check them out.
Puffy Mattress
The manufacturer of this model took into account all the main problems of those who are sleeping on their side. The mattress construction ensures pressure point relief while maintaining a side sleeper's spine in the correct position.
A layer of gel memory foam is designed to make you sleep cooler and another foam layer uses a proprietary formula to prevent temperature fluctuations. Altogether, this allows for a more thermally comfortable environment (and hence better sleep).
Saatva
The Saatva mattress has, perhaps, the best hybrid construction on the market. For enhanced support and a balanced feel, it uses a coil-on-coil structure consisting of individually wrapped coils placed on a solid steel block.
Back pain relief is another advantage of this mattress. For this effect, a layer of durable foam is placed in the lumbar area. If this seems not enough for you, then the cooling properties will definitely blow you away: aside from the coils promoting air circulation, the Saatva also features a cover made of breathable, organic cotton.
Nolah Original 10
This one is a model with great value for money for those who want a plush, "hugging" feel typical of memory foam but don't want the overheating that usually comes with it. The Nolah Original has a medium firmness that will suit most side sleepers.
The company uses the proprietary blend they call AirFoam. It is claimed to be a more breathable, more durable, and more cradling than traditional memory foam. This bed also absorbs motion very well, which makes it a superb choice for couples.