Choosing a grill can be tricky. There's a difference between finding the Best Charcoal Grill and finding the best grill for your needs.
A truly fantastic grill with all of the bells and whistles probably isn't right for you, for instance, if you are simply looking for a great portable grill for camping or traveling.
On the other hand, an amazing portable grill probably isn't of much use to your if you are planning on regularly grilling for more than a small handful of people. We've compiled some information here to help you research not just the best grill, but the Best Charcoal Grill for your needs.
Top 10 Charcoal Grills Review:
Best Charcoal Grill Under 200$
Lodge L410 Pre-Seasoned Sportsman's Charcoal Grill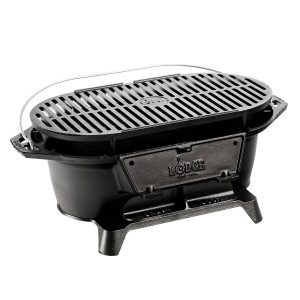 For those unfamiliar with the brand, Lodge has made a reputation for itself as being a company that produces the finest, most durable cast iron products on the market.
Purchasing any given Lodge product is typically a great buy, and this grill is no exception. While this is a smaller grill, this is an excellent grill for anyone hunting, fishing, hiking, or those enjoying the great outdoors in general, as the name of the model implies.
Since this article is a run-down of some of the most popular charcoal grills on the market, you may have already surmised that this grill doesn't require propane or any outside power source, just charcoal coals and a way to light them.
The grill's design takes into account on of the drawbacks of cooking with coals- the lack of fine control over cooking temperature. By incorporating 2 adjustable cooking heights into the grill's design, many of the inconveniences that often accompany smaller charcoal grills are eliminated.
The coal door also functions to adjust the airflow to the coals themselves, providing yet another method of controlling the temperature of the cooking surface. Combined with the compact size of this grill, this makes the Lodge L410 an excellent candidate for travelers.
Although this is a smaller grill, coming in with a cooking surface of 17 ¼ x 9 inches, don't underestimate the utility and general usefulness of the Lodge L410.
The Sportsman's Charcoal Grill gives you just a hair under a foot and a half in width and 9 inches of depth, which is plenty of room to prepare a meal for a small company of travelers.
The portability of this grill means that it is ideal for any application that requires a self-contained cooking device, such as tailgating.
Pros:
Portable
Durable
Flexible Temperature Controls
Cons:
Small cooking surface makes this impractical when cooking for several people.
Best charcoal Grill for the money
Weber 15501001 Performer Deluxe Charcoal Grill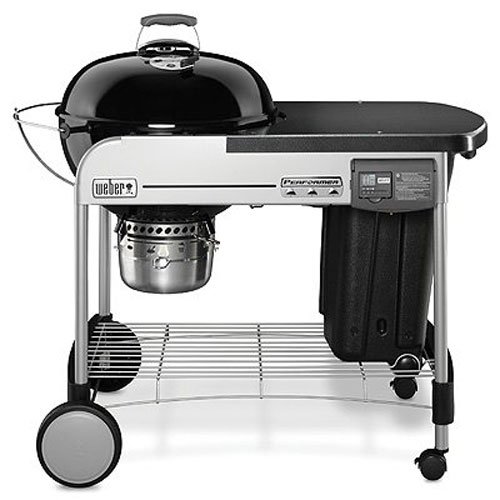 Those that are experienced with grills will recognize the Weber name as a brand that virtually guarantees quality.
The 15501001 Performer Deluxe Charcoal Grill is no exception- this particular model seeks to bridge that gap between charcoal and gas grills by providing the best of both worlds.
This Weber grill lets you get the flavor and joy of cooking with charcoal while still providing the easy-start of cooking with gas; by incorporating a gas started into the 15501001 Performer Deluxe Charcoal Grill, Weber allows us to start our coals with ease by simply pushing a button and standing back.
The features that make this grill a "deluxe" model do not stop there, however. The 22 inch diameter model provides a cooking surface of 363 square inches- more than enough cooking surface for nearly every occasion.
Often times, scraping and cleaning a grill can be one of the most frustrating aspects that tarnishes the grilling experience.
The 15501001 Performer Deluxe Charcoal Grill comes equipped with the One-Touch cleaning system, as well as a high-volume aluminum ash-catcher underneath the grill which allows you to simply collect the ash that accumulates during cooking and cleaning, making it simple to discard of it as necessary.
Other impressive inclusions in design, such as the built-in thermometer, help in ensuring that the grilling experience remains as pleasant as possible.
Maintaining the premium grill temperature is essential when trying to grill lunch or dinner to the perfect level of denseness, and installing an after-market thermometer often leads to incorrect temperature readings.
Combined with the removable LCD cook timer, and the porcelain-enameled bowl that helps to contain heat and regulate temperature, the 15501001 Performer Deluxe Charcoal grill makes it a breeze to grill everything "just right."
Pros:
Push-Start Gas Igniter
Medium Cooking Surface
Built-In Thermometer and LCD Timer
Cons:
Fairly large when assembled if compared to other grills with comparable surface area for cooking
PK Grills- The Original PK Grill and Smoker
The Original PK Grill and Smoker is an American classic. The sleek aluminum grill capsule isn't just reminiscent of the PK Grill and Smoker that was prevalent in the 1950's- in any number of ways, it absolutely is the PK Grill and Smoker that was so common in the United States over 60 years ago.
The body of this grill is loyal to the original design and is still hand-poured in the U.S., just as it was in the 1950's. The design behind The Original PK Grill and Smoker is an outstanding example of "if it isn't broke, don't fix it." This grill isn't simply a stylish cooking tool- it's practically an American heirloom.
Although pedigree isn't the only thing that PK grills have in their favor, it is a tremendous factor. The tradition behind production of PK grills notwithstanding, PK grills still have an outstanding edge on rival grills- in both 2015 and 2016, the Steak Cook-Off Association International Grand Champions both used PK grills. These grills aren't just fantastic grills for home- even the professionals have been known to rely on PK grills.
The Original PK Grill and Smoker offers a dual-design. This particular model of PK grill isn't designed to be used with only charcoal briquettes, but also allows for the use of hardwood charcoal lumps.
This provides the option to heat up the grill, cooking hot and fast, or to build the temperature, providing a space for a slow and steady barbeque. Combined with the thick-cast aluminum body and the four-way ventilation system that is built into the body of the grill, The Original PK Grill and Smoker provides excellent temperature management, making precision control of temperatures anywhere from 180 degrees Fahrenheit up to 700 degrees Fahrenheit easy to maintain.
Pros:
Functions great as a grill or smoker
Easy to control and maintain cooking temperature
Time-tested, durable design
Cons:
Quite old fashioned- many modern innovations are entirely absent.
Dyna-Glo DGN576SNC-D Dual Zone Premium Charcoal Grill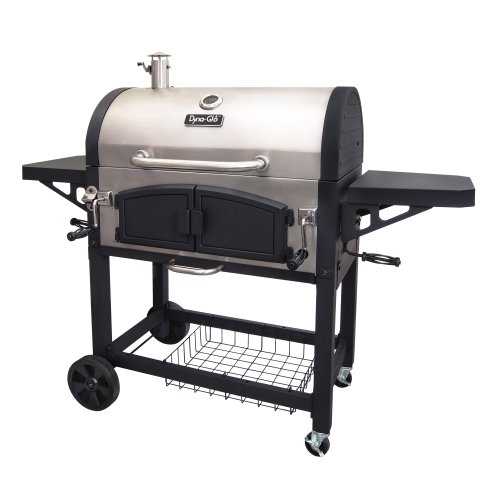 The Dyna-Glo Dual Zone Premium Charcoal Grill lives up to the "premium" nominative in its title in every way. This grill comes complete with a number of features and functionalities that make the grilling experience a true luxury. Depending on what it is you're looking for in a grill, there's a strong chance that the Dyna-Glo Dual Zone Premium Charcoal Grill has it.
The first truly fantastic aspect of this grill is the porcelain-enameled, cast-iron cooking grates. The design behind these grates helps to ensure that the maximum amount of heat is transferred, not only cooking down on cooking time but helping to avoid both hot and cold spots across the massive 816 square inches of cooking space inside the Dual Zone Premium Charcoal Grill. It can often be difficult to visualize space based on dimensions alone, but understand that 816 square inches is enough grilling space to cook 30 hamburgers at once.
The Dual Zone Premium Grill gets its name from a tremendously handy feature that allows for the creation of two completely separate cooking areas with two different cooking temperatures, both of which are easily controllable. By inserting the removable steel firebox divider and adjusting the level of the cooking grates accordingly, the Dual Zone Premium actually lets you have the benefit of cooking on two separate grills at once. Using the dual tray adjusting cranks allows you to fine-tune the grilling process across the dual zones even more precisely.
If you find yourself frequently cooking a considerable amount of food for whatever reason, the Dyna-Glo Dual Zone Premium Charcoal grill might just be for you- the considerable size of the grill can make it somewhat impractical for cooking smaller amounts, but the dual zone functionality of the grill helps to offset some of this inconvenience whenever you want to fire up the grill for a smaller function.
Pros:
Easy to control cooking temperature on both sides of the grill; allows for variety.
Massive amount of cooking space.
High quality of build.
Cons:
Absolutely massive cooking space might be a waste if you do not often cook for large groups.
Best small charcoal grill
Cuisinart CCG-190RB Portable Charcoal Grill, 14-Inch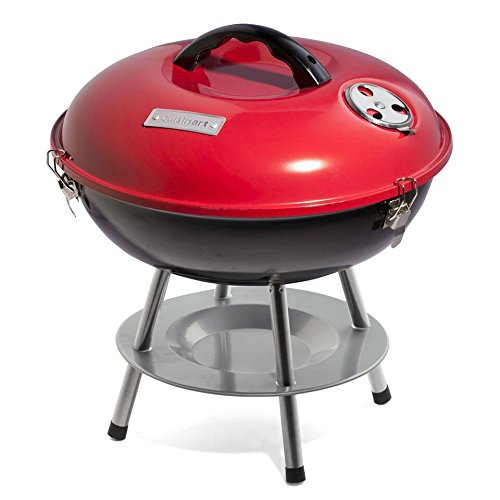 If you are looking for a traditional charcoal grill, but portability is an absolute must, this might very well be the grill for you. Cuisinart is a trusted brand among those in the culinary world, so rest assured this is a quality product with several great features. If transportation is a key component on your grill quest, the Cuisinart Portable Charcoal Grill only has a 14-inch diameter, making it easy to carry and store. When assembled, this grill is only 15 inches tall, making it compact in every way. It has three secure lids that lock down to ensure easy and safe transportation.
For better understanding, have a look at the review of portable charcoal grill.
Despite the small diameter, the Cuisinart Portable Charcoal Grill still provides over 150 square inches of cooking service- ideal for small groups. The enamel coated firebox is durable, ensuring that the grill should survive transportation unscathed and provide a long lifetime of service. Even if subjected to extreme conditions or destroyed, one of the most appealing selling points for this grill is price. It is the best cheap charcoal grill in the market.
Functionality is not sacrificed to make room for ease of transport. The Cuisinart Portable Charcoal Grill comes with an ash-catcher for easy cleanup, and the durable lid has two vents built in to help you control the airflow and cooking temperature of the grill. All in all, this grill weighs in at a whopping 2 pounds, making it easy to transport and carry.
Pros:
Extremely easy to transport due to small size and weight.
Dual vents help control temperature.
Low price.
Cons:
Grill was designed with portability being a key feature- not suitable for cooking for large groups.
Weber 14401001 Original Kettle Premium Charcoal Grill, 22-Inch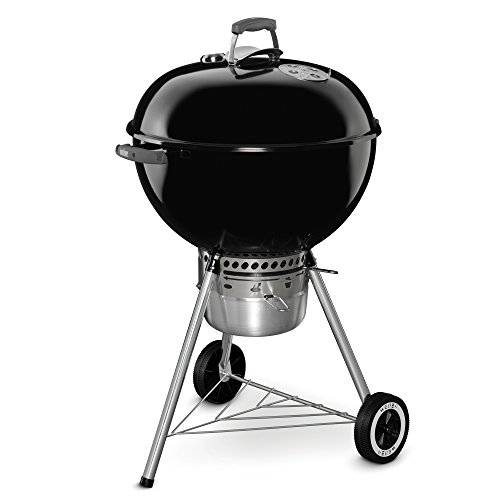 Like other Weber products, the name of the manufacturer should inspire a bit of trust in those interested in purchasing this grill. This particular Weber grill is very much reminiscent of the "traditional" charcoal grill design. Just because this grill might be somewhat old-fashioned, however, does not mean that it does not go a long way towards meeting the needs of the modern consumer.
With a space-conscious 22 inch diameter, the Weber Original Kettle Premium Charcoal Grill offers 363 square inches of cooking space- enough space to cook for several people at once. The bowl of this grill is porcelain-enameled, ensuring that the grill itself is both durable and an excellent insulator, helping to maintain a steady cooking temperature. The grill also includes a pre-installed thermometer in the lid, making it a breeze to find the perfect grilling temp.
The Weber Original Kettle Premium Charcoal Grill includes the aluminized steel "One-Touch" cleaning system, making cleaning the cooking grates in the grill a simple matter. The "One-Touch" cleaning system is accompanied by a hefty aluminum ash catcher, which makes emptying the ash that accumulates at the bottom of most charcoal grills a simple matter. As the cleanup after cooking an enjoyable meal is one of the least enjoyable aspects of the process, this grill brings a pleasant change to the grilling process.
Pros:
Durable
Easy to clean
Easy to control temperature
Moderate size
Cons:
Moderate size
When compared to many other modern grills, this model has few frills.
Best Portable Charcoal grill for camping
Napoleon NK22CK-C Rodeo Charcoal Kettle Grill with Cart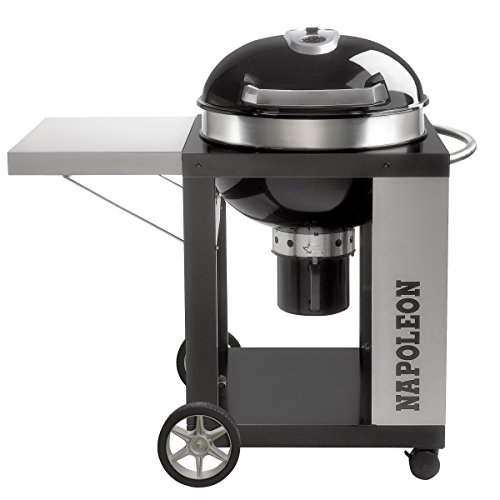 The Napoleon Rodeo Charcoal Kettle Grill with Cart combines portability with many of the more desirable features of higher end charcoal grills. For example, the lid of this particular grill is made of a durable, heavy grade porcelain. This heavy porcelain is excellent for insulation, ensuring efficiency and effectiveness in controlling the cooking temperature; the heavy porcelain lid is also durable, helping to ensure the grill provides you with a long life of service.
The cart in which the grill itself is secured is a major contributor in making the Napoleon Rodeo Charcoal Kettle Grill a desirable model. The cart itself has ergonomic wheels on all four legs, making it a breeze to wheel the grill from one location to another. However, for the consumer that isn't interested in moving the grill from one place to another, it's likely that the biggest selling point of the cart is the fold-out stainless steel shelf that provides extra prep space, a potential deal-breaker if you find yourself cramped for cooking and prep space.
The grill itself provides 365 square inches of cooking space, more than enough when cooking for a modest number of people- for comparison, this is larger than a portable grill, but quite a bit smaller than some of the larger grills discussed elsewhere in the article. This makes the grill unsuitable for cooking for a significant number of people, but provides ample space for most cooking situations. Additionally, the heat diffuser helps to keep the temperature steady, and the high-capacity ash-catcher helps make clean-up a breeze.
Pros:
Extra Prep Space
Heavy grade porcelain lid
Ergonomic cart
Cons:
Although the cart has wheels, making this grill transportable, at 85 pounds this is more of a stationary fixture that a movable one.
Best cheap charcoal grill
Char-Griller Akorn Jr. Kamado Kooker Charcoal Grill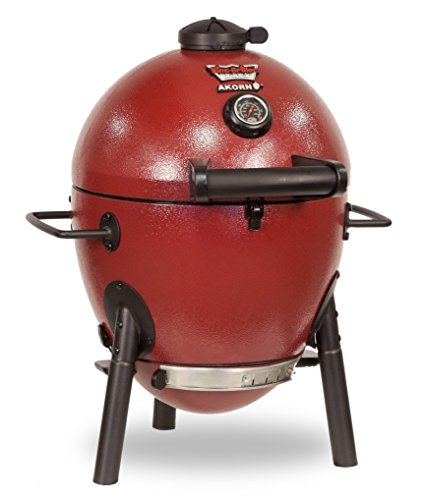 While the Char-Griller Akorn Jr. looks a bit different than your average charcoal grill, the Kamado style grill is becoming more and more popular in recent years. The acorn shaped grill, while somewhat unconventional in appearance, is excellent for ensuring that the cooking surface across the entirety of the grill is constant.
Arguably one of the biggest problems that many grilling aficionados face when dealing with lower quality grills is an uneven cooking temperature across the surface of the grill, often leading to overcooked or undercooked food- sometimes this occurs even in the same piece of food. The Akorn Jr. avoids this problem entirely.
The Char-Griller Akorn Jr. seeks to bring the excellence in temperature control that the kamado style grill affords to more portable, more affordable options. Many grills made in this style are made of ceramic that, while an excellent material for grilling, can be quite heavy. The Akorn Jr is scaled down and made of a lighter material to provide an even cooking surface in an easily transportable grill. This grill is ideal for tailgating, camping, or for RV owners that want to bring the fun of grilling out on the open road.
Pros:
Kamado style grill
Light weight material
Made with transportation in mind
At 146 USD, much cheaper that other Kamado style grills.
Cons:
The price might be a bit steep for the size, given that this is a portable grill.
As this is a hybrid between other Kamado style grills and portable grills, you lose some of the big selling points of both: particularly the ceramic body of other Kamado grills, and the light weight of other portable grills is sacrificed. Also, if you interested to get Kamado grill, feel free to read about them in this review.
Royal Gourmet BBQ Charcoal Grill with Offset Smoker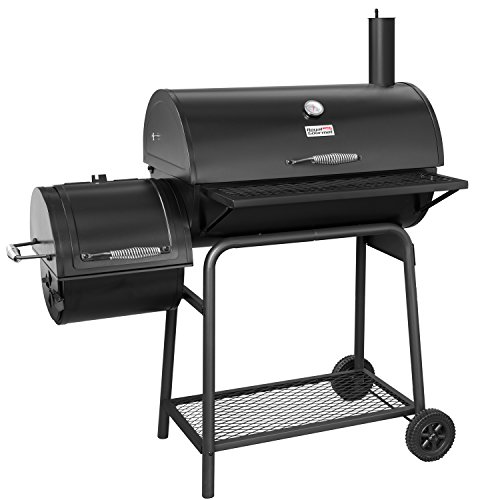 If you're looking for a charcoal grill that has all of the functionality of a traditional charcoal grill with the added benefit of functioning as an excellent smoker, the Royal Gourmet BBQ Charcoal Grill with Offset Smoker might be exactly what you're looking for. Despite being both a grill and a smoker combined into one, this model is small enough to fit on most patios and porches.
Don't let the compact design fool you, however- the main charcoal chamber provides 440 square inches of cooking surface, larger than most traditional charcoal grills, and has an extra 182 square inches of cooking space in the smoker; the grill also includes 180 square inches of space in the warming rack, bringing the total cooking area to 802 square inches.
The sides-smoker and main chamber share a seamless connection, ensuring that the side-smoker heats up quickly and efficiently. The adjustable damper ensures optimal air flow to help maintain the optimal cooking temperature, which you can monitor easily from the professional-grade thermometer that is installed in the heavy-duty lid.
Pros:
Excellent combination of both grill and smoker.
Durable build quality.
Lots of cooking space.
Cons:
Smoker is a bit on the small side; limits amount of food that can be prepared by smoking.
Camp Chef PG24DLX Deluxe Pellet Grill and Smoker BBQ with Digital Controls and Stainless Temp Probe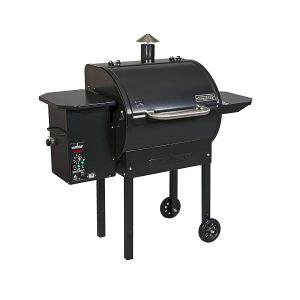 The Camp Chef Deluxe Pellet Grill and Smoker might just be one of the most advanced pieces of grilling technology on the market. This grill seeks to combine the traditional taste of expertly grilled or smoked dishes with the ease of digital controls. By providing a digital temperature control that feeds pellets to meet the desired temperature, this model provides a "set it and forget it" approach to grilling and smoking, even going so far as to include a meat probe to make sure that your meat is cooked to the appropriate temperature.
The cooking area of the Camp Chef Deluxe Pellet Grill and Smoker is a sizeable 570 square inches- not the largest grill we've looked at, but certainly one of those on the larger side of the spectrum. Designed for temps between 150 and 500 degrees Fahrenheit, this grill should be able to handle nearly anything you throw at it.
For those that are technologically averse, the Camp Chef company provides a video to make getting started with this grill easy.
Get to know more about this product by watching this video.
Pros:
Digital controls make the grilling and smoking process nearly foolproof.
Durable Design
Large cooking area
Cons:
One of the more expensive options reviewed in this article.
Could be challenging to those averse to technology.
Smoker is a bit on the small side, limiting the food that can be prepared via smoking.
What is Charcoal Grill & Its Fuel Source:
Charcoal grill uses Charcoal briquettes or natural lump charcoal as their fuel source. If we burn these sources it transforms into heat radiation that leads to cook food.
Many of you confused about which charcoal is best for grilling. Let me explain.
Users of charcoal briquettes told it was really amazing to cook. It is uniform in size, burn rate, heat creation & quality is awesome compared to natural lump charcoal. If you using natural lump charcoal then you have to face following problems:
It produces lots of smoke
high heat production
Lack of binders and filters
There are many charcoal grill configurations are available. Some grills having lid and other don't have. Square, round, rectangular charcoal grills are available. Some charcoal grills having venting system for heat control and others do not. So, how to find the best one in all category. Read carefully to understand everything about charcoal grills here.
Types of Charcoal grills:
There are ten different types of charcoal grills available. Those are:
Brazier : This is the most simple and inexpensive type of grill. It has a wire metal sheet and cooking pan with charcoal and the heat adjustment is done manually by either raising or lowering the cooking grid. This however does not have lid or venting system.
Pellet grill : Pellet grill is the most complete type of grill as it can be used as a smoker, barbecue and grill. This type of grill is fueled by hardwood pellets comprising of saw dust and vegetable oil that is loaded into hopper and fed into the fire box. Pellet grill's main advantage is its temperature versatility which is controlled by a thermostat.
Shichirin : Shichirin is traditional Japanese cooking utensils using charcoal heat. These are made of aluminium or cast iron and used in the teppanyaki style of cooking. These are also known as hibachi (traditional Japanese heating device).
Its similar to brazier style, in adjusting the heat by moving the grid up and down and they do not contain any lid whereas some type might contain venting system to control heat.  As they are very small in size they are very portable and often used by travelers around the world.
Kettle : This is the most commercially successful grill and considered as a classic American design, invented in 1951 by George Stephen. This has a lid cooking charcoal grid, venting system and legs. On some design there also wheels and ash catcher. The lower charcoal chamber is in shape of a kettle thus the name.
Barrel : Barrel grill gained its name as a standard fifty five gallon barrel is cut in half of which the lower half contains the cooking and charcoal grid and the upper half forms the lid. Vents are cut into both upper and lower half of the barrel to control the airflow. This is the most primitive forms of grill and like the kettle grill is best suited for barbecues.
Ceramic cooker : Shichirin the traditional Japanese grill was originally constructed of ceramic as it retains heat more efficiently than others hence its very apt for smoking, grilling and barbecue. For 3000 years ceramic cookers have been around however the more recent designs have been influenced by the mushikamado now more commonly referred to as kamado.
Tandoor oven : Tandoor oven is also an infrared grill and oven. It is mainly used in cooking Indian, Irani, Pakistani dishes and naan. In the oven the charcoal is placed in the bottom and meet and other items are placed in skewers and are exposed to direct infrared heat and temperature of the oven. Since it can reach high temperatures it can cook meat quickly than others.
Portable charcoal : As the name suggests this is the most portable type of charcoal grill usually in rectangular shape which fits in the trunk of car. This falls technically into brazier or kettle grill category. There are models with or without lids and venting system.
Portable Backpack Grills : Super lightweight and easy to carry in a backpack gives it the name backpack grill. There are variations in backpack grills and generally backpack is provided with the grill.
Lets see top 10 best Charcoal Grills. Before looking into it in-depth, just watch the educational video of charcoal grilling tips much useful for beginners.
How to use a charcoal grill?
Clean the grates and remove the ashes from last meal

Determine how much charcoal is needed. One layer is ideal for burgers & steaks. If your cooking something that takes longer to cook like roast or chicken you'll need two layers.

Heat up the charcoal. There are several options like chimney starter, organic fire starter, electric charcoal barbecue starter.

Before you put any food on the grill make sure the coals are hot. Lump charcoals resemble hard coals with little smoke while briquettes will start to turn white and grey. Using long-handled tongs spread the coals evenly across the grill box.

Lightly oil the grill with cooking oil and a brush

If your grill has temperature control set the desired temperature or else, control the temperature by opening and closing the vents. If your grill has a lid then open it to increase the fire or close it to dampen the fire to create more radiant heat to cook food faster.

Once your done cooking close all the vents and scrub the grill with a brush while they are still hot. Close the lid and allow the coals to slowly extinguished.
How to light charcoal grill?
a) Chimney starter:

It's a metal cylinder that you fill with charcoal. Add newspaper to the bottom and light up in several places to ignite the charcoal. Give it ten minutes and once you see flames coming up the top carefully pour the charcoal into the drum of the grill and add additional charcoal if needed.

b) Organic fire stater:

They are all natural cubes that are highly inflammable. Place these between the charcoal and simply light them up and allow them to heat up the charcoal.

c) Electric charcoal barbeque starter:

You simply place the electrical starter buried into the charcoal and switch it on. Wait until it turns red and heats up the charcoal. It's a great option of safely lighting coals.

d) Lighter fluid:

Assemble the charcoals in shape of a pyramid so that it lights up easily when they together. Read the instructions on the lighter fluid and pour it into the charcoal pyramid. Never use the fluid on a burning fire or elsewhere.                           
Charcoal vs gas grill
When you talk about grilling the biggest debate is Gas vs Charcoal.
Gas Grill: Arguably one of the main benefits main benefits for a gas grill is speed. You can turn it on, instantly have a hot surface. when you turn it off it cool down much faster. You can control the temperature to the much finer degree. Raise or lower the flames to increase or lower the heat depending on what your cooking and what your needs are. It burns much cleaner without any smoke.
Charcoal grill: A lot of people say that charcoal has drawbacks and sometimes its true. You have to do something with the ash when you are done with it. Also, there is a potential fire hazard if the coals fall off. Despite these drawbacks, there is plenty of benefits cooking with charcoal grill. You could move the coals around and cook with zone heating. You could also add some wood chips if you need some extra smoke for flavor and a charcoal grill (could reach up to 1000 degrees) will get much hotter than a gas grill (550 degrees) possibly could. If you have the right type of coals and the right type of meat that's actually hot enough where you can cook directly on top of the coals and that's something you can't do with the gas grill.
Why do you prefer charcoal for grilling?
There is an issue of taste because if you have a gas grill you just taste the meat there is no charcoal flavor. Charcoal outshines gas grill with a very distinct flavor that it imparts while you're cooking the meat and that's what people generally think of when we say grill. With gas you don't get that however you get the char as its cooked over the fire but the taste isn't the same. If that's not for you much rather taste steak just like steak get a gas grill but if you got a bit more time and if your willing to do some cleaning and get creative with the flavor get the charcoal grill.                                                    
Tips for First time using a charcoal grill?
Choosing the grill :

Well Gas grills are easier to use but they can never replicate the smoky flavor of the charcoal grill. When your a beginner its advisable to go with a small classic model like Weber Smokey Joe as it is usable in an apartment or small backyard. Do not get overwhelmed by the range of models available in the market.

The equipment:

The main equipment for grilling is a pair of long tongs. Other than that cleaning brush, long-handled spatula, basting brush and a wire basket for grilling veggies fish and aluminum foil.

Type of Charcoal:

There are only two types of charcoal for Lumps and Briquettes. Lump charcoal burn cleaner and hotter while producing less ash. Briquettes, however, are cheaper and burn longer but are less pure with sawdust and additives like vegetable oil. If you want to save money get the briquettes or if you want the flavor take the lump charcoal method as briquettes does not match it in flavour.

Lighting it up:

There are different methods to start the fire  Chimney lighter, organic fire starter, electric barbecue starter and lighter fluid so practice whichever is easy for you. However, the lighter fluid is usually not recommended as it is harmful to the environment as well as make a difference in flavor.

Setting the heat :

Knowing the heat is very important. The most simple and easiest way is to use the hand count method. If you can hold your hand one inch above the grill for six seconds its medium, four seconds its medium-high, for two seconds its high. Move the coal to adjust the temperature by spreading them to cool down and piling up like a pyramid to build heat. Also knowing how direct heat and indirect heat works will improve your skills vastly.

Choice of meat:

There is no meat that can't be grilled to perfection you just have to know how different types of meat benefit from different levels of heat. The other part for a perfect cooking is choosing the meat which is one to two inches in thickness. See if the cut is clean (marble like) and keep off extra fat to avoid flare-up.

Timing

: The time taken to cook always depends on the type as well as cut of meat, the amount of heat and individual preference whether you like it rare or medium. Timing can be perfected only through trial and error method.                                    
Best steak for charcoal grilling?
There is no particular steak to call it the best because different people like different things but there are the top six steaks:
Lean Japanese Wagyu

Irish ox tomahawk ribeye

Beef Wellington

Japanese matsusaka beef

Kobe beef tenderloin

Argentine black Angus ribeye steak                                                                            
Can you use charcoal in a gas grill?
Using Charcoal in a Gas grill seems wrong because both have their advantages but it's not often that a model comes around which combines both charcoal and gas in one grill. It is not the first time we're hearing about the hybrid grills as there have been cheap models for a low price. But now Charbroil has introduced a new hybrid Gas2Coal which is comparatively better than the older hybrid models. This grill has a tray in which you can fill the charcoal and place it on the gas grill. The gas flames heat up the charcoal through the holes in the tray. By rotating a lever you can either raise or lower the tray to control the heat depending on what your cooking, however, there are no vents in this grill.                  
How long to cook ribs on a charcoal grill?
Cooking a perfect rib eye steak on a charcoal requires patience. It takes about 3-3 1/2 hours depending on the meat and setup of the grill. Cook the steak in indirect heat (away from the coals) first bone-side down and then bone side up until the bones bend so that meat separates easily. Keep adding coals if needed.
How to clean charcoal grill?
Once you're done with cooking, scrub the grill with a brush while it's hot to remove the excess food particles. If your using charcoal, collect the remaining ash and dispose of in a way with no harm to the environment.
Charcoal Grilling tips Beginners
Summary:
As you can see, there are a wide variety of grills available at nearly every price point- regardless of your budget, it's likely that you can find a grill to suit your needs. If budget isn't that big of a concern, the liberty of being able to select your grill based solely on the qualities that best suit your needs provides plenty of options- whether you're looking for something portable, or looking for a massive grill that can cook 30 burgers at once, you can find the best charcoal grill to perfectly fill your needs.
Read more: She is a content writer & editor for more than 12 years. She usually writes about technology news, country news, arts & science, travel & automobiles. She used to test the product and write reviews for popular magazines.