Love BBQ? Are you looking for the best propane grill? Look no further than this article. This article has the best propane grill, Propane grills are not difficult to find but getting the best that suits your requirement and budget, definitely is.
Why propane grills?
There are two fuel variants available – natural gas and propane. Natural gas would require a gas line at the place you want to take the grill. At home, there won't be a problem. But when you would want to take it outside for a picnic into the mountains or onto the beach, a gas pipeline won't be available. The only rescue you can have is there is propane. This too comes in two forms – gas and liquid.
Cooking outside is huge fun. But there are a lot of things that you must look into before finalising one. This includes – the firebox, lid, wheels, carts, the construction (stainless steel), warranty, burner design, accessories, exterior grill dimension, grease management, utensil storage (if that is your requirement), BTU rating, durability and more. The joints and how well they are welded or assembled is an important factor too.
In this article, you will come across 2, 3 and 4 burner grills, including portable, tabletop and grills with gas tank gauges and temperature to help you make up your mind.
We have reviewed some of the top brands in the business – Cuisinart, Napolean, Weber and Char Broil. All of them have been rated highly by the consumers.
Buy it for yourself or gift it to someone, but before that, do have a look below at the top best propane grills. Here is an informative video on how to grill which is much useful for beginners.
Propane Grills Review:
1. Coleman Road Trip Propane Portable Grill LXE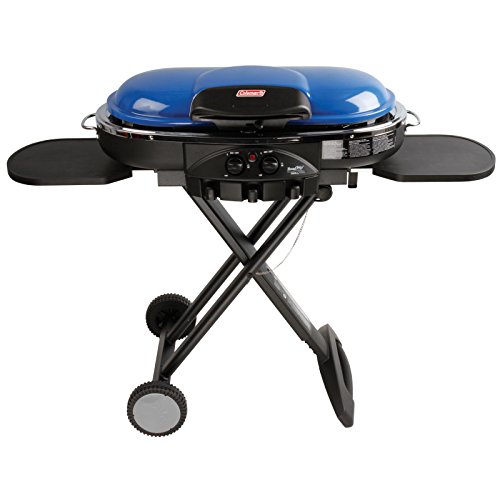 Traveling? Camping? Picnic? Take Coleman Road Trip Grill LXE along. Coleman Road Trip is just perfect for you when you want to cook for your love or a whole bunch. The portable grill comes with a fold-up stand which can be turned inside to carry along easily.
The 36-inch grill has 285 sq. in. cooking area.
The cooking power can be adjusted to a 10,000 BTU/burner. It has an InstaStart electronic ignition for matchless lighting with durable vitreous lid. The cooking surface is stainless steel case along with a cast iron cooking surface within tool holders and side tables.
It has a removable tray for grease management and a versatile mix match surface. It is all-in-one – stove, grill and griddle abilities. Cleaning is easy. The grill consists of cast iron grill grates, wrap resistant coated with porcelain. The extra grease tray can be slided out when it gets dirty with drippings, etc.
The control system, PerfectFlow, allows pressure regulation for uniform pressure from 1-lb. or 20lb. The grill is attached to 16.4 ounce disposable propane cylinder. It can operate for 2.1 hours when burning on high and 4.5 when burning on low settings.
The legs have two wheels at one end and a wide handle on another for towing.
Pros
InstaStart electronic ignition for push button
Separate control knobs for temperature control
Added space helps in preparing and storing
Cons
Warranty of 5 years (lesser than it should be)
2. Coleman RoadTrip LXX Grill, Black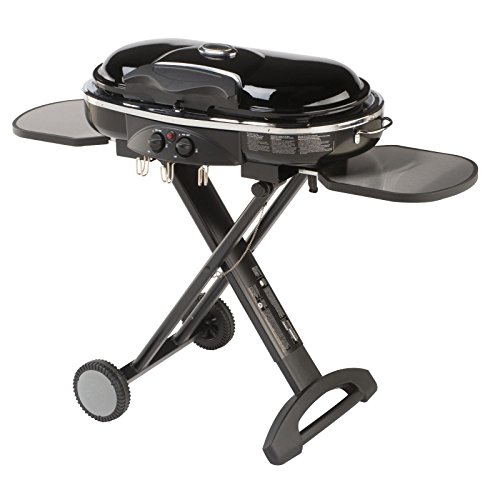 One of the best propane grills available is portable Coleman RoadTrip LXX Grill. The foldable design makes it convenient for anyone to take it on their road trip. Camping or lighting your picnic with hot food is just so simple with Coleman.
Coleman RoadTrip is portable, consists of an area of 285 sq. in. The two burners make it easy for you to adjust heat output up to 10,000 BTUs. This power is sufficient for cooking a variety of foods from steak to veggies and much more. Stainless steel table inserts with porcelain coated grill surfaces make it easy to clean.
Cooking out in the summers is great with Coleman. It is equally good for the cold weather owing to its PerfectFlow technology with a consistent energy output. InstaStart matchless lighting comes with a push of a button. It has a inbuilt thermometer.
While cooking, the side tables adjacent to the grill stoves help one have an easy accessibility to the ingredients and of course can be used for keeping the utensils. It can be folded easily, sets within a few seconds and then transported.
White plastic sheet makes packing easy for transportation. The sheet must be peeled away later.
Swaptop, switch for stove and griddle grates are available, but need to be purchased separately.
Pros
Large cooking space
Foldable wheels and legs make it easy to pack
Cons
One needs to buy essential accessories
3. Weber 46810001 Spirit E330 Liquid Propane Gas Grill, Black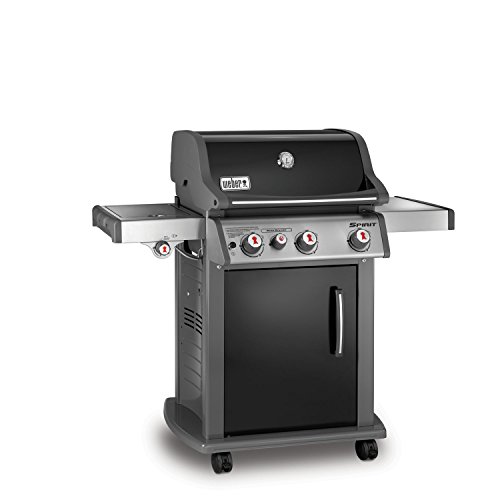 Weber 46810001 Spirit E330 Liquid Propane Gas Grill is the largest area wise – 424 sq. in. cooking space with 105 sq. in. warming rack. It has a 7500 BTU heat output between the left and the main middle burners. It has three stainless steel main burners, 10,600 BTU/each and 12,000 BTU/side burners. Also, there are 2 side tables, side burner, sear station, and a warming rack. Following video lets you know more about the product.
It has black porcelain enameled grates, flavorizer bars; single and housing door surrounding carts with stainless steel work surfaces. The hood is prepared with porcelain enameled steel. The burners are placed and connected from front to back. The control knobs are on the front panel. This leaves more space for working on the side shelf. The improved performance when cooking 2-zone turns it into one of the best propane grills.
The work surface is made up of cast aluminium and capes with integrated tool hooks. It reclines on four casters and has a battery powered ignition. The design is pretty sturdy. The grease drips onto a removable grease tray, hence the cleanup becomes simple and quick.  The grates too can be scrubbed and cleaned.
There is a barbeque organizer with 3 accessory hooks on both the sides of the grill. The LP tank fuel gauge indicates fuel level by weight. One gets 10-year burner warranty with two year parts warranty. There is also an excellent support in the form of manuals, grilling tips and FAQs with phone support and email.
It is durable, of high-quality and performs really well.
Pros
Need not pay anything for repairs or replacements
Porcelain-enameled cast-iron grates retain heat for even grilling
Durable
Cons
Expensive, but worth its price
4. Weber 61004001 Genesis II LX S-340 Liquid Propane Grill, Stainless Steel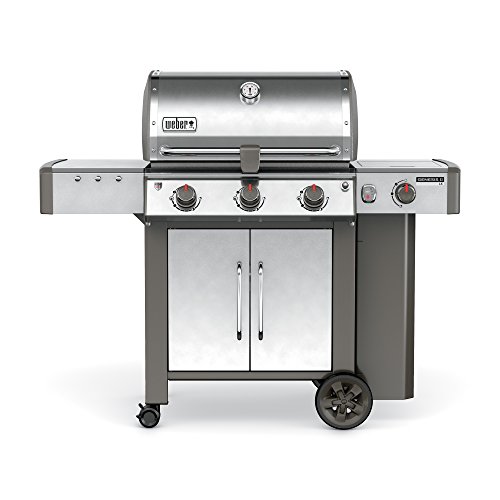 Treat your family or call over some friends, this liquid propane grill will ensure that everybody has a hearty meal prepared in no time. With ample space being given to cook and a stove alongside, a fun backyard party is not a distant dream.
A stainless steel grill grate, storage cabinet below the grill and light is connected to the lid handle to light everything you are cooking. The features that make it attractive are LEDs that illuminate the dials. An LED displays the quantity of fuel in a propane tank. Two fuel gauges together display the same information. Also present are enough fixtures to learn about the propane tank.
With 7mm stainless steel cooking grates, you get 513 sq. in. of cooking space and 156 sq. in. Tuck away warming rack overhead. The left side table can be folded down. It has 3 stainless steel burners with 2 side tables and a stainless steel flavorizer bar. The main burner has a capacity of 43500 BTU per hour heat output.
The inbuilt thermometer helps in gauging the temperature. The stainless steel doors make it not only stylish, but also good for storage. The burner valves have infinite control for heat settling. The elevations are compatible with welded tube frame.
Pros
GS4 high performance grilling system
Large cooking and warming space
Durable all weather wheels
Runs on liquid propane gas
Cons
Work cautiously, can burn hands.
5. Char-Broil Classic Four Burner Gas Grill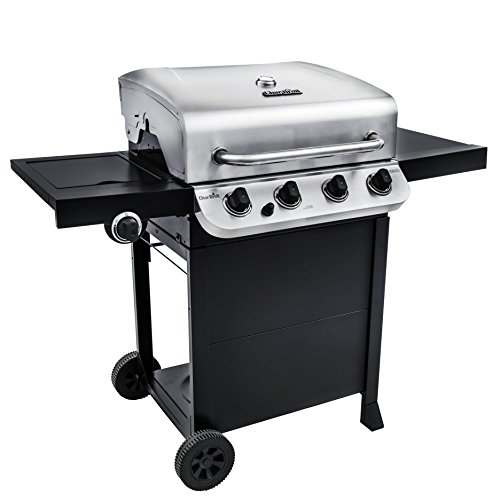 It is an inexpensive barbeque grill with features that turn it into one to look out for.
The Char-Broil Classic is made in China for Lowes Home Improvement Stores. One gets a removable grease pan for fast cleaning with a damp cloth. One instantly falls for the lid, handle and control panel display. Side shelves are large enough to prepare and work.
Cooking grates are coated in porcelain. Grill's lid, control panel and buttons are made up of stainless steel. The two materials are rust-free and avert food sticking to it.
Char-Broil Classic Four Burner Gas Grill has a cooking space of 480 sq. in. of the total 660 sq. in. grilling space. The main burner has a heat output of 48000 BTU from the main burner and four 12000 BTU stainless steel tubular burners. The heat output from side burner is 10000 BTU.
The cooking grates are cast iron coated with porcelain. Its construction is done with powder coated steel and cast aluminium parts. Swiveling caster wheels aid in locking and unlocking at a place easily making it one of the most considerable best propane grills.
Rotisserie kit, cover and propane tank are sold separately.
There is a 5 year warranty on stainless steel burners and a one year warranty on grills.
Pros
Too big in size
The heat output is decent for its size
Electric ignition push button
Affordable
Cons
Uneven heating
The stainless steel is of poor quality
Need to pay extra to buy the accessories
6. Napoleon TQ285X-BL Portable Propane Grill with Cart, Blue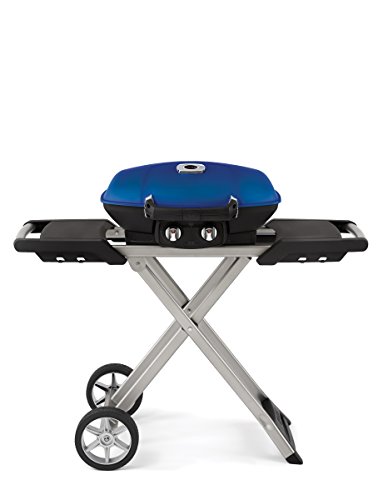 This made in America, gas grill has everything you would want in portable propane. The most attractive feature in Napoleon gas grills has always been their design. The scissor cart makes it an excellent choice for an outdoor party. The wheels roll over any surface and can be folded and hence lifted easily. Keeping it at home is also easy; either hang it on the wall or put it in the car boot to take it anywhere. The cart has a large space on the side shelves for storage with integrated tool holders.
1.2 lb tank shells out 12000 BTU of power. 285 sq. in. of cooking area is available, which implies a cooking space for 20 hamburgers. The cooking grids are cast iron and porcelianized. When well seasoned, it provides an ideal non-stick surface for grilling. It allows searing a steak on direct heat without the fear of burning. You can even bake or roast with indirect heat and smoke.
Two stainless steel tube burners can be controlled individually. So, you can grill on one burner while keeping the other warm on another. A wind proof design holds the heat inside.
It has plastic handles with steel construction and piezoelectric ignition. It uses disposable propane bottles.
Pros
Can be carried in one hand
Burners work independent of one another
The design is compact
Cons
Less expensive than other portables of similar sizes, but in the end is worth its price
The design may face damage in the form of dents, if not taken care of properly.
7. Coleman NXT Lite Table Top Propane Grill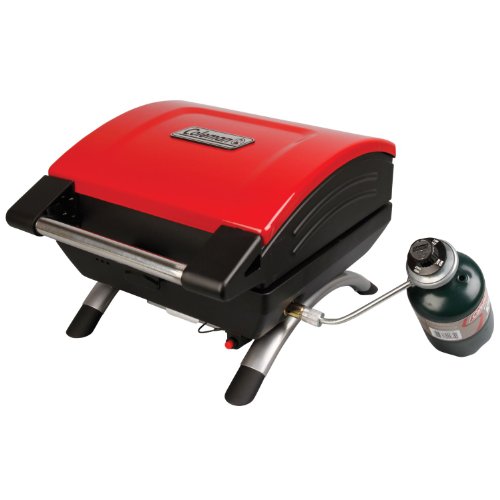 For the best tabletop grill for cooking, look no further than the Coleman NXT Lite Table Top Propane Grill, another outdoor barbeque grill that runs on propane gas from Coleman. The light body makes it the best choice when you don't want to take big barbeque grills along.
The Coleman NXT Lite Table Top Propane Grill has an InstaStart push button ignition for lighting and a heat core technology to transfer heat for stovetop cooking. The burners provide consistent, evenly distributed heat with very less flare ups.
A full family meal can be prepared on a 168 sq. in. of cooking space with heat output of 8500 BTUs. It has an electronic push button which ignites it instantly. In cold temperature, the PerfectFlow system maintains the performance and the heat distribution is even. It has a removable tray which makes it easy for cleaning after you are done.
You can set it at low, high or medium heat. Grease tray can be cleaned easily; it is removable.
No time is wasted in assembling. Just take the legs and fix them. Accessories like hose must be purchased separately for refilling the tank.
Pros
Works well even when the wind is blowing
Compact design
Offers grill, griddle or stove grates
Cons
No in-built thermometer
Heat is not even
Can get too hot and burn hands. So be careful.
8. Broil King Regal Propane Gas Grill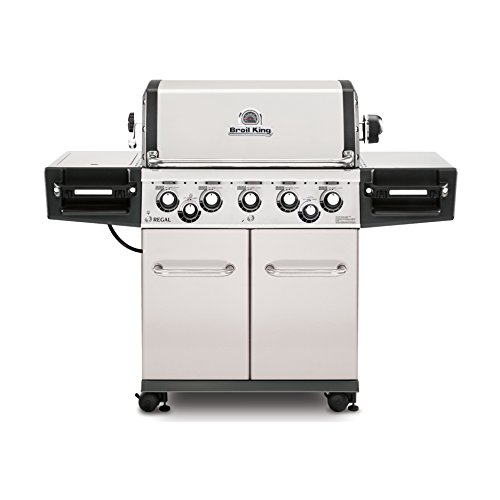 Made in America. It has 644 sq in of cooking area, the primary space is 444 sq. in. with an additional 200 sq. in. of warming rack. Broil King Regal Propane Gas Grill has 4 stainless steel dual tube burners with heat output of 40,000 BTUs. It heats up really fast and the heat is even too. The side burner churns 10000 BTU heat output, thus offering more grilling.
It has side shelves made up of stainless steel, control knobs, lit up control knobs and an enclosed cabinet base having a tank drawer.
The porcelain coated cookbox with end caps of cast aluminium ensure heat retention make it a durable piece. The stainless steel rod distributes heat evenly, and is maintenance free. The cast iron cooking grids are reversible and sears amazingly. One side of Broil King Regal leaves grill marks, the other grooved side catches the dripping juices.
Stainless steel Flav-R wave cooking system – holds, vaporizes drippings. Creates smoke for a nice barbeque flavor.
180 degree SensiTouch control knobs with linearly flowing valves provide infinite heat control for that ideal temperature one needs for roasting, slow cooking or searing. The Sure-Lite electronic ignition grills faster ensuring its place as one of the best propane grills. The fuel used is liquid propane.
Pros
An enclosed cabinet for storing essentials for grilling.
10 year burner warranty. The cookbox has a limited lifetime warranty.
5 year warranty on stainless steel grates, stainless steel cart and stainless steel Flav-R-wave cooking system, stainless steel cart components.
Cons
One needs to buy accessories separately
9. Napoleon Grills Rogue 425 Propane Gas Grill, Stainless Steel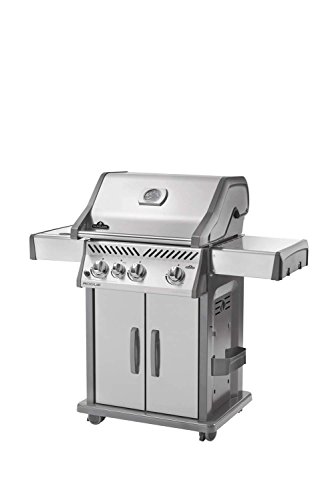 Made in Canada Napoleon Gas Grills Rogue 425 Propane Gas Grill, is another Rogue model from the series introduced first in the year 2016.
The total grilling space is 425 sq. in. of the 525 sq. in cooking area. The Napoleon Grills Rogue has 3 stainless steel tubular burners with 12000 BTU heat output. The highest heat output is 36000 BTU coming out of the main burners. The cast iron cooking grates are coated with porcelain.
"Jetfire" Electric ignition can be lighted with an electric spark.
The Napoleon Grills Rogue 425 is constructed with cast aluminium, stainless steel enameled with porcelain. It comes in two colors – black and stainless steel.
It goes well with Napoleon's charcoal trays with cast iron, which implies that it can be converted into a charcoal grill. This is a remarkable feature not many gas grills available in the market have in the same price range.
The Napoleon 425 model offers many configurations, including an option to buy it with/ without a side burner. This is a unique feature that you won't find on similarly priced grills.
The side shelves can be folded and removed to save space, if needed be. No other model provides this feature. The side burner (Sizzle zone) is infra-red.
Accessories like a propane tank, cover and rotisserie need to be bought separately.
Pros
Top notch stainless steel
Even heating
Can be assembled easily
WAVE stainless steel cooking grids
Cons
Side burner has limited power, not found in other models from Napoleon
Heat output is low for its size
10. Weber 62020001 Genesis II E-410 Liquid Propane Grill, Copper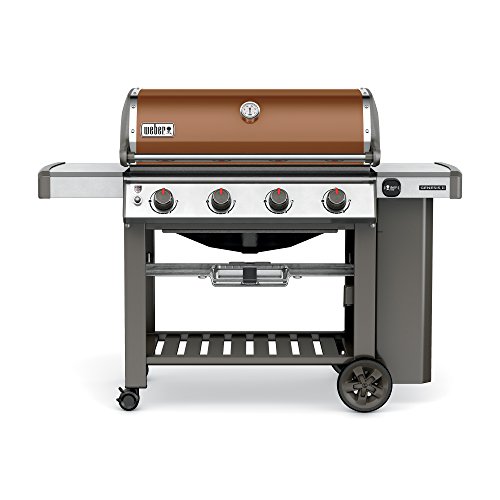 With a big spacious cooking area loaded with four burners, Weber Genesis II E-410 helps you roast veggies on one, searing steaks on another and grilling chicken too. Isn't that wonderful?
4 stainless steel burner tubes (tapered shape) have an output of 48000 BTUs with even heat emanating from the front to the back, making heat distribution just perfect (same amount of heat to all parts of the cooking grates).
Cast iron cooking grates enameled with porcelain aid in cooking some delicate foods. The thinner side can be used for cooking delicate foods while the thicker side is good for sear mark. Flavorizer bars are porcelain enameled. They are angled in a manner that they hold the drippings which, when release smoke, add a smoky flavor to the food.
It has a cooking area of 646 sq. in. providing a lot of area to cook. A 198 sq. in. of warming rack keeps food warm. It can be doubled up as storage when not assisting in warming. Infinity ignition aids quick grilling. In-built Bluetooth digital thermometer checks the temperature of the grill.
Grease can be managed easily. Non-vaporized drippings can be funneled away into the disposable tray which lies just under the cookbox. Side tables can be used to keep seasonings and platters, tool hooks hold grilling tools.
You can learn how much fuel you have used by looking at the gas tank which is present just along the gas tank. iGrill keeps a check on the food from start to the end.
Take a look at the video for better clarity about the product.
Pros
Large cooking area
Cast iron cooking grates coated with porcelain
Cons
Some find grease tray to be small in size
Read also:
In conclusion
Well,  hope you have ample choices now to look into while buying one of the best propane grills. Consider all the factors including your budget before finalizing the propane grill to suit your budget. Preferences vary, we understand. But do not compromise on the features that are worth your money and requirement.
A propane grill should be more than a grill – design can be a bonus, but it is the other features that should make it worthy of coming to your house.
But before leaving, we would like to add that of all the products reviewed above, the one that caught our eye is Weber 61004001 Genesis II LX S-340 Liquid Propane Grill, Stainless Steel.
A big cooking area, warming rack that can serve 5-7 people, inbuilt thermometer and a ten year warranty. What more can one ask for? The high quality features are combined with some great exteriors too. Wheels are durable and can work in all the weathers. It has 3 burners, 2 side tables and a flavorizer bar with a heat output of 43500 BTU every functional hour. Heat is equally distributed. With some additional accessories which are affordable, you can maintain the grill in top notch. Above all, it runs on liquid propane gas.
If this article has helped you even a bit, do let us know. We will appreciate your efforts. She is a content writer & editor for more than 12 years. She usually writes about technology news, country news, arts & science, travel & automobiles. She used to test the product and write reviews for popular magazines.