As an Administrative Assistant recruitment service for corporates, we know exactly what employers look for when they're hiring Administrative Assistants. So, whether you're looking for your next Administrative Assistant role or you're hoping to hire an Administrative Assistant, here's a rundown of the top eight qualities that every Administrative Assistant should have.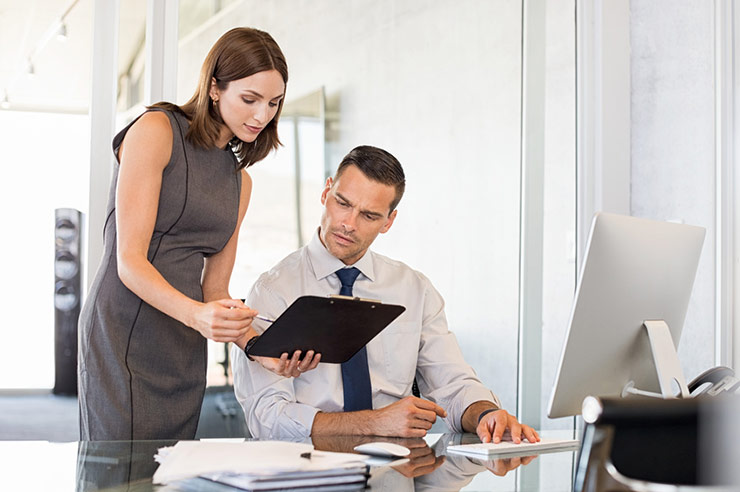 1. Articulate
Administrative Assistants are above all expert communicators. They must be excellent listeners and also highly articulate, able to express themselves clearly:
 In person with people at all levels including peers, Managers, Senior Managers & Executives, clients, suppliers and other key stakeholders that they may need to communicate with.
Over the telephone they must be able to build effective working relationships, be prompt when getting back to people and excel when representing the brand that they are working for.
In writing they must be clear, concise, professional, polite and effective.
Good Administrative Assistants know how to get their message across as succinctly as possible. They know how to get to the point, which is especially important when dealing with senior management or clients who have queries.
2. Professional
Professionalism is central to working as an Administrative Assistant. Employers need Administrative Assistants who show proper etiquette at all times and act with the utmost integrity. Professional qualities include:
Impeccable timekeeping and the ability to meet deadlines, finding the time to go above and beyond the call of duty
Always having a positive mindset and can do attitude
Managing conflict well and be able to find amicable solutions that are sometimes not so straight forward
3. Resourceful
Managers and employees typically see the Administrative Assistant as the one point of contact who can answer everyone's questions. This means that Administrative Assistants must be resourceful, creative problem-solvers.
Similarly, they must be able to think on their feet in times of crisis. Essentially, they're the office "firefighters" who stay calm and look for resourceful ways to solve problems before they escalate.  They are also seen as the 'experts' when it comes to computer systems and document production as it is a large part of their role, they need to be able to answer questions and support people in need of their expertise.
4. Organised 
Effective Administrative Assistants keep a business running smoothly. They know how to plan and allocate their time, and they stop the important tasks from falling through the cracks.
Remember, Administrative Assistants are there to help others. If they can't organise the office effectively, they can't perform this critical supporting role. Organisation isn't just about maintaining filing or handling phone calls either. It's also about:
Managing schedules and helping people meet important deadlines, sometime last minute ones that pop up out of the blue
Organisation events, big and small, ensuring even the tiniest of details are met
Communicating plans across multiple departments and pre-empting any issues that may occur along the way
In other words, Administrative Assistants need the organisational skills befitting the diversity of the role.
5. Strategic
The right Administrative Assistant intuitively knows how to prioritise their day and plan accordingly. They're strategic and reliable – their bosses know that they always have their priorities in order.
This ability isn't just helpful for day-to-day office management. It's also crucial to the company's long-term future. Why? Because great Administrative Assistants can see the bigger picture. They can weigh in on everything from improving the office culture to picking suppliers and hiring decisions.  Often they have their eyes on a step up role within the organisation and they have already up-skilled to ensure they can add value.
6. Meticulous
Administrative Assistants must be meticulous. They need to catch the tiny errors that could make or break a document, and they should know how to handle sensitive information with the utmost care.
From booking flights to completing detailed reports, Administrative Assistants must have a keen eye for the smallest details. This also extends out to any planning that they need to do for tasks such as meeting or events coordination, research so that they can have input in meetings and developing an understanding of clients so that they can effectively communicate with them.
7. Anticipatory
Every great Administrative Assistant knows how to anticipate problems before they arise. They're always looking for new ways to serve the company's needs, and they take initiative wherever possible.
The right Administrative Assistant doesn't wait around for instructions. They're reliable, and they don't require micromanagement or constant supervision. The Administration Assistant's with strong anticipatory skills are often the ones that are promoted within an organisation.
8. Adaptable
Ultimately, this is what the role of an Administrative Assistant comes down to – a great communicator who can adapt to any situation. Just as businesses evolve continuously, the right Administrative Assistant can rise to any challenge and take setbacks in their stride.
In other words, good Administrative Assistants can easily switch tasks at a moment's notice.
Administrative Assistant Recruitment in Australia
Put simply, there's no such thing as a one-dimensional Administrative Assistant. Why? Because Administrative Assistants do more than just answer phones and input data – they're at the heart of every successful organisation. What's important, though, is that every organisation – and potential employee – finds the right fit.
So, if you're looking to hire an administrative assistant or you're looking for specialised recruitment advice, contact our job agency today. She is a content writer & editor for more than 12 years. She usually writes about technology news, country news, arts & science, travel & automobiles. She used to test the product and write reviews for popular magazines.