Power banks are modern power source for mobiles which people use in their daily life. From the origin till now this gadget is facing many changes which improve the performance from its previous version.  We can see people carrying power banks along with their phones in hand. It may look normal but it's really difficult to carry a power bank which is double the weight of your phone and it will also not fit in hands. Here comes the portable charger from crave the company which has many years of experience in high end electronics and innovative products. Now come and let's get a closer look a perfect portable charger to use
Crave PLUS Portable Charger with QC 3.0 + Type C

Massive battery capacity:
Smartphone's become unavoidable thing in our life. Many people depend upon their Smartphone's for their work and day to day operations.  If this is the situation no one wants their mobile to run out of battery. Crave plus comes with a massive 10000 mAh power capacity along with fast charge IC technology support, which will quickly charge your phone with limited time. Once fully charged we can easily able to charge phone three times.  Maximum charging time for this power bank is 8 hrs. But after charging it will be the best source to charge your phone. Also we can able to charge to device simultaneously which is an added advantage.
Portability:
The sleek design of this power bank makes it easily portable. While holding in hand it weighs a little bit over your mobile but not as heavy as other power banks. Looks and feel like having a slim Smartphone in your pocket. Usually we can see power banks looks a like a small box but crave has ultimately changed our mindset. The stylish design is as similar to a modern Smartphone where others cannot able to find it is a power banks. We can able to comfortably hold the phone and crave portable charger in a single hand which makes it as perfect portable charger.
Charging:
When comes to charging, crave has introduced very interesting options. We can see mobile phone charging ports are shifting from regular USB ports to Type-C port. By keeping that in mind crave plus has dual charging option. Both Type –C and regular Micro USB can be used to charge the crave power bank. Another interesting thing is Type- C port comes with a Dual Directional In / out technology. Which mean we can use this to charge the power bank as well as to charge mobiles with Type-C port. Built in battery level indication at the side can help to know how much charge remaining.
Also we can able to charge two different mobiles and the power bank also in same time. With its Fast Charge IC Technology increases the speed of the charging devices.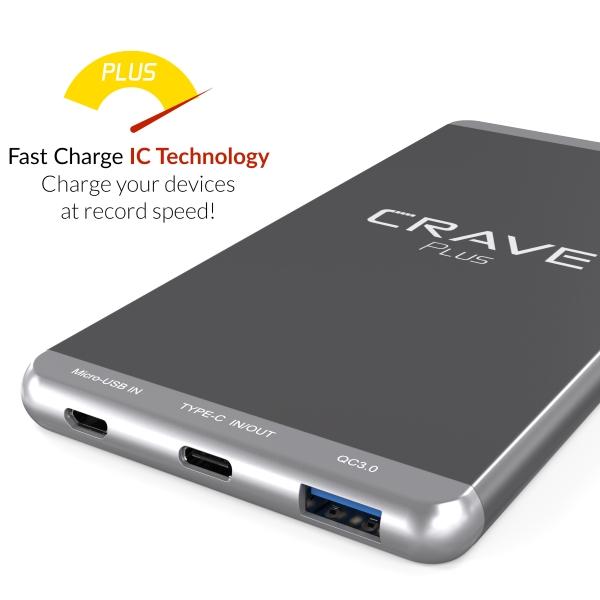 Other Key factors:
Crave plus can be able to charge Android as Well as Iphone. It is universally adapt with all devices
Thin aluminum design helps to keep the power bank less in weight
It is highly durable because strong aluminum body reduce the chance of getting damaged from dropping or any situation.
Quick charge 3.0 technology is supported to reduce the charging time of devices.
To Sum up:
Overall the performance of the crave portable charger is at best. When compared to other power banks of the same mAh it is bit pricey. Mostly this power banks is better with charging your phones rather than laptop. With dual charging technology and slim design which will fit in your pocket it is the best fit for the people who travel a lot for work or other purposes. Those who are looking for easily portable charger with good performance crave plus portable charger is the best choice to try.
She is a content writer & editor for more than 12 years. She usually writes about technology news, country news, arts & science, travel & automobiles. She used to test the product and write reviews for popular magazines.