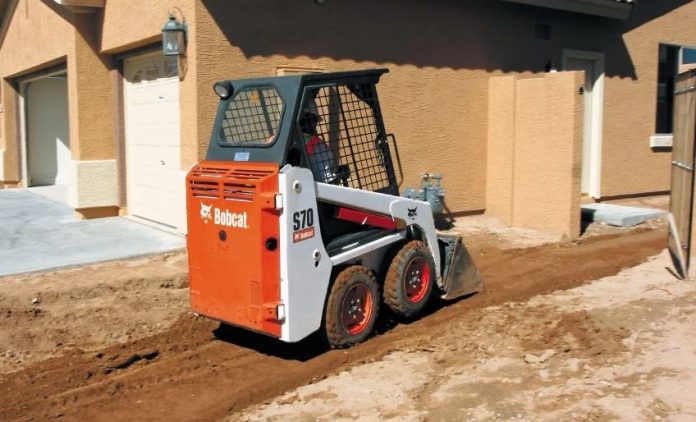 A skid steer loader is a popular piece of equipment that can be used for many jobs. Invented in 1957, the first version was used to clean the barn. With time, this piece of equipment has evolved to do more than cleaning the barn.
Today, small skid steer loaders are used in construction, agriculture, material handling, and landscaping.
What Is a Skid Steer?
The skid steer derives its name from the way it moves. It is a small construction vehicle that is ideal for performing various tasks at construction sites.
The versatility comes from the various types of attachments it can be used with. It generally comes with a bucket attachment, but you can always fit other attachments to increase its scope of functioning.
Skid Steer Size Guide
A skid steer comes in small, medium, and large sizes, rated by its operating capacities. The Association of Equipment Manufacturers has defined three categories based on frame size and horsepower.
Small frame – weighs around 1750 lbs. and has 50 hp or less
Medium frame – weight range is 1,750-2,200 lbs, and the horsepower is between 50 and 70
Large frame – weighs over 2200 lbs. and has more than 70 hp
More about Small Frame Skid Steer
In general, a small skid steer measures 75.6 inches without any attachments. With a standard bucket attached, the length of the skid steer is around 97.3 inches. The width of the skid steer is approximately 35.5 inches without any attachments and 36 inches with a bucket attached.
The wheelbase is around 28.4 inches. The smallest skid steer loader is ideal for most jobs at construction sites where the equipment needs to move safely through tight places.
What Tasks Can You Do With A Skid Steer Loader?
As mentioned earlier, its applications go beyond the construction industry. Here are some jobs where a skid steer is used.
Roadwork
Skid steers are used in various road building and maintenance activities. You can attach a pavement miller or a cement mixer for road construction work and paving. The skid steer is also used for pre-road construction work, including demolishing old roads and grading (levelling the ground).
Snow and Debris Removal
The skid steer comes with a bucket attachment, and you can use it to clear debris and snow. Various attachments are available for serious snow removal, like snow blades and snow blowers that can be attached to the skid steer and clear the roads.
Loading
The skid steer can carry equipment and material around the construction site with its bucket attachment. If you want to lift heavy material, look for a model with a vertical lift arrangement as they are built to lift heavy items and load them on trucks or place them at height.
Mowing
You can also use the skid steer for mowing. The rotary brush cutter can cut tall grass and other unwanted greens to clear the area efficiently. It can also be used to cut smaller trees. The skid steers offer more precision in mowing due to their zero-turn feature.
Agricultural Work
Skid steers have many uses in the agricultural field. It is used for tilling, and the bucket attachment is useful to clean stables and barns. You can also purchase a bale attachment to bales of hay from one place to another on your farm. These machines can be used to perform heavy and labour-intensive tasks on the farm.
Grading and Backfilling
The small skid steer can be used to fill holes, level the ground, and aerate it. Though the bucket attachment helps in these tasks, special attachments like grading bar or rake attachment simplify the job and enable you to get a good finish.
The equipment can scoop out large rocks from the ground without leaving big trenches behind. For working at lower levels, you need a radial lift arrangement instead of a vertical lift.
Material Handling
Skid steers are used in warehouses for material handling. Smaller frame steers are ideal for warehouses as they have to move between warehouse rack columns. The fork attachment is used to move pallets and materials.
Vertical lift arrangement models are more suitable for material handling in warehouses as the equipment needs to put pallets on the racks.
Landscaping
Skid steers are used for various landscaping tasks like grinding stumps, tilling, and chipping wood. The tiller equipment can also be used to mix fertilizer or compost into the soil. The bucket attachment transports materials like gravel, mulch, or landscaping tools from one place to another.
The small frame skid steer is versatile, lighter, easier to transport, and can reach places with narrow roads, making it ideal for most job sites.