The high-intensity focused ultrasound facelift or HIFU facelift, in short, is one of the more popular cosmetic treatments in Singapore. Every year, hundreds of Singaporeans with saggy skin and wrinkles go to aesthetic clinics to get themselves fixed up with one. One trusted aesthetic clinic in Singapore when it comes to HIFU facelifts is Cambridge Therapeutics, whose trained specialists and staff are guaranteed to give the best service to their clients.
One reason that HIFU facelifts are starting to gain popularity in Singapore is that it offers the benefits of traditional facelift surgery without the risks attached to an invasive procedure. It is still a relatively new procedure, however, thanks to its effectiveness and safety as a facelift treatment, more and more people have opted for it as an alternative to traditional facelifts.
What exactly is a high-intensity focused ultrasound (HIFU) facelift?
High-intensity focused ultrasound is a cosmetic medicine technology that uses ultrasound energy and applies it to the skin to tighten it. It works by stimulating the skin to produce more collagen through ultrasound energy. Collagen is an important body protein that is responsible for keeping the skin's structure and form intact and strong. Although collagen is constantly being produced by the body, the rate of its production slows down as we age. Due to this, there is less collagen in the body, which results in our skin starting to sag and pulled down. Wrinkles start to appear in our face, and other parts of the face and body begin to sag.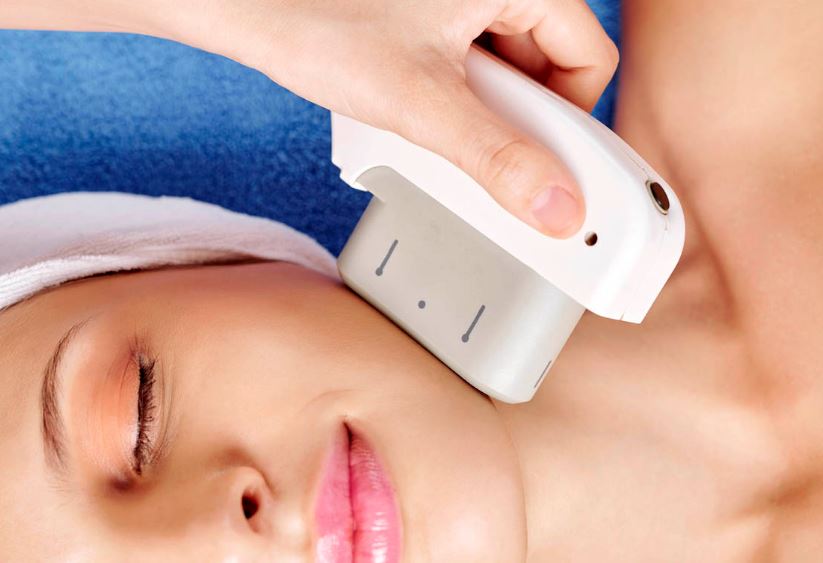 Originally used to treat tumours, HIFU technology was first used for cosmetic purposes in 2008 in the USA. From there, thanks to the visible effects of the treatment, HIFU facelifts have started to become more and more popular in the international scene. The fact that it's a nonsurgical procedure as well has made HIFU facelifts an essential cosmetic procedure any aesthetic clinic should feature.
What are the effects of a HIFU facelift?
Patients in Singapore who undergo a HIFU facelift can expect the following results:
Disappearance or reduction of wrinkles in the face
Skin lifting around the eyebrows, eyelids and cheeks
Getting rid of "turkey neck", which is saggy skin around the neck
Improvement in skin smoothness and elasticity
A more pronounced and enhanced jawline
What differs a HIFU facelift from traditional facelift surgery?
First of all, and probably most important, HIFU facelift procedures are non-invasive, which means that no incisions are made during the procedure. Compare that to traditional facelift surgery, which requires patients to go under the knife and be properly sedated using general anaesthesia. HIFU facelifts also do not carry the risks involved with surgical procedures such as infections and bleeding.
Another difference is that HIFU facelifts have nearly no downtime after the procedure. After they undergo a HIFU facelift, many patients return to their regular activities as if nothing happened. You can't do that with traditional facelifts since you will need a considerable amount of time to recover from the surgery.
Finally, HIFU facelifts are usually less expensive than traditional facelifts. This is because the effects of a HIFU facelift are only temporary – about 3 months after the procedure, 1 to 2 follow up session may be necessary to extend its effects. Traditional facelifts, on the other hand, have effects that are permanent.
Is a HIFU facelift treatment uncomfortable or painful?
Since HIFU facelift is a non-invasive procedure, there is nearly no discomfort or pain during the treatment. In fact, the closest thing to discomfort that a patient may feel during a HIFU facelift treatment are slight electric tingles that give a mild prickly sensation. Unlike surgical procedures which typically require the patients to be under some form of anaesthesia, in a HIFU facelift anaesthesia is not needed at all. Numbing cream is enough to lessen the sensations and many patients who've undergone the HIFU facelift remark that the procedure was a very quick and relaxing experience. Although there may be some slight side effects like redness and swelling after the HIFU facelift, expect these side effects to wear off within a two to three days.
How is the HIFU facelift procedure performed?
Patients are advised before the treatment to remove any makeup and skincare products on the face. The specialist will then clean the target area for skin lifting. A numbing cream will then be liberally applied to the target area to lessen any discomfort the patient may feel during the HIFU facelift. Once the effects of the numbing cream are working, a special type of gel is applied over the area, which amplifies the ultrasound energy. Using a special handheld device, the specialist will then deliver ultrasound energy to the target area. This should happen for about 30 to 75 minutes, and some mild prickly tingles may be felt each time the ultrasound energy is delivered.
Once treatment is done, the handheld device is removed by the specialist and the patient is now free to do as he/she pleases. The specialist will advise that there will be some mild swelling and redness though, so remember to minimize any strenuous activities.
Should you be getting a HIFU facelift?
It all depends on what your goals are and how you want to achieve those goals. The best candidates for HIFU facelifts are men and women who have saggy or wrinkly skin on their face that they want to remedy using a noninvasive method. A HIFU facelift is also not that expensive compared to other cosmetic procedures, but the effects are similar. If you are still unsure of what treatment to undergo, then schedule an appointment via phone +65 6733 6729 or visit Cambridge Therapeutics at 91B Orchard Rd #08-05A2 Tower B Ngee Ann City, Singapore 238874 to get the best advice about what to do in your situation. She is a content writer & editor for more than 12 years. She usually writes about technology news, country news, arts & science, travel & automobiles. She used to test the product and write reviews for popular magazines.