There's no such thing as a universal hedge trimmer. A hedge trimmer's application may vary with the dimensions and form of your hedges. Using a hedge trimmer correctly not only helps to keep the plants healthy and tidy but also enables maximum safety. Regardless, there are a few things you should know before going out to get one. You should make sure by following the steps given in this article on how to use a hedge trimmer to make it easy and efficient.
Choosing the Right Hedge Trimmer
Consider the hedges' size and type before settling on a hedge trimmer.  Trimmers with narrower blades are more suited for use on smaller, more fragile hedges. A longer-bladed electric hedge trimmer is more suitable for bigger bushes.
Some of the various Hedge Trimmers
Hedge trimmers may be either battery or gas-powered, therefore the choice of power source is important.
If you have a big property with several hedges, a battery-operated trimmer may not be enough.
The most effective tool is a gas-powered hedge trimmer however they may be cumbersome to use because of their weight and size.
Hedge Trimmers that are powered by cords are often more robust but their reach is restricted.
you should always choose a hedge trimmer based on how well it meets your demands.
See also: 11 Best Hedge Trimmers (Corded & Cordless Trimmers)
Steps to Safely Use a Hedge Trimmer
The first step is to assess the immediate area and be ready to clean it up.
Before trimming hedges, make sure the space is clear and have a plan for the aftermath. Leaves, branches, and other debris that has fallen to the ground should be cleared away before you begin cutting. Start your garden work with a careful eye out for nesting birds, electrical cables, and other hazards.
You should prepare a container or bag to gather the scraps.
Step two: safeguarding yourself by using appropriate safety gear.
Put on your protective gear first, then turn on the saw. To safely use a hedge trimmer, you'll need the following accessories.
These gloves provide substantial defense against harm. To protect your hands from being cut, always wear gloves while using a hedge trimmer.
Put on some long johns, some long sleeves, and some closed shoes. The trimmer's blades and any material it could spew out, such branches or other debris, can be dangerous, therefore it's important to wear protective clothing.
Wear goggles or have some nearby. Wearing protective eyewear is recommended while using hedge trimmers to avoid getting dust and debris in your eyes.
The third stage is to learn how to use the hedge cutter.
When you've gathered your supplies, take some time to become comfortable with your hedge trimmer. Read the manual to familiarize yourself with the trimmer's settings. If you take the time to read the instructions, you can get the most out of your hedge trimmer.
Hedge trimmer blades are the most important part, and high-carbon steel is often used because of its durability. Serrated blades, found on the vast majority of knives, facilitate the cutting process. When cutting hedges, you should only use a sharp blade. Always sharpen the blade of your hedge trimmer before each usage to avoid botching the job.
The trimmer's handle, which is where your hands will spend most of your time, should be designed with comfort and ease of usage in mind. When trimming a hedge, two people are needed; one holds the branches while the other operates the trimmer. This will ensure that each leaf is trimmed to the same length.
In the fourth stage, you'll start cutting away excess material from the bottom up.
The appearance of a garden relies on regular hedge cutting. Look at the bigger picture and the shape of the hedge before you start chopping. The next step is to decide on a style that you like. Therefore, you will have a clearer picture of where to make cuts.
The easiest way to handle a hedge is to work your way up from the ground. Avoid splintering by cutting vertically with slow, sweeping motions. If you want horizontal cuts, you should hold the hedge trimmer so that its blade is perpendicular to the floor. Then, go slowly as you trim the hedges. Maintain a constant pace and never resort to brute force. The results must be straight lines.
See also: 10 Most Useful DIY Gardening Tools Ideas
Fifth step is to Clean Up Leaves and Branches
After cutting the hedges, tidy up the yard before storing the trimmer. Gather any fallen leaves and trimmings. To speed up cleaning, use a leaf blower or garden vacuum if there's a lot of material. Before bagging huge branches or cuttings, use the hedge trimmer to chop them up.
Sixth step includes maintaining your hedge trimmer
After using a hedge trimmer, you must maintain your instruments.
Make time to clean the blades. This prevents corrosion and prepares your trimmer for usage.
Blades need frequent oiling. This keeps them sharp and prolongs their life.
Keep your hedge trimmer dry and safe. It will avoid unintentional harm and maintain your trimmer.
Summary
You can purchase a hedge trimmer according to your demands and the form of hedges play an important role in deciding what suits your hedges the best. To make your work easier and to maintain safety while using it you should go by following the steps of using a hedge trimmer mentioned above.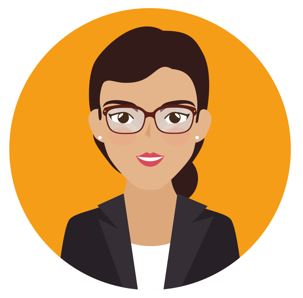 She graduated with a Bachelor of Arts (B.A.) and A.B.J. in Journalism from the University of Georgia. She has 13 years of experience in content writing. She writes about money, finance & science-related articles. Her articles have been featured in popular magazines like CNN, Vogue & ELLE.