In deciding what kind of flooring is right for your home, a primary consideration is likely to be how easy your floors will be to clean.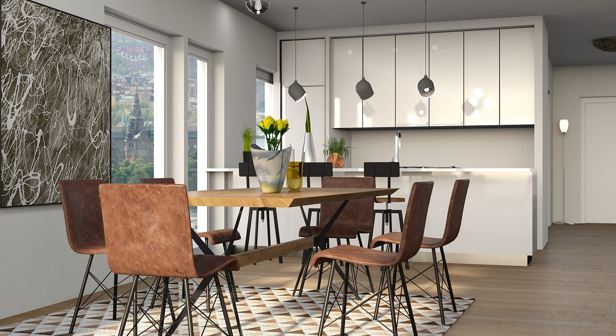 After all, whether you choose carpet or hardwood, it's an investment, and you want it to last.
You want your home to look good and retain its value, and you don't want to have to walk around as if you're in a museum.
However, there are complexities to this issue. You must consider what kind of messes your home is most prone to, as different forms of mess pose different levels of the problem for carpet vs hardwood floors. Which equates to carpet shampooer vs steam mopper.
You should consider what room the floor is in as a part of this thought process.
You are likely to see very different floor messes in kitchens and mudrooms versus living rooms and bedrooms. You should also take into account who you live with. Children might play a role in your decision-making, and pets might also be a factor.
Knowing how to clean your carpeted and hardwood floors will help you make a decision as to which type of flooring is right for your home.
See also: How to Steam Clean a Carpet (Detailed Self Cleaning Guide)
Hardwood Floors
In a very basic sense, hardwood floors are easier to clean than carpeting. Hardwood doesn't collect nearly as much dust and dirt as carpeting does, and all you need to do is sweep it to restore it to cleanliness. Liquid spills are infinitely easier to clean up since you can towel or mop them up and they won't soak in the way they would with carpet.
On the flip side, hardwood floors show dirt much more readily than carpet does, so you may find yourself working even harder to keep your wood floors clean than your carpet. Hardwood flooring is also prone to being scratched, an issue you won't face with carpeted floors. Make sure you pad the bottoms of your furniture before moving it if you have hardwood flooring.
This is a particularly fraught choice for pet owners. Hardwood floors make it very easy to sweep up the hair your pet may shed. On the other hand, you might grow to worry about a pet's nails scratching the expensive wood. Pets are also often anxious about walking on the hardwood at all, as they can't get any traction. All of these are factors you should keep in mind.
See also: DIY Tips to repair damage to wall, floor, and carpet while moving
Carpeted Floors
Carpet installation is significantly less expensive than hardwood, but it comes with complications of its own. Although carpeting can do a decent job of disguising minor amounts of dust, dirt, and pet hair, eventually that will begin to accumulate. You may want to have your carpet shampooed once or twice a year. It's also a good idea to acquire a powerful vacuum, such as the ZeroG Vac, with a power brush, the ability to work on stairs, as well as flat ground, and excellent pet hair, pick up. The ZeroG vac uses hover technology instead of wheels, so it's also safe to use on your wood floor without fear of dents or scratches.
Whichever type of flooring you choose, make sure you select the appropriate procedures for keeping it clean and free of dust and pet hair. These procedures include, but are not limited to:
Investing in a good vacuum. When purchasing your vacuum, make sure it's intended for use on the surfaces in your home. A vacuum that isn't designed to run on hardwood floors might end up damaging them.
Cleaning regularly. Make sure your methods of cleaning won't cause damage to the floor. Examine all products and make sure you know what you're using on your floors. You should also ask when having your floors installed what the most effective methods of cleaning are. Remember that carpeting can accumulate dirt without it visibly showing, so even if it doesn't look dirty to you, vacuuming is a good idea.
Carefully treating mishaps. No matter how careful you are, accidents are bound to happen. Have a plan in place in advance so that if something spills or scratches, you won't panic and make it worse. Knowing what to do and taking quick action can save the quality of your flooring.
Make careful decisions and take good care of your floors. If you do so, you'll maintain the value of your home and keep it an attractive and pleasant place to live. She is a content writer & editor for more than 12 years. She usually writes about technology news, country news, arts & science, travel & automobiles. She used to test the product and write reviews for popular magazines.