Taking a look at some of the top rifle accessories and products available on the market today. How to add more function and style to your gun collection.
According to IBIS World, the gun and ammunition stores industry is worth upwards of $11 billion dollars.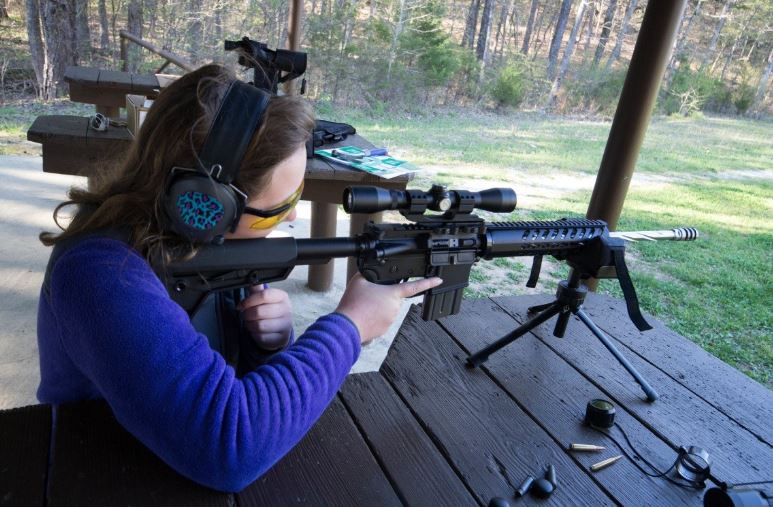 With so many people using guns and rifles, finding the way to come out ahead with the best performance around requires finding top rifle accessories. Gun and rifle accessories don't just make the firearm itself better, they also allow you to tweak your firearm's specs to better fit your particular body, style, and other needs.
Read on to learn about the best rifle accessories available and discover the way to take your shooting to the next level.
Top Rifle Accessories
Rifle use is constantly evolving. Keeping up to date on new rifle products is important so you can always know how to adapt to problems as they develop.
Scope
A scope is one of the first accessories to add to your firearm collection, and for good reason. Practicing your shooting without a scope may be a great way to train your eyes, but the performance boost you get just by adding a quality scope is enough to boggle the mind.
When it comes to hunting, there is a definite purpose to your trip, and that's to bag something! A scope is too useful of a tool to leave behind if you want to achieve the trip's goal. And if you want to hunt at night, then a night vision scope is an absolute necessity.
Rangefinder
Many good scopes come with their own rangefinders, and that tells you something about how essential of an add-on they are. If your scope doesn't have a rangefinder, or if you don't have a scope at all, then you'll definitely need to get a rangefinder.
The best shots in the world have to account for the effects of distance on their shot's accuracy. Those effects include wind, air resistance, and gravity.
Knowing exactly how much each of those effects will alter your shot's trajectory depends on knowing how far away your target is. Get a rangefinder, learn to use it, and be amazed at the improvement to your accuracy!
Ammunition Case and Holders
As you start to hunt or practice more, you'll find trips for ammunition to be tedious and time-consuming. The natural solution is to buy more ammunition at a time and cut down on trips. Having a well-stocked store of ammunition is an essential part of building up your arsenal to respectability. Once you have all of that ammunition, though, you're going to need an efficient way to transport it, too.
Ammunition cases allow you to transport the right number of rounds with you at all times. They also help you keep track of exactly how much ammunition you have in your store and on your person.
Out on a long hunt, an extra magazine sometimes just won't cut it, and to cut a trip short or return home empty handed just because of lack of ammunition is enough to ruin an outing. Cases are a great way to make sure you have more than enough ammunition to get you through your trip.
Bipod
Combining all of your body's strength with the mental discipline of your self-control, you can keep your arm steady for a certain amount of time and enjoy the thrill of performing at your very best.
But if you want to enjoy that thrill more often and longer, than a bipod can take some of the burden off of your arms. A bipod provides the perfect resting place for your rifle's barrel, allowing you to last longer on hunting or practice trips so you can shoot more accurately.
The farther away you expect your targets to be, the more important it is to have a bipod to help you reach them.
Harness
Carrying your firearm in your hands or tossing it over a shoulder can be alright when you're first starting out, but it gets old fast. A harness will provide you with a way to carry your firearm more conveniently. This way, you can multitask while keeping your firearm at the ready.
The more convenient your methods of carrying your tools, the more tools you can comfortably bring with you so you can get the most out of your outings.
AR-15 Accessories
The AR-15's design is a descendant from the fantastic M16 rifle platform. It is one of the most popular rifles in the world and has even come to be a symbol of quality American rifle design and manufacturing.
Geissele SSA Trigger
Rifles often come with triggers that require 10 pounds or more pressure to fire. That kind of force makes it extremely difficult to know at exactly which moment your rifle will fire. This trigger accessory is lightweight and can help you achieve greater precision when firing.
Innovative Arms Deception 7.62
A quality sound suppressor can help you avoid scaring off wildlife while simultaneously making you feel like a government spy. It's also important for your long-term ability to hunt or do anything else, as a rifle's crack can cause hearing damage over time.
The Innovative Arms Deception 7.62 is an affordable choice that can knock down your shot's noise by 33 decibels. Its stainless steel material design makes it a durable, heavy item. It's built to be short so as to keep your firearm's weight closer to the body, making it easier to use.
Luth-AR Modular Buttstock Assembly (MBA)
The Luth-AR MBA is a powerful tool created to allow your AR-15's buttstock to fit more comfortably so you can shoot with greater accuracy and endurance. It allows you to adjust the length of the buttstock so that you can take a one size fits all rifle and customize it to fit the exact length of your particular arm on the particular day you're using it.
It also includes a cheek-weld adjustment that allows you to get the best contact possible with your rifle while aiming. It is designed with glass-filled nylon and comes in three colors: black, dark earth, and pink.
Holosun Paralow Red Dot Sight
The Holosun Paralow is the Rolls Royce of red dots. If your experience is like that of many others who carry firearms, then you know your red dot can seem to fail or dim at the worst times. The wrong red dot can require constant, inconvenient maintenance and battery replacement to keep it going.
Contrast that to the powerful performance of the Paralow with its 20,000 hour battery life. That kind of battery life could let you use this red dot for four hours, every single day of the year. At that level of usage, you could still use it for 13 years before needing a new battery.
On top of that, it comes with automatic features to extend its battery life even more. It alters the intensity of the dot according to how light or dark it is where you're shooting. It also has a solar panel built right into it to allow it to recharge while you're out hunting or practicing.
Its sight is made with absolute and lower one-third co-witness mounts, making this a flexible tool to increase your accuracy.
Magpul Gen 3 PMAGs
Magpul's third generation of magazines has been given the seal of approval of the United States Marine Corps, being approved for active-duty use. This polymer magazine has a window to allow you to keep easy track of your remaining rounds.
It is known to provide world-class reliability, functioning with minimal mistakes for thousands of shots. It comes in three colors: black, sand, and coyote tan.
Sintercore Tripwire Ambidextrous Charging Handle
The Sintercore Tripwire Ambidextrous Charging Handle is an achievement in efficiency. It combines an unparalleled lightweight convenience with top-notch performance and versatility.
Its hardcoat anodized aluminum handle and 3-D printed carbon fiber latch are designed to be used by either the right or left hand and locks itself into place automatically. You can find options in 5.56 millimeters or in 7.62 millimeters.
Ergo Rail Covers
Picatinny covers are the accessory that help you to use other accessories. They attach toy to our rifle and let you attach all kinds of tools to them. But these bare rails can be uncomfortable to use, and a comfortable grip is key if you're going to perform with the highest level of endurance and precision possible.
A rail cover can be exactly the "accessory accessory" you need to round out your rifle accessory kit. The cover allows you to handle a railed rifle with total ease and control.
RailScales makes excellent firearm parts as well as accessories. You could be looking for a grip that will grant you perfect control over your firearm or a sight adjustment tool for your optics and lasers. Whatever the case, RailScales for rifles has quality items you can enjoy for years.
Take Your Shooting to the Next Level
We hope you learned something helpful about top rifle accessories in this piece. To keep up to date on the latest in travel, culture, and more news out of the South, check out our other pages. She is a content writer & editor for more than 12 years. She usually writes about technology news, country news, arts & science, travel & automobiles. She used to test the product and write reviews for popular magazines.