Doctors and stethoscopes are inseparable. Nowadays, AI seems to be powering every industry imaginable. While the medical field is slowly getting acquainted with automations and artificial intelligence, what this Ekuore Pro tries to provide is an absolute revamp that is needed for this ever useful medical instrument. We have tested this stethoscope in various aspects and concluded that,
It is easy to operate,
This is a feature rich equipment, and
A lot heavier and a lot pricier than the conventional stethoscopes.
Now that is out of the way, lets jump straight in to reviewing this product!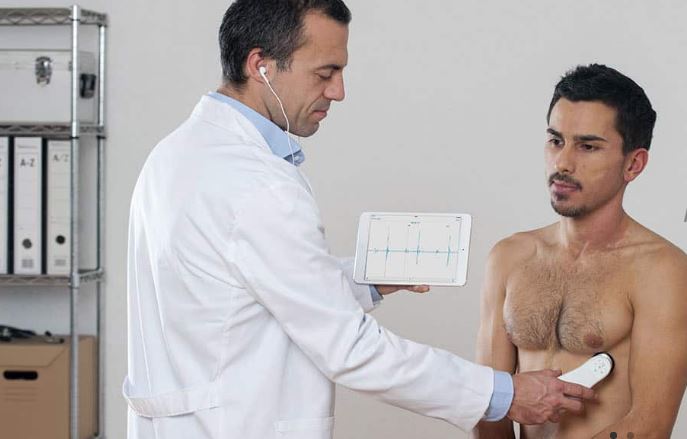 Design and features:
The first thing that attracted us towards reviewing this product is its unconventional design. Sure it looks like a stethoscope, but at the same time, it is seriously different.
The Ekuore pro is a handheld device that comes equipped with a removable stethoscope bell at one end, and a pair of earphones connected to another end. This powerful device possesses a wireless connection, meaning that it can be paired up with a smartphone, which is a cutting edge feature in this traditional medical equipment. All these components with the inclusion of the built in rechargeable battery will invariably increase its weight.
Using this stethoscope is more like how you would use a conventional one with some additional features. After downloading and paring it up with their mobile phone, doctors can record, store, and play the sounds the bell picks up when testing a patient.
However, a major downside to this device is its low recording time of 30 seconds. Although it is enough to pick up any suspicious sounds, but it would have been much handier if the equipment included a feature with a continuous recording capability, without any time limitation. Yet, an user can reset the recording time up to 120 seconds in the app settings. The sad part is, it is not been mentioned in a visible manner.
The use of this digital stethoscope:
Doctors can clearly and precisely here the readings of heartbeats, breathing sounds, and intestinal movements. These readings are comparable to the auscultations made from Littmann stethoscopes which is considered as an industry standard. This device has a built in feature that allows you to adjust the volume of the reading. Many consider this as a simple thing, but it is a wonderful addition to the stethoscope.
With this equipment, doctors can diagnose problems with utmost accuracy. There are three modes to put it in use. They are cardiac, lung, and wide range. It allows users to auscultate specific areas more precisely, and that is a key feature in a stethoscope. This in fact lets physicians to determine heart and lung related issues such as wheezing.
This device works like a Smartphone. You can share the recorded file with one another in your medical circle, in order to educate and acquaint yourself with various heart and lung sounds.
Advantages of having the Ekuore medical stethoscope:
The Ekuore pro teaching kit is a really good solution for universities, medical students, and medicine teachers. There by, it is important that every doctor/medical student must understand the value of having such a powerful device with them for auscultation purposes.
Here is a list of advantages you can get with this device.
You can record the auscultation process.
You can easily amplify the sounds.
Medical students can learn the nuances of auscultation during a clinic visit without disturbing patients.
Teachers can quickly and effectively assimilate students.
With a large database of phonograms, students can approach reality and take data driven decisions by consulting there instructors.
Because the stethoscope can be paired with a smartphone, students can learn from their home itself.
Things you can do with the Ekuore pro teaching kit medical stethoscope:
Record and edit the auscultation process.
This feature allows you to record as many auscultation processes, include them in your database, and show it to your students when necessary.
Easily visualize the phonogram.
Simulate auscultations and understand each phonogram.
Share the auscultation recordings.
You can improve practical knowledge of your students by sharing the recordings and phonograms of the auscultation process.
Choose between 5 different levels of volume.
The electronic stethoscope allows you to select from 5 different levels of volume. This ensures that you can pick up sound variations effectively when auscultating.
Interchangeable chestpieces.
Depending on the patient's size, you can change the chestpiece for easy auscultation.
The need to integrate the eKuore Pro electronic stethoscope in telemedicine projects:
Due to the need to connect rural areas with medical services, the ever increasing use of telehealth devices in the medical industry, every medical student must know the need to integrate this eKuore Pro electronic stethoscope in telemedicine projects.
These devices can capture the required data and send it to a medical professional located in another location, without having to move the patient.
Having said that, let's look at the various ways it integrates with day to day usage.
Integrates with third party software.
It allows you to follow up with the patient and look at the auscultation result in an objective way.
Functions without an internet connection.
You can connect directly from the stethoscope itself and don't have to worry about internet connection.
Auscultate, record, and communicate it to a medical professional through the app.
The eKuore pro is connected through Wi-Fi directly to your smartphone or tablet. So, a medical student can get his superior's advice really quickly with regards to the auscultation result and act accordingly.
Integrate the eKuore pro with other's external system or an API interface.
You can integrate this device with an API interface, or you can even develop your own API platform and manage the stethoscope. It is compatible with Android, Windows, and iOS.
Reduces the waiting time.
The consequences of a disease, disorder, or an illness can be limited due to its early detection capabilities.
Conclusion:
We hope that this article helped you understand the basics of the eKuore pro teaching kit stethoscope. Do you have anything to say about it? Or do you have anything to add to this article? Lets discuss in the comments. Thank you! She is a content writer & editor for more than 12 years. She usually writes about technology news, country news, arts & science, travel & automobiles. She used to test the product and write reviews for popular magazines.