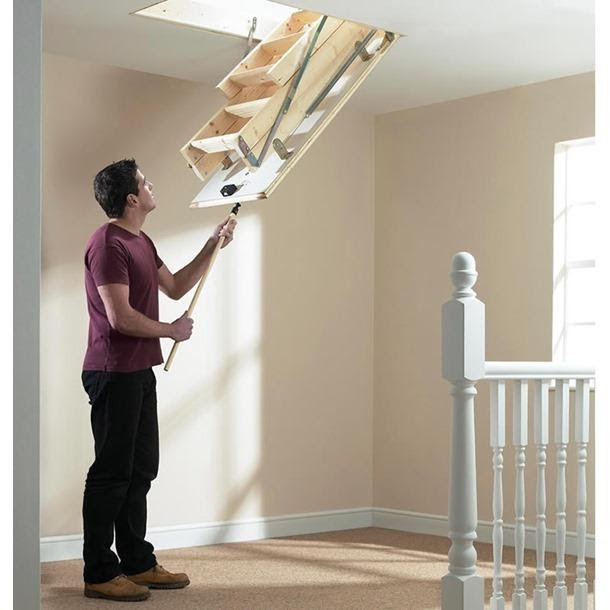 Choosing a loft ladder for your home may seem like a pretty easy and straightforward decision but if you have no prior knowledge about them, you'll be surprised to find out there are quite a few factors that you'll need to consider.
Not only will you have to think about the style of the loft ladder you choose, but also the material and the operating mechanism. Each of these things will have an impact on the practicality of the ladder within certain situations.
In terms of materials, you have two common options to choose from; either wood or aluminium. In terms of style, you also have two options, fixed or extendable. Fixed loft ladders speak for themselves and offer exactly what you see, a ladder which is secured into position and remains there ready for whenever you'd like to access your loft.
Extendable loft ladders, also known as pull down loft ladders, on the other hand, extend and retract via your loft's hatch. These allow you to save space as they can be conveniently tucked away when not in use. However, unlike fixed loft ladders, you also have options when it comes to the mechanism of the extendable ladder; either sliding or folding. But which do you choose?
Well, if you find yourself asking this question, hopefully this article will help you decide which loft ladder option is best for you!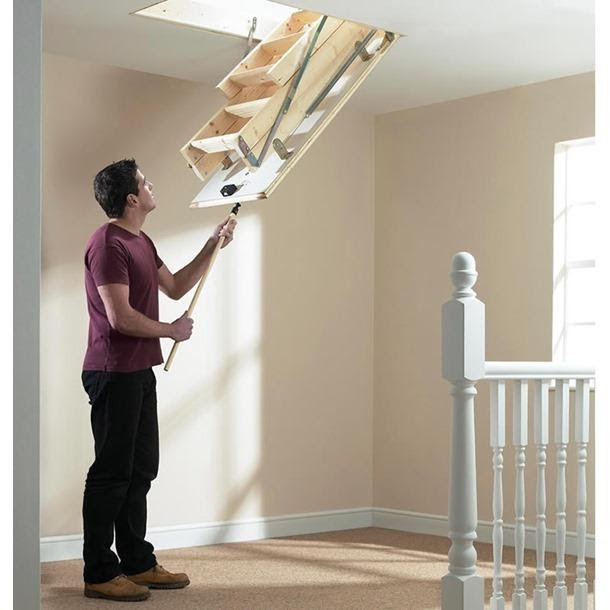 Sliding loft ladders
Out of the two extendable ladder options, sliding loft ladders are the most common. This is mostly down to the fact that they are cheaper as well as being the easier out of the two to install. The reason why they are cheaper than folding loft ladders is down to their simple design. They use the same mechanism as a regular extension ladder, with two or more sections sliding past each other and locking into place.
As we mentioned above, sliding loft ladders can be produced using either wooden materials or aluminium, making them suitable for a number of interior designs. Aluminium, however, is the more popular choice as it offers enough strength to hold you and any items you may carry up and down from your loft but it is also light enough to extend and retract without much effort.
This is a major advantage when it comes to convenience and everyday use, especially as any member of your family is able to use it, old or young.
Folding loft ladders
Folding loft ladders are the other popular loft ladder choice and just like sliding ladders, these offer a number of different things that make them useful.
Firstly, folding loft ladders are typically made out of wood. Not because this is the only material which is suitable for this type of ladder but because the strength of the wood works to support the folding mechanism. Wooden loft ladders are far stronger than their aluminium counterparts, so they are more suitable for heavy duty solutions.
The strength that they offer does come at a price, however, as they are a lot heavier than aluminium ladders. For this reason, wood is not suited for sliding mechanisms as it is possible for one section to suddenly extend and hit the user in the face or body.
So, which type of ladder is more suitable for you? Folding loft ladders offer a safer option, whereas sliding loft ladders offer a more convenient option. The choice ultimately comes down to your personal preferences which can include how often you plan on using the ladder, how much support will be needed and the look of your home.
Hopefully with this blog, your choice will be made a little easier!