The Schwinn IC4 indoor cycling bike is a product of sports and bike manufacturer Nautilus, ln. This model is an updated version of the IC3 cycling. The model is a hit among exercise enthusiasts. This bike is durable, quiet and easy to use. They are affordable and equipped with advanced features. So you have a home gym on a lower budget.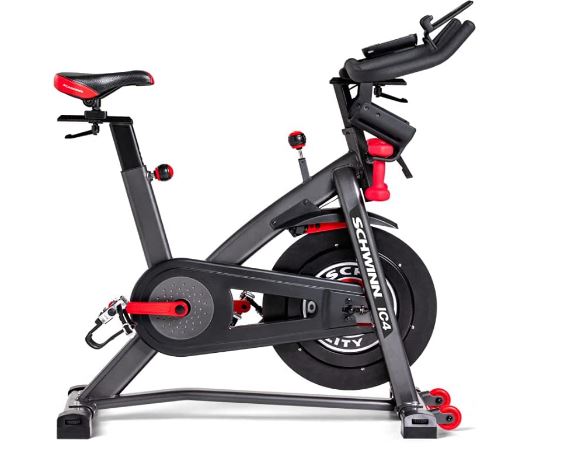 The World health organisation has recommended spin bikes for weight loss. During the pandemic outdoor activities had come to a standstill. During the long period of crisis, this indoor cycling proved to be ecstasy.
Let's look at the features.
The frame of the bike
This bike is strong and sturdy. The frame is steel built. The bike weighs around 106 pounds. It can sustain around 330 lbs of weight. The Maximum height is around 52 inches. The magnetic flywheel weighs around 40 pounds. This bike is portable. It can be handled by an average adult. It is idle for your apartment.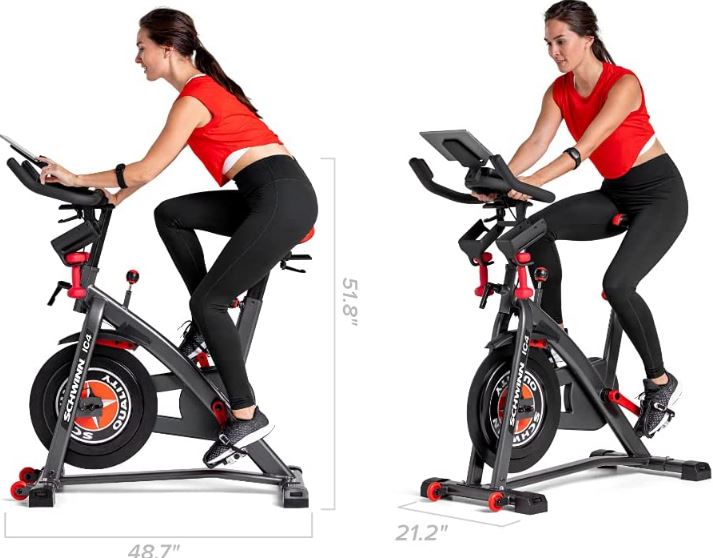 Bluetooth Connectivity
The Bluetooth connectivity is the speciality of this Schwinn fitness indoor cycling bike. It seamlessly works with the Peloton and Zwift apps. The apps can be downloaded easily on smartphones, tablets, or laptops. You just need to create a JRNY account and login in. This is again a special feature.
This will allow you to virtually explore the global routes you choose to ride along. Interestingly new routes are updated often. You can virtually compete with your online partner. There are on-demand classes to facilitate you.
LCD
The display screen keeps track of your activities on the bike and reports accurately. It shows the time you spent pedalling. It displays the miles you covered. You can check the number of calories burnt. The (RPM) stands for revolutions per minute as an added feature. It is used to measure the speed of a machine at a given point in time.
Magnetic resistance
The magnetic resistance can be adjusted with a simple change in the knob. The resistance level can reach up to 100 micro levels specifically. Magnetic Resistance requires zero maintenance. It is also a good option for bikes with brake pads.
Related: How to set up a spin bike (Rules to follow)
Heart Rate Armband
This comes free along with the purchase of a bike. One has to charge the armband with the charging cables. Then just place the band on the forearm, and push on the activate button. It will track your heart rate. After the workout session, just push the off button to disconnect. This tool is particularly for people looking for cardio.
USB Charging port
This port is useful as you will be using your devices like smartphones while cycling. This keeps the smartphones charged.
The cushioned seat
The seat can be adjusted from both sides on personal choice.
The pedals
The pedals have clips to adjust your cycling shoes. Then there is a caged toe for the users without a pair of cycling shoes.
The handlebars
The handlebars are adjustable for riders irrespective of their height. The shape and long-length handlebars are user-friendly.
Additional features include a water bottle holder, USB charging station, device holder, and dumbbells with holders. wheels attached to bikes for transport.
Price:
You can check the price on the following websites:
1.) Amazon
2.) Bestbuy
The expense involved
Schwinn Fitness Indoor Cycling IC4 bike is easily accessible. It is cheaper than the Peloton bikes. You can assemble the parts by yourself. There is a manual for assembling the parts. You can just pay service charges for assembling. It's all about individual preference. You have to take JRNY membership for one year. It will in turn assess your fitness level. Then it will provide on-demand coaching. There will be regular feedback to enhance your workout. A JRNY account is required for use of a third-party cycling app like Peloton and Swift.
The Warranty
The warranty period for the bike frame is 10 years. The electronic part comes with 3 years of warranty. There are free service charges for 1 year. you can approach customer service for returning the piece. You must return the bike within six weeks of purchase. The money will be refunded to you. However, they will charge you for assembling and the shipping amount will be deducted from your fund.
COMPARISON with another model
Schwinn is a well-known fitness name for indoor cycling. It is an upgraded version of IC3. They come with advanced features like Bluetooth connectivity. They have added apps for realistic experiences. Live apps are streamed to meet your demands. These features are missing in other models.
Related: What to look for in a spin bike before buying?
PROS and CONS
Pros
The 40-pound flywheel meets the demands of people with different needs.

Bluetooth Connectivity is helpful for virtual interactions.

The dumbells support the upper-body workouts.

Magnetic resistance helps in smooth riding.

The customized pedals help 

you work out with toe cages and clips.

The handlebar allows you to meet your target.

The seat is cushioned and can be adjusted.

The display screen keeps a record of your activities on the bike.

The heart rate armband helps to monitor cardio.

The tablet holder is for your convenience.

The warranty term is reasonable
Cons
There is no high-ended technology for streaming the workouts.

There are no fans attached.

The users want the hard seats to be replaced with gel-cushioned seats.

They charge you extra money for a JRNY subscription after the first year.

The tablet holder is firmly placed.

Some users feel strain looking over the device during workouts.
Customer Review
Few customers have issues with streaming on the android phone. Some wanted to switch unit readings of the distance between kilometres and miles. However, the website users have given positive ratings. This model has been endorsed by fitness instructors. It is also recommended by leading journalist Rachel Murphy after being fact-checked Overall this model is widely preferred. JESSICA VALANT, an indoor cycling instructor reported the model is a perfect balance to pilates and physical therapy background.
Let's check out a few FAQs
How often should you exercise indoor cycling?
Biking for 150 minutes each week can help you stay healthy.
Can you use Schwinn IC4 without a subscription?
Schwinn IC4 does not require a subscription unless you want the apps like Peloton.
Is Schwinn IC4 hard to assemble?
Setting Schwinn IC4 is fairly easy and takes less than 30 minutes.
How do you lubricate Schwinn IC4 bikes?
Clean the bike regularly. A thin coating of silicone lube is suggested for ease of operation.
Do spin shoes make a difference?
Wearing the right spinning shoes makes a massive difference.
She graduated with a Bachelor of Arts (B.A.) and A.B.J. in Journalism from the University of Georgia. She has 13 years of experience in content writing. She writes about money, finance & science-related articles. Her articles have been featured in popular magazines like CNN, Vogue & ELLE.