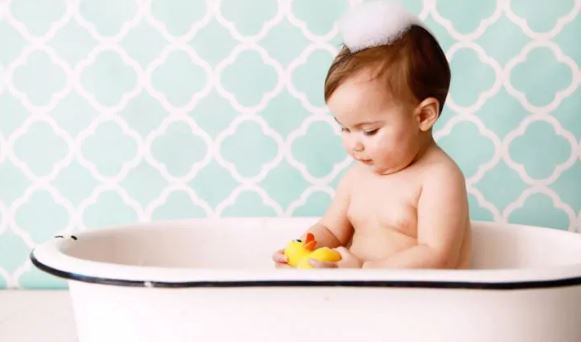 Are you a new mom or soon going to become one, who is exploring superstores or the internet to find out possibly the best baby shampoo for your sweetheart? Then you have landed on the right page.
Your baby's hair needs the best care; just for his body. This care is the foundation you would be laying for his healthy mane. So what is the best way to tame a mane?
Most mothers opine washing it with a gentle soap is enough. Really? Do you use body soap for your hair? Then why use it for your baby? Use shampoo instead.
There is an array of baby bathing products available in the market, be it baby soaps, baby shampoos, baby wash or 2-in-1 products, it's only you who will decide, what to pick for your little one.
Only the best baby shampoo can guarantee the health of your baby's hair. Now you must be interested in learning which shampoo is the best for your baby's hair.
Yes, there are parameters and one must not compromise on them. After all, you want the best for your little bundle of joy.
Shampoo should be gentle. The gentler the product, the better the skin would be. A product is meant for not just cleaning but also for the care of skin, scalp, and eyes. That care should be in the form of moisturizing, the absence of harsh chemicals that can dry out the skin.
A tear-free formula should be the vital and foremost characteristic of the best baby shampoo. It should also promote hair growth, prevent dryness and should be safe in general.
The perfect baby bath product is expected to make bath time much more convenient for new moms, who let them, free from worrying about keeping track of a soap and shampoo individually. It should make it a fun activity for babies and simplifies the baby's bath process for moms.
Keep reading the article if you want to know the details of the main market players. Here in this article, we have compiled a detailed review of the best baby shampoos & washes.
We have listed below the best baby shampoo in the world. They are best for the reasons given alongside.
Top 10 Baby Shampoos Review
Best Baby shampoo for newborns
Baby Dove Tear Free Shampoo – The most gentle baby shampoo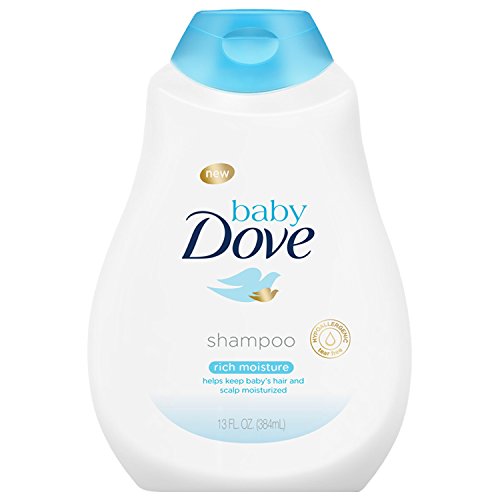 Dove believes; there are no perfect moms only real moms and real moms believe in having the real things. Things that deliver results are good enough from the health point of view.
Dove has introduced this gentle baby shampoo that promises to make the surface of the skin not just clean but moisturized as well with its ¼ moisturizing formula.
The scalp remains clean and healthy which is why it is the number 1 choice of dermatologists, ophthalmologists, and pediatricians and is deemed safe by them.
This tear-free baby shampoo is a hypoallergenic formula which means your baby will love bathing in it and let you wash his hair happily.
Dove won't irritate your baby's skin. The reason most do is the presence of harsh chemicals like dyes, phthalates, and parabens. They are absent here.
You will love the delicate fragrance. It is gentle enough to be used every day. Forget shampooing on alternate days. It lasts really long as a small amount is enough to make skin soft and clean. Dove is a worldwide brand.
You can use them for newborns too and not just infants. It will make hair soft like cotton. You would love caressing.
Pros:
No irritation in your baby's eyes
Chemical free
Moisturizes really well
pH neutral formula
Good for newborns too
Cons:
Too gentle that; it may not remove excess oil
Best tear free baby shampoo
Johnson's Baby Tear Free Shampoo – Makes bathing a fun-game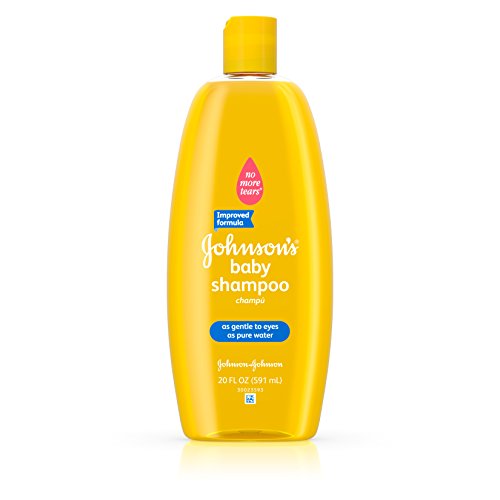 The shampoo is formulated keeping in mind that your baby's delicate eyes need special care, especially during bath time. It just doesn't irritate the eye and you won't see your baby in tears because of the shampoo.
Rather it will let your kid enjoy his bath-time. Johnson's baby tear-free shampoo is gentle and mild. As the name goes, so does the action.
The ingredients so used are picked and mixed together to ensure that it causes no harm to your baby's skin. It won't make him cry – no stinging, no burning, any irritation or redness.
It is again gentle enough to be used for the newborns and even gentle on your pocket. It is a great alternative to other products available in the market.
It smells a clean fresh scent.
It is clinically tested and backed by the dermatologists. It is hypoallergenic. It is paraben-free. It is soap-free. No added preservatives mean no health hazards in future.
Pros:
Tear free
Hypoallergenic
No added preservatives
Soap free
Dermatologist-tested
Cons:
Improved formula smells bad to some people
Best baby shampoo for sensitive skin
Aveeno Baby Wash and Shampoo for Hair and Body – Bestselling tear free formula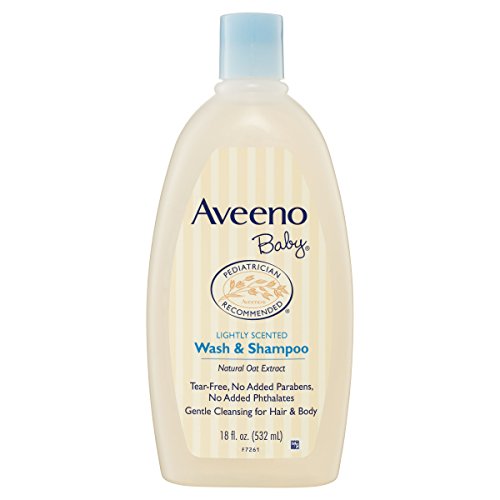 Aveeno is a product that can be bought worldwide. A gentle body wash that can be used as shampoo too lathers really well and doesn't dry the skin.
It again has a tear-free formula that leaves scalp and hair clean and soft with a fresh fragrance. It is also known as a good baby washes for the sensitive skin of the infants and babies. It is tear free, paraben free and soap free.
The active ingredient found in the Aveeno Baby Wash and Shampoo for Hair and Body is oat kernel. It soothes the skin hence good for the sensitive skin and nourishes the skin making it soft and supple.
Due to its above-mentioned qualities, it is recommended by pediatricians. It is formulated with soothing natural oat extract. This special Tear-free formula gently cleanses without drying.
Pediatrician-recommended tear free, the rich lathering formula does its work very gently and can be used on daily basis.  For best results, you can pair up AVEENO Baby Soothing Relief Moisture Cream after the bath.
Aveeno believes in using natural ingredients and making use of the advancement of science to make skin and hair healthy.
Pros:
Good for daily use
Tear free
Suitable for infants and babies
Paraben free
Sulphate free
Cons:
Could be allergic
Not really suitable for dry skin
Best baby shampoo for dry hair
Johnson's Head to Toe Gentle Baby Wash – Simplifies baby's bath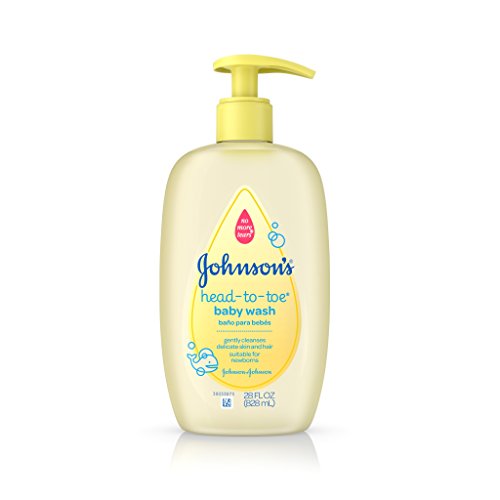 Johnson has always believed in providing products that are safe for the babies. The products so formulated are made by blending the best ingredients taken from nature and other ingredients that make the product safe and healthy.
This is yet another product that is not just good for the hair but also for the body. It is claimed to be much milder than body soap. You must have spotted these in hospitals.
Its lather is creamy and moisturizes the skin making it soft and delicate. The soap-free, phthalate free, dye-free, paraben free baby wash is tested by the dermatologists.
This product really makes bath time much more convenient for new moms, you don't have to worry about keeping track of a soap and shampoo, etc. it just simplifies baby's bath process.
It is gentle like pure water. You just need a little amount that can be taken on a washcloth and then massaged onto the baby's skin and hair for soothing, calming effect.
The only product in the market you can use for infant, baby, toddler or child! It's completely safe!
Pros:
Recommended by dermatologists
Is soap free
No harsh chemicals or preservatives
Moisturizes well making skin soft to touch
For sensitive baby skin
Cons:
Poor pump packing
New formula smells terrible to many people.
See also: 13 Best Baby Swing for Reflux, Small Spaces & more
Best fragrance-free Baby shampoo
CeraVe Baby Wash & Shampoo – 2 in 1 tear-free Baby Wash for Baby Skin & Hair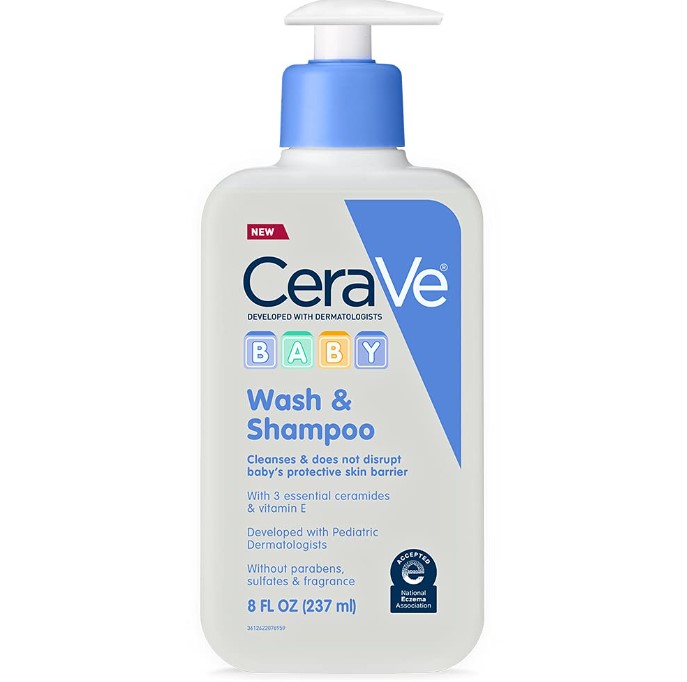 The only tear-free baby shampoo available on the market which is free from sulfate, parabens, dyes & phthalates. It is a blend of Hyaluronic Acid, Vitamin E, and Ceramides 1,3,6-II, which helps to keep your baby's skin moisturized and provides soothing.
This tear-free formula is must-have for your baby's petal soft skin. 3 essential ceramides help to keep a healthy skin barrier. It is hypoallergenic and fragrance-free.
The tear-free formula makes it safe for baby's daily bath and uses from head to toe. It is suitable for all skin types, hence, it is developed with the help of pediatric dermatologists.
There are no harmful chemicals and the product is accepted by National Eczema Association accepts only the product that satisfies their criteria.
It helps to reinforce the baby's skin barriers and it keeps out impurities. If compared to other baby shampoo options available in the market, it's the only option having more suds, having some natural preservatives.
There is hand-drawn artwork on this bottle which helps support local artists.
Pros:
It is hypoallergenic.
Chemical free.
NEA Seal.
With its humectants, nourishes the skin.
Cons:
NOT really moisturized your baby's skin after a wash.
Best organic baby shampoo
Cetaphil Baby Wash and Shampoo – The organic calendula baby shampoo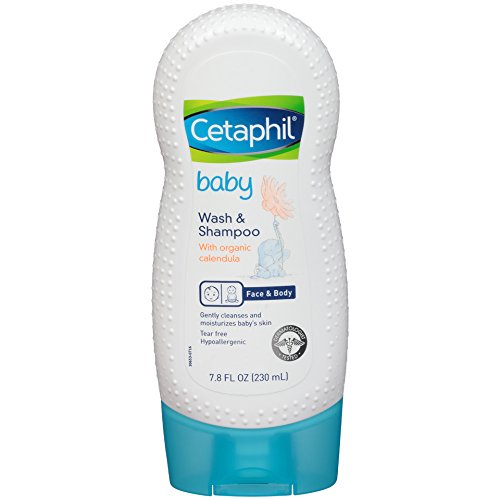 Are you shopping for a baby shampoo that promises; no sting in baby's eyes and is safe for his skin? You could have seen many options in the market but choosing the best one for your baby is a tedious job.
Cetaphil Baby Wash and Shampoo is Another tear free formula that results in rich lathering when mix with water and gently clean baby's delicate skin and hair without drying them.
There are no color additives. It has a soothing organic calendula extract which is derived from the marigold flower which has been used to soothe a dry and sensitive skin.
This baby shampoo is tear free, Paraben free, colorant-free, mineral oil free, hypoallergenic formula and is well suited for infant's skin and leaves a fresh fragrance after wash.
Made up of natural ingredients, it is non-toxic, veganegan, and is safe for the environment as it is biodegradable.
It hydrates skin while washing and results in soft and clean hair after the wash. The major advantage of this shampoo is that it rinses out easily.
This 2-in-1 product is recommended by dermatologist for a gentle wash. The tear free formula makes a rich lather that cleanses skin properly.
Suitable for all skin types, it is a great product for sensitive skin and also for skin with allergies.
Pros:
Recommended by dermatologists
Paraben free
Hypo-allergenic
Tear free
Colorant free
Mineral oil free
Cons:
Best Natural Baby Shampoos
Burt's Bees Baby Shampoo & Wash- A plant-based formula with an amazing smell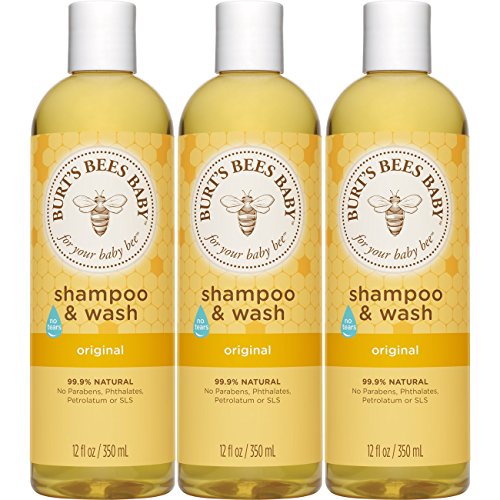 Acclaiming 98.9% natural baby shampoo & wash, Burts Bees Calming shampoo is available in the pack of three, and these are 21-ounce pump bottles, which make it easy to dispense.
It contains natural moisturizers with the calming scent of vanilla and lavender. The mind relaxing subtle aroma of lavender and vanilla makes bath-time more enjoyable for babies.
It is clinically approved to be gentle enough for cleansing baby's skin and one of the most recommended product for everyday baby care.
Getting soap in baby's eyes while cleansing their hair is still a huge concern for moms while using this shampoo you don't have to worry about that as it's a pediatrician tested & approved tear free formula for baby care.
It is suitable for all skin types; it's even good with dry skin or skin with any form of allergy. The formula is plant based and has soy proteins in it. Being in toxic it contains no parabens, phthalates, petrolatum or SLS.
This shampoo cum body wash is amazing; it easily washes away dirt, rinses without leaving any residue and leaves a fresh light fragrance.
Pros:
Leaves a nice smell of vanilla and lavender
Soy proteins, tear free formula
Tested by the pediatricians
No harmful chemicals.
Very affordable.
Cons:
Some people don't like its smell
Best Baby shampoo & Body wash for babies
Aquaphor Baby Wash & Shampoo – The extra mild tear-free formula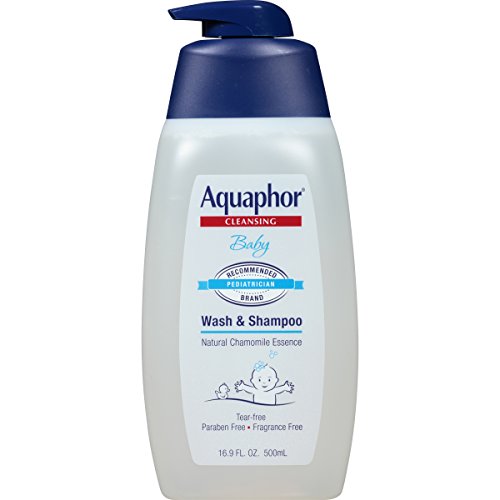 Baby's skin is 20-30% thinner than adult skin, which makes it very delicate. And since the skin is only medium to absorb by the body, we need to take extra care of it.
It is 2 in 1 shampoo that clears the skin and hair besides hydrating it deeply. It has a chamomile essence and provitamin B5, which makes it best for the sensitive skin and hair of your baby.
It is recommended by pediatricians. It has an extra mild tear free formula, thus not making any irritation to eyes or skin and is very gentle to the skin.
It has no preservative, no added fragrance and produces a light lather which can be washed away easily. The pump dispenser can be used with one hand only.
Strongly recommended by Pediatrician because it is clinically proven to be gentle on baby's sensitive skin and scalp.
Chamomile essence and Panthenol enriched blend is used to sooth and cleanse baby's skin without drying and a clean hair washes without irritating the scalp.
Just Pour little quantity onto moistened hands or a wet washcloth, rub little and gently massage on baby's skin and hair and rinse with lukewarm water.
Pros :
Pediatrician recommended
Clinically proven formula
No preservatives
Hydrates skin
Extra mild tear-free formula
Cons:
Not suitable for extremely sensitive skin
Best shampoo for baby curly hair
Babyganics Baby Shampoo and body wash – The bubble bath shampoo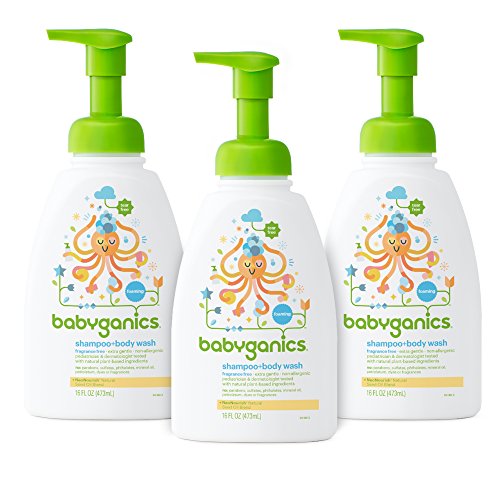 Babyganics Baby Shampoo and body wash is pediatrician & dermatologist tested, tear free, thick foaming, extra gentle on baby's skin.
Made with all natural plant-based ingredients it is non-allergenic baby body wash which takes good care of their hair and Promotes easy combing.
If your baby loves a bathtub filled with floating buddle? And loves to ply around them, then this could be the perfect pick for your baby's daily bath. With serious cleansing of skin and hair, every bubble is safe for eyes and skincare.
The NeoNourish Seed Oil Blend contains five essential oils from sunflower, tomato, black cumin, red raspberry and cranberry, which helps in nurturing and fulfilling the unique needs of baby's skin.
The body wash and shampoo manufactured by Babyganics is one of the best baby shampoos you will come across. The fragrance is nice and not too strong.
It just won't irritate the eyes and is extremely safe for the baby. The thick foam gently cleans the baby from head to toe leaving his skin soft and well nourished.
There are no harsh chemicals present in it – mineral oil, sulfates, petrolatum, sulfates, parabens, dyes or artificial fragrance which makes it a best baby product that can be used for toddlers too.
Pros:
No irritation
Makes thick foam
Clinically tested
natural seed oil blend
Cons:
Itchy on sensitive skin sometimes
Best safest baby shampoo
Tom's of Maine Natural Baby Shampoo and Wash – Light scented baby shampoo

Tom's of Maine Natural Baby Shampoo and Wash is very precisely formulated especially for delicate skin and wash is gentle enough for baby's skin and hair.
There are no chemicals that can cause harm – parabens, phthalates, and phenoxyethanol. The natural ingredients are selected cautiously.
Gentle cleansing leaves body soft and supple. It is tear-free and can be used on a sensitive skin like that of a baby without making your baby cry.
It cleanses gently. There are no artificial ingredients including glycerin derived from vegetable oils, which moisturizes the skin after use.
It has a natural fragrance, which comes because of essential plant oils and extracts used in this baby shampoo. The natural preservative used is lactic acid.
The citric acid which is again derived from vegetable matter is pH adjuster. Just squeeze the required quantity onto a wet washcloth or hands and rub into the lather. Simply rinse with water and you can pair up with your favorite baby moisturizing lotion.
Pros:
Safe for everyday use
Tear-free gentle cleansing for hair and body
Pediatrician tested
Hypoallergenic
Natural – No Phthalates, No Parabens, No Phenoxyethanol
Cons:
The Perfect Pick:
Our pick for the top baby shampoo is Johnson's Head-To-Toe Gentle Baby Shampoo; you can count on this as a great choice for babies with sensitive skin.
The brand Johnson has always been known for introducing the best baby products. This formula is a perfect solution for baby bath, as it takes good care of both hair and skin; it is an epitome for the substitute to soaps.
Because of its extra mild formula, even hospitals prefer to use this product. So we feel you can rely on this product or at-least should give it a try once, if you are exploring the one best shampoo for your baby.
Read also: Best Co-sleeper & Bedside Bassinet reviews
Final Thought:
Although the above given details, can help one to understand the main market players and highlight their USP's along with pros and cons still your final buy depends upon your decision.
The decision that you will take while considering your priorities that could be skin type of your baby, cost factor, personal experience or recommendation from any close ones.
Most people think buying shampoo is an easy job, you can grab anything affordable or some name that frequently blinks in TV commercials but this task really needs a deep analysis when it's about purchase of the best baby shampoo.
Infants and toddlers skin is at developing stage, which means it's more sensitive than adult skin and needs to be seriously taken care of.
So, in all aspects, the best baby shampoo should be as gentle as possible, that could be safe for skin and eyes of your baby. Better option is to go for maximum natural ingredient formula instead of the synthetic/chemical ones; which could dry or irritate delicate skin.
Not every baby shampoo is acclaims only for tear free formula or safe for baby skin wash, some brands boost their product as best baby shampoo for hair growth even.
Let us know if this article has helped you in any way, your valuable feedback is important to us. Please feel free to share your thoughts, experience or queries related to this article, down in the comments.